Brooke Barkocy still remembers falling in the state 100-meter hurdle race her freshman year.
"I was coming in as the third seed," recalled Barkocy, who finished her senior season at Burlington Central last month. "I was the only freshman that had made it in both the hurdle events and so I felt like I had a lot of pressure on me."
Self doubt and more persisted over the years from that fall and other factors, creating a "huge" mental block that Barkocy had to hurdle.
As a sophomore, Barkocy placed ninth in the 100 hurdles. Through further competition and some sports psychology work, Barkocy eventually cleared that mental hurdle in a significant way.
"I knew I had the strength, the speed, all that kind of stuff, but the mentality wasn't quite there," Barkocy said. "That's the biggest thing I had to work on. I was glad I had an amazing environment to work in, whether it was my coaches, friends, family … they helped me a lot. I was very thankful for that."
At the Class 2A outdoor state meet in June, Barkocy won the state championship in the 300-meter hurdle race with a 44.69-second finish. In doing so, Barkocy became Burlington Central's first individual state champion since Carissa Wallace won that same event in 1996.
"I don't even have any words for it," Barkocy said. "I didn't even know that that's how long it was until my coach told me. It's kind of cool that it was the same event, too. And I broke the time that [Wallace] had.
"Wallace had contacted one of the coaches [afterward]. … That's so cool that someone from that long ago that competed here is still keeping track of it and even knows about me. I don't know, it's a cool moment."
Barkocy, a Grand Valley State commit, placed third in the 100 hurdles (14.93 seconds) at state and anchored the 4x400-meter relay that placed fourth (4:07.87).
For her efforts, Barkocy is the Kane County Chronicle's 2021 Girls Track Athlete of the Year.
"She is just an awesome kid," Central track coach Vince Neil said. "When you sent me that message that she was going to be athlete of the year, I thought that was just phenomenal for her and so well-deserving. … She's very coachable.
"She is just a phenomenal kid. She's a great leader. She's supportive of other girls," Neil continued. "At practice, I'd put her with some of my younger hurdlers and I'm like, 'Hey, Brooke, why don't you do some instruction.' … She just ate that up. Just loved it."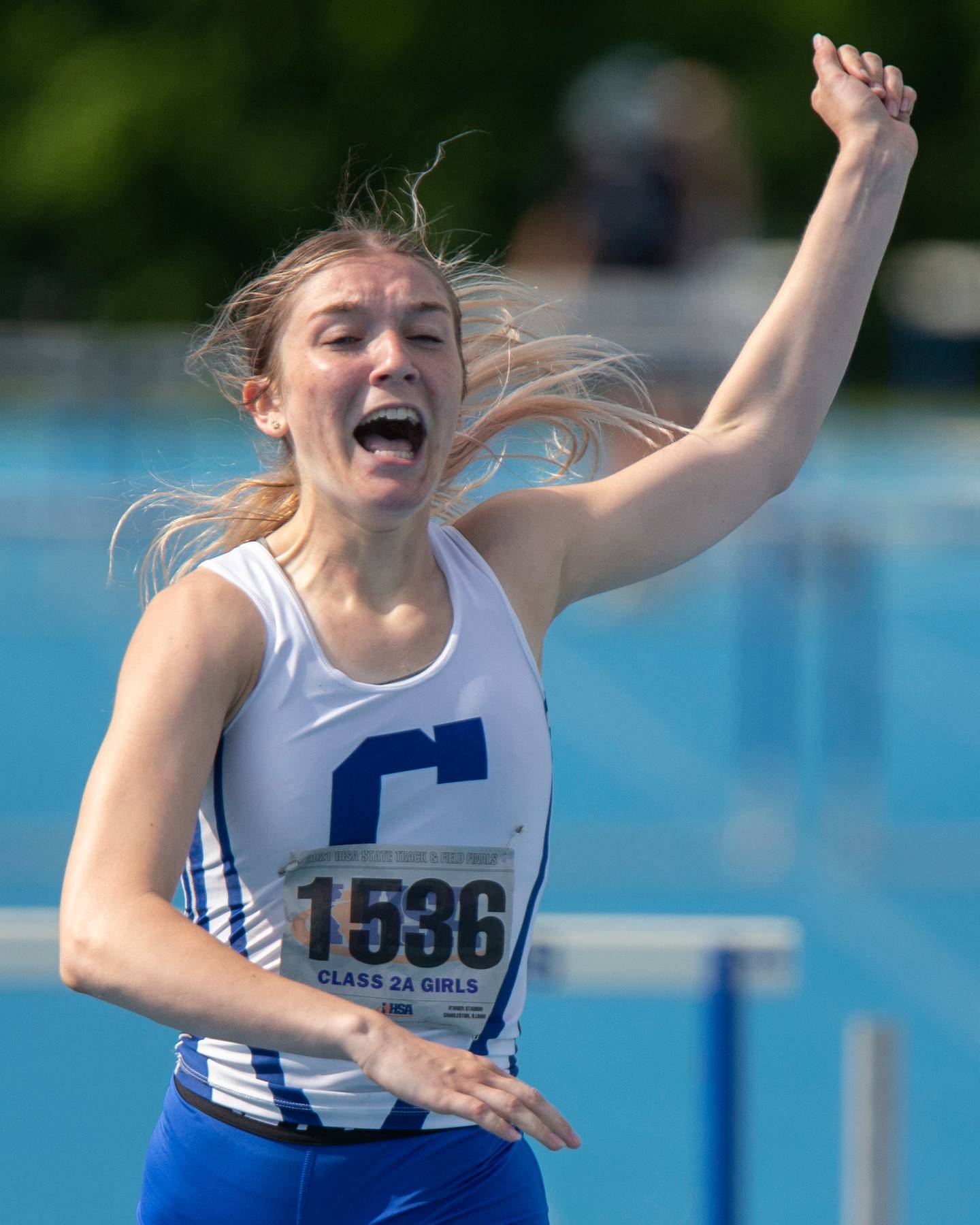 In his 16 years as track coach, Neil never had an individual state champion until Barkocy.
"I was so excited. … This is awesome. I've had quite a few seconds and third places, but I never had anybody win it," Neil said. "It was just an awesome way for her to finish."
Barkocy qualified for state in all three seasons. The COVID-19 pandemic during her junior season wiped out the chance for all four years.
"To see her put it all together and do so well in the 100 hurdles and the 300 hurdles at state was just awesome," Neil said.
Kane County Chronicle All-Area girls track and field team
Batavia: Liliana Bednarek, Mackenzie Benkers, Sylvia Bruzga, Meghann Hartmann, Jessica Newburn, Megan Pierce, Jenna Schifferer, Katrina Schlenker, Megan Schulhof, Brooke Sibernagel, Kayla Williams, Davinia Wilson, Madion Wilson
Burlington Central: Avery Andersen, Kenzie Andersen, Brooke Bakocy, Lauren Dowd, Paige Greenhagel, Carolina Hintz, Corryn Kester, Fiona Pedone, Brooke Reynolds, Izzy Solomon
Geneva: Katie Beitzel, Kelly McCloughan
Kaneland: Abby Peeler, Jessica Phillipp
Rosary: Grace Comparone, Julia Gaugel, Maia Italia, Ava Ketterman, Olivia Kunio, Ann Molenhouse, Lauren Roskuszka, Libby Saloga, Lianna Surtz, Katie Ubertino, Jocelyn Victoria
St. Charles East: Amelia Bellizzi, Makenna Brown, Laci Chivari, Katie Kempff, Gia Klasa, Torrie Kortan, Lauren Lewison, Venezia Munoz, Lexy Sayasane, Lauren Swartz
St. Charles North: Natalie Buratczuk, Kaylee Hopp