WHEATON – Eden Pearson is evidently not afraid of being knocked over in the paint.
Pearson, Wheaton North junior's guard, said "it's all about hustle" when considering her role defensively.
"All our players are out there just anticipating every pass. Just being able to put our bodies on the line every play is just a way we're successful," Pearson said following the Falcons' 50-42 victory over St. Charles North on Monday.
[ Photos: St. Charles North vs. Wheaton North girls basketball ]
Pearson had 10 rebounds to complement her eight points. She also made her presence felt defensively, taking a charge in the third quarter.
"The feeling of getting a charge and having all four teammates there to lift you up, it was just the best feeling in the world," Pearson said. "You just do it for them. It's awesome."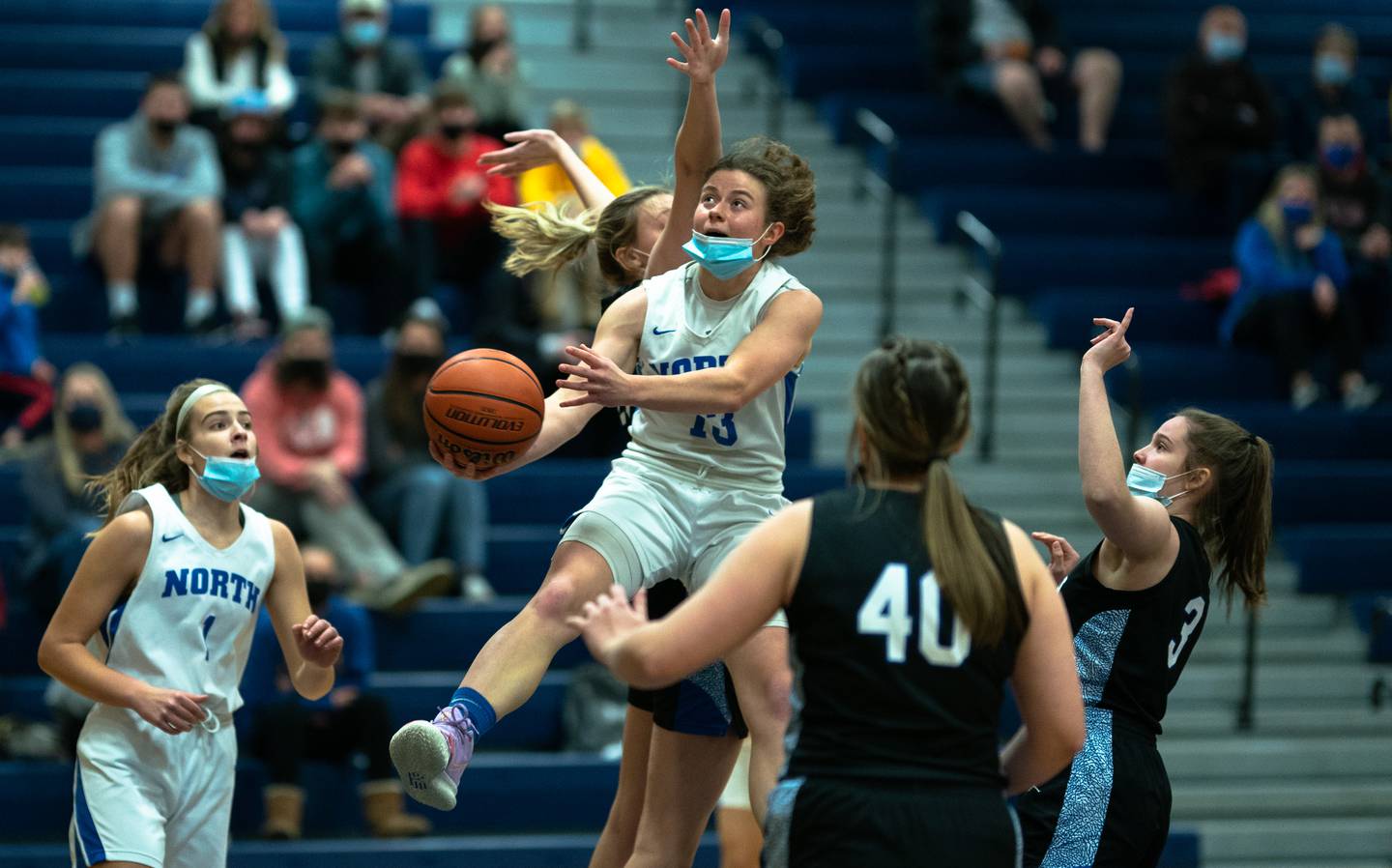 The Falcons (9-2, 4-0) are on a four-game winning streak, despite missing starter Caroline Gaither for the last week with a foot injury.
With veteran Claire Hyde leading the way with 16 points and three rebounds to be Wheaton North's steady force offensively, Pearson appears to have emerged as a prominent defensive presence.
"Eden gives us a toughness. She plays with such an edge defensively," Falcons coach Dave Eaton said. "And I think that's what our team feeds off of all the time. She does a great job defensively of creating some big steals out in passing lanes. She's super athletic, obviously."
"To consistently pick up two to three charges a game, we pride ourselves in taking charges. That's one of the things that we really want to do," Eaton said. "I think she took a couple charges and got us a couple momentum swings coming back this way. I thought she had some big shots down the stretch, too, where she got a layup and a couple free throws."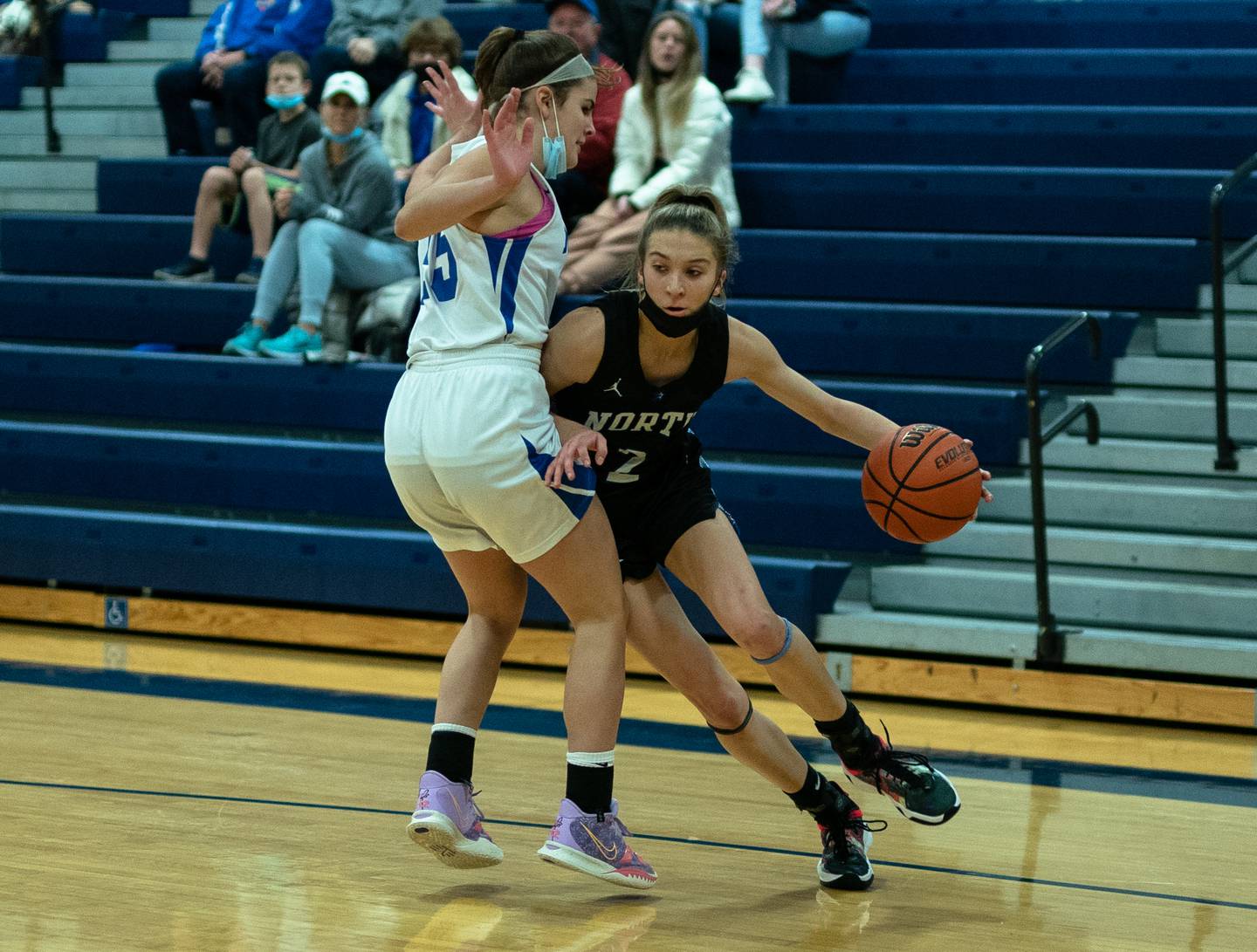 Rebounding and second-chance opportunities have been strong areas for the Falcons during their win streak.
"We're not the taller team, but we like to be the tougher team," Pearson said. "That's also within the game. We thrive off of second-chance opportunities and also not giving other teams second-chance opportunities. It's just very important for us to get in there, get those boards and pop-out threes."
"Eden, she's a tough kid and she provides a ton of toughness for us," Eaton added.
Sara Abdul added 14 points and Zoey Bohmer had five rebounds and three points for Wheaton North.
St. Charles North (7-5, 1-3) was coming off of a loss to St. Charles East.
Trailing by four points going into the fourth quarter, the North Stars were able to pull within 32-31 after Erin Stack's second layup of the quarter with 6:34 remaining, but Hyde hit a three-pointer and Abdul scored five straight points to help break the game open with 4:34 left.
The North Stars were led by Alyssa Hughes' 12 points, while Erin Stack had 11 points, four rebounds and three blocks. Reagan Sipla had nine points and six rebounds.
"I thought we did a better job down the stretch today than we did even against Geneva, maybe against St. Charles East; [we] hit a couple shots in the fourth quarter, which was good for us," North Stars coach Mike Tomczak said. "Rebounding was the difference. That's what it was, and they were physical and we need to be more disciplined on the glass. I think, if we do that, I think it's a different story because I thought we played well tonight."