GENEVA – Anthony LaRue has seen enough dominance by the Batavia boys track and field powerhouse in recent years.
"They are," the South Elgin coach said with a look of both awe and admiration, "a football and track school."
The top-ranked Class 3A program in the state, Batavia once again was a runaway locomotive Monday at the Kane County Invitational in Geneva.
[ Photos: Kane County boys track Invitational ]
Jonah Fallon anchored the Bulldogs' championship relays in the bookend events – the 4x800 and 4x400-meter races – to cement a 147.5-80.5 victory over runner-up Kaneland.
St. Charles North was third in the 14-team field, followed by South Elgin (61), West Aurora (59.5) and Burlington Central (58.5).
Batavia, with its reigning state championship 4x200 relay breezing to a third title, failed to win any individual races.
But it mattered little as Spencer Prats, Jalen Buckley and Nick Fortino won county titles in the discus (161 feet, 6 inches), triple jump (45-8.25) and pole vault (14-5), respectively.
Fallon, along with the Bulldogs' peerless collection of long sprinters – Scot Parker, Jacob Hohmann and Andrew Gerke, as well as middle-distance athletes Quintin Lowe and Adam Miller – helped Batavia win relay titles at 800, 1,600 and 3,200 meters in 1 minute, 28.85 seconds, 3:25.52 and 8:06.9, respectively.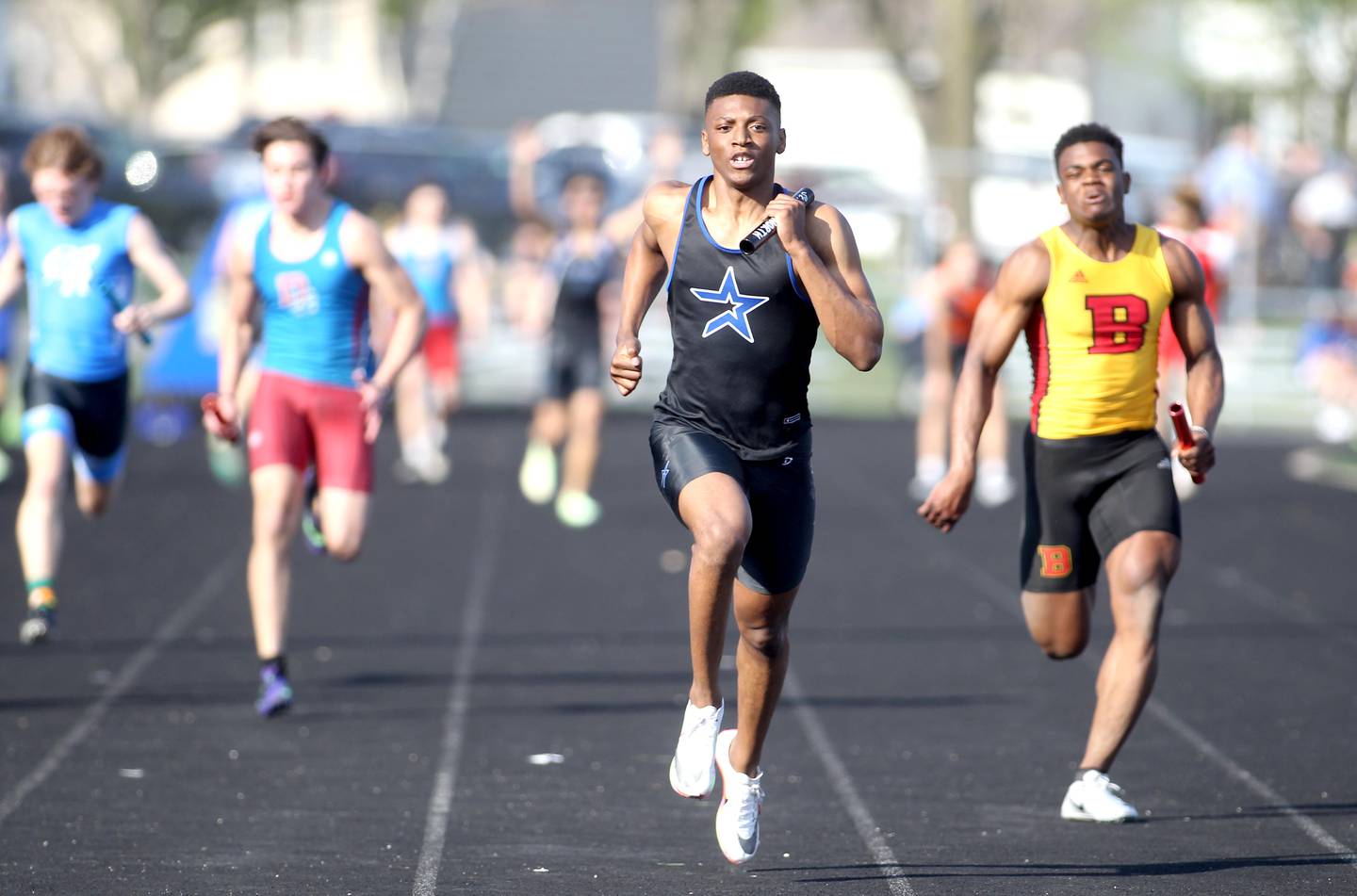 Josh "Otis" Duncan ran the fastest dash in county history. The St. Charles North senior, who possesses the fastest 100 time in Class 3A history, remarkably set the new benchmark – 10.52 – into the teeth of a nasty headwind.
"That blew me away," Burlington Central coach Mike Schmidt said. "That means he's a 10.3 kid."
Duncan, who earlier anchored the North Stars' 4x100 relay to a title, was engaged in an epic showdown with South Elgin senior Konrad Sacha in the 200.
Sacha, who denied returning all-staters Fallon and Central senior Zac Schmidt to win the 400 in 49.47, and Duncan were declared co-winners after both crossing in 22.14.
"I ran my race like I always do," Duncan said of his new county record. "I just listen to what my coaches tell me. Coming back in that [200] race, it still proves something."
"That has never happened to me before," Sacha said of the dead heat with Duncan. "Today was a great day. I know I have what it takes [to be a champion.]"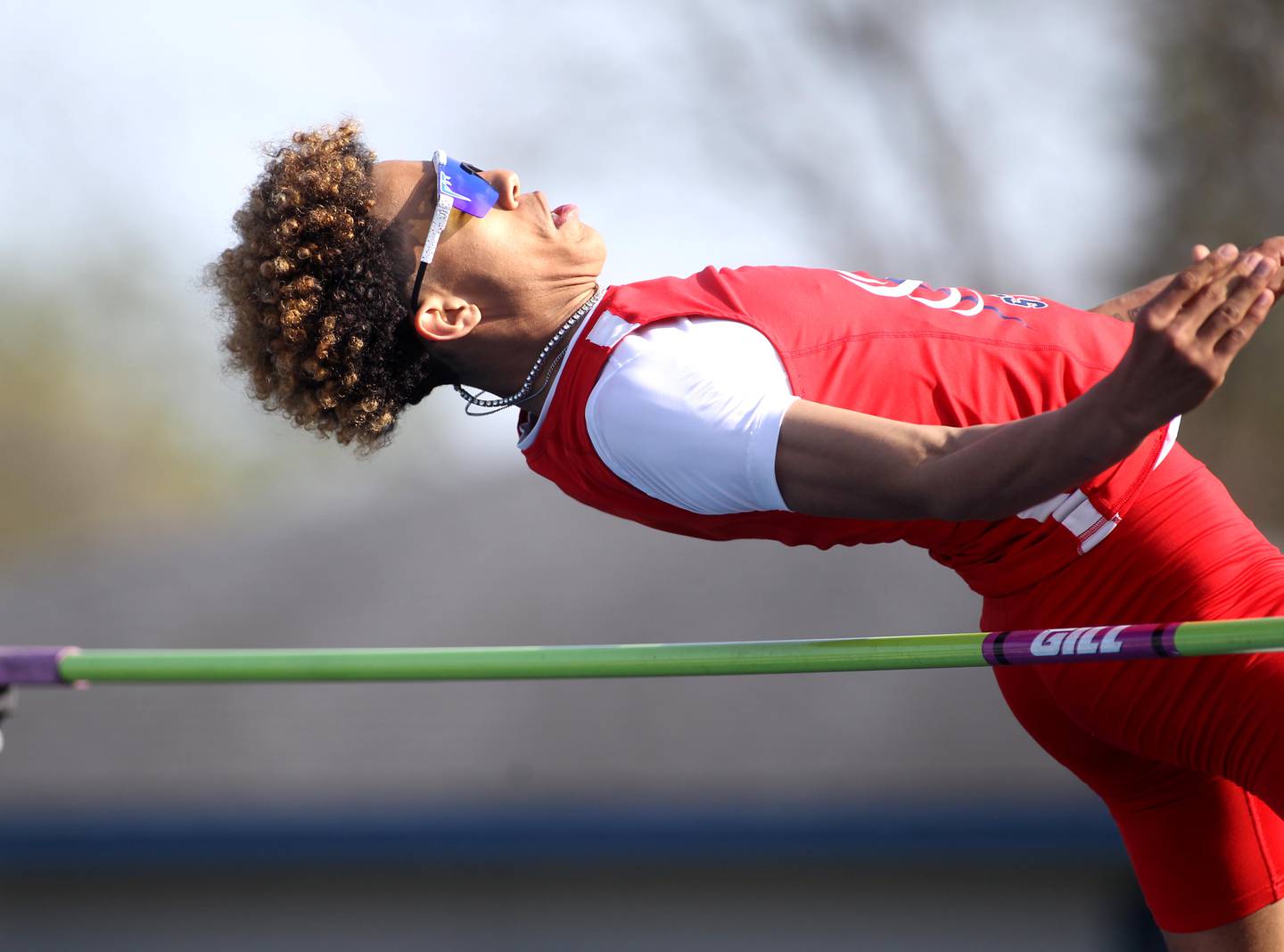 Larkin returning all-state hurdler Jamarion Stubbs captured his specialty distance, the 300 intermediates, in 40.67. Earlier he turned back South Elgin senior Jordan Jones – despite collisions with the final two hurdles – in the 110 highs, winning in 15.44 to Jones' 15.54.
"I have always had a friendly rivalry with Jordan ever since we grew up together," Stubbs said. "I always want to beat him. My goal is to get down to 39 [in the 300 hurdles]."
The other champions were St. Charles East's Mitch Garcia in the 3,200 in 10:05.66, St. Charles East's Micah Wilson in the 1,600 in 4:21.66, St. Charles North's Paoli Gennerelli in the shot put with a throw of 58-5, Central's Gavin Sarvis in the long jump at 23-3, South Elgin's Jalen Jones in the high jump at 6-1 and Aurora Central Catholic's Patrick Hilby in the 800 with a time of 1:57.21.