ROSELLE – High expectations are seemingly inescapable for Lily Bednarek.
The Batavia senior not only has the unenviable task of replacing four-year standout Katrina Schlenker but also retaining her identity as the leader of the Bulldogs' girls cross country team.
Batavia will launch its quest for a ninth consecutive Class 3A team state appearance at the Hinsdale Central Regional.
The Bulldogs ended their regular season Oct. 15 in Roselle by beating out fellow DuKane Conference state stalwart Wheaton Warrenville South 51-76 for league supremacy.
Bednarek, who narrowly missed all-state status last fall, piloted the Bulldogs to a successful defense of their conference title by placing fourth in 18 minutes, 23.5 seconds on the 3-mile layout on the East Campus of Lake Park.
"My biggest goal right now is [establishing a new personal-record time]," Bednarek said. "I want to make sure that is preserved for me. I feel like I have accomplished a lot in what I want to do. Placing [at state, which requires a top-25 result] would be great."
Newcomers invariably tilt the balance of power in girls cross country. Batavia freshman Maddie Cassidy was sixth to complement Bednarek.
"Going into [the season], I didn't know what to expect," Cassidy said. "I am really happy with the outcome. It's a great environment to be in."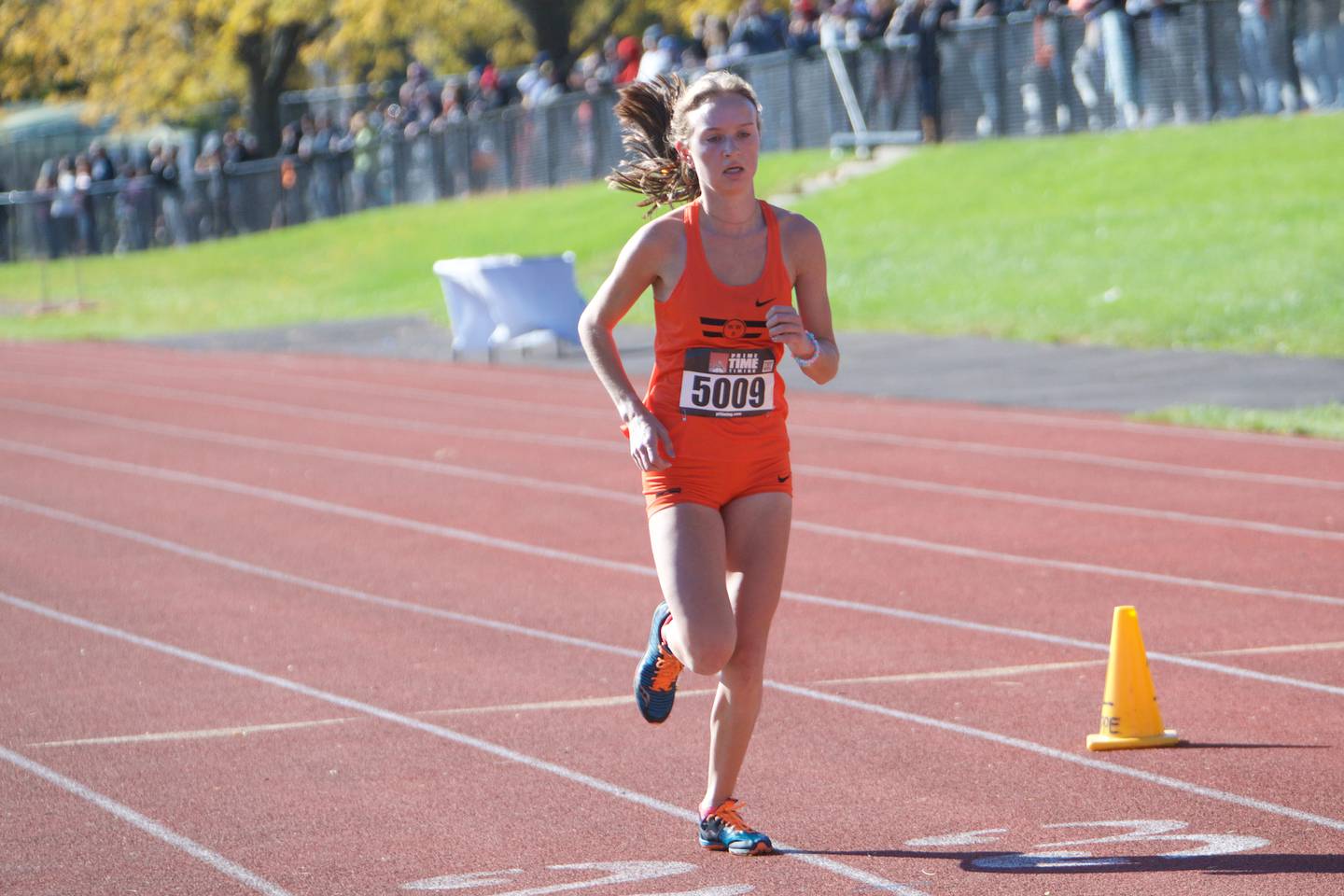 Batavia further subdued WW South behind Brooke Silbernagel, Sasha Semansion and Olivia Gebhardt, who placed 12th, 16th and 18th, respectively, to cement the Bulldogs' team score.
"It was good for them to see what time of the year it is – championship season," Batavia coach Chad Hillman said. "We haven't taken a big step in about a month. We have been a little flat – not bad – but a little flat."
St. Charles East junior Marley Andelman could not wait to be unleashed this fall after an all-state track campaign last spring.
Andelman had a different mindset entering the race than some of her rivals.
"I was happy with the first race of the state series," said Andelman, who paced the fourth-place Saints (96 points) by finishing fifth (18:28.1). "I wanted to see improvement from my last race here [the Lancers' invite]. I am excited to see what I can do over the next three weeks."
St. Charles North sophomore Norah Dorrance had the finest showing among the four Tri-Cities high schools with her third-place effort in 18:06.6.
"I wanted to be top five so I could be all-conference," Dorrance said. "I moved my [best] time from the season, which was really cool."
Freshman Sofia Borter was seventh to lead fifth-place Geneva (124).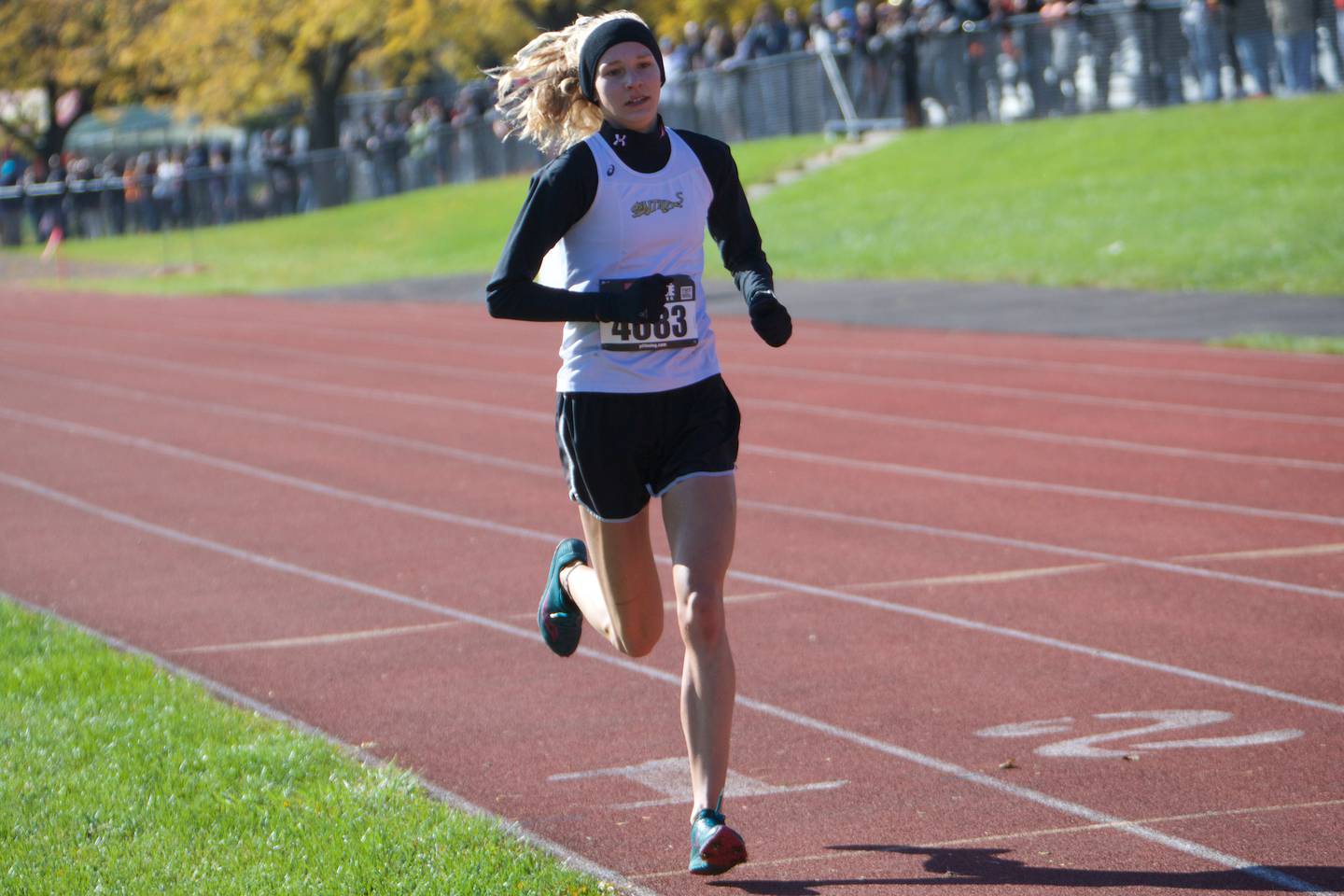 Glenbard North's Grace Schager, meanwhile, simply has been a one-woman wrecking crew this fall.
The reigning 3,200-meter track state champion, the senior is evoking memories of recent DuPage County immortals – four-time state champion Katelynne Hart of Glenbard West and Naperville North state record-holder Judy Pendergast.
Schager once again was a solitary figure in extending her season-long unbeaten streak while also establishing a conference benchmark in 16:19.9.
WW South runner-up Nicole Poglitsch was nearly 90 seconds behind the inexorable Schager's pace.
"She is in the conversation," veteran WW South coach Rob Harvey said of Schager possibly joining the upper echelon of state greats. "What a wonderful thing for our conference."
"There's still some amazing girls in the state and I don't want to take anything for granted," Schager said of her undeniable status as the front-runner for a state championship. "Today, my coaches and I wanted to concentrate on running the tangents. It wasn't necessarily about time."
Schager is a synthesis of brilliance and humility.
"I still feel like a little freshman out there," Schager said.
Poglitsch was the only other athlete to break 18 minutes. The sophomore was timed in 17:47.4.
The Tigers were unable to circumvent Batavia's team cushion. Frida Martinez was the only other WW South athlete to place in the top 20. Martinez was 13th.
"I like to surprise myself a lot," Poglitsch said of her runner-up performance. "The team has been doing really well. [The Naperville North] Twilight [Invitational] was our breakout race. I was trying to get out there to push myself and see what I could do."
"We got exactly what we wanted," Harvey said. "We answered some questions."
Madeline Romaine and Jade Benavides were eighth and ninth, respectively, for Wheaton North and Lake Park.