CRYSTAL LAKE – Brendan Yarusso let out a fierce roar as the final buzzer sounded.
St. Francis, which had trailed by 12 at the half, had just stunned Wauconda 52-46 in the Class 3A Crystal Lake South Sectional semifinal March 1.
Wauconda took a 30-18 halftime lead, largely off forcing 12 Spartans turnovers. The St. Francis star duo of Yarusso and Sebastian Miller were limited to five combined points. Griffin Daun and Garrison Carter each had eight points for Wauconda at the break.
The Spartans knew they had to remedy their situation. And remedy they did, breaking off an 11-0 run to climb back into the game by the middle of the third quarter and set the stage for the frantic finish.
"Honestly, it really wasn't about X's and O's. What bothered me was I just got the feeling we weren't playing with the confidence we should be playing with," Spartans coach Erin Dwyer said of his halftime adjustments. "We have guys that have been in that situation before and they're still high school kids. …You've got to give Wauconda a lot of credit. They're an excellent team. Their defense was much more physical than we expected it to be and I just thought we just had to try and slow things down and simplify.
"I just asked them: 'Listen, you've got 16 minutes. How do you want those 16 minutes to go?' " Dwyer continued. "Win or lose, how do you want to be on the floor with it?"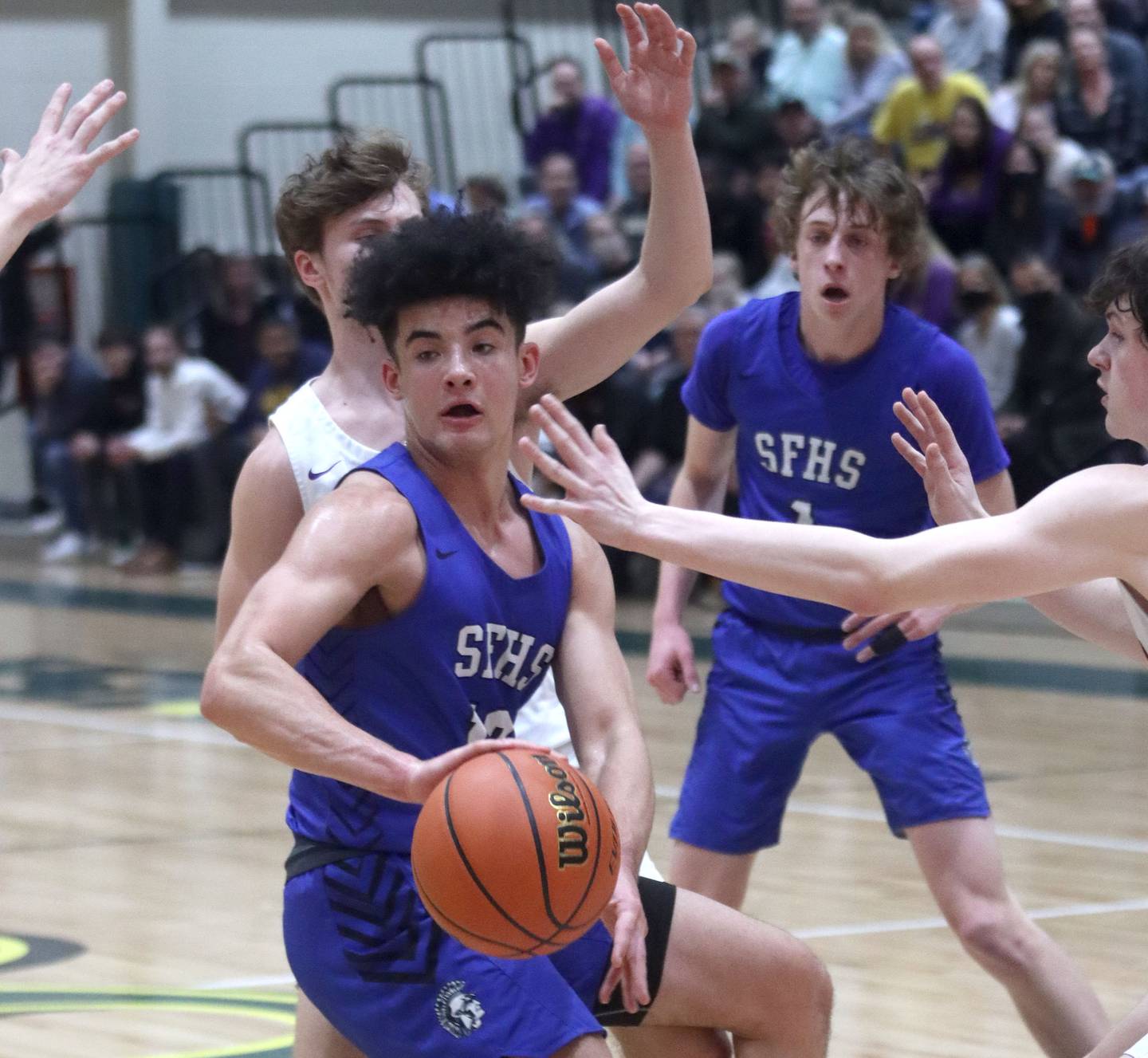 Wauconda nursed a four-point lead heading into the fourth quarter, but Spartans forward Sean Killian made a crucial pair of layups, including one in which he was fouled, to give the Spartans a 47-46 lead with 2:19 left.
"We knew they were in the zone [defense] the whole game," Killian said. "Early on, the zone definitely had the best of us, but coach told us at halftime we've just got to try and sneak in and find whatever holes we can, so me and the other bigs were staying down low. I found myself a quick layup.
"The other one, I got the ball on a steal and I just knew I could take it in."
Yarusso relied on knowing [we've] "always made a comeback a little bit sometimes."
"We just believed in each other. We shared the ball with each other," said Yarusso, who had 15 points.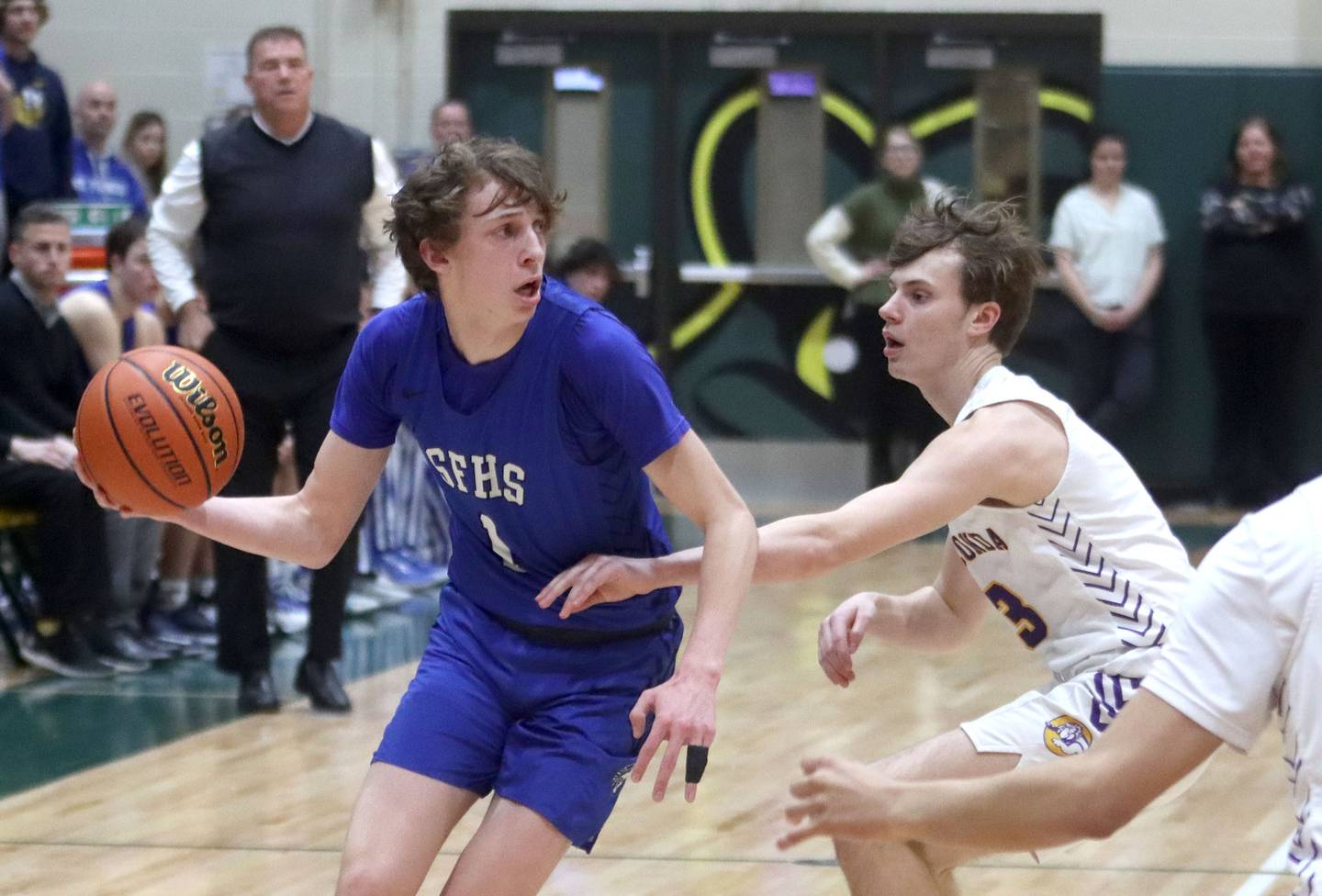 After Wauconda and St. Francis traded turnovers, the Spartans' Miller, a senior, got a rebound and layup to give the St. Francis a three-point advantage. Both teams missed layups on ensuing possessions. Yarusso then came through by hitting 3-of-4 free throws to clinch it for St. Francis.
St. Francis (27-8), which last won a sectional title in 2013, will face Burlington Central in the sectional final Friday at 7 p.m.
Wauconda, which has never won a sectional, finished 25-5.
The Bulldogs were led by Daun's 12 points. Carter had 11 points.
"They ratcheted up their defense a little more in the second half," Bulldogs coach Scott Luetschwager said. "Playoff basketball. You're going to get a team's best there. We just had some looks that didn't fall. We had some easy buckets that they just rimmed out that all year long they kind of fell for us. Tonight, they didn't."