Gabe Kaminski is almost ready to start the second stage of his career.
The Nazareth sophomore lineman is closing out his memorable underclassmen run that widely exceeded his own expectations. Kaminski was a star football player and wrestler in his freshman and sophomore seasons, raising the bar for his career for the next two years.
A two-year starter in football, Kaminski had a team-high 10 tackles in the Class 5A state championship game victory over Peoria in November. In wrestling, he placed second in the Class 1A 220-pound state final in his freshman and sophomore year.
Before his freshman season, Kaminski, who has nine football offers including Michigan, Notre Dame, Tennessee and USC, said he didn't have super high expectations.
"It was definitely a dream to play in college, but I didn't even know if I was going to be on the varsity in my freshman year," Kaminski said. "I started in our opener, but after week two, I had some success and picked up a few sacks. I got an offer from Iowa in week five. It was crazy. I started crying. When they offered, it was surreal, for sure."
The 6-foot-3, 225-pound Kaminski is still a work in progress, which is the scary part. The next two years will allow him to mature and develop into a well-rounded player. Nazareth coach Tim Racki has sent waves of players to college, including Michigan star quarterback J.J. McCarthy and newly signed Seattle Seahawks safety Julian Love.
Racki tosses high praise on Kaminski's rapid development and potential. Kaminski made recent college visits to Northwestern, Wisconsin and Notre Dame.
"Gabe is the one percenter," Racki said. "I've never had a freshman lineman play on varsity, especially one who made all-conference as a freshman and sophomore. He was also academic all-state and is off-the-charts in the classroom. The SEC doesn't come around here too much, but he has that type of talent and potential. He's going to keep growing.
"He's incredibly technique sound for his age, the way he uses his hands and the type of moves he has. His body has filled out more this year."
Kaminski credits his wrestling background for helping him in football.
"Wrestling has helped me a lot, just in so many traits from being relentless and the hand coordination translates directly to football," he said. "I started wrestling when I was super young but didn't start playing football until sixth or seventh grade.
Kaminski is set to become one of the top upperclassmen in the Chicago area next season. The defensive end collected 84 tackles and 16 sacks last season.
"I feel pretty good about my recruiting," Kaminski said. "It has gone pretty well. I'm going to talk to a lot of coaches. I'm taking it day by day, not focusing on the big picture and plan on letting it play out. I'm working hard and staying focused, not getting ahead of myself."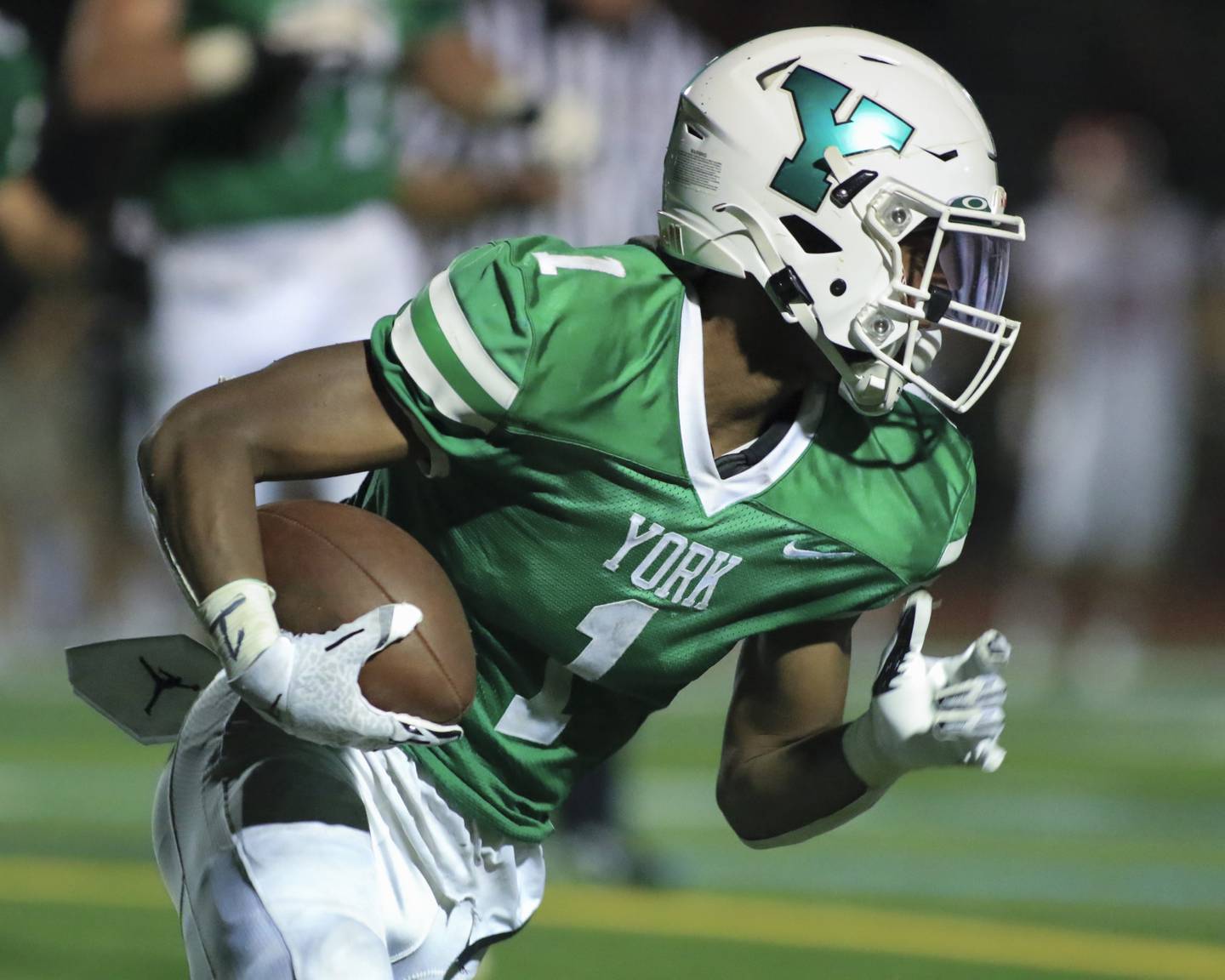 York's Watson commits
York senior running back Kelly Watson committed to North Dakota State on Sunday. Watson said the Bison plan on using him at running back and special teams.
Watson was a key element in York's historic season. His speed and elusive ability sparked the offense and special teams. Watson had numerous highlight-reel plays against high-quality opponents.
"They were very welcoming to me on my visit and made it very clear that they wanted me and that's what won me over," Watson said of his decision. "They treated me well on my visit and made it a great experience. The campus was much more than I expected. It's not too big and also right next to downtown Fargo, which is a great town.
"It's just a big relief to end the recruiting process. It wasn't going my way at first, but I just had to stay patient and be ready for any opportunity. Playing Division I football always was a dream of mine. I can say I finally accomplished it. I can't wait for the season to began."
Extras
IC Catholic Prep junior wide receiver/safety Eric Karner picked up an offer from Iowa during his visit last weekend. Karner committed to Purdue in early March but decommitted on April 13. He immediately received offers from Texas A&M and Alabama to his lengthy and growing list of suitors.