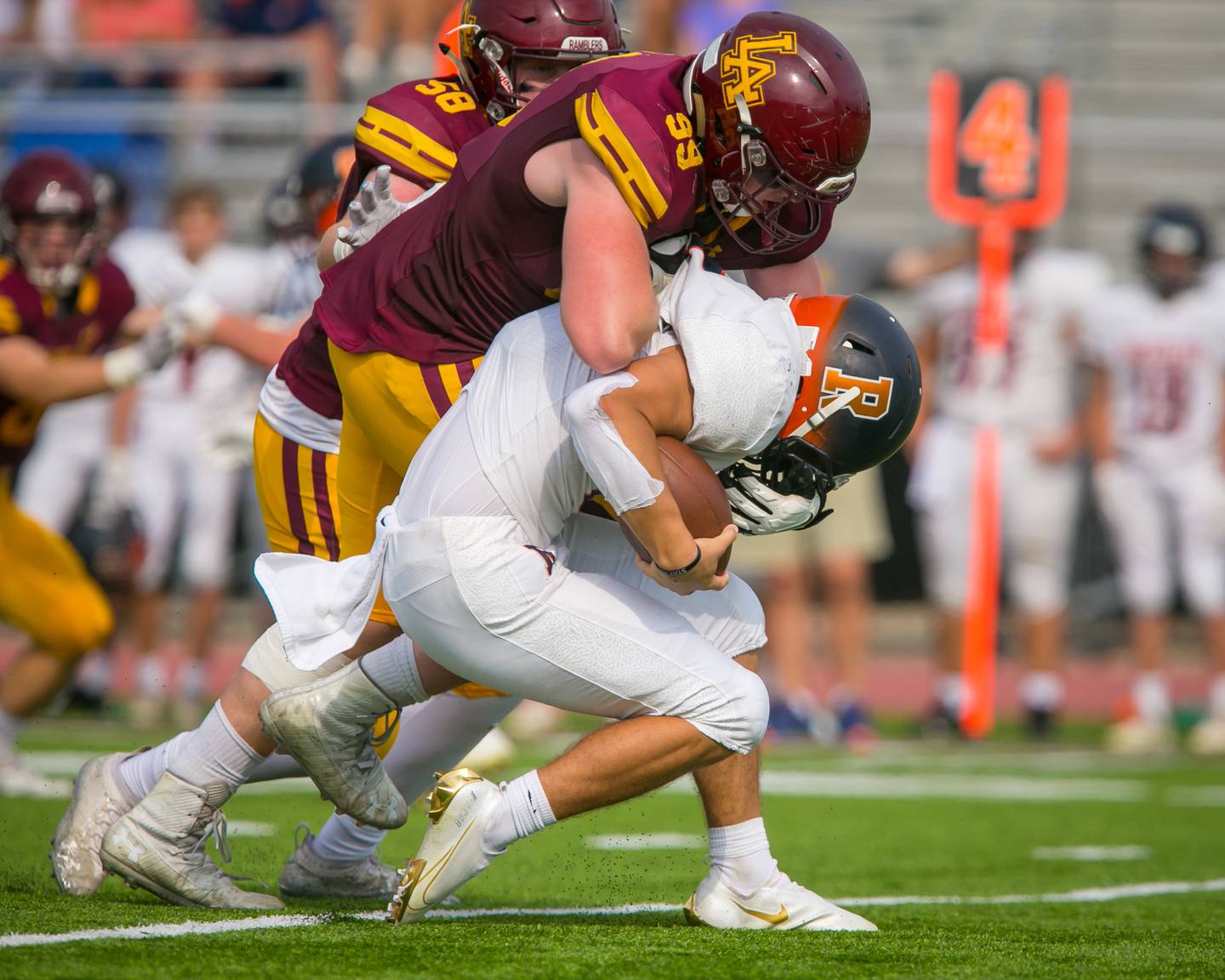 Brooks Bahr always envisioned himself playing college football, so when college coaches started to take notice of the Loyola Academy defensive end, it became more realistic that he would take another step toward achieving his dreams.
"It does feel surreal, it's crazy," Bahr said. "It's been a goal of mine to play college football and now that it's starting to come true it's really crazy. It motivates me even more to work harder."
Illinois caught the junior by surprise in September when a recruiting coordinator reached out to say head coach Brett Bielema wanted to call him. When Bielema called, he offered Bahr his first scholarship offer.
Other schools started to offer after the high school season finished. Purdue offered on Nov. 27 and Ball State followed a few days later. Northwestern's offer came a little bit out of nowhere on Dec. 8 and then Miami of Ohio offered on Christmas Day.
"I'm very excited," Bahr said. "They're just great opportunities to not only play football at a really high level, but to get a top education and play football at the Big Ten level."
Bahr was an All-CCL/ESCC Blue player during his junior season who finished with 54 total tackles, seven tackles for loss, three sacks and a forced fumble.
The junior started to get more into the recruiting process after his junior season. He's waiting for the college bowl games to end so schools can plan out their junior days so he can schedule some campus visits. He's already made unofficial visits to Northwestern, Iowa and Michigan.
While he plans his next steps, he's also working on his game to improve for his senior year. Bahr wants to add muscle to weigh 270 pounds and will work on getting a faster reaction time and become more explosive off the ball.
He's excited for the process that will help him realize his dreams of playing college football.
"I'm just trying to get on campus, keeping in touch with coaches," Bahr said. "Obviously focusing on myself, trying to get better and stronger for next season so I can produce more."
Surprise offers
Roderick Pierce III was surprised by his latest string of college offers.
The Brother Rice junior saw coaches from Bowling Green and Central Michigan at the beginning of December but didn't get the sense that they would offer him. When he did get the offers from both programs, he was grateful to be in the position that he is with eight offers so far.
"I'm extremely excited," Pierce said. "Any opportunity to play at the next level, I'm really grateful for it."
Kentucky offered the defensive lineman his first scholarship in April before Illinois and Western Michigan offered Pierce after a camp at North Central College on June 9. Kansas offered Pierce in October before Purdue, Bowling Green, Central Michigan and Miami (Ohio) each offered in December.
The junior has been in contact with a few coaches throughout the process, keeping up to date with how his recruitment is going. He's visited Illinois a few times and visited Wisconsin, Michigan and Cincinnati for games. He's also visited Notre Dame.
Pierce has enjoyed the process and envisioned himself at each school.
"It's been really fun," Pierce said. "You get to compare places and get to see them. The thing I like the most is that you can see if you would actually fit that atmosphere, fit that program."
Pierce is going to continue his recruitment by checking out a few junior days and making some more visits to campuses over the summer. He's going to see what the process holds as he continues to improve on his skillset as a player and is thankful to be in this position.
"It feels really good," Pierce said. "It feels like my hard work has paid off."
Staying focused
Justin Scott isn't letting early scholarship offers get to his head.
The St. Ignatius sophomore has four offers from schools, which has only motivated him to work harder during the football offseason.
"It always keeps me going knowing that I have these four," Scott said. "But people tell me this is just the beginning and just to use this as motivation to keep on driving and pick up more."
Illinois offered the 6-foot-5, 310-pound defensive lineman his first scholarship on Sept. 19 and Rutgers followed suit a few days later. Iowa State offered him a scholarship after a visit to a game on Nov. 26 and Missouri surprised Scott by driving to St. Ignatius and offering him his first SEC scholarship.
"I didn't think I would get offered by the best conference in college football this early," Scott said.
The lineman has already made visits to Illinois, Iowa State and Notre Dame and is planning on taking trips to visit Michigan and maybe Missouri in January.
But Scott also wants to make sure that he's balancing the recruitment process and prioritizing himself to become a better student and athlete. He's watched other recruits post videos on social media on how built they are and how well they move, which has motivated Scott to become bigger and faster during the offseason so he can be explosive off of the ball.
St. Ignatius coach Matt Miller has helped Scott manage all of the college interest, setting up times to talk with coaches. But Scott knows he can't let offers get in his head too much, and he's handled it that way from the start.
"During my sophomore season," Scott said, "after I picked up the Illinois offer, I went with the mentality to not even think about the offer because recruiting stuff can get overwhelming and sometimes it has you thinking you're better than somebody else when really just play your game and don't worry about the offers."
'Surreal moment'
Ryan Sims didn't expect to get his first college offer when he and his Marist teammates went down to his coach's office on Dec. 8.
Kent State coaches greeted the junior wide receiver and his teammates and had a conversation with them before the coaches told the players they had earned scholarship offers from the program.
"It was a surreal moment," Sims said. "I wasn't expecting it and when it happened, it was just one of the best moments. I really enjoyed that moment a lot."
John Nestor, Jamel Howard Jr. and Patrick Farrell also received offers from Kent State.
Sims plans on making a visit or two to Kent State and thought the coaches he met did a good job of representing the program.
But the hard work has just started for the wide receiver. Sims plans on working to become more explosive as a player because everything else will come once he establishes himself as an explosive player, including more scholarship offers.
"One is never enough," Sims said. "I always want more options and that's what I'm driving for. I want to make my options as broad as possible. This gives me the start to be like I'm doing something right, so let's build on it and do better. I just need to do better, I can't be satisfied."