Southwest Prairie Conference
Oswego East (6-1, 2-1) at Oswego (5-2, 3-0)
When: 7 p.m. Friday
Last matchup: Oswego East 14, Oswego 7 (Spring 2021)
About the Wolves: Oswego East is coming off a 14-7 win over Yorkville. The Wolves in the spring finally gained the upper hand in the crosstown rivalry, beating the Panthers 14-7 after Oswego won the first 15 meetings. Illinois recruit Jared Badie is the headliner of a fast, opportunistic Wolves' defense. Junior Oshobi Odior, who scored the winning TD in the spring game, has emerged as a force defensively at middle linebacker with 16 tackles last Friday. Oswego East's offense, while inconsistent at times this season sustaining drives, has gamebreakers capable of the big play led by junior quarterback Tre Jones, a threat both running and passing and Ty Carlson, who had a 70-yard TD catch last week.
About the Panthers: Oswego has put its 0-2 start well in the rearview mirror with five straight wins, the latest 26-7 over West Aurora last Friday. Quarterbacks Cruz Ibarra and Julian Toma both missed that game, but are expected back which means Deakon Tonielli returns to his usual role as a 6-foot-6 tight end. Oswego has got its run game off the ground in two of the last three weeks led by speedster Mark Melton, who has 599 yards and seven TDs on the season. Senior linebacker A.J. Johnson leads the Panthers with 50 tackles with four for loss but also keep an eye on sophomore defensive end Taeden Thomas, who has 32 tackles, seven for loss and 4.5 sacks. The Panthers will be looking to limit the big play that Oswego East hangs its hat on. Oswego will obviously be motivated to regain supremacy of the rivalry game and clinch a playoff berth to boot.
Friday Night Drive pick: Oswego
Yorkville (4-3, 1-2) at Minooka (3-4, 1-2)
When: 7 p.m. Friday
Last matchup: Minooka 48, Yorkville 6 (Spring 2021)
About the Foxes: Yorkville comes off a 14-7 loss to Oswego East. Deajeion Lewis ran for 100 yards on 22 carries, but the Foxes struggled to put points on the board which has been a recurring theme in their three losses. The Foxes this week have some dynamic threats to look out for on the other side led by NIU recruit Malik Armstrong, but Andrew Laurich and the Yorkville defense have the ability to rein in Minooka's offensive attack. Jake Davies is among the players to watch on that Foxes' defense with 48 tackles, 12 tackles for loss and 6.5 sacks. The Foxes can become playoff-eligible with a win – and they surely would like to avoid a fourth loss this week with Oswego looming in Week 9.
About the Indians: Minooka has now painted itself into the proverbial corner in regards to playoff position, likely needing to win its final two regular season games to get into the playoffs. It's been an uneven season for Minooka to this point, sometimes demonstrating that uneven season from game to game. Week 7′s loss to Plainfield North actually marked one of the better efforts turned in from Minooka on the defensive side of the ball this year, but the offense was completely shut off in the loss. Getting all phases going in the same game will be critical the rest of the way.
FND Pick: Minooka.
Kishwaukee River/Interstate Eight Blue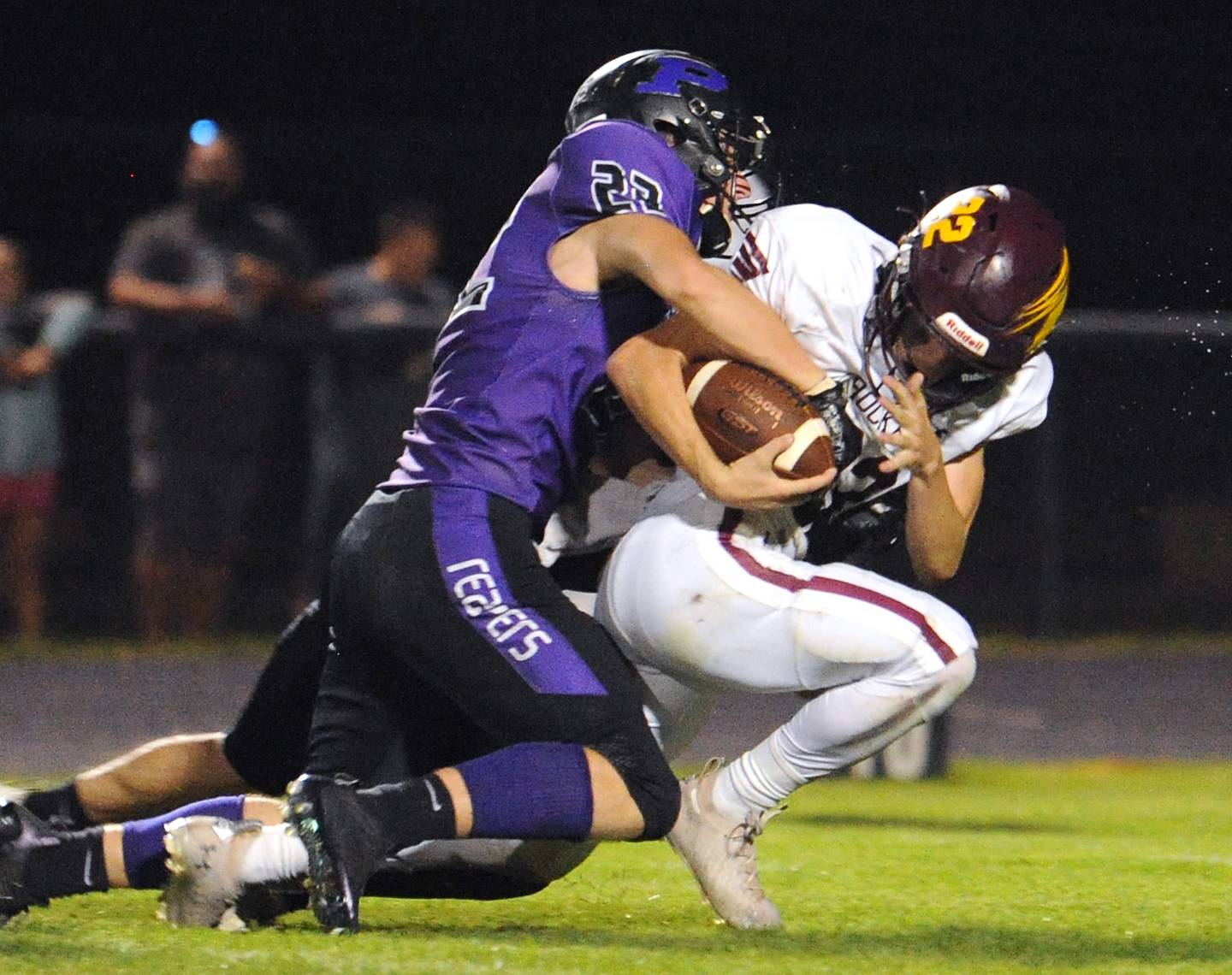 Rochelle (5-2, 3-1) at Plano (5-2, 3-2)
When: 7 p.m. Friday
Last matchup: Rochelle 42, Plano 0 (2019)
About the Hubs: Rochelle, already playoff eligible, has got things rolling since a 1-2 start. The Hubs have averaged a tick under 40 points per game in winning their last three games on the field and seem to have rediscovered their identity, establishing the run and dominating possession with their wing-T attack. Rochelle rolled up 431 rushing yards last week in a 43-21 win over Kaneland. Tailback Garrett Gensler ran for five TDs and wingback Trey Taft ran for 196 yards and a 43-yard TD for the Hubs, who also ran for 366 yards as a team in a 41-32 Week 5 win over Marengo. "They're not the same team they were in August. They know who they are and they are very good at what they do," Plano coach Rick Ponx said. "Their offensive line is phenomenal – athletic, big and move well. They are a wing-T football team that has found themselves."
About the Reapers: Plano comes in off a tough 21-20 loss at Marengo. The Reapers are getting well-acquainted with close games – their last three games have been decided by a total of nine points. Ray Jones continues to establish himself as the Reapers' go-to man out of the backfield. Jones went over 100 yards for the fifth time this season against Marengo and has run for 726 yards and eight TDs on the season. Plano wants to prevent Rochelle from controlling possession with time consuming drives and would love to get the Hubs out of their element by making them play from behind. "We're going to have our hands full – they'll be a load," Ponx said. "Getting up on them early will be critical. We have to be efficient moving the football."
FND Pick: Rochelle
Marengo (4-3, 3-1) at Sandwich (0-7, 0-4)
Game time: 7 p.m. Friday
Last matchup: First known meeting
About Marengo: The Marengo Indians are coming off a crucial 21-20 victory last week over Plano that kept them in the top half of the Kishwaukee River/Interstate Eight Blue standings and kept their realistic hopes of a playoff berth alive and well despite undefeated and KR/I8 Blue-leading Richmond-Burton lurking in Week 9. After a struggle stopping Rochelle the week prior, Marengo's defense came up big in Week 7, nicely complementing an offense led by RB Dylan Stolz (177 yards vs. Plano), WR Exzavier Meyer and dual-threat QB Joshua Holst (323 yards passing against Rochelle). "We just have some youth. We're getting better from week to week," Indians coach Paul Forsythe said.
About Sandwich: The KR/I8 Blue's other Indians came tantalizingly close to their first victory of the campaign last Friday, leading late before eventually falling 29-24 to new divisional foe Harvard. RB Seven Tornga turned in another strong performance for Sandwich in the loss, rushing for 165 yards, two touchdowns — including a 56-yarder to open the scoring — and a two-point conversion. QB Austin Sinetos threw a TD pass to Tornga as well, but the Indians are still searching for that secondary wing-T threat. Cainan Haick recorded three tackles for loss last week for a Sandwich defense that is surrendering 44.2 points per game the five times it has taken the field.
FND pick: Marengo
— J.T. Pedelty