DuPage Valley Conference
Waubonsie Valley (1-4, 0-2) at DeKalb (2-3, 0-2)
When: 7 p.m. Friday
Last matchup: The Barbs were 31-12 winners in the 2021 spring season.
About the Barbs: Freshman Talen Tate had a breakout second half for DeKalb in its 40-21 loss to Naperville North on Friday, with two rushing touchdowns and 95 yards. But the Huskies had scored on all four of their first-half possessions and were in control.
Struggles in the first two quarters have plagued the Barbs all season, coach Derek Schneeman said.
"We're still stressing that we need to put a whole game together," Schneeman said. "We haven't played to our potential, especially in the first half of games. Again this week we're striving to get off to a better start and carry that momentum throughout four quarters."
Schneeman said the Barbs, playing against Class 8A schools in the DVC, need to be more proactive in trying to get big plays early in games.
"It could be a confidence thing, too," Schneeman said. "Sometimes we're waiting for a play to be made instead of making a play ourselves. It seems like our back needs to be against the wall for us to respond. We talked yesterday that our back is against the wall this season. We expect to play our best game of the year this coming week."
If the Barbs are to make the playoffs for the eighth straight year, they are likely going to need to win at least three of their last four games. Two of their games are against teams ranked in the top six of Class 8A – Neuqua Valley (No. 2) and Naperville Central (No. 6).
Schneeman said the team is ready for the challenge ahead of it, starting with the Warriors.
"We're not exactly where we want to be, but at the same time we're still working hard," Schneeman said. "They're still responding well to being coached and know that it's a long season. We have basically half a year ahead of us. We're not where we want to be, but at the same time we continue to improve and want to take care of business Friday."
About the Warriors: Despite the losing record and being on the brink of elimination from the postseason, Waubonsie Valley has been in games this year, including losing, 17-14, to Naperville Central.
The Warriors are coming off a 24-13 loss to Metea Valley.
"Just another week in the DVC. Their record doesn't explain how good of a team they are," Schneeman said. "They have weapons that could hurt you. They played Naperville Central to three points. They played Metea tough."
Luke Elsea was 20-of-41 passing for 235 yards and an interception in the loss to the Mustangs last week. Starting tailback Jabron Lee was on crutches on the sidelines last week, taking a weapon away from the Warriors.
Friday Night Drive pick: DeKalb
Kishwaukee River/Interstate 8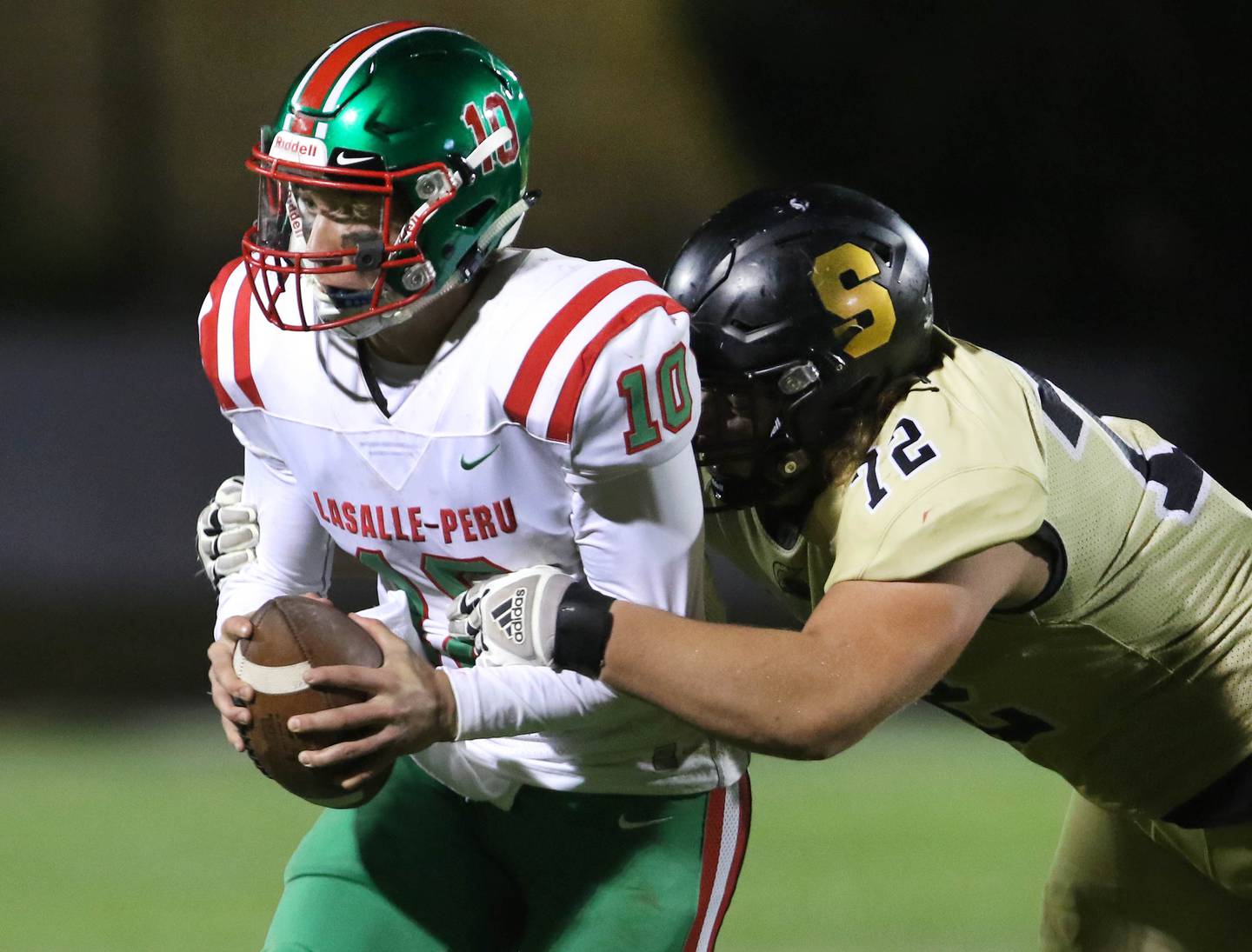 Richmond-Burton (5-0) at Sycamore (4-1)
When: 7 p.m. Friday
Last matchup: First meeting since at least 1995.
About the Spartans: The Spartans have won four straight, including 23-0 against La Salle-Peru last week, entering this KR/I-8 crossover game.
"We've had a good week of practice," Sycamore coach Joe Ryan said. "It's always a house of cards dealing with high school kids, but I think we're starting to figure some things out, defensively and offensively, especially on both sides of the ball up front."
Four Spartans have at least 190 rushing yards, led by Nathaniel Altepeter's 287 yards and eight touchdowns and Zack Crawford's 231 yards. Sam Carlson has rushed for 196, and quarterback Eli Meier had run for 193 and thrown for 768 with eight touchdowns and two interceptions. Carlson, Jake O'Donnell and Kayden Galto have more than 100 receiving yards apiece, with Galto catching 11 passes for 199 yards.
About the Rockets: They've won 25 straight coming in and are the defending Class 4A state champions. They won their first two games this year by a combined 110-0, and after a Week 4 scare against Plano – they escaped, 21-14 – they cruised last week, 55-6, against Sandwich.
The Rockets keep the ball on the ground a lot, with Brock Wood leading the team with 609 yards rushing and 12 touchdowns, averaging 10.5 yards a carry. Steven Siegel has run 35 times for 281 yards and nine scores.
FND pick: Sycamore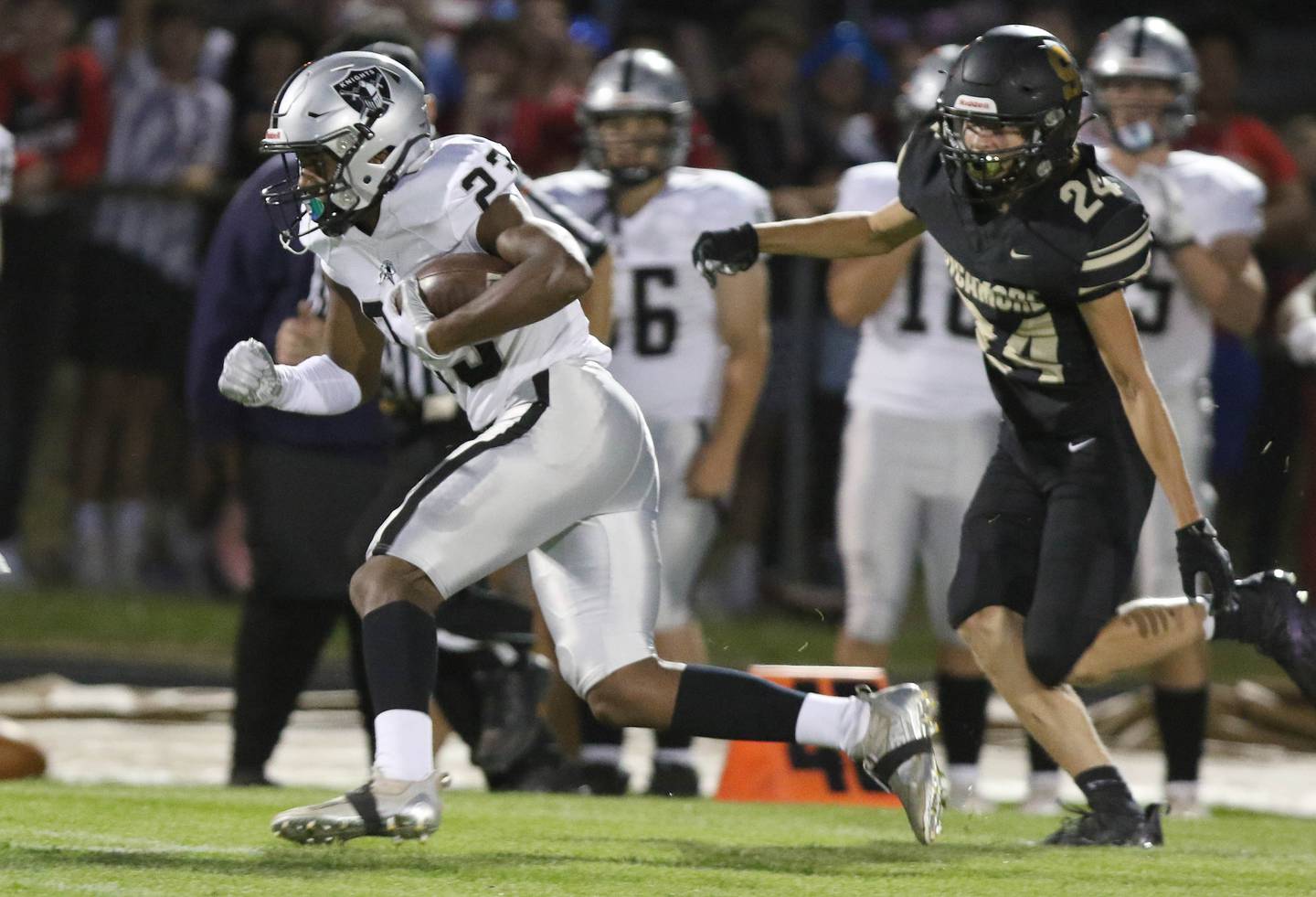 Morris (5-0, 2-0) at Kaneland (3-2, 2-1)
When: 7 p.m. Friday
Last matchup: Morris 35, Kaneland 30 in 2019
About the Knights: Having lost in the conference opener to Sycamore, Kaneland gets a shot at the only unblemished team left in the KR/I-8 White.
Kaneland comes into the contest having won two straight since the loss to Sycamore.
"We're feeling good. I think we'll be healthy," coach Pat Ryan said. "We've got two wins in a row now. We've got a lot of confidence and we're playing better."
Ryan said he expects starting running back Corey Phillips back against Morris. He was injured early in the 56-28 loss to Sycamore and hasn't played since. He has rushed 36 times for 170 yards and two scores.
Chris Ruchaj has been averaging 10.5 yards a carry the past two games, rushing for 252 yards and three scores. Ryan said although he'll still get carries, he'll shift back to playing more on defense and special teams.
The passing game has been holding down the fort, with Troyer Carlson completing nearly 70% of his passes for 1,303 yards, 15 touchdowns and four interceptions. Sam Gagne (35 catches, 626 yards, 6 TDs), Aric Johnson (22-322-5) and Dom DeBalsio (22-263-3) have been the main recipients.
Ryan said the defense has been improving, coming off a 42-7 win at Woodstock. It was the first time they've held an opponent to single digits this year.
"Our defensive front is playing a lot better," Ryan said. "We had a lot of inexperienced guys playing at the beginning of the season that now have some experience and are playing a little bit better, including against the run."
About Morris: Zach Romak is a dual-threat quarterback for Morris, completing 46 of 66 passes for 647 yards and seven touchdowns. He has yet to throw an interception this season. He also has rushed for 358 yards and six touchdowns.
Ashton Yard has 483 rushing yards and five scores, while Myles Johnston (15-233-3) has been the top target for Romak.
Morris is averaging more than 40 points a game and is allowing less than 10. They've scored more than 40 in three straight, more than 30 in four straight and are coming off their first shutout in a 42-0 win against Marengo.
Jorge Loza leads the defense with 43 tackles, while defensive back A.J. Zweeres, a sophomore, is second with 36 tackles. He also has forced a fumble and come up with an interception.
FND pick: Morris
Big Northern Conference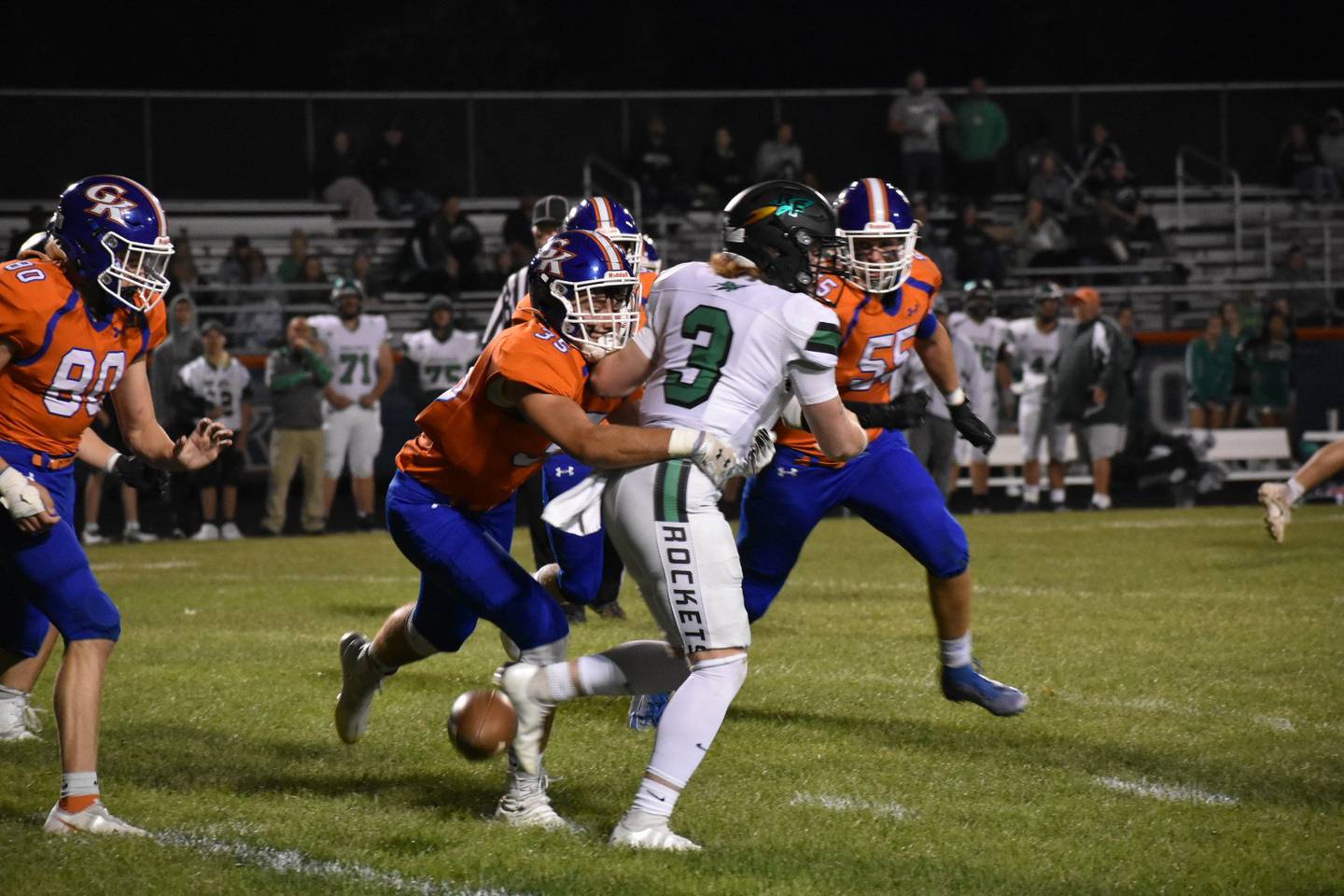 Oregon (1-4, 1-4) at Genoa-Kingston (4-1, 4-1)
When: 7 p.m. Friday
Last matchup: Genoa-Kingston won, 45-0, in 2019.
About the Cogs: As strong as the defense has been for Genoa-Kingston, it picked up its first shutout of the year Friday in a 41-0 win against Rock Falls. They've allowed 7.5 points a game, by far the fewest in the conference.
Against the Rockets, the Cogs allowed only 54 yards of total offense. And early in the second quarter, they blocked a punt for a defensive score.
"We feel really good. We gained some confidence in what we needed to do offensively, defensively and even special teams," coach Cam Davekos said. "So we're pretty confident heading into Friday night. However, Oregon is pretty big – they've got some numbers. So we've got to make sure we dot our i's and cross our t's to get the job done."
As strong as the game was in all three phases Friday – G-K also has 324 yards of total offense – Davekos said the team can get even better.
"There's always room for improvement," Davekos said. "When we watch film we still see some guys out of alignment. Tackling is always a thing of emphasis. We haven't peaked yet."
About the Hawks: Aside from scoring 45 points against Rockford Christian in their only win of the year, the Hawks haven't scored more than seven in a game this year.
Daniel Dominguez is third in the conference with 441 rushing yards and has scored four times.
"We know they have some athletes, and they're coached up really well," Davekos said. "We really need to make sure we keep them in front of us and make sure we secure tackles. We have to make them work for it and then we get the job done."
FND pick: Genoa-Kingston
Eight-man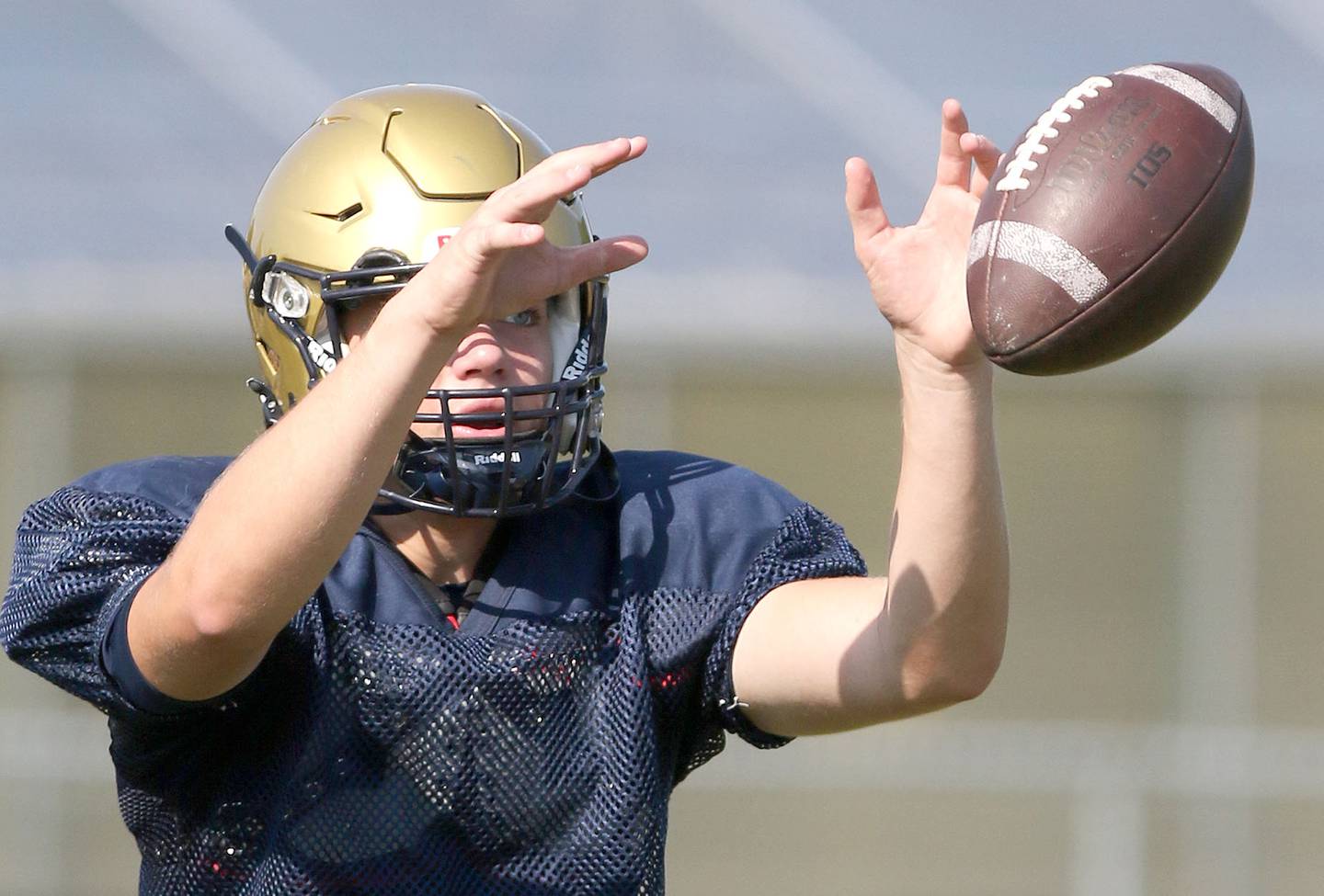 Hiawatha (3-2) at Amboy (2-3)
When: 7 p.m. Friday
Last matchup: First meeting since at least 1995.
About the Hawks: Behind three defensive touchdowns from Cole Brantley, the Hawks won, 56-0, on Friday at Ashton-Franklin Center.
They've scored 50 points in all three wins and have allowed at least 50 in all three losses.
"It was nice to have a bounce-back week to build a little confidence," Doolittle said. "We know this week is another good team. We look forward to that and hope to come put on top to show we can compete with the better teams in eight-man."
About the Clippers: Doolittle likened the Clippers to South Beloit, a team that beat Hiawatha, 50-26, earlier this year but a game Hiawatha led in the third quarter.
Despite the losing record, he said the Clippers have an impressive win against West Central – 60-14 against a team currently 3-2 – and sees Friday as a challenge.
"They've played some better teams and have won the games they should," Doolittle said. "I know they've beaten a better team in West Central. We know they are capable, and we are respecting them, working hard to get the victory on Friday."
FND pick: Hiawatha