DuKane Conference
Geneva (2-0) at Glenbard North (2-0)
When: 7:30 p.m Friday
Last Matchup: Glenbard North 28, Geneva 13 (2021 spring season)
About the Vikings: There's no doubting Geneva has found a groove to start the season. Between Carter Powelson's emergence at running back and Blake Stempowski and Mason Pawelko starring on defense, the Vikings come into this week looking solid.
About the Panthers: Damarion Elliston was electric last week, going for 303 yards and two touchdowns against Naperville North. Justin Bland continues to grow as a quarterback and the Panthers' defense can generate good push with Paulie Robertson and Drake Pittman up front.
FND Pick: Glenbard North
Wheaton North (2-0) at Batavia (2-0)
When: 7:30 p.m. Friday
Last matchup: Wheaton North 16, Batavia 7 (2021 spring season)
About the Falcons: Wheaton North is ranked No. 5 in the latest Class 7A Associated Press statewide poll. The Falcons were expected to be a team to watch this fall with so many players back from a successful spring and haven't disappointed with two wins by a combined margin of 80-7. Third-year starting quarterback Mark Forcucci, a Holy Cross recruit, comes off a solid 15-for-20, 166-yard game in a 30-7 win over Providence. Seth Kortenhoeven is one of his favorite targets and was so against Providence.
About the Bulldogs: Batavia comes off an inspired 21-13 win at Oswego, rallying from a 13-0 deficit in the second half. The Bulldogs' defense is fast and physical, presenting a great matchup with a veteran Wheaton North group. Keep an eye on defensive lineman Tyler Sapit, who had eight tackles and three for loss at Oswego. Running back Josh Dornink turned an ankle at Oswego; if he can't go, Jalen Buckley figures to get the bulk of the touches on the ground. Batavia surely hasn't forgotten the season-ending loss to Wheaton North at NIU in the spring.
FND Pick: Batavia
St. Charles North (2-0) at Wheaton Warrenville South (1-1)
When: 7:30 p.m. Friday
Last matchup: St. Charles North 28, Wheaton Warrenville South 21 (2021 spring season)
About the North Stars: St. Charles North's defense has impressed early with shutouts of Palatine and Lake Zurich. Senior linebacker George Litgen and lineman Paolo Gennarelli, the latter an Army recruit, anchor the North Stars' unit. Drew Surges, who also plays safety, ran for 121 yards last week at Lake Zurich. Freshman quarterback Ethan Plumb has more than held his own in the early going this season.
About the Tigers: WW South looks to get back on track after running into a tough Neuqua Valley team in a 26-7 Week 2 loss. Matt Sommerdyke was 19-for-31 with 173 passing yards and a 14-yard TD in the final minute to Eric Swanson. Brandon Bell, who had five catches for 42 yards, is a top target.
FND Pick: St. Charles North.
St. Charles East (1-1) at Lake Park (0-2)
When: 7:30 p.m Friday
Last Matchup: St. Charles East 23, Lake Park 14 (2019)
About the Saints: Nathan Hayes and the offense exploded last week against Waubonsie Valley, and this should be another opportunity to showcase their talent. One name to keep an eye on is Michael Weaver, who had six catches for 147 yards and one TD last week.
About the Lancers: It's been a difficult stretch for the Lancers, but perhaps a home game gets them back on track. Cooper Cerese is a talented two-way player and Frank Moorman is growing in his first year starting at quarterback.
FND Pick: St. Charles East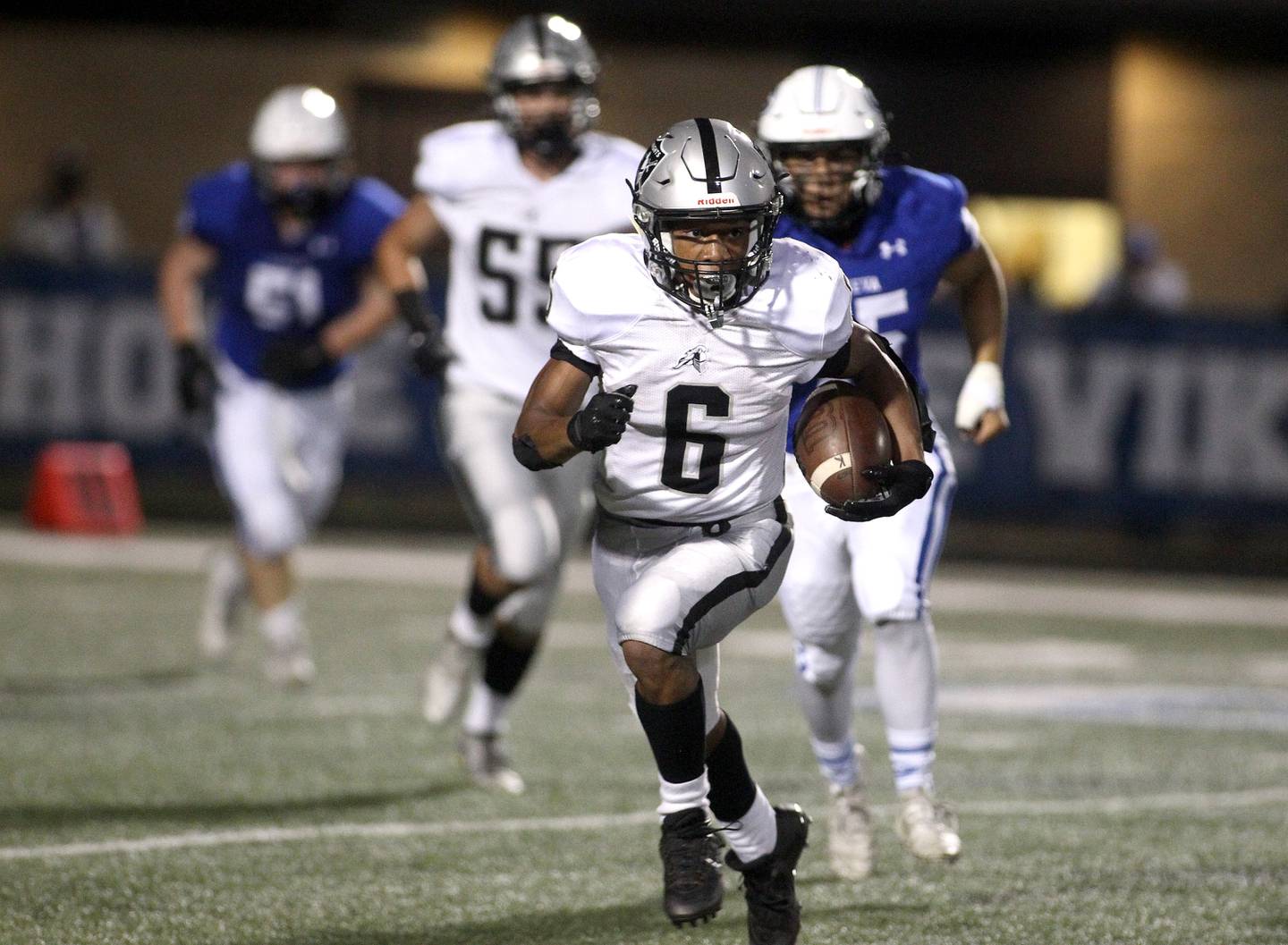 Fox Valley Conference
Dundee-Crown (0-2, 0-2) at Burlington Central (1-1, 1-1)
When: 7 p.m. Friday
Last matchup: Burlington Central defeated D-C, 13-6, in Week 5 of the 2021 spring season.
About the Chargers: D-C lost to Hampshire, 48-21, last week. … The Chargers have one win since the start of the 2019 season. … RB Keegan Otte is D-C's leading rusher while Anthony Aguilar, Hunter Guyon and Drew Randl are the top receivers.
About the Rockets: Burlington fell to Prairie Ridge, 41-14, in Week 2. … RB Gavin Sarvis leads the Rockets with 220 rushing yards and gained all his positive yards on one carry last week, a 62-yard touchdown run. … QB Shawn Adkerson ran for 86 yards last week.
FND pick: Burlington Central
Kishwaukee River/Interstate 8 White
Kaneland (1-1) at Sycamore (1-1)
When: 7 p.m. Friday
Last matchup: Sycamore 12, Kaneland 6 (spring 2021 season)
About the Spartans: After a 23-16 overtime loss to rival DeKalb in Week 1, Sycamore evened its record last week with a 46-8 win at Oak Forest.
"You always feel good after a win," Sycamore coach Joe Ryan said. "We saw on tape a lot of room to improve, and we're making those improvements. We made great strides from Week 1 to Week 2 and continue to strive to be a great team. We're not there yet, but we're getting better in practice each week."
Eli Meier completed all nine of his pass attempts in the win last week for 253 yards and three touchdowns.
The Spartans have won both games between the teams as members of the Interstate 8, winning 12-6 in the spring 2021 season and 35-14 in 2019. The Knights had won the two previous games by a combined 49-7, and Sycamore won the 2015 and 2016 games by a combined score of 56-7.
About the Knights: Kaneland fell to 1-1 last week after losing to Geneva, 31-20. They opened the year with a 27-23 win against Andrew.
"Even though we lost, we did improve as a team," Kaneland coach Pat Ryan said. "We did things like tackling better. We played better assignment football. We limited some mistakes we made in the first game. Hats off to Geneva, they're a much better football team now."
Corey Phillips has run the ball 34 times for 154 yards this season with two touchdowns. Troyer Carlson has completed 35 of 52 passes for 469 yards, five touchdowns and one interception.
FND Pick: Sycamore
CCL/ESCC
Marmion (2-0) at Montini (1-1)
When: 7:30 p.m. Friday
Last matchup: Montini 27, Marmion 3 (2018)
About the Cadets: Marmion did well in taking care of business outside the CCL/ESCC with a close win over Bishop McNamara and blowout of Chicago Lake View. Dan Thorpe became the program's winningest coach with the Week 1 win. Northern Illinois-bound receiver Dane Pardridge is a player to watch on the outside for an offense that returned nearly its entire offensive line this season.
About the Broncos: Montini's defense rose to the occasion last week in a big 17-10 win at an always tough Sterling opponent, giving up just one offensive score. Jackson McWhinney had 17 tackles and a huge sack on the last drive, fellow senior linebacker Michael Carver had 12 tackles and defensive end Luke Cushing nine tackles with a sack and a hurry. The Broncos are well-tested already, splitting two one-score, relatively low scoring games. Julian Turner, who had two TDs last week, is a gamebreaker.
FND Pick: Montini
Nonconference
St. Francis (1-1) at Prospect (2-0)
When: 7 p.m. Friday
Last matchup: First known meeting
About the Spartans: St. Francis' regularly-scheduled game at St. Edward was canceled due to a positive COVID case in the St. Edward program, setting up this interesting non-conference matchup. The Spartans bounced back in a big way from a Week 1 loss, beating a good Peoria club 50-26. Adam Criter ran for 157 yards and three TDs and had one catch for 34 yards. Defensively, Sammy Atkins had 12 tackles and three for loss, and Ryan Calcagno seven tackles and a pick-six. Tested in the non-conference, St. Francis now turns its attention to a league it dominated in the spring. This is the first meeting with former Suburban Christian Conference rival St. Edward since 2013.
About the Knights: Prospect's scheduled game was canceled because of COVID issues at Niles West. Prospect, out of the Mid-Suburban East, is ranked No. 9 in the latest Associated Press Class 7A poll. The Knights own blowout wins over Sandburg and Fremd. The Knights returned nine starters on defense from a team that won the MSL East title in the spring. Quarterback Frank Covey, who played wide receiver last season, appears to have made a smooth transition to quarterback. He threw for 196 yards and a touchdown and ran for two TDs last week against Fremd.
FND Pick: Prospect