Nonconference Games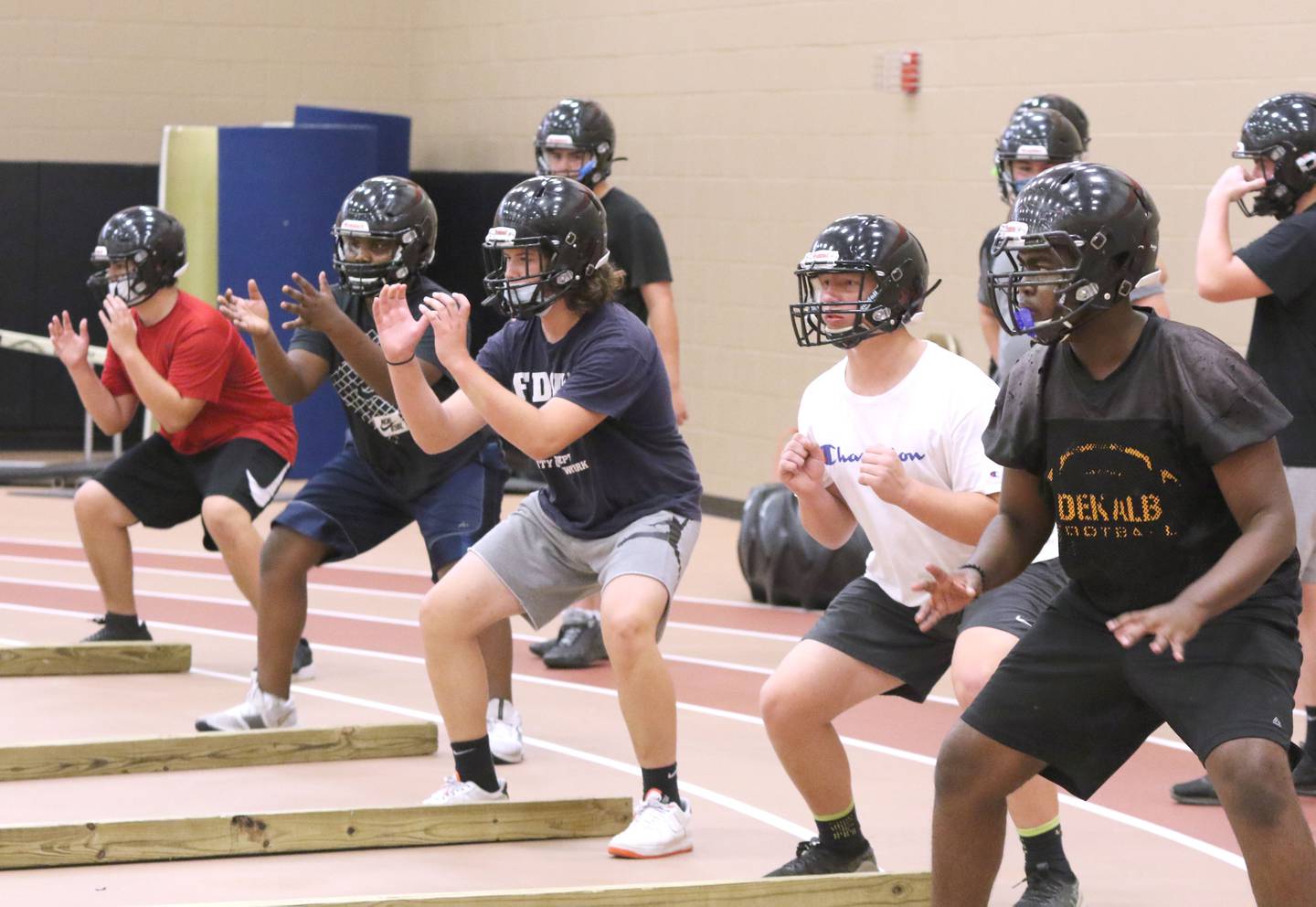 DeKalb vs. Sycamore
When: 7 p.m. Friday, Huskie Stadium
Last matchup: DeKalb 13, Sycamore 0 (2019)
About the Barbs: Although still trying to figure out which junior, Adrian McVicar or Josh Klemm, will be starting at quarterback, the Barbs have high hopes for their offense this season. That starts with speedster Toriano Tate, a threat to run and catch the ball. His brother, Talon Tate, saw time as a freshman during the spring season at safety and will and reps at running back. Christian Lorenzo, already a top defensive lineman, will spend some of his senior year at tight end. Like Talon Tate, Xavier Dandridge saw playing time in the spring as a freshman and has high hopes at receiver for his sophomore campaign.
DeKalb went 1-2 in the spring season after a 6-4 mark in 2019. They've made seven straight postseasons.
About the Spartans: Eight starters return on defense for the Spartans, who have held DeKalb to 17 points or less in the past two meetings but have lost both. Overall, Sycamore has lost six straight in the series after winning 15 of the 17 prior matchups. The series took a one-year hiatus because of the COVID-19 pandemic and was not played last season. Eli Meier will start for the second straight season at quarterback, taking over early last season. Nathaniel Altepeter will be starting at running back for the third straight year.
Sycamore has won 20 of its past 23 games, including a 6-0 mark last year. The only regular-season loss for the Spartans in that stretch was the 2019 loss to the Barbs. The other two losses during that stretch were playoff losses by a combined seven points.
Pick: DeKalb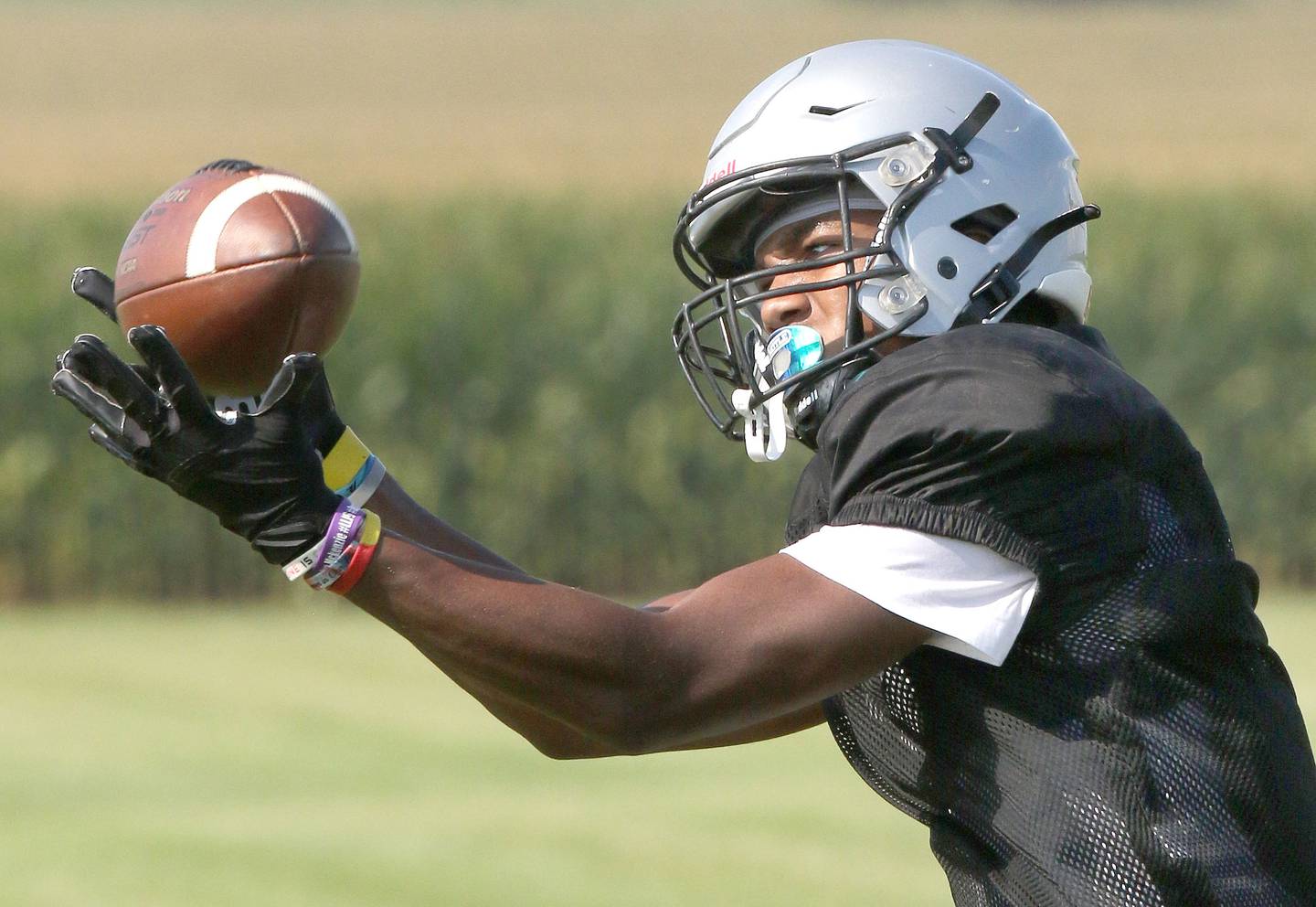 Kaneland at Andrew
When: 7 p.m. Friday
Last matchup: First meeting since at least 1995.
About the Knights: While the offensive line was a question for the Knights last week, coach Pat Ryan said it has fallen into place well behind returning starter Matt Slough with guys like Brett Larson and Austin Lilly fitting in well.
"It's pretty clear the line is clicking right now," Ryan said. "Through camp in July and two weeks of preseason that group has gotten a lot better."
They'll be paving the way for an experienced group of skill players, including Corey Phillips, who started at running back last year and got stronger as the year went on. Troyer Carlson started as a freshman at quarterback last year and returns with top targets Sam Gagne and Aric Johnson.
It also will be the debut of 11 new starters on the Kaneland defense.
"I think we've got a pretty good handle on personnel and things are clicking," Ryan said. "Our new faces on defense are catching on to the scheme and are playing fast. There's a lot less thinking and a lot more playing."
About the Thunderbolts: Andrew has qualified for three straight postseasons under coach Adam Lewandowski, although the team went 2-4 in the spring 2021 season. Their last playoff win came in 2011.
Pick: Kaneland
Eight-man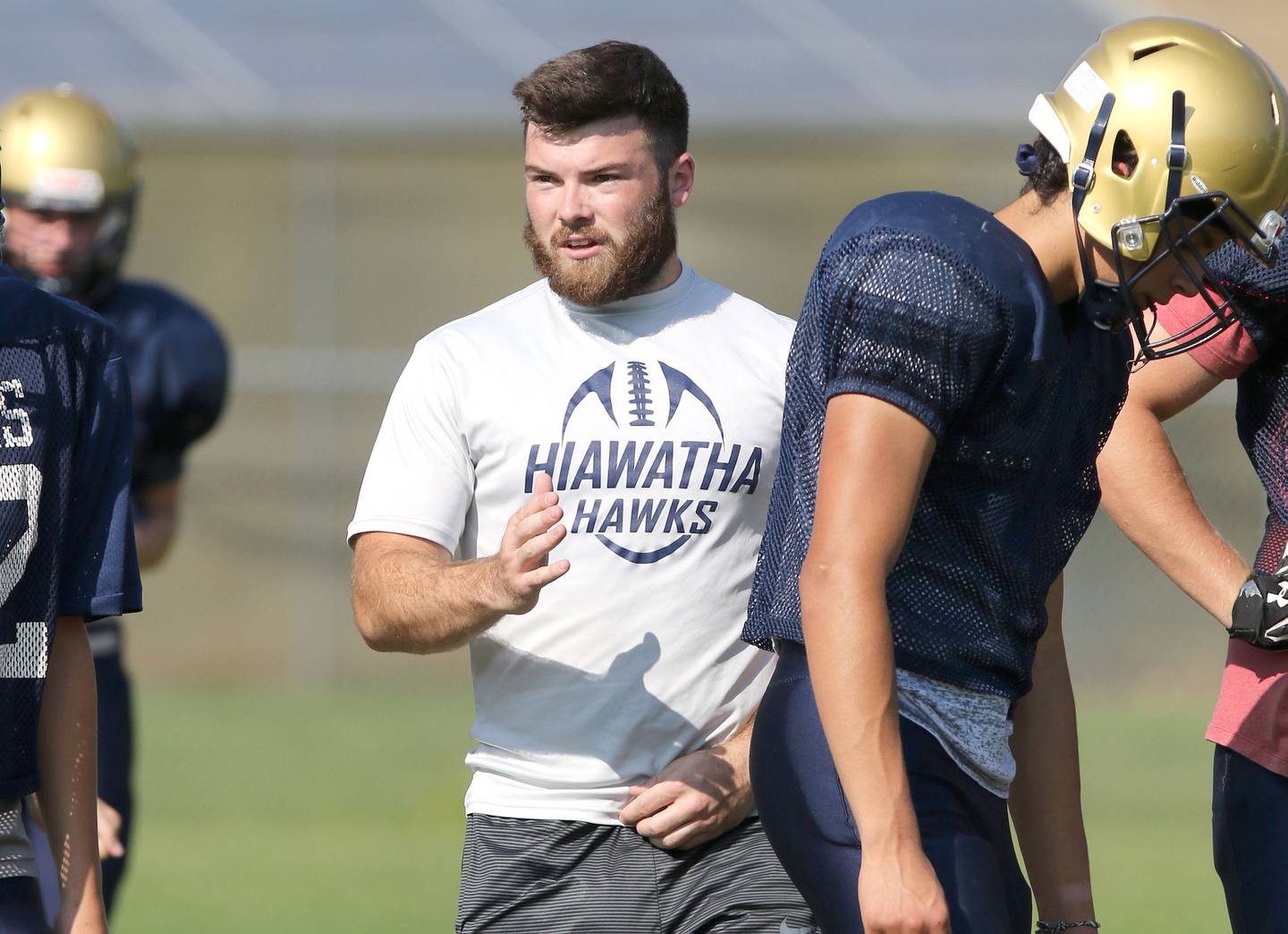 Blue Ridge at Hiawatha
When: 7 p.m. Friday
Last matchup: First meeting since at least 1995.
About the Hawks: Hiawatha is set to play its first game under Nick Doolittle, who takes the reigns from Jason Keneway in the team's first full season in eight-man football. They went 3-3 in the spring.
"We feel pretty good," Doolittle said. "We're working out the little kinks here and there, and overall we're looking good. We're more confident in what we can do and the place we're at going into Week 1."
Cole Brantley will handle the load at running back for the team while Chris Korb takes over for his brother Matt at quarterback.
About the Knights: Like the Hawks, the Knights joined the eight-man ranks in 2020. They went 2-7 in their final season of 11-man football, including an 0-7 mark in the Lincoln Prairie Conference. They went 2-3 on the year, although according to the IHSA website both wins were forfeits. The school last made the playoffs in 2001 and has won more than two games twice during that stretch.
Doolittle said he couldn't find much online about the Knights, a rarity these days even at the lower levels. Doolittle said it's weird knowing there's film of his team out there on various sites, but nothing about Blue Ridge.
"It's interesting," Doolittle said. "It's harder defensively getting prepared because it's really hard when you don't what they run. Offensively we'll do what we know no matter what. It hasn't been as worrisome. But defensively planning is harder when you don't know what to plan for."
Pick: Hiawatha
Big Northern Conference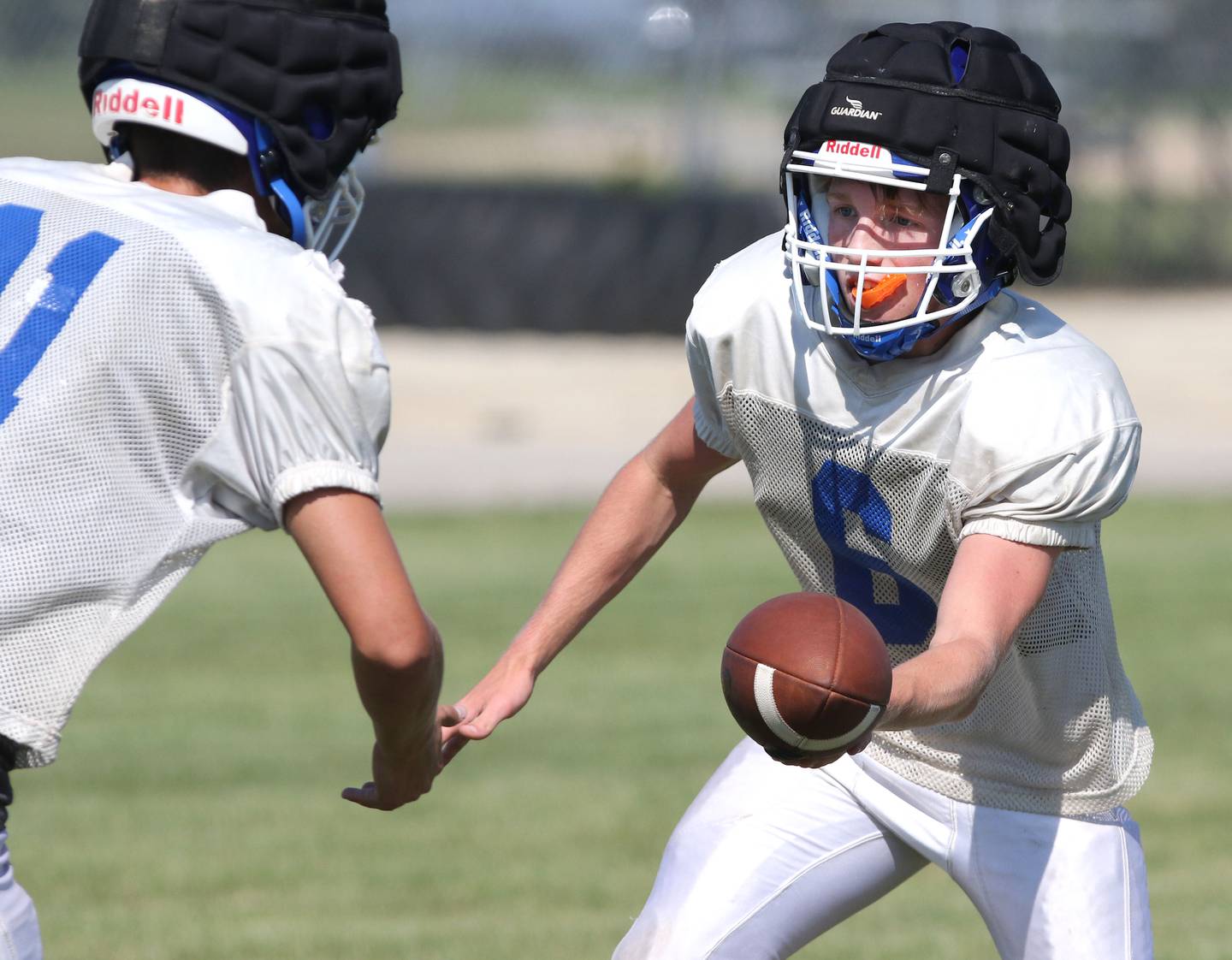 Genoa-Kingston at Winnebago
When: 7 p.m. Friday
Last matchup: Genoa-Kingston 34, Winnebago 21 (2020)
About the Cogs: Genoa-Kingston will be playing its first game under new head coach Cam Davekos, but don't expect a revamping of what has propelled the Cogs to five straight playoff appearances. The Cogs still expect to run the ball out of their wing-T, with guys like Colin Nesler, Nolan Perry, Jake Oates and Chase Engel all poised for carries. Davekos said the plan on offense is the same as always – at least 3 yards on every down, wear down the defense and pounce on any openings.
About the Indians: Winnebago had a rough spring, going 1-4. Michael Cunningham returns as a threat for the Indians in every way. Not only does he possess a big boot as a kicker, he's an explosive running back and can handle run support at defensive back – something that he'll have to do against the Cogs and their wing-T.
Davekos said Cunningham and Speltz are dangerous with the ball, and he was impressed on the lower-level game film of quarterback Alec Weavel.
"We've got to stop [Speltz]," Davekos said. "Their quarterback is going to be a junior, and you can see he has a cannon. He can throw the ball well if you look at the fresh-soph tape. And Cunningham is always a weapon. We have to make sure to contain their weapons and make sure they have a hard time moving the ball."
Pick: Genoa-Kingston