GENOA – Republicans Tony McCombie, Illinois State House GOP minority leader from Savanna and state Rep. Jeff Keicher, R-Sycamore talked the SAFE-T Act, estate taxes and the Illinois semiautomatic gun ban with Genoa area constituents this week.
About 30 people gathered in Genoa Tuesday for an almost two-hour town hall hosted by Keicher and McCombie who shared updates on the spring legislative session. Among those in attendance were Genoa City manager Alyssa Seguss, head of the DeKalb County Republican Party and County Board member Tim Bagby, County Board member and Republican Kathy Lampkins and DeKalb County Treasurer Becky Springer, also a Republican.
City residents said they were thankful to get a chance to hear directly from the lawmakers.
"I think it's critical that they come and get the grassroots response to issues, although we're typically more concerned with local issues than statewide issues," said Gordon Jones, 82, a Genoa area resident. "But it also helps us understand what's going on in Springfield – or not going on."
The lawmakers talked about what they said were partisan challenges in Springfield.
"I think it's critical that they come and get the grassroots response to issues, although we're typically more concerned with local issues than statewide issues. But it also helps us understand what's going on in Springfield – or not going on."

—  Gordon Jones, 82, a Genoa area resident
Keicher expressed dismay and frustration over what he said was the way Democratic state legislatures have governed. McCombie talked about meeting in the middle with Democrats over shared priorities. They both said a Democrat supermajority puts constraints on what Republican legislators can accomplish.
"My frustration is good governance, Tony and I are all about transparency and good governance," Keicher said. "And when you're in the super majority – and I don't mean to sound like a spoilsport – but when you're in the super majority and you have control of all the levers of government, you can do everything according to process and practice, and still do what you want when it comes to the vote."
Keicher alleged state Democrats didn't go through the proper steps for legislative measures, and said he was astounded how often lawmakers on the other side of the aisle said they hadn't heard anything from constituents about various bills, when he asked them.
Some common ground, however, can be found, McCombie said. McCombie said amending Illinois' franchise and estate taxes are among the shared priorities between Democrats and Republicans going forward.
McCombie echoed comments she made in March after Gov. JB Pritzker, a Democrat, said his administration was considering tax cuts.
Lawmakers passed Pritzker's latest budget last week, a $50.6 billion spending plan. The budget includes higher investments in pre-K through 12th grade education, targets child welfare, poverty and homelessness, and increases state spending on higher education, a goal Pritzker has touted throughout the spring session, Capital News Illinois reported. Pritzker visited Northern Illinois University in April to stump for support for the initiative.
On Tuesday, McCombie said House Republicans have pushed in particular to see a cut on estate taxes, which she has said unfairly target Illinois farmers. Illinois estates – when passed on to family members – are taxed if they're worth more than $4 million. The taxes must be paid out before the land can be passed down, according to the tax law, which is administered through the Illinois Attorney General's Office.
"So the estate tax, whether you're a farmer or a small business or you just happened to be lucky by the grace of God to be rich, and you want to pass on your estate to your family, we have really pushed that to, if you don't want to repeal it let's at least couple it with the federal government," McCombie said. "And we, for the first time in years, we actually got a subject matter hearing, so we will continue to push for that. I think that's a start for a win. And to be quite honest the Governor doesn't like the estate tax either but he can't say that publicly, but he did tell me behind closed doors and I promise you he said that."
The two state lawmakers answered questions and listened to comments from those in attendance for about half of their town hall event.
The SAFE-T Act, police funding, the state's assault weapons ban, motor fuel taxes and immigration were among the topics broached by those in attendance.
"Let's be clear on language right, because that's important, facts are important – we're not defunding [police] but what we are doing is putting mandates on police departments without giving them funding. So there's only two ways to pay for that, either raise the taxes or get rid of salaries," McCombie said in response to a question about how lawmakers are assisting police departments.
McCombie also said she thinks the state needs to stop "decriminalizing crime" and that she believes law enforcement has become a bad word, but doesn't know how to change that mentality within the Illinois House of Representatives.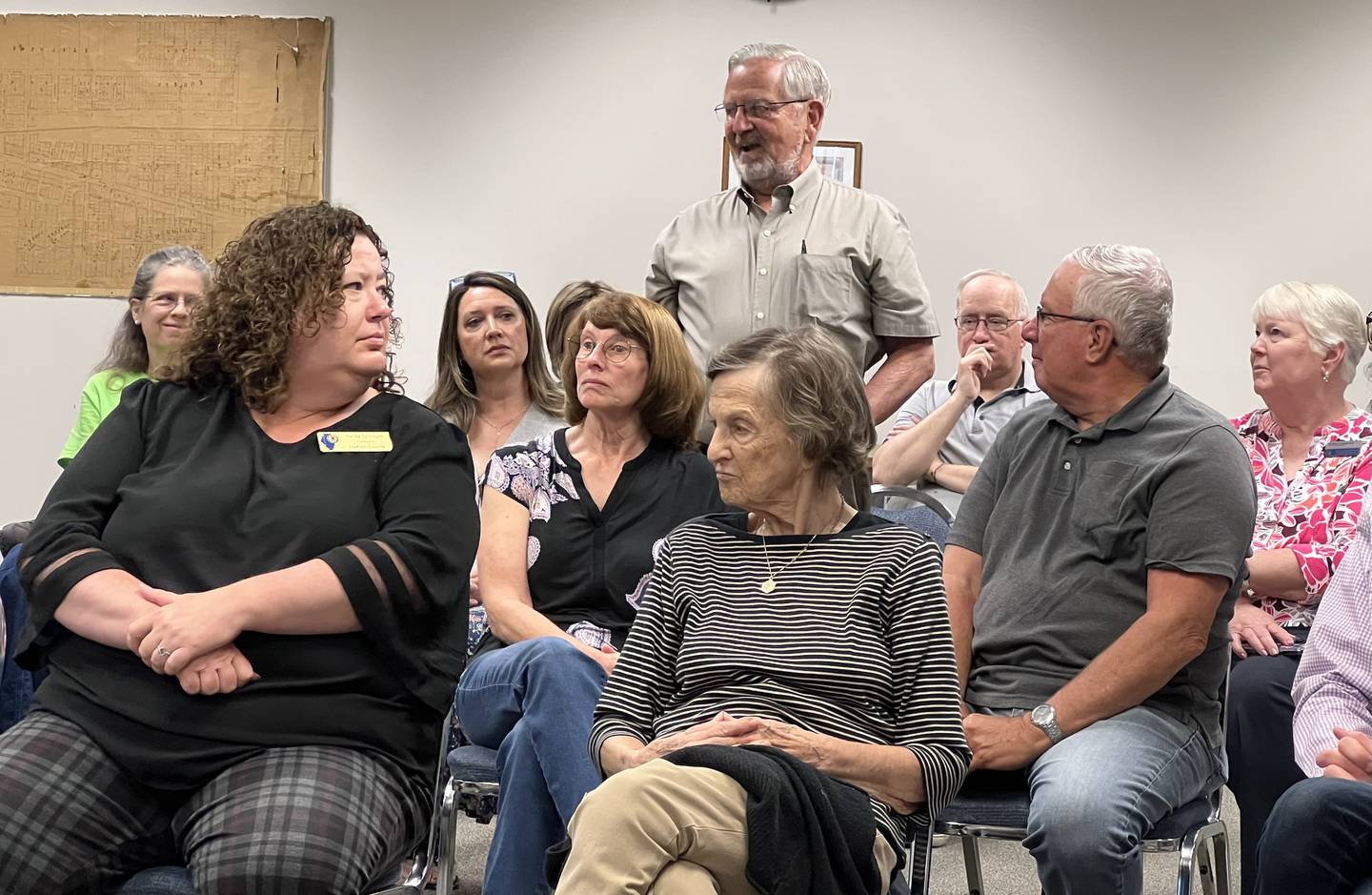 Jones spoke up about traffic concerns in Genoa, and "the rules of the road," during the town hall. Afterward Jones said he felt good about voicing his concerns to the lawmakers.
"I know that there's a system and they can put, take the information back and send it forward to the responsible folks, and hopefully they'll take action because we have two intersections in this town, or in the area, that are rolling stops at full speed," Jones said.
Springer said she believes McCombie and Keicher handled the town hall "very well," and thought the questions and topics discussed were relevant to DeKalb County and Genoa residents.
After redistricting, McCombie became Springer's state legislator. In January, McCombie became the first woman to serve as the House Republican leader in Illinois.
"It's amazing to me how far women have come in politics and how far we'll continue to go, because I, too, am a woman in politics and it's just amazing to see that hopefully we have no ceilings going forward," Springer said.
McCombie said she looks at her position as an opportunity for the public to shed what he believes are preconceived notions about the Republican Party.
"And as you could probably tell from this, I'm not afraid to have a conversation and certainly am OK with people disagreeing with me," McCombie said. "But we're going to have some big issues, especially as I travel around the state, especially in the suburbs and in Chicago, it's going to be very important that I'm in the room – and I'm getting the ask."