DeKALB – U.S. Sen. Dick Durbin and U.S. Rep. Lauren Underwood visited Northern Illinois University on April 5 to herald a recent $1.5 million federal investment for a 4,200-square-foot microchip innovation and workforce development hub on campus.
NIU is in the process of converting its existing lab space into a fabrication lab dedicated to education, research and development and small business incubation to drive innovation across northern Illinois and help address the global microchip shortage.
The funding, announced in January, is meant to aid the university's efforts to expose students to microelectronic devices, microelectromechanical systems and chemical and biological sensors that may be used to support the needs of local industries through workforce development and training.
"We're very grateful for the investment that they've done for the college, for the department, as well as for the university," said Mansour Tharenezhadi, NIU professor and senior associate dean for the college of engineering and engineering technology. "Investment in chip sciences, chip fabrications is important for our country, for national security, as well as for empowering the next generation of innovative products."
The visit marked Underwood's second trip to NIU's Microelectronic Research and Development Lab as the university prepares to undergo modernization. The funding was secured through the U.S. Department of Education's Community Project Funding grant.
"There's always opportunities to innovate in public health, and I just am excited that we have an anchor institution in our community that's leading the region towards a discovery like this."

—  U.S. Rep. Lauren Underwood, D-Naperville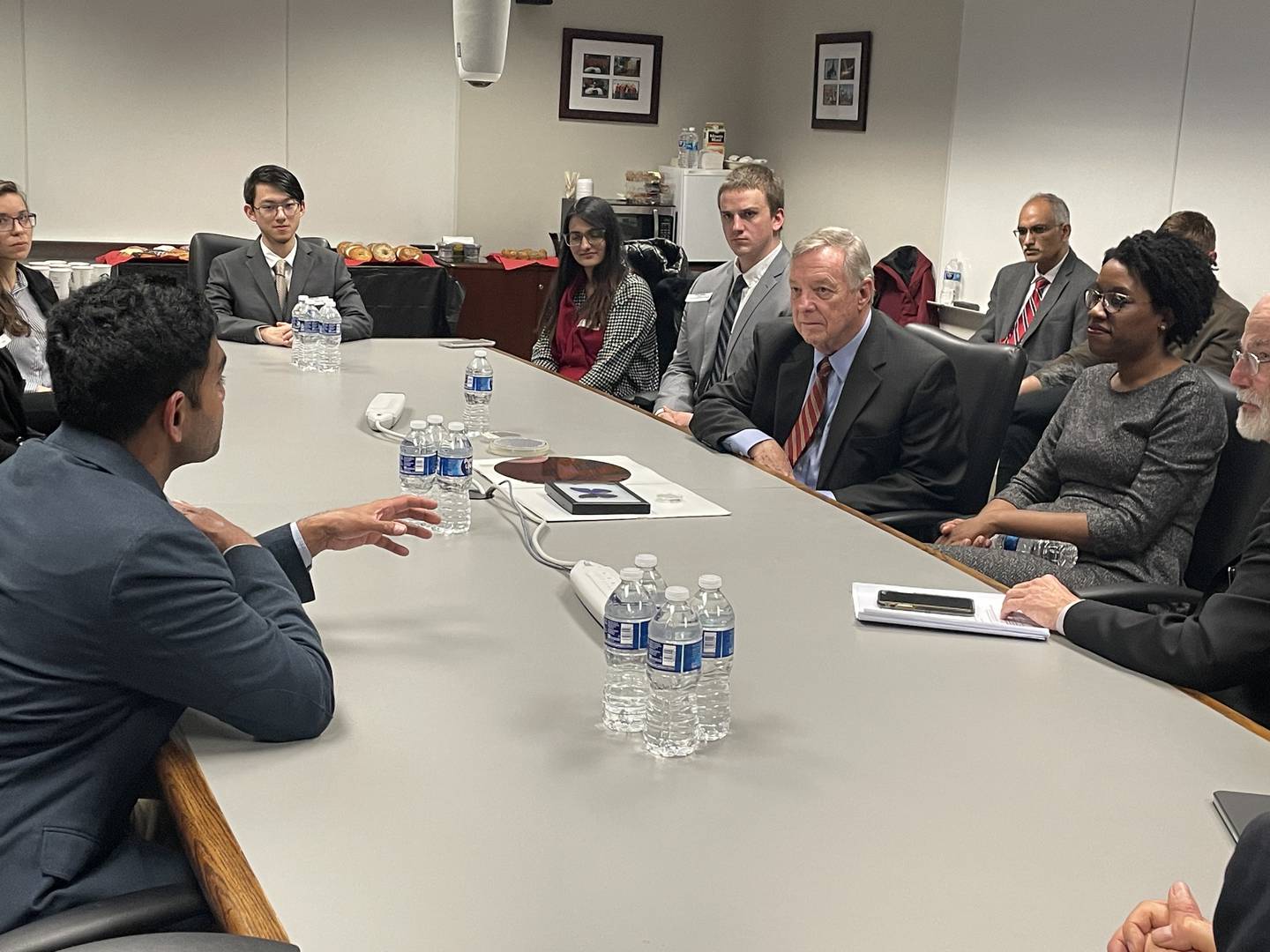 During their visit, Durbin and Underwood were given a tour of the existing lab space.
Underwood, a Naperville Democrat, said that as the nation emerges out of the COVID-19 pandemic, prioritizing ways in which public health and engineering can diverge is a priority.
"There's always opportunities to innovate in public health, and I just am excited that we have an anchor institution in our community that's leading the region towards a discovery like this," Underwood said.
Underwood said there are experts developing microchips, for example, to cure deafness and hearing loss among infants and children.
"Oftentimes these children aren't verbal," Underwood said. "They're not able to tell you necessarily that something's wrong. But if we can restore hearing at that age, that keeps babies along their developmental milestones and creates an opportunity for them to have maybe a more traditional emergence in their early childhood education which is huge."
Durbin, a Springfield Democrat, touted the Creating Helpful Incentives to Produce Semiconductors legislation – known as the CHIPS bill – that Congress approved in 2022. The bill invests $280 billion to boost semiconductor industry and scientific research in an effort to create more technology jobs in the U.S. to compete with rivals across the globe, including China, The Associated Press reported.
The chip products are used for technology all the way from computers and automobiles to appliances and some of the military's most advanced weapons and defense systems, according to The Associated Press reported.
"Congresswoman and myself made a decision in the last Congress to invest in America's future with chip manufacturing," Durbin said. "This is something we started … breaking the ground for this new innovation and then ended up losing control of the industry to foreign groups, particularly in Taiwan that are developing these chips while we retreated. This decision was made in the last Congress, America isn't going to retreat anymore. We're going to try to lead again."
Durbin pointed to NIU's own research as pivotal to the goal of the CHIPS Act, and as a deserving institution for federal funding to boost the university's capabilities.
"Northern Illinois University plays such an important role in this because of the nature of their teaching approach and the diversity of their student body," Durbin said. "That's why we were happy to help them bring some equipment here that can further that educational goal."
During Wednesday's visit, Durbin and Underwood were greeted by a group NIU engineering professors and students for discussion.
NIU student Selina Cervantes said she is grateful she chose NIU to continue her studies in engineering.
"NIU has this really big, fancy high-end facilities," Cervantes said. "You don't really get that exposure anywhere else aside from like MIT or something. It feels kind of closed off to a lot of communities, especially because I'm Hispanic. It feels like it's very difficult to reach, but NIU is like the MIT of the Midwest. To be able to ease into it and not feel overwhelmed is a great feeling, especially being one of the first of the family to go to college."
Cervantes is pursuing a master's degree in engineering from NIU. She said a vital part of her higher education goals becoming reality was a Pell Grant and other departmental financial aid she's received to make her education affordable.
Cervantes said it was a good experience having the opportunity to meet with Durbin and Underwood.
"[It was] good to be able to be heard," Cervantes said.
The modernization of the university's fabrication lab is anticipated to be operational by later this year.
The Associated Press contributed.