DeKALB – It's been 15 years since a lone gunman stepped into a Northern Illinois University lecture hall and fatally shot five students, wounding dozens of others and leaving a mark some say won't ever go away.
The lasting impact of the tragedy – a Feb. 14, 2008, school shooting that has become part of a long and grim legacy as mass gun violence in schools grows – has woven into the careers, lives and memories of those who survived it.
Bells will chime five times at 3:06 p.m. Tuesday outside Cole Hall on NIU's campus, one toll for each of the five NIU students who were killed when a former NIU graduate student opened fire inside the lecture hall.
Catalina Garcia, 20; Daniel Parmenter, 20; Ryanne Mace, 19; Julianna Gehant, 32; and Gayle Dubowski, 20, were killed in the shooting, and more than 30 others were injured.
Kevin Stromberg, a 2008 NIU graduate, was in that lecture hall when the shooter opened fire. He wasn't wounded, but said he recalls the proximity of the two being too close for comfort.
"I was in the classroom for the duration of the shooting, and at one point, the shooter was probably 10, 15 feet away from me," Stromberg said.
Stromberg was an NIU senior in 2008 and decided to pursue a master's degree in counseling, his own experience surviving a mass shooting informing his career decisions. He lives in Schaumburg and works as clinical director at Counseling Works, specializing in trauma counseling.
He said the shooting still has a way of influencing how he carries out his life even 15 years later.
"I would say that I try to be more present, in the moment, try to take advantage of each day as best I can," Stromberg said.
Stromberg said he believes he's gained a greater sense of community in the wake of the shooting.
"I felt more connected to NIU, felt more connected to the DeKalb area," Stromberg said. "Family and friends, too, are kind of big in a sense that community and family are such a high value now for me that I make sure to spend time with family and engaging in my community as best I can when I can."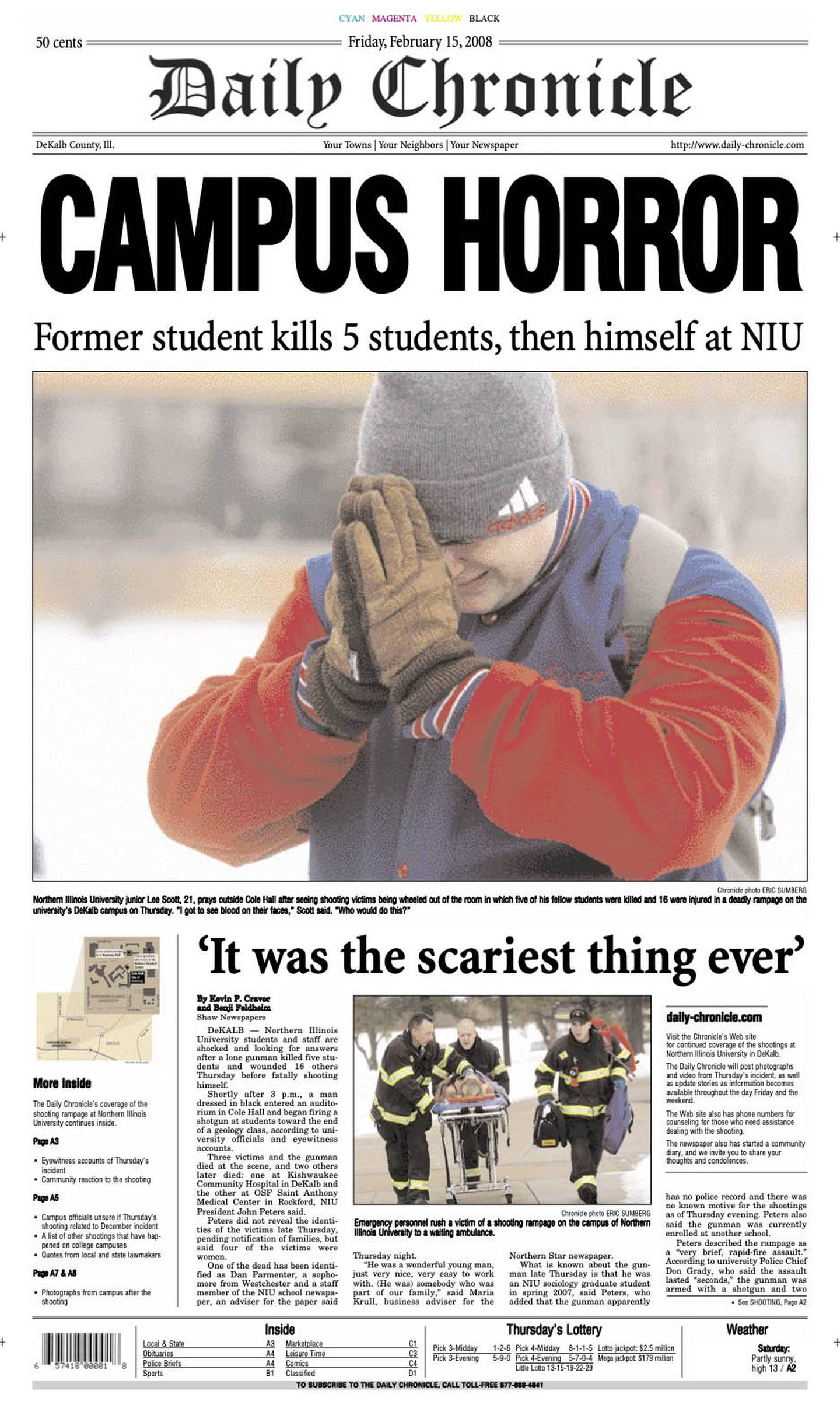 When first response is part of the job
For first responders, the shooting came with another layer: emergency response to a horrific event was part of the job. In the years since, DeKalb County area police and fire agencies have used that day to evolve critical response to mass casualty incidents.
Radio towers and communication responses are more succinct, training focuses on neutralizing a potential threat while balancing vital medical care to injured people.
NIU Police Chief Darren Mitchell said it puzzles him to think that something so tragic took place so close to home. For Mitchell – who earned undergraduate and graduate degrees from NIU and was serving as a lieutenant for campus police Feb. 14, 2008 – NIU has been home for a long time.
"I can't believe it's been 15 years," Mitchell said.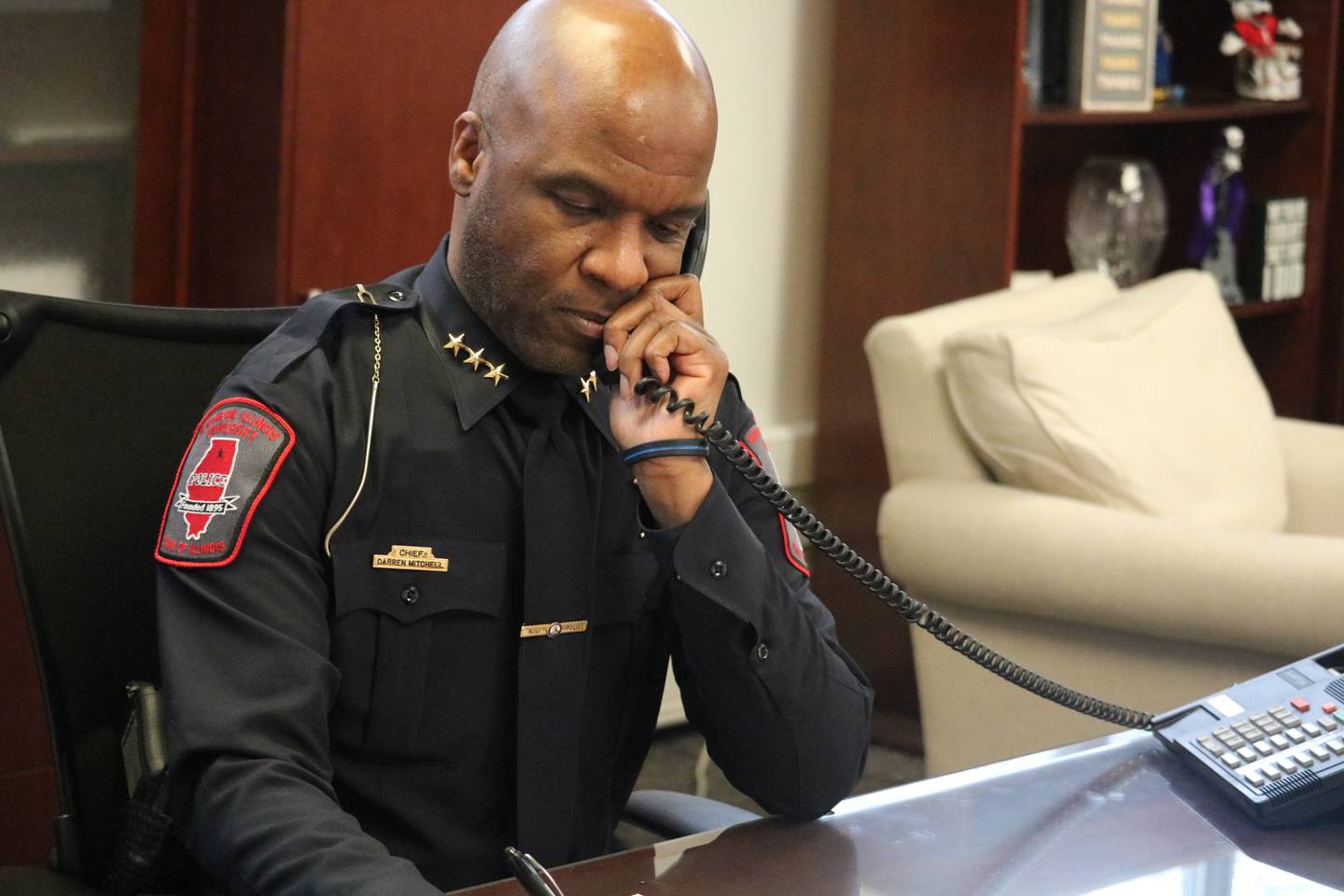 Mitchell said NIU police have continually seen the importance of evolving with the times to better promote safety.
Months before NIU's mass shooting, a Virginia Tech undergraduate student killed 32 people and wounded 17 others with two semi-automatic pistols in Blacksburg, Virginia. It remains the deadliest school shooting in American history. Virginia Tech's standing as the largest mass shooting in U.S. history was surpassed June 12, 2016, after a gunman fatally shot 49 people and wounded 53 others at Pulse, a gay night club in Orlando, Florida.
Mitchell said the university officials used what happened at Virginia Tech to inform campus emergency response, not knowing what would befall NIU 10 months later.
"What's changed mostly, I think, is the community's expectations on police as it pertains to active shooter circumstances," Mitchell said. "Back then, it was one of those phenomenons that you think this is very, very tragic. Something that you want to be cognizant of, aware of and prepared to prevent if you can from happening in your community and obviously respond appropriately. "When ours occurred 10 months later, I am very proud to say that we took Virginia Tech very seriously."
Mitchell is one of six police officers who remain with NIU Police since 2008, he said.
"NIU has been my home," Mitchell said. "I was an undergraduate student. I was a graduate student. So, I'm a double Huskie. I met my wife here as an undergrad student. … I started working for Northern, and we built a life here. The community has been good to us. We raised our kids here. They were educated in the school system here."
Mitchell said he wouldn't wish NIU's tragedy on anyone. Instead, he offered advice to community leaders who haven't experienced a mass shooting.
"Working with the first responders – the police, fire, paramedics, the hospital – having a coordinated effort in the beginning is so critical and that really worked to our advantage," Mitchell said. "Because all of our training in the beginning after Virginia Tech, really put us in a position to lessen the impact of the tragedy and it was great. The impact was great. But it could have been worse had we not been prepared in the beginning."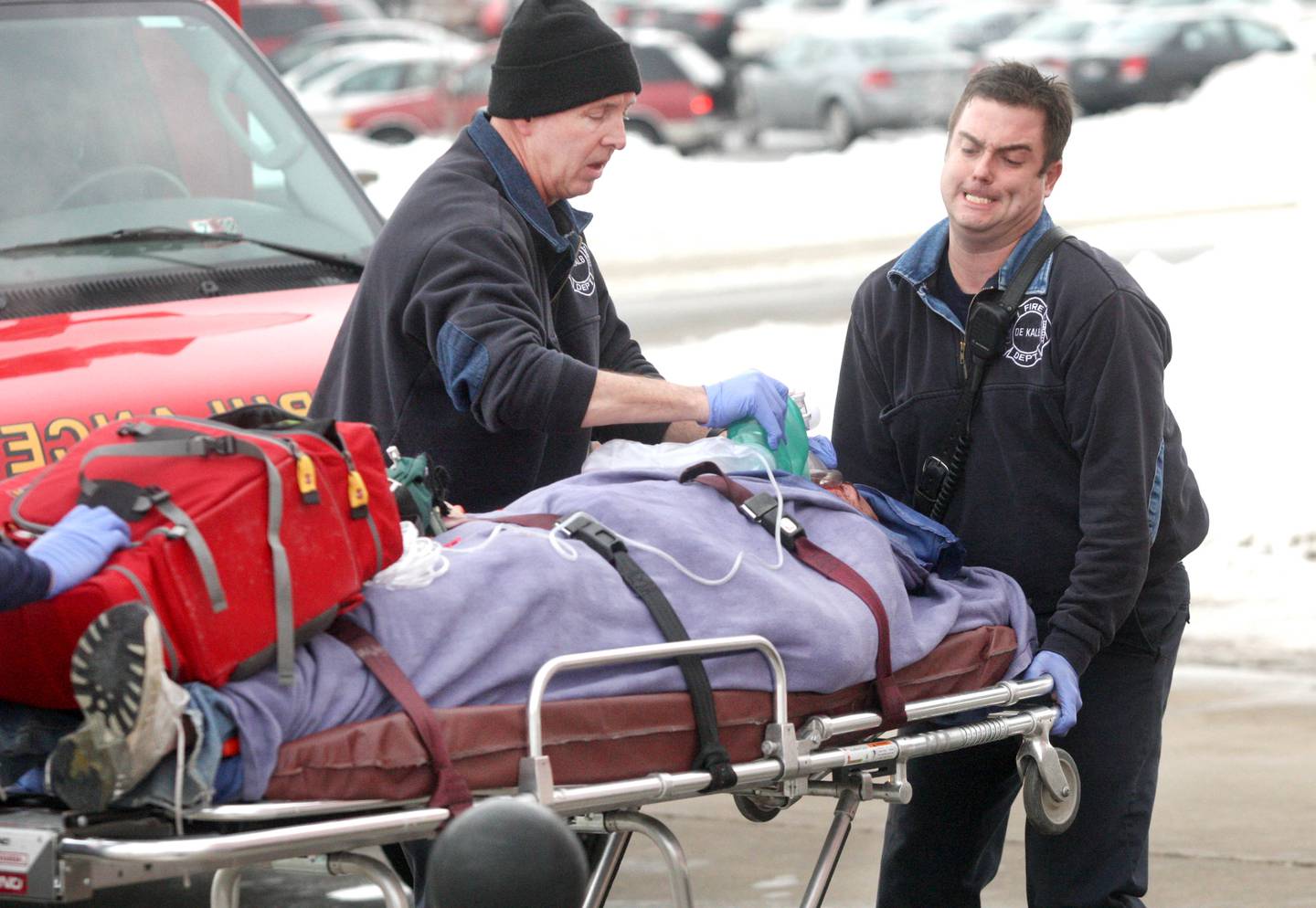 DeKalb firefighter and paramedic Pat Eriksen, a 1995 NIU graduate, said he met his wife in the same Cole Hall classroom that years later the shooter would later target and kill five others.
Eriksen was on his way to the hospital with a child in an ambulance who'd hurt himself on a coffee table when he got the call. His crew got the child to the hospital and then warned the emergency room doctors: More trauma patients were on the way.
"We did hear a couple of gunshots and then dead silence," Eriksen said. "We walked into Cole Hall at that time and there was book bags everywhere, blood everywhere – like trails of it, footprints of it, etc."
Sycamore Police Sgt. Steve Watry was on patrol when he got a call for an active shooter incident at NIU just after 3 p.m. that day. He and three other Sycamore police officers immediately headed toward campus. They joined emergency agencies from across the county staging on campus.
Watry said he fell back on the active shooter training he'd had when he went into that situation. Using his experience, Watry said he's led several active trainings since, including in conjunction with area fire departments.
"We found out that communication was an issue, even cellphone communication was an issue," Watry said of Feb. 14. "The only thing that we could do with assurance that it would actually work was we could get some text messages off, but even the cell towers and everything were jammed."
Since then, Watry said technology has changed enough to allow first responders to get priority when using cell towers, allowing them to better communicate during dangerous situations.
Sycamore Patrol Sgt. Justin Kness was at a traffic stop when the initial call went out. Once on campus, Kness said he and other officers ran to Cole Hall with their long guns to see what they could do. Victims had fled from Cole Hall in a panic, including to the Holmes Student Center and Founders Memorial Library, leaving responders unsure whether there were multiple shooters in the immediate aftermath of the shooting.
Training for active shooter response before 2008 taught Kness, also a former paramedic, his first job was to neutralize threats, even if it meant passing victims along the way.
That's exactly the type of situation Kness found himself in 15 years ago. He said he remembers walking into a campus building, not sure if a shooter was in there, and encountering an injured student.
"One of the students who had been wounded was lying on the floor in what looked like a kind of cafeteria, break room area and there were other students tending to him, but we did – we had to just walk on by," Kness said. "We said 'Hey, we'll let them know you're here. We'll get somebody coming to you.' And we bypassed them, we kept going, and it stuck out to us like, 'Oh yeah, they did say we were going to do this.'"
Kness said that moment continues to stay fresh in his mind.
"You're helping but you're not, and you want to, and you feel like you're kind of abandoning, but yet you don't know if there's something bigger out there, so your priority still has to remain," Kness said.
Kness said the logistical planning done by first responders in DeKalb County has evolved since the 2008 incident.
"That incident brought forward some change. As each incident occurs nationally, whether it be close to home – Aurora had their industrial shooting incident a few years back, and, of course, you've got the big ones, Virginia Tech, Sandy Hook – each time we learn something, if not new, we firm up the knowledge and we continue to train better."
Kness said one of the key evolutions since 2008 has been a push to involve emergency medical services – fire or standalone EMS based – quicker than they used to be. The goal is now to bring in medical personnel as quickly as possible even while police are responding to ongoing threats so that fewer victims with treatable injuries die on the scene.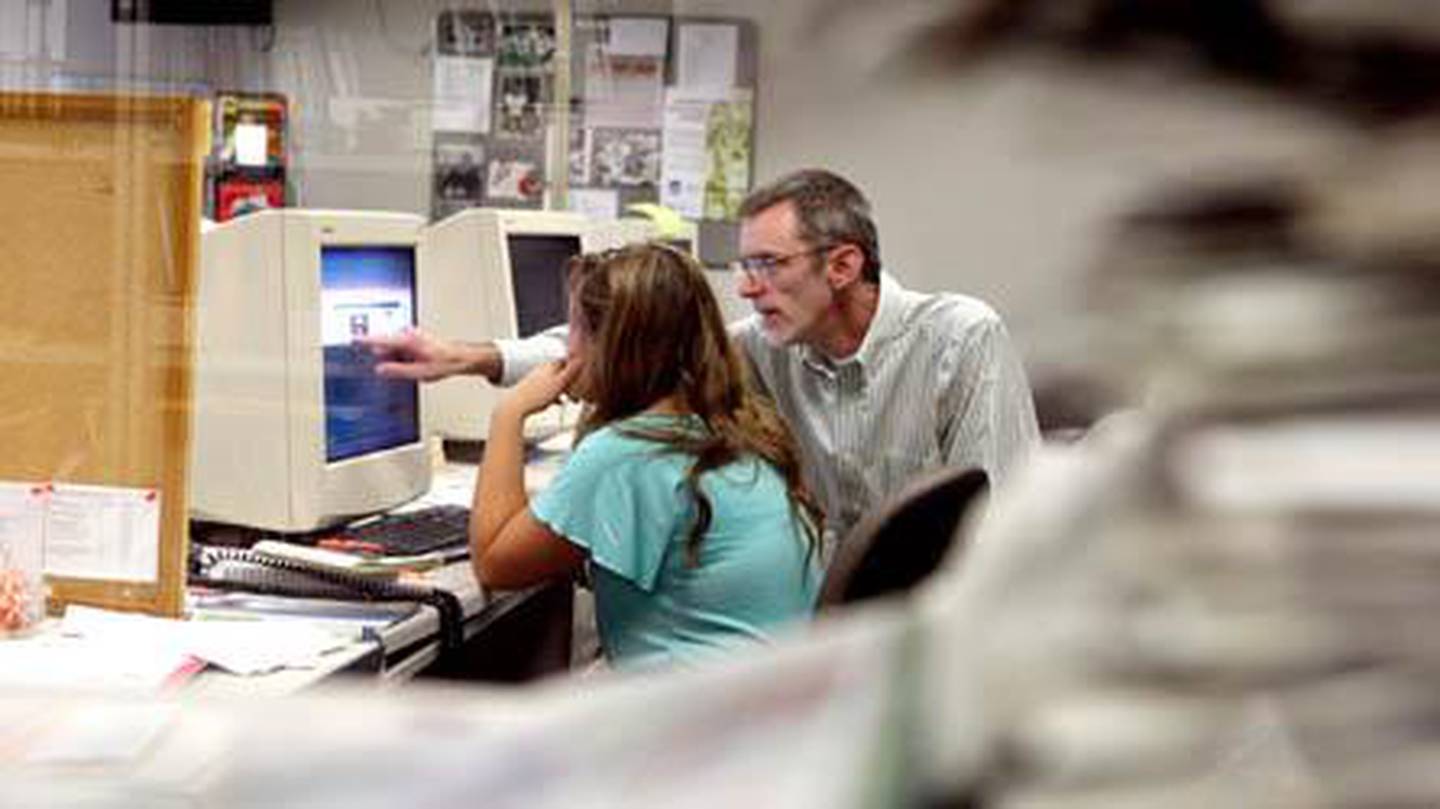 DeKalb moves 'Forward, Together Forward'
DeKalb Mayor Cohen Barnes, also an NIU alumnus, said 15 years ago was an intense and tragic moment in the community's history, but he's found pride still emanates from those memories.
"It's a moment I'm particularly just proud of, being a DeKalb resident and NIU alum," Barnes said.
While there was an immediate coming together by different groups the day of the incident, it's what happened after that stands out in Barnes' memory.
The "Forward, Together Forward" mantra adopted from NIU's Huskie fight song remains a prevalent call to action.
"I can still remember driving down the street and seeing ... everyone had on their marquees, all the businesses, for Together Forward, which is the theme at NIU, and it was really cool just to see that everywhere," Barnes said. "We had different ribbons that people were attaching to their email signatures, their Facebook backgrounds. You couldn't go anywhere without seeing everyone solidified on what particular moment."
For Jim Killam, a Rockford resident who was staff adviser for the university's student newspaper, the Northern Star, the line between reporting and living through the shooting was a challenge for students.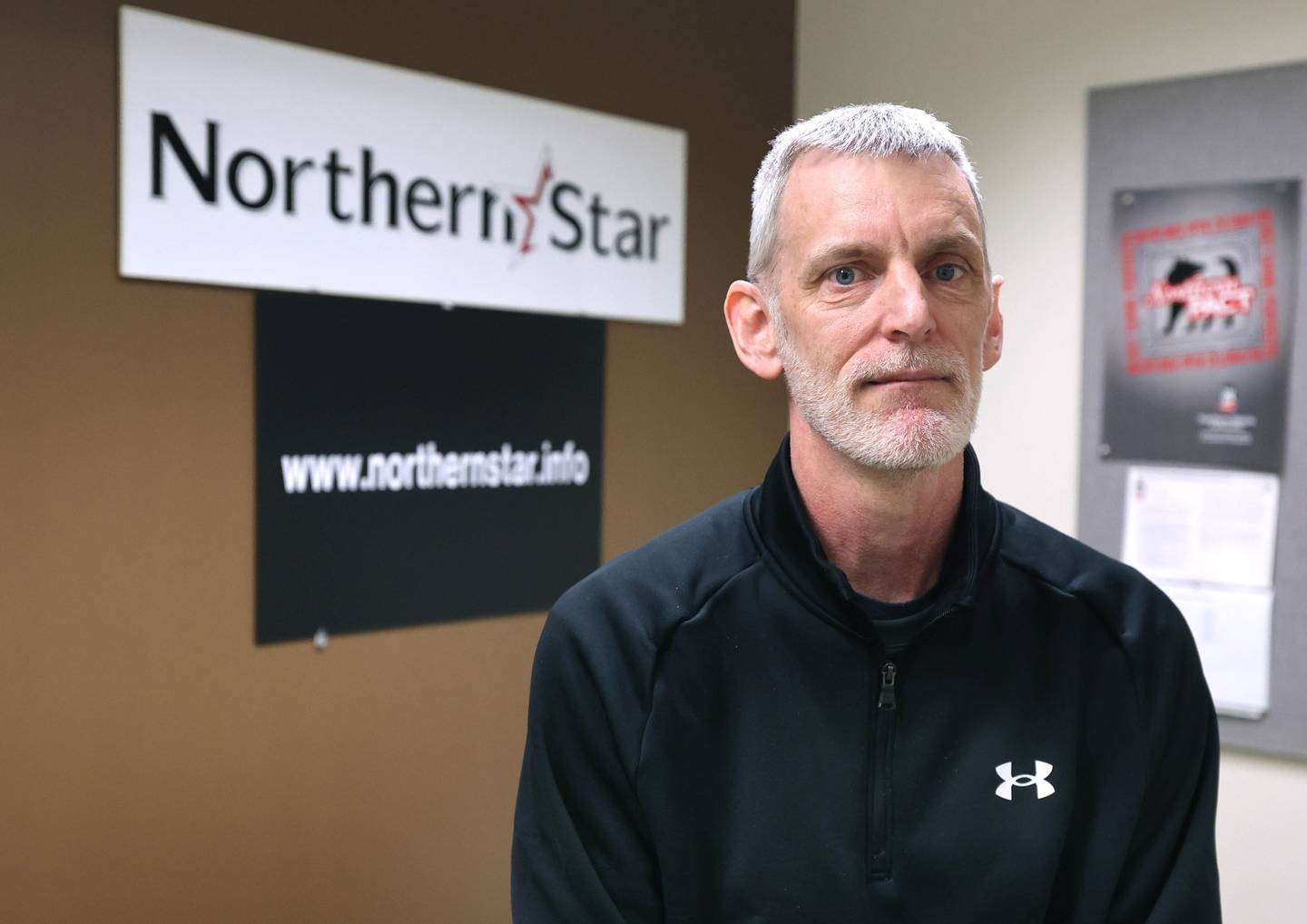 "We were getting calls from the national media that [was] there," Killam said. "The Northern Star students were the only students on campus after that first day. Everybody had gone home. Any media outlet looking for student voices they were often talking to the Star editors or the Star reporters. So, it was a weird experience of them covering the story and also being part of the story."
Killam said he believes the events gave Northern Star students better perspective to take into their careers, although at a high cost.
"I think as a journalist, and I think lots of Star students who were there at the time … would probably say it probably made us better journalists just because you have an understanding of how it feels to be involved in a situation like that rather than just covering it as an outsider," Killam said. "I think that has probably made us better people, better journalists."
Former Northern Star Editor-in-Chief John Puterbaugh, who lives in Charlotte, North Carolina, and works in digital media, said his experience covering the NIU shooting greatly informed his worldview.
"From a humanity perspective, being there for that shooting was a very strong reminder of how precious life is and you can see how quickly things can change in horrible ways," Puterbaugh said. "I think we have a greater sense of that these days. There seem to be more shootings these days than there were back then or at least they are getting a lot more attention via social media and news coverage. But in 2008, they weren't quite as commonplace."
Puterbaugh recalled meeting with his journalism professor in Reavis Hall when a group of students ran into the office Feb. 14, 2008, saying there was a shooter next door in Cole Hall.
Puterbaugh remembers feeling a sense of duty as he made his way to Cole Hall in the immediate aftermath.
"The other people who'd run into the office were like, 'Why are you leaving your backpack here? Why would you go out there?' They were terrified. They'd just run away from it," Puterbaugh said. "But I just felt an urge to go cover it, to go work. It was probably a stupid move, to be honest. In retrospect, it was clear that I was never in danger. The proceedings of the shooting had unfolded and come to an end before I was probably on the scene. But I was there in the immediate minutes afterward talking with students who'd left the auditorium where it'd happened."
Within hours, Chicago media and news crews from across the country had converged on campus. Puterbaugh said the Northern Star crew decided to focus on telling the story of the victims.
"We focused immediately within the 12 hours after it happened, we realized our focus was going to be all about understanding the stories of the people who were killed in the shooting and making sure that we were representing who they were, putting their best, giving their family opportunity to share who these people were who were sadly killed that day," Puterbaugh said.
Former Daily Chronicle City Editor Kate Schott, who resides in Springfield, said the lives of the shooting victims were practically etched in her brain that first year of reporting on them.
"I thought of them quite often that first year," Schott said. "As a journalist, it's terrible to have to talk to parents about their children who are lost in such a manner. But when they trust you with their memories and their stories, that's also just something I took very seriously. I wanted to cherish those memories. I always wanted to share with our readers more about how those people lived instead of how they died."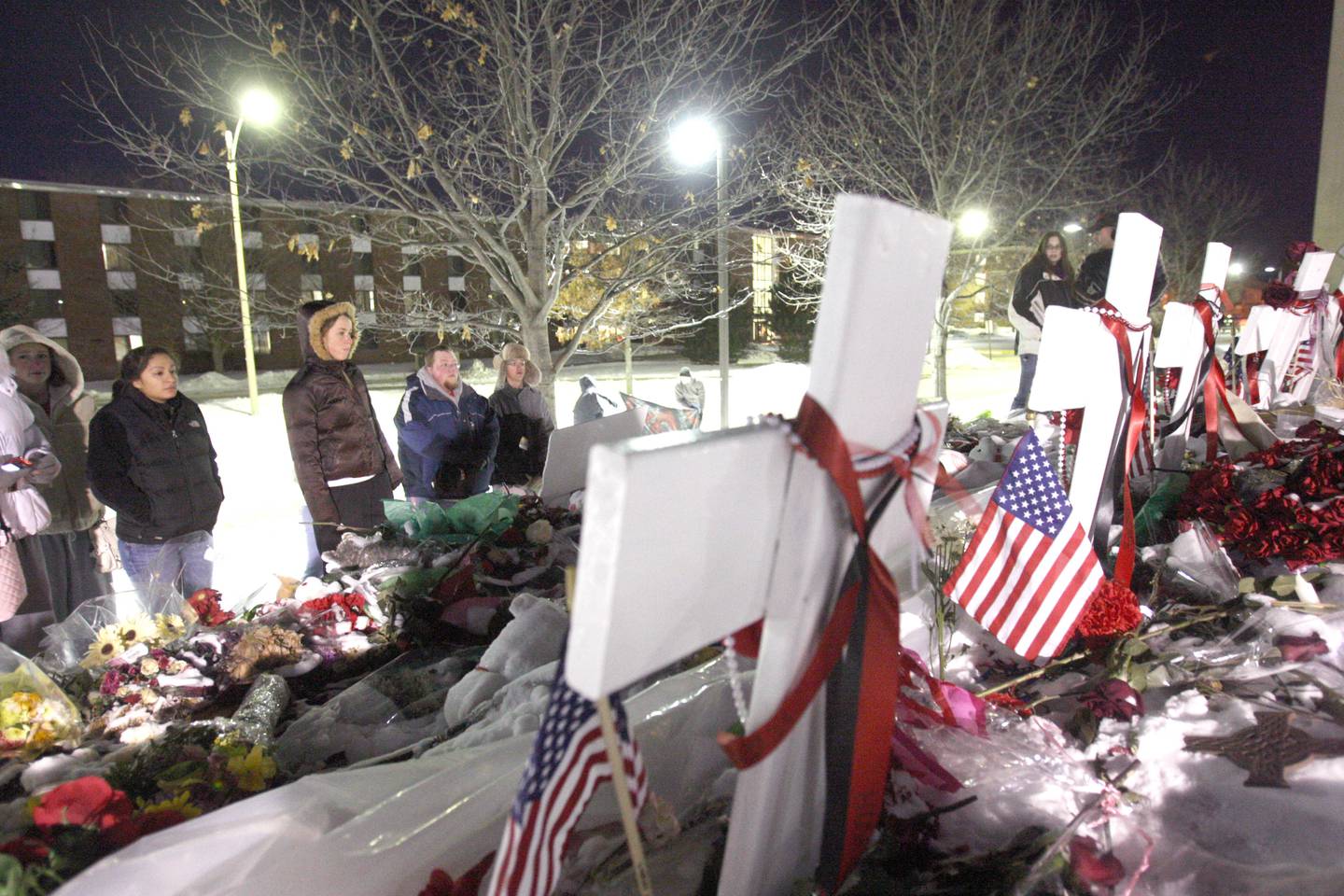 Where we stand today
In the wake of tragedy, DeKalb came together.
Whether it was building Huskie statues across town to show solidarity with the campus community, community members baking thousands of cookies to hand out to students as they returned to campus, or providing comfort and support.
Stromberg said he refuses to let the shooting cloud the many fond memories he holds from his time at NIU. He said he and his wife make frequent trips back to campus a few times a year and often around February to remember and pay respects.
Seeing how counselors were more readily available in the wake of the shooting came as relief to Stromberg. NIU's Center for Student Assistance also was created as a result of the shooting and remains in place today.
"It was actually kind of cool, I think, seeing that support," Stromberg said. "I know it's not like it was visible that I was part of the shooting or anything. But just talking to the different counselors – they stood outside of classrooms – one of them I felt more comfortable with and opened up just a smidge. He actually walked with me to and from a couple of my classes that day."
Stromberg said the shooting has prompted him to use the trauma he experienced to help others. He said it's important to help others find their voice in the midst of pain.
"The shooting made me really want to work with folks dealing with trauma and complex trauma," Stromberg said. "It's not always easy, it's hard sometimes to find especially in trauma. It's not like I disclose it all the time with clients but just to have that deeper understanding, I think, sometimes can enrichen the therapeutic relationship."
Killam, who does international ministry for Wycliffe Global Alliance, said he doesn't believe NIU and the surrounding DeKalb community have changed all that much since the shooting, although the cooperative response in the aftermath was needed and appreciated.
He said he believes more work remains.
"With every one of these shootings that continues to happen, I don't like to watch the news coverage of it very much," Killam said. "I'll read it, but it makes me sad and a little angry that 15 years later, it doesn't feel like we've made a whole lot of progress in stopping these from happening."
Puterbaugh – who also worked for Shaw Media from 2008 to 2012, including time at the Daily Chronicle – said his experience also provided meaningful guidance for his career.
"As a journalist, that experience strengthened my conviction with regard to the value and impact of local news and local community newspapers," Puterbaugh said. "It made me realize how important that role is to serve as a beacon for constructive action for people who live in a given community."
Schott said she now finds herself more aware of her surroundings in response to the NIU shooting.
"When I was in an auditorium, I would look to make sure how I get out of this place if this happens," Schott said. "I still do that. I think having reported on something like that just makes you so aware because it did happen in our community. I couldn't say I lived in a community where that didn't happen because it did. It did happen. You would've never thought in DeKalb it would happen. It never dawned on me until that day."