SYCAMORE – Sycamore Fire Department's new deputy fire chief, Bart Gilmore, was sworn in Monday, and said he hopes he can use his experience from his 28 years with the DeKalb Fire Department to facilitate needed growth in Sycamore.
Gilmore said it's a "very great honor" to become the deputy fire chief for "a really great fire department."
Gilmore retired as deputy fire chief from the DeKalb Fire Department on Sept. 9 but he isn't slowing down, he's just moving to a new opportunity.
"I love DeKalb but I did the job for 28 years – you seek new opportunities," Gilmore said. "I served as deputy chief of training but we had a short staffed administration over there so I filled in the role of deputy chief of operations."
Gilmore said he successfully wrote a lot of grants while with the DeKalb Fire Department and thinks he got a lot done; however, he's always looking for another challenge. That challenge comes by joining a fire department in Sycamore that Fire Chief Pete Polarek – who hasn't yet announced an official retirement date though is providing aid as city officials search for his successor – said is struggling to fill shifts.
"Like other service industries, we can't defer, we can't say we can't come, we got to go," Polarek said. "In many cases, really in the last year or two, we're scrapping together crews to make it happen."
On an average day, 75% of the year said Polarek, the Sycamore Fire Department has a total of six individuals working its two fire stations. Of those six workers, at least one of those is a commissioned officer. Sometimes seven or eight firefighters are on duty, but that's normally in the winter.
The firefighters on duty respond to an average of eight calls per day, and an average of 1.12 multiple-call events per day, according to figures provided by Polarek during Monday special Sycamore City Council meeting.
For about seven hours a day, the Sycamore Fire Department has only one crew covering any request for service, and for about one hour per day there is no one in the two fire stations to answer an emergency request, Polarek said.
"Ultimately what really we feel needs to happen is we need to add another bullet to that gun," Polarek said, as a metaphor for the staffing issues. "Now, admittedly we don't come cheap. Our equipment is expensive, personnel is costly but it's the cost of doing business here."
Looking forward, Polarek wants to increase on-duty staffing from the minimum of six firefighters per shift to a minimum of nine.
"We're under-gunned," said Polarek.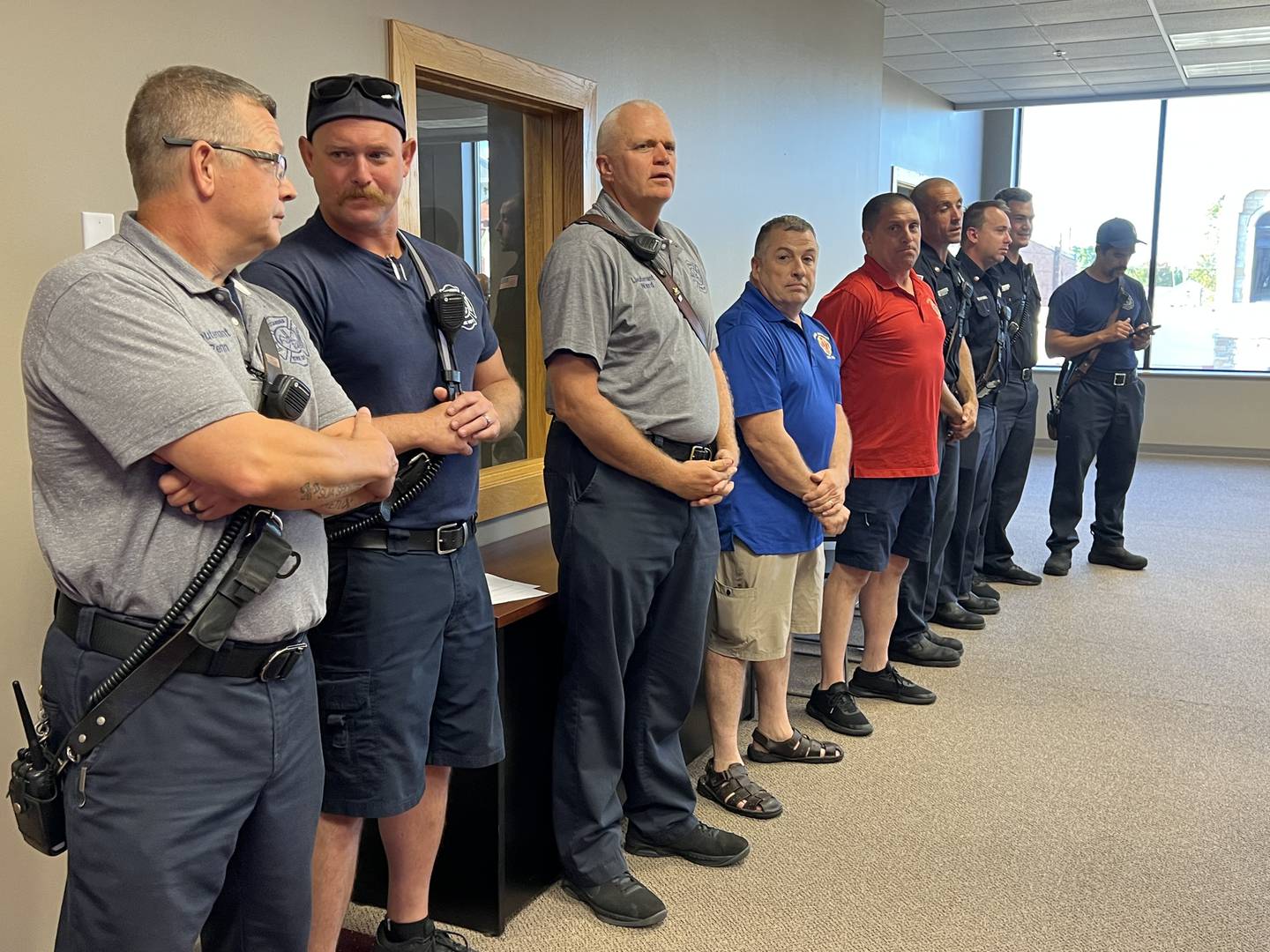 Polarek also wants to create a shift commander position to provide a level of supervision for emergency responders.
"We've got to have somebody for the safety of the two crews out there, we've got to have somebody watching and being in charge, it's very, very important." Polarek said, noting if his lieutenants are inside a building fighting a fire, they can't effectively lead the emergency response.
"And so we've got to have somebody outside, somebody with experience that can make those calls, whether it's more man power or tell them to get out of the building because it's not safe. So we've got to work toward that goal," Polarek said.
That's the challenge Gilmore hopes his tenure in the DeKalb Fire Department can help him with. Gilmore said he "knew it was time to end" his career in DeKalb but he's "always kind of watched Sycamore." He said he knows the Sycamore chiefs well (Polarek also spent 28 years in the DeKalb department before coming to Sycamore). Gilmore said he views the career pivot as an opportunity to try something new, and likes to think he "can play an active role in getting a shift commander spot started."
"It's kind of fun to be coming at a time when you're hearing about the organizational change they're about to go through, and being a part of that and bringing my experience from DeKalb and maybe I can add something to it," Gilmore said.
Polarek wants to increase on-duty staffing over the next five to 10 years and establish a dedicated engine company or a third EMS response option, but said he understands those services don't come without a cost.
"We all realize that some things come with a price tag but our backs are against the wall here, and we really need to add, and start moving in that direction," Polarek said.
During his time with the DeKalb Fire Department, Gilmore successfully lead an effort to secure funding for nine firefighters, culminating in a $2.7 million Staffing for Adequate Fire and Emergency Response grant. Gilmore, who's looking forward to playing an active role in a changing organization, said the procurement of the SAFER grant is among his proudest achievements from his time with the DeKalb Fire Department.
"Maybe I can do something with that, do the same thing here," Gilmore said.