DeKALB - For many workers in industries such as hospitality, nonprofit and emergency service, remote work during the COVID-19 pandemic never has been an option.
So when the latest virus wave hit, many DeKalb County workers said they had to implement temporary shutdowns in the new year, field more staffing shortages and figure out how to carry on as record-setting cases surged.
Tasked with responding to 911 calls around the clock and health or hazard emergencies, firefighters and paramedics at the DeKalb Fire Department know what it's like to quarantine.
"When we went through the last wave of [COVID-19], we wound up at one point having to put off a third of our force," said Bart Gilmore, deputy chief of training for the DeKalb Fire Department.
The surge has impacted staffing across a myriad of industries in the community, with workers calling out sick, buildings closing again to the public and services placed on hold while workers recover at home. Beyond contracting the virus, quarantine levels have skyrocketed in several spots over the past few weeks. In the past week, about 2,000 students were quarantined in DeKalb, Sycamore and Genoa-Kingston schools. Northwestern Medicine Kishwaukee and Valley West hospitals filled, echoing a national trend of overcrowded hospitals and not enough workers to staff them.
There's a secondary cause of crowded hospitals, which DeKalb paramedics know well: An uptick in 911 calls for those seeking medical care without a hospital stay.
"We are very busy, I can tell you that," Gilmore said. "Our average is 18 to 19 calls a day, but we have been seeing spikes from 25, 30 or more."
Right before the new year, the U.S. Centers for Disease Control and Prevention updated its guidance related to virus quarantine: If exposed or confirmed positive for COVID-19, the CDC said workers could isolate for five days and return to work after. The DeKalb Fire Department still is keeping the 10-day quarantine protocol in place.
"If one of our personnel tests positive, we put them off for 10 days," Gilmore said. "We are doing that because our guys live here. We want to create that buffer."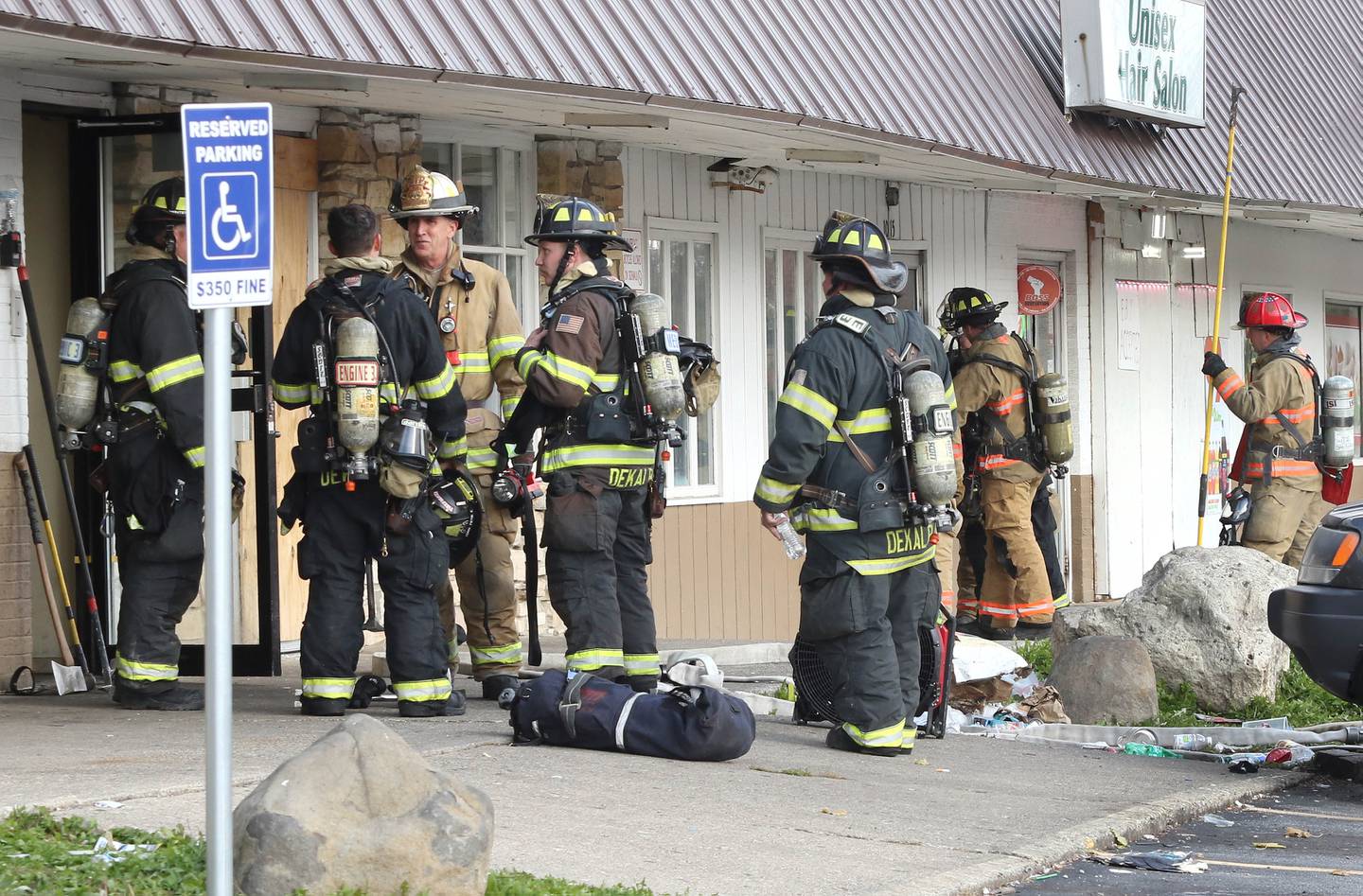 Relying on volunteers
In the public service arena, volunteers are often utilized widely to help with daily operations. At least that's the case at The Salvation Army of DeKalb. The pandemic has brought with it economic hardship for many, so the need is high.
"Our numbers have been steadily climbing for our food pantry. People are still in need of food and our services," Envoy Rick Garcia said. "We are trying to meet those needs."
The Salvation Army relies heavily on the community to help with everyday tasks.
"About 90% of them have stayed back simply because of what is happening," Garcia said. "That is putting a lot of pressure on our regular staff. It is spreading us thin."
Garcia said that the after-school program they host had to be put on hold because of the growing number of cases throughout the schools recently, although he hopes to resume the program after a few weeks.
"This program is huge relief for a lot of parents in the fact they can go to work and do what they need to do," Garcia added. "This really is the only thing that is a on a standstill as far as programming is concerned."
On Jan. 17, Tails Humane Society, 2250 Barber Greene Road in DeKalb announced it would close its building to public access until further notice, citing staffing shortages. Adoptions still are welcomed but will be by appointment only, so those interested in adopting or setting up a visit are asked to call to schedule.
Michelle Groeper, Tails executive director, said the reason for the decision was "the perfect storm: Being short-staffed in general, a COVID-19 surge and teammates on vacation."
"We just didn't have enough folks to help at the front desk or adoption counselors," Groeper said. "In order for us to make sure that animal care was done adequately and that we could also do adoptions with enough staff, we had to close to the public and do adoptions by appointment only."
Groeper said that she hopes Tails will reopen to the public by next week. She said the animals are being well cared for.
"We have a great crew of volunteers and teammates that have stepped up and rearranged their schedules to make sure all the animals are cared for, with plenty of walks and cuddles," she said. "We're always in need of volunteers, though, and we have a variety of volunteer opportunities."
Business impact
Lizzy Oparyk, owner of, Lizzy's Pink Boutique, 303 W. State St. in Sycamore, and her husband, Bobby, along with other family members all contracted COVID-19 over the holidays.
Although both she and her husband were vaccinated, Oparyk said that the virus "really did a number on us," forcing the downtown Sycamore business to close for a week while her family was ill.
"The latest surge has definitely impacted us the most," Oparyk said. "We were closed completely, and there has not been a lot of foot traffic in town. The last few days and weeks, there haven't been people walking past the stores."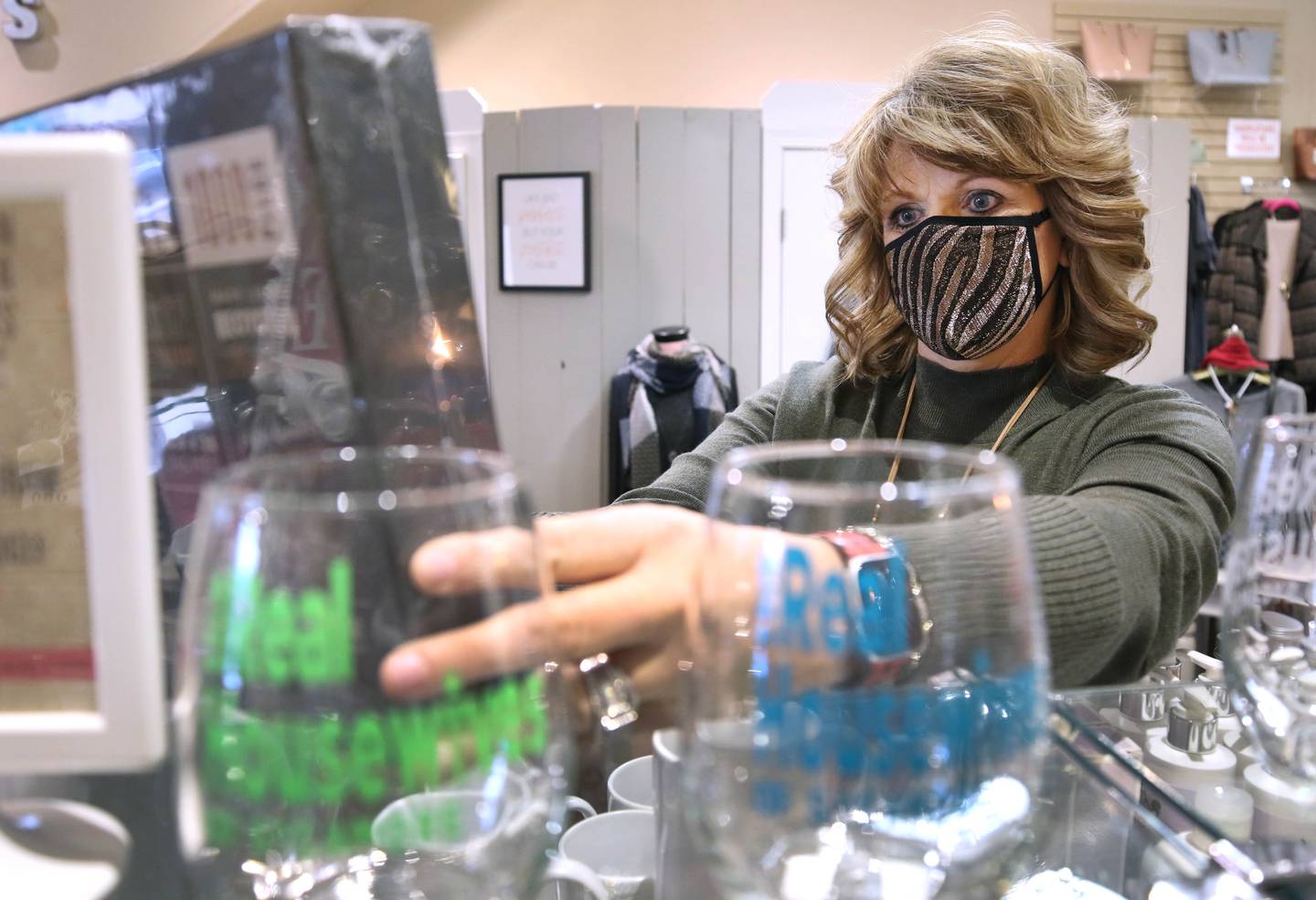 Oparyk also said that being sick with COVID-19 was unlike any other illness she's ever had.
"Since we opened four years ago, I had only been sick one other time," Oparyk said. "With [COVID-19], I was sick and in bed for more than a week. My husband didn't get it as bad, but everyone is different. It was definitely not a fun experience."
Oparyk said that she always has taken the pandemic seriously and developed more sanitization habits in the shop: Cleaning and sanitizing the store often, wiping down all hard surfaces, sanitizing clothes that have been tried on using a Tide product, wearing masks, social distancing and using hand sanitizer.
The boutique also offers private shopping experiences for patrons who want or need extra safety measures, or they can shop online at lizzyspinkboutique.com and use the store's curbside pickup.
"We've been taking all the protocols and doing everything we're supposed to to make sure our store is safe and clean for our customers," Oparyk said. "This has been a rough almost two years, but I'm so grateful for our loyal customers. We really appreciate them."
In DeKalb, Matt Binder's workspace doesn't offer much room to social distance: He works in the pizza kitchen as the owner of the bar Lord Stanley's and World Famous Pizza. He said he's not had trouble keeping bartender staff at Lord Stanley's.
However, he said he tested positive for COVID-19 earlier this month amid the omicron outbreak, which was his third time being infected with COVID-19 overall during the pandemic. Like many businesses rowing through the same waters, World Famous Pizza announced on social media it would close its doors for a few days due to staffing shortages.
"So the first and the third weren't bad, but the second one, the delta one, was terrible – but this one, I was out for a day but then felt better pretty much within 24 hours," Binder said. "And then we [World Famous] closed up for I think about a week, to make sure I tested negative."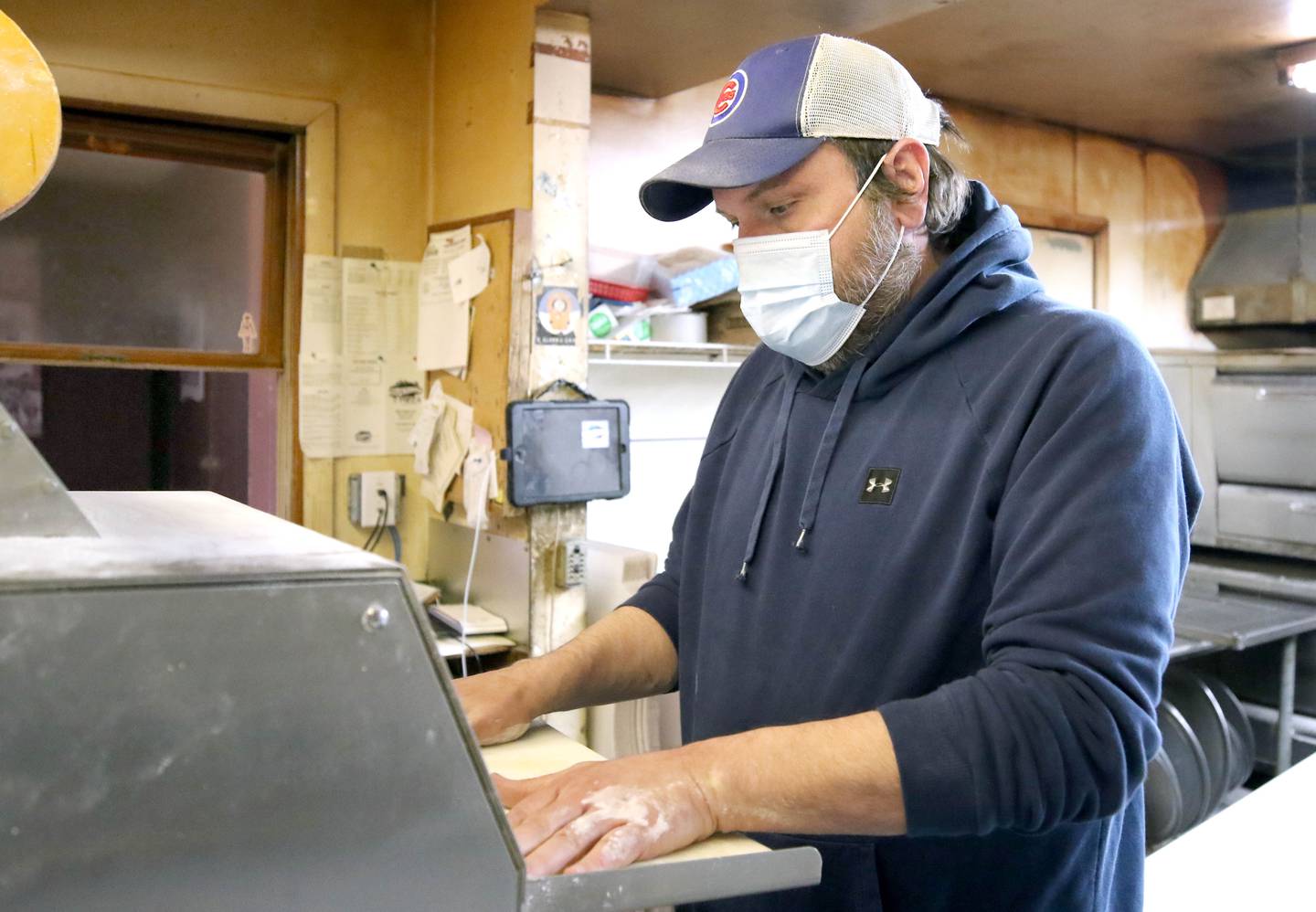 On top of being sick with virus again, Binder said a plumbing issue at the bar and pizza parlor made matters worse.
"If I was able to be there and get it fixed, I could've been there and it wouldn't have been an issue," Binder said. "But I didn't want to expose the people that were fixing the plumbing."
When the pandemic first started, Binder said the World Famous Pizza shop in Sycamore doubled its sales overnight.
"I was able to add ... one extra employee, but for the most part we doubled our sales and with the same amount of staff," Binder said. "So it was very difficult to, obviously, keep up with that volume."
Binder said customers were understanding of struggling local businesses in the first six months of the pandemic. He knows that patience is waning.
"I don't think I had one person complain about anything," Binder said. "But I think, as the pandemic has kind of dragged on, it's getting to the point where I think people are just frustrated. And I understand it. I'm part of them."
A building fire in September 2020 at the Sycamore location forced that spot to close, and Binder said he lost a lot of employees then. He filled in for employees calling in sick himself or if they needed time off.
"Once we lost the Sycamore store, I went down basically to a bare minimum just to kind of try to save up as much money as possible," Binder said.
Supply chain disruptions also plagued the business, making items like beverage napkins for the bar, mozzarella sticks and jalapeño poppers scarce.
"We were cutting the longer napkins into smaller squares," Binder said through a fit of laughs. "With the pandemic, every business has had challenges one way or another and we just kind of have to figure it out."