DeKALB – Dozens of people gathered in downtown DeKalb during the frigid cold Thursday night to mark the one-year anniversary of the Jan. 6 insurrection, which Tammy Johnston of DeKalb called "the beginning of the end of democracy."
"We can't take the day or its anniversary too lightly," Johnston said. "What happened on Jan. 6 last year was real, and we need to remember it and don't forget that it happened."
One year ago on Jan. 6, thousands of insurrectionists mobbed and attacked the U.S. Capitol Building in Washington, D.C., leading to five deaths and injuring more than 138 police officers. On the one year anniversary Thursday evening, more than 35 members of the community stood outside in wind chills as low as -15 degrees to commemorate the grim anniversary peacefully during a candlelight vigil in DeKalb.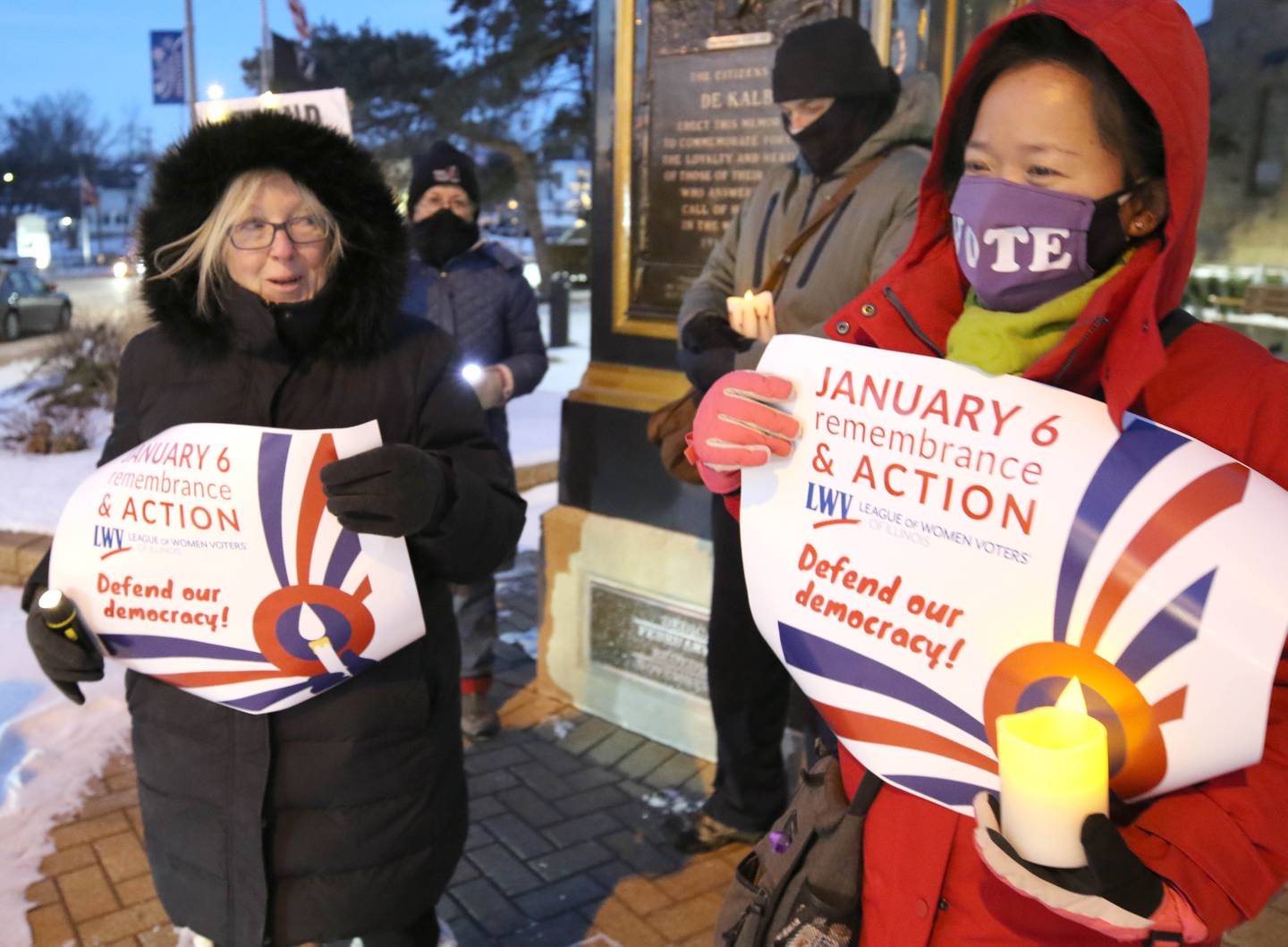 The vigil, which organizers called "Defend Our Democracy," was held at Peace Corner in Memorial Park, at the corner of First Street and Lincoln Highway in downtown DeKalb. The event was co-sponsored by the League of Women Voters DeKalb County and REACT (Responsive Engagement Activating Civic Talent).
The Jan. 6 attack came after more than a month of nationwide unrest and controversy following the November 2020 Presidential Election, during which former-President Donald Trump falsely claimed that the election, in President Joe Biden's favor, had been stolen.
Cynthia de Seife, coordinator of REACT, said DeKalb's event was part of a national effort, with more than 150 vigils occurring across the United States Thursday. She said Thursday's vigil was meant to show how American democracy should be defined, standing against violence and attempts to overturn election results.
"It's really important to tell the truth about this day and its place in history accurately," de Seife said. "We lose our voice and our rights without democracy."
The crowd, gathered at the corner of First Street and Lincoln Highway, included Deborah Booth of DeKalb, who held a sign with blinking lights.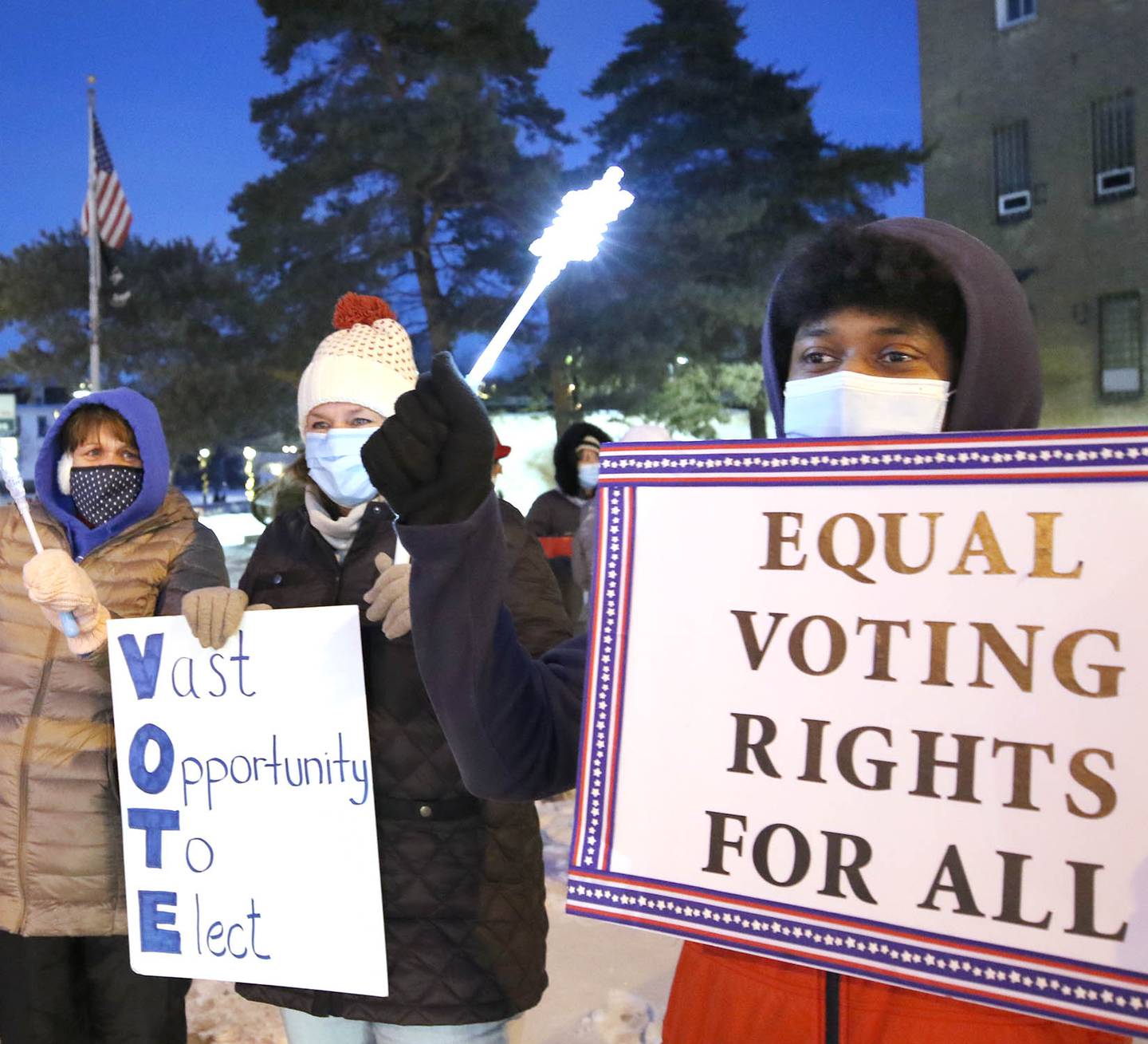 "It's important to stand up and demonstrate because what we saw on Jan. 6 was wrong," Booth said. "We can't let this day be forgotten. We have to stand up and speak out for our freedoms and our rights."
Rep. Lauren Underwood (IL-14) was at the Capitol Building that day. In a written statement released Thursday, Underwood described the attack as "a stunning illustration of how quickly we can lose our democracy."
"The terror, anger, fear, and uncertainty I felt at the Capitol that day did not go away after the invaders left or after I returned to the House floor to certify the election results," she said. "Honestly, my enduring memories of that day remain distressing. Every individual who had a role in the insurrection should be held fully accountable."
Bobbi and John McFarland, both of Hinckley, attended the vigil together and held signs.
"It's important to be here to support our democracy," Bobbi McFarland said. "It suffered a major blow a year ago, and we have to make sure nothing like that happens again."