SYCAMORE - Marcy Buick said she was 'almost overwhelmed' looking upon the filled courtroom 300 in the DeKalb County Courthouse Friday, joined by family, friends and colleagues as she was sworn in to the 23rd Judicial Circuit Court.
"It has been so long since I was able to do that," Buick, 57, said of the in-person crowd inside the courtroom, still decked out with plexiglass dividers amid the COVID-19 pandemic. "It's almost overwhelming. A special special thing."
Buick was sworn in Friday as the new 23rd Judicial Circuit Court Judge, taking over for predecessor Robbin Stuckert, the first woman judge in DeKalb County who retired as the circuit court and presiding judge officially Friday after decades on the bench. Chief Judge Robert Pilmer of the 23rd Judicial Court, which includes DeKalb and Kendall counties, presided over the ceremony, and DeKalb County Circuit Court Judge Bradley Waller, who took the new title as presiding judge in May leading up to Stuckert's departure, administered the oath of office.
For the oath, Buick was joined by her husband, Kevin Buick, 57, a local lawyer with Foster, Buick, Conklin and Lundgren, and their daughter, Alison Buick, 26. Waller, who administered the oath, said he was "humbled," to do so.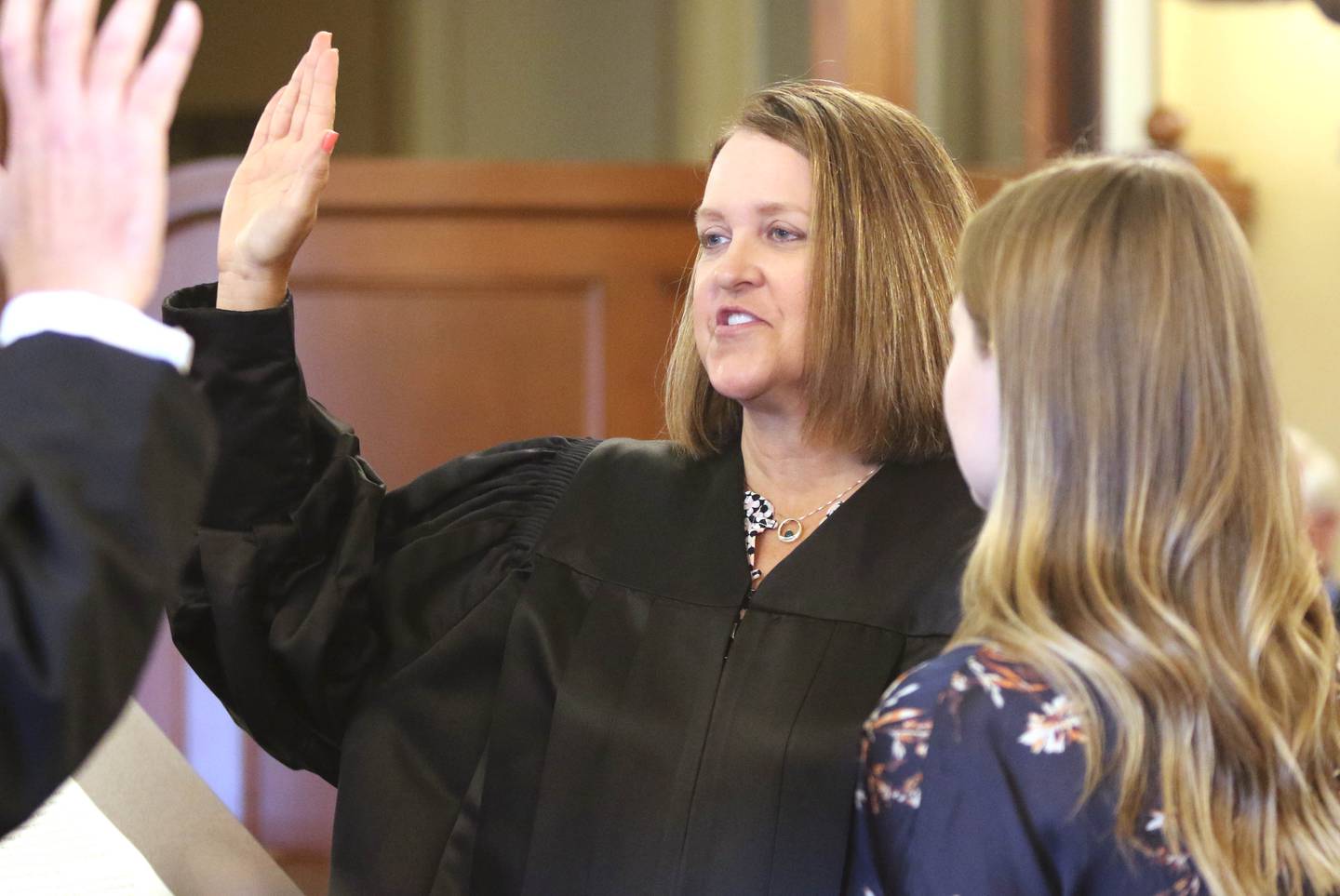 Buick, who thanked her family watching the ceremony virtually, too, called their support "unwavering...in my efforts to be a good judge."
"When I became a judge, my life changed in so many ways," she said, addressing her family sitting in the front row. "There are times when we as judges know we must face the public to render a really difficult decision. It is our responsibility. In those times, it's wonderful for me to have Kevin. He is an attorney, he understands of course that unique pressure, and he is always supportive. And Alison, she understands, too. I am so grateful."
Buick, a lawyer born and raised in DeKalb, was appointed to the bench nearly a decade ago by Judge Kurt Klein, who retired in 2012. She received her undergraduate degree in 1986 from the University of Illinois in Urbana, and her law degree in 1990 from Northern Illinois University. She was appointed associate judge on Sept. 28, 2011.
During that ceremony 10 years ago, she was given a copy of the Illinois Supreme Court's statement of expectations for Illinois judges.
"I said that as a judge I intended to be respectful and kind to litigants, lawyers, citizens and my colleagues," Buick recalled. "I wanted to be consistently positive in my interactions with people from all walks of life, and I wanted to be fair in my decisions. I have never forgotten my commitment to those ideals."
In her remarks, she heralded the guidance of DeKalb County's newly-retired leadership, including longtime DeKalb County Clerk Maureen Josh, who retired last year after nearly 40 years in the role, recently retire DeKalb County Sheriff Roger Scott, who worked with the sheriff's department for more than 50 years, and Stuckert, who's last day was Friday after 20 years.
Buick said she "was a great admirer of Sheriff Scott and the way he did his job."
"I watched him express words of reassurance to DeKalb County citizens in times of need,' Buick said. "He showed through his leadership that his office was steadfast in the continuance and performance of its duties. We judges play that role for the court system. I want you to know that your judges are here...we can reassure the public that the primacy of the rule of law that governs our society is alive and it is well."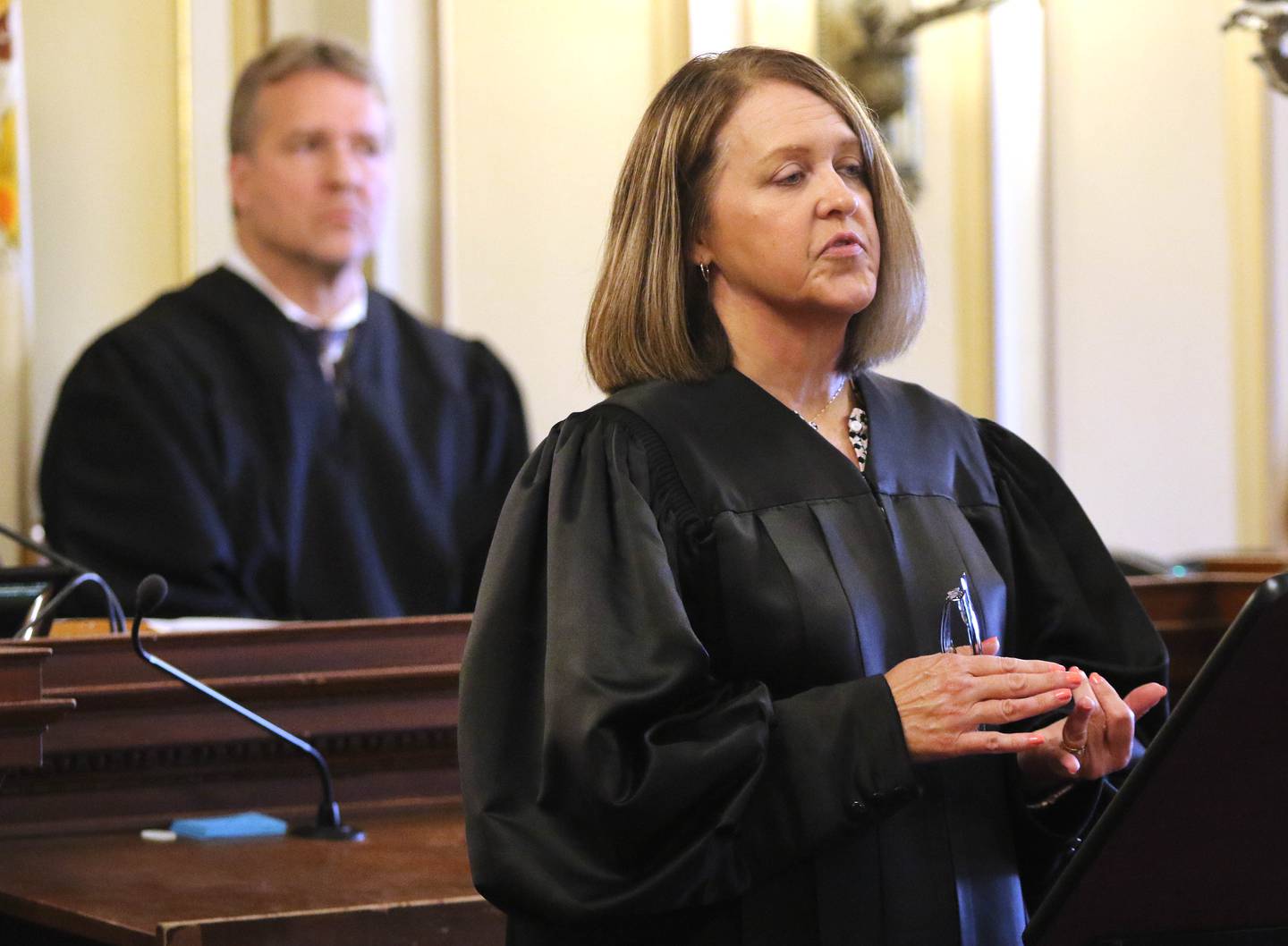 Earlier this week, Stuckert said she felt reassured in Buick's stepping into the role.
"I pass the baton to Judge Buick with confidence and assurance that she will continue to service the citizens of DeKalb competently and fairly as she has since her appointment to the bench," Stuckert said.
Pilmer described Buick as "a team player, willing to cover calls when needed," and "having a good work ethic." He said her "high work standards and professionalism" will further strengthen the public's trust in the judiciary. Buick, who's from DeKalb, has presided over cases in both Kendall and DeKalb counties since her time on the bench began.
In the 10 years since, Buick said she's learned a few things. The court system, she said, is not without its challenges, exacerbated, like most things in the past year, by the COVID-19 pandemic.
"The pandemic has brought a lot of interruptions, it's altered circumstances," Buick said. "There is a large backlog of cases, especially those that require a jury. The world of Zoom hearings has been thrust upon us. It's not ideal, but a necessary tool right now. A functioning court system is critical."
Buick, who now presides over daily bond call hearings, conducts them from her courtroom via Zoom, with defendants appearing virtually from the DeKalb County jail, assistant state's attorneys and public defenders logging in to participate, and subsequent hearings for those cases expected to continue in a virtual manner. Trials have returned and will continue to be held in courtroom 300, outfitted with plexiglass dividers, with masks and social distancing still required inside the courthouse.
As she takes on the duties left behind by Stuckert, Buick said she will miss her "rock solid presence in my daily work life."
"I have always felt that the judges in this courthouse do best by working together," Buick said. "And I pledge myself to continue to emphasize that in the days to come."