DeKALB – Sharon Gardner, a resident of the Annie Glidden North neighborhood, said Tuesday she has lived in the neighborhood for nearly 20 years and the area "has definitely changed" since she first started living there.
Gardner said she has concerns about pedestrian traffic increases in the neighborhood near the strip of shops on Hillcrest Drive, along with a lot of noisy activity in the early hours of the morning. She also acknowledged that the City of DeKalb recently set plans to address landlords in the area that might not have been keeping up with maintenance for their properties – including the City recently announcing its intent to purchase the Hunter Hillcrest complex following the City's settlement with embattled landlord Hunter Properties in April, which includes the landlord selling its Hunter Ridgebrook, Hunter Tri-Frat, Lincoln Tower and Hunter Hillcrest properties in the coming years as part of the settlement.
"But oh my God, are they really talking about two, three years? Wow," Gardner said. "It's just a mess over there."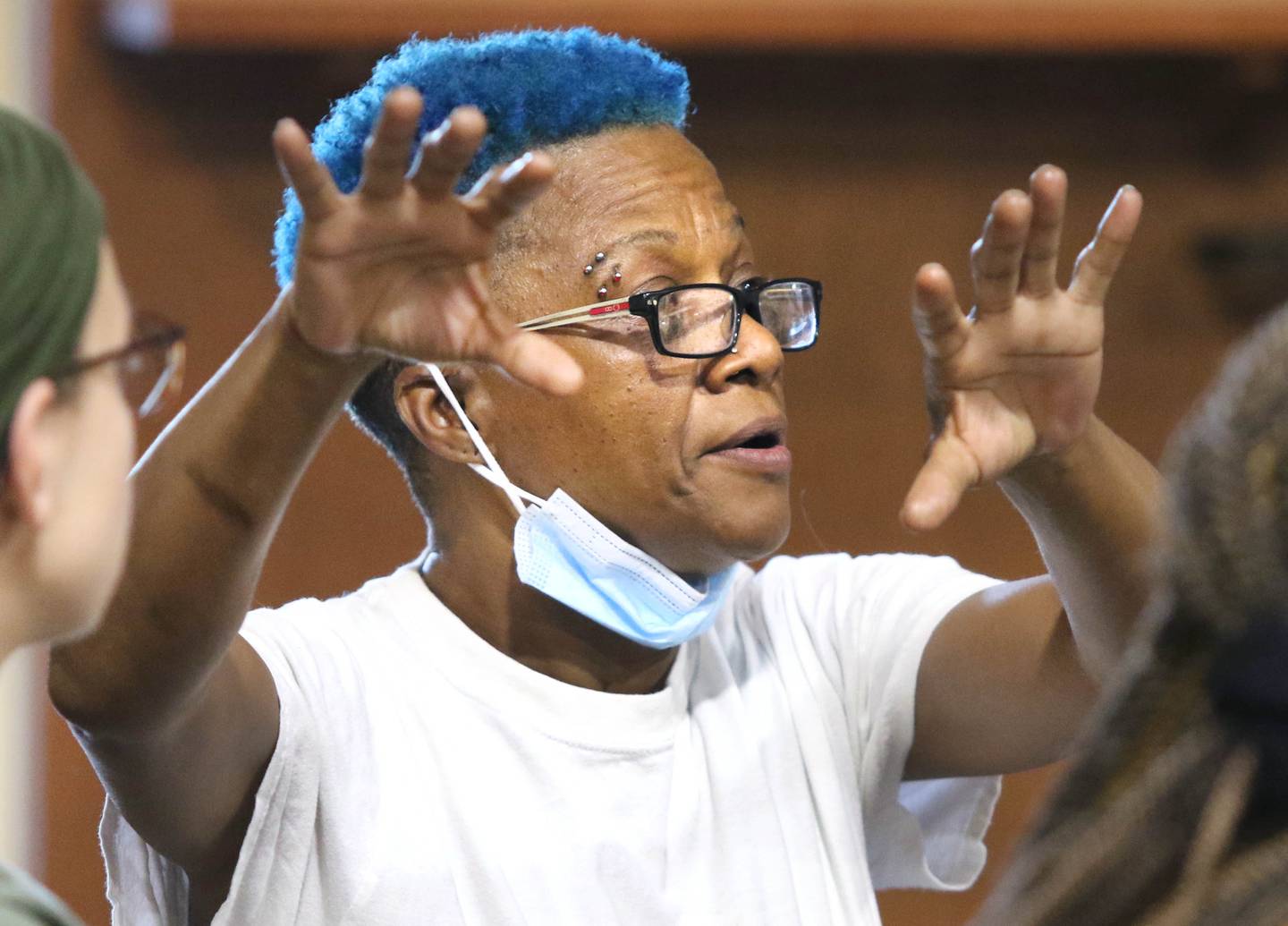 Gardner was one of a few dozen city residents and community members who came to the first organized Annie Glidden North neighborhood meeting Tuesday evening at Westminster Presbyterian Church, 830 N. Annie Glidden Road.
[ Photos: Annie Glidden North neighborhood group holds first meeting ]
Ellingsworth Webb, board treasurer for DeKalb County Community Gardens, helped lead discussion covering successes, opportunities and issues related to the neighborhood during the Tuesday meeting.
"What we're trying to do is get a better sense of the neighborhood that prides itself to be 25% of the population in DeKalb," Webb said. "That's 11,000 people in this quadrant."
Among those in attendance for the neighborhood meeting also included DeKalb County Board members Kiara Jones, Rukisha Crawford and Linda Slabon, former DeKalb Mayor Jerry Smith, DeKalb First Ward Alderwoman Carolyn Morris, DeKalb Police Chief David Byrd and DeKalb Fire Chief Jeff McMaster.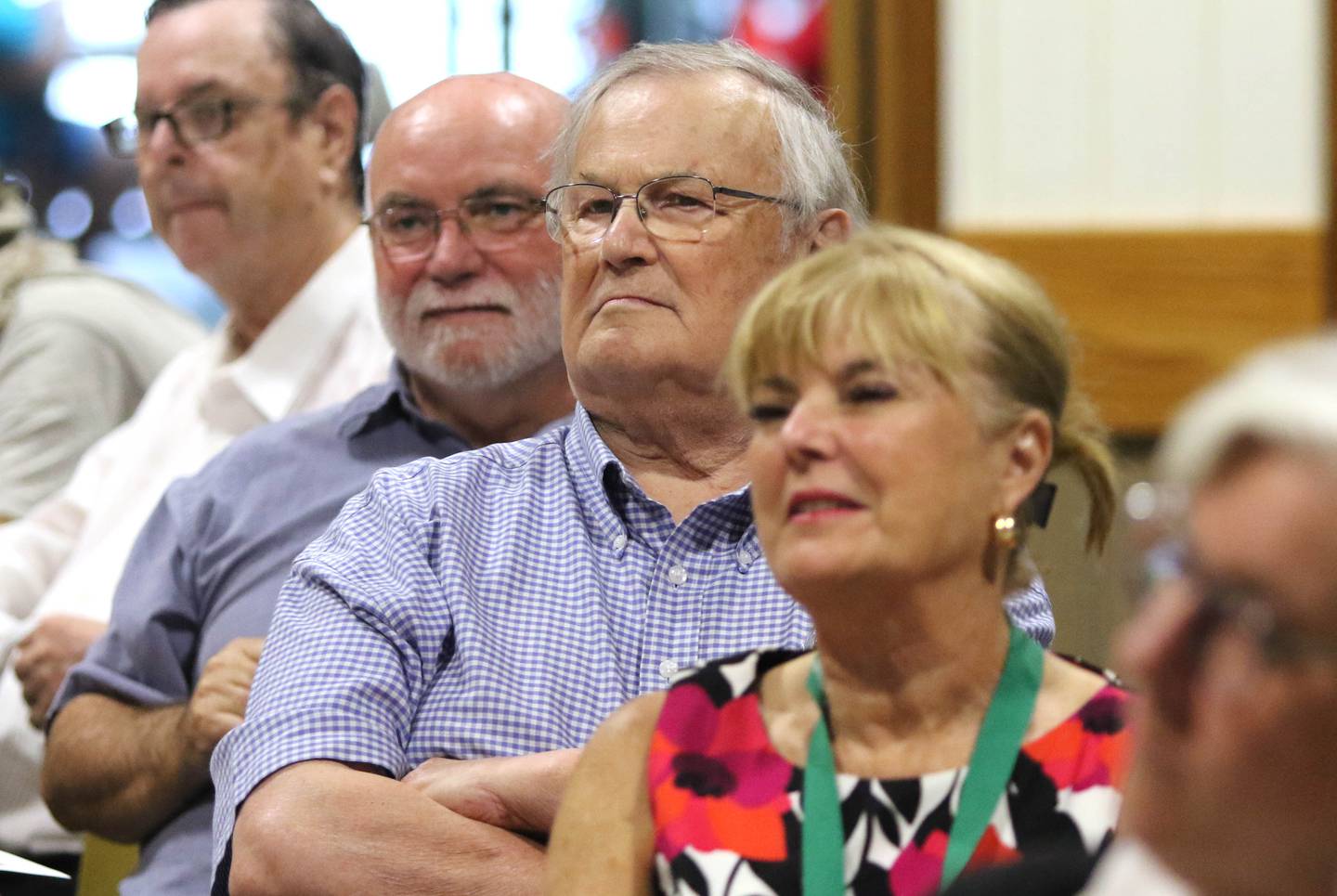 Earnell Brown, founder of the DeKalb-based Sir Donald Foundation which addresses issues related to preventing recidivism in the community, also helped lead discussion during the meeting.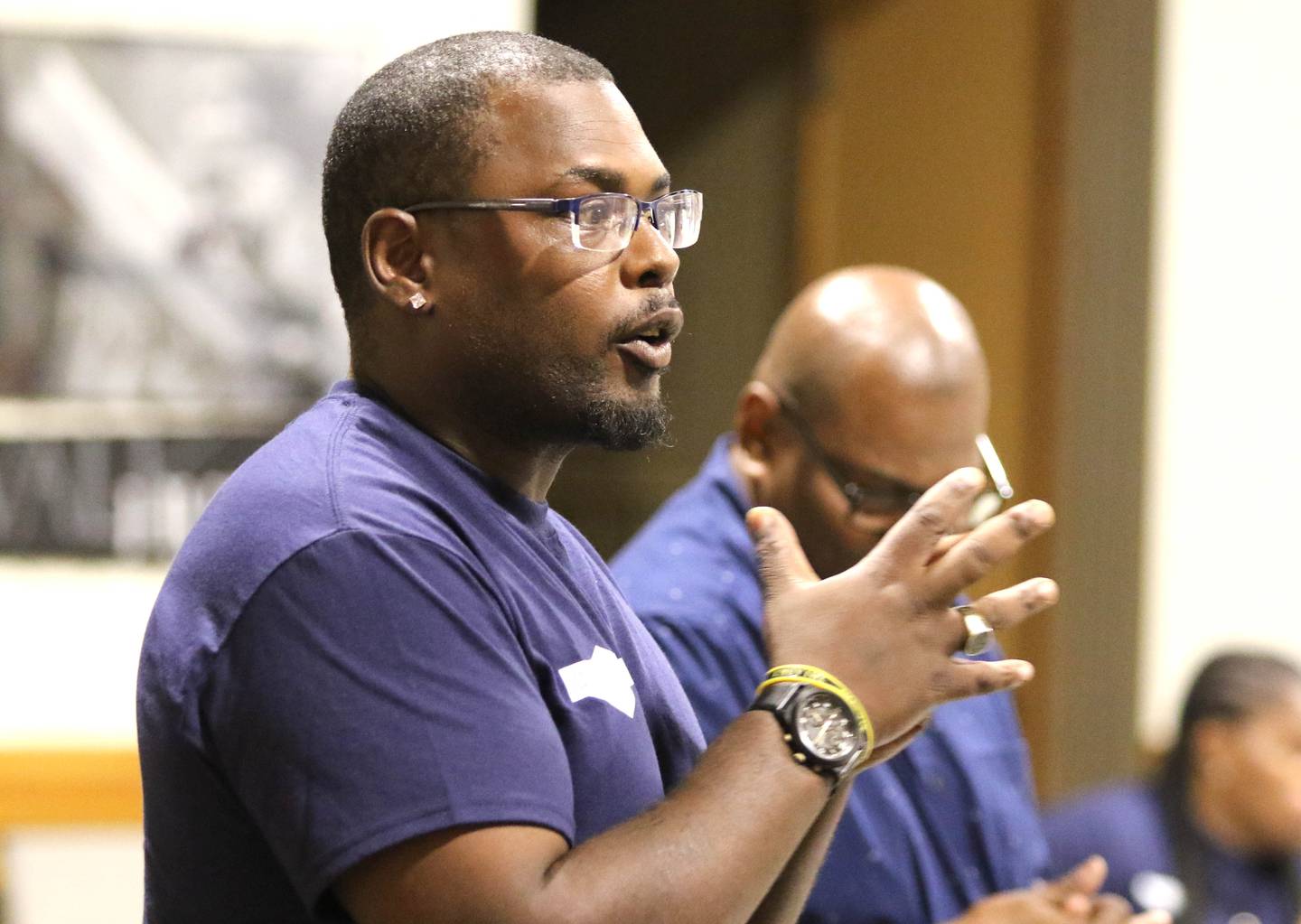 Gardner pointed to a lack of grocery stores in the area but several convenience stores that are able to drive up the price of milk, for example. She also agreed with other meeting attendees that she would like to see a community center built in the neighborhood.
"To keep these kids off the street," Gardner said.
Although Emil Scales, also an Annie Glidden North resident, said he understands business owners need to make money, he added he personally didn't think the neighborhood needed two liquor stores right next to each other. He was referring to Huskies Discount Liquors and Thirsty Discount Liquors, both off of North Annie Glidden Road.
"Why don't we turn one into a grocery store or something? Or a library," Scales said. "That would be awesome."
Dan Kenney, executive director and founder of DeKalb County Community Gardens, also helped lead discussion regarding food insecurities in the area and reviewed upcoming plans about a food hub coming soon to the neighborhood. Kenney previously said groundbreaking for the project is anticipated by September 2022 and opening is by November 2023.
A call for a larger grocery store in the neighborhood isn't new, and calls for such an option were renewed last summer as part of a list of demands by the local Black Lives Matter chapter, who eyed the now-demolished lot which once held Campus Cinemas at the corner of West Hillcrest Drive and Blackhawk Road for a potential store.
Meeting attendees also addressed the City of DeKalb being eligible for more than $10 million in federal funding meant to aid COVID-19 pandemic economic recovery and city staff on Monday presenting the DeKalb City Council with spending options. DeKalb City Manager Bill Nicklas previously said the $5.2 million of that money the City already received is sitting in an escrow fund and possible spending options – including better basic internet access for Annie Glidden North residents and relocation assistance for Hunter Hillcrest residents and business owners – will be considered in upcoming City Council meetings.
Joanne Rouse, community services coordinator for the City of DeKalb, said she attended the meeting because she wanted to hear directly from Annie Glidden North residents about what they want and need and how the city could help satisfy those wants and needs, along with what the neighborhood is already doing well. She pointed to how the neighborhood is negatively perceived with crime and housing issues.
"But they're not the sum total of this neighborhood," Rouse said, her comment being met by applause from meeting attendees.
Tiara Huggins, a former resident of the neighborhood and continuing community leader, said a lot of the topics that were brought up during the meeting – including issues with landlords, public safety, lack of grocery stores in the area and the desire for a community center – have already been addressed since the City of DeKalb first created its Annie Glidden North Task Force.
"It makes the community feel like, 'They're not hearing us,' " Huggins said.
Morris said she thought the meeting yielded a good turnout, though she agreed with Huggins about a lot of the issues discussed Tuesday have already been touched on in years past. Though her anticipated next steps in a city official capacity include approaching city staff with ways to better notify the public about future neighborhood meetings, Morris said she believes there are a lot of strong community leaders like Huggins and Brown in the area that will help lead the change Annie Glidden North residents want to see.
"I just encourage people to listen to them," Morris said. "And follow their lead."