SYCAMORE - Sycamore parents Liz Lundeen and Diana Hulst stood and held hands as they yelled to a crowd of more than 300 people Tuesday, asking some to wear a mask so the Sycamore school board meeting could convene.
"I don't want the meeting to be canceled, because important issues need to be discussed," Hulst said. "We need to figure things out, and a meeting needs to be held."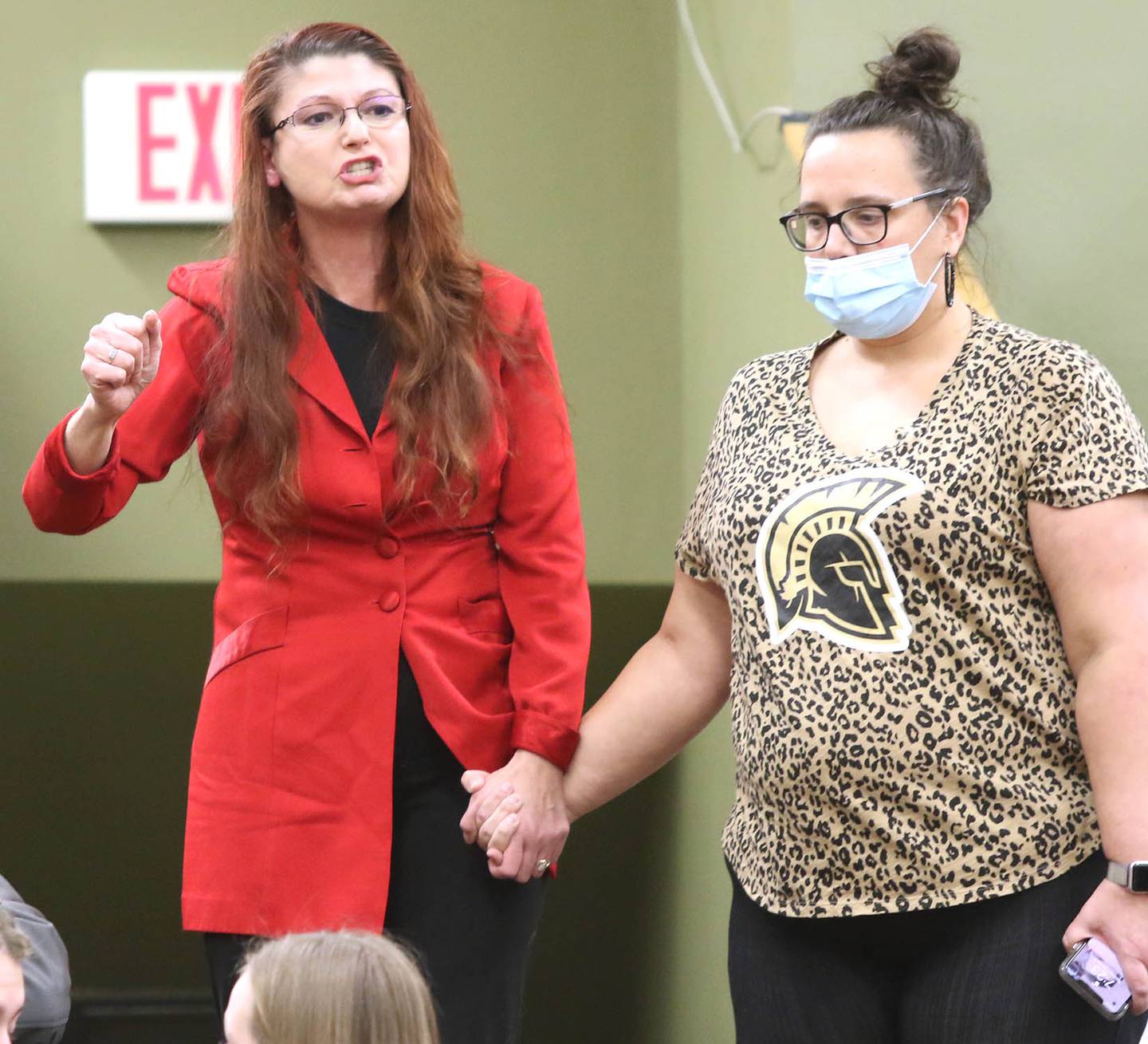 The Sycamore Board of Education meeting was moved to a virtual setting prohibiting public comment an hour after the meeting was scheduled to start Tuesday after School Board President Jim Dombeck said several maskless individuals refused to comply with district instruction to wear a face covering. The initial meeting convened in person but no action was taken on the agenda before the board abruptly shut down public participation.
The meeting changeup came the night before Gov. JB Pritzker is expected to reveal a phased off-ramp plan for his statewide mask mandate on Wednesday, according to multiple media reports.
NBC 5 Chicago reported, citing sources with knowledge of the Wednesday announcement, that Pritzker will announce a phased-in plan to drop the indoor mask mandate "in most settings, but that plan will not include a repeal of the mask mandate in public schools." The plan is to have the mandate off before March 1, NBC reported.
[ Reports: Pritzker to announce mask mandate off-ramp plan Wednesday ]
Sycamore's school board meeting began at 7 p.m. to a packed crowd at Sycamore High School's auditorium Tuesday. A large portion of the audience present in support of the Sycamore teachers' union, which has been in stalled negotiations with Sycamore Community Unit District 427 administration for nearly nine months.
On Friday, the union filed an intent to strike which could begin as early as Monday if the majority of the Sycamore Education Association vote to move forward.
Jake Brens, language arts teacher at Sycamore Middle School and union spokesperson, said that he was disappointed the board meeting ended up closed to public comment. He said about 200 union members showed up to the meeting.
"We wanted to have our voices heard, and no teachers were able to voice their opinions or be heard," he said. "I'm not sure what that gained tonight."
[ Sycamore teachers' union files intent to strike amid stalled negotiations ]
The crowded auditorium room of at least 300 people included an audience which appeared largely masked, though Dombeck asked several who were unmasked to put masks on in accordance with Gov. JB Pritzker's indoor mask mandate and District 427. After making three announcements, Dombeck announced a 10-minute recess would occur to ensure everyone not already doing so wore a mask.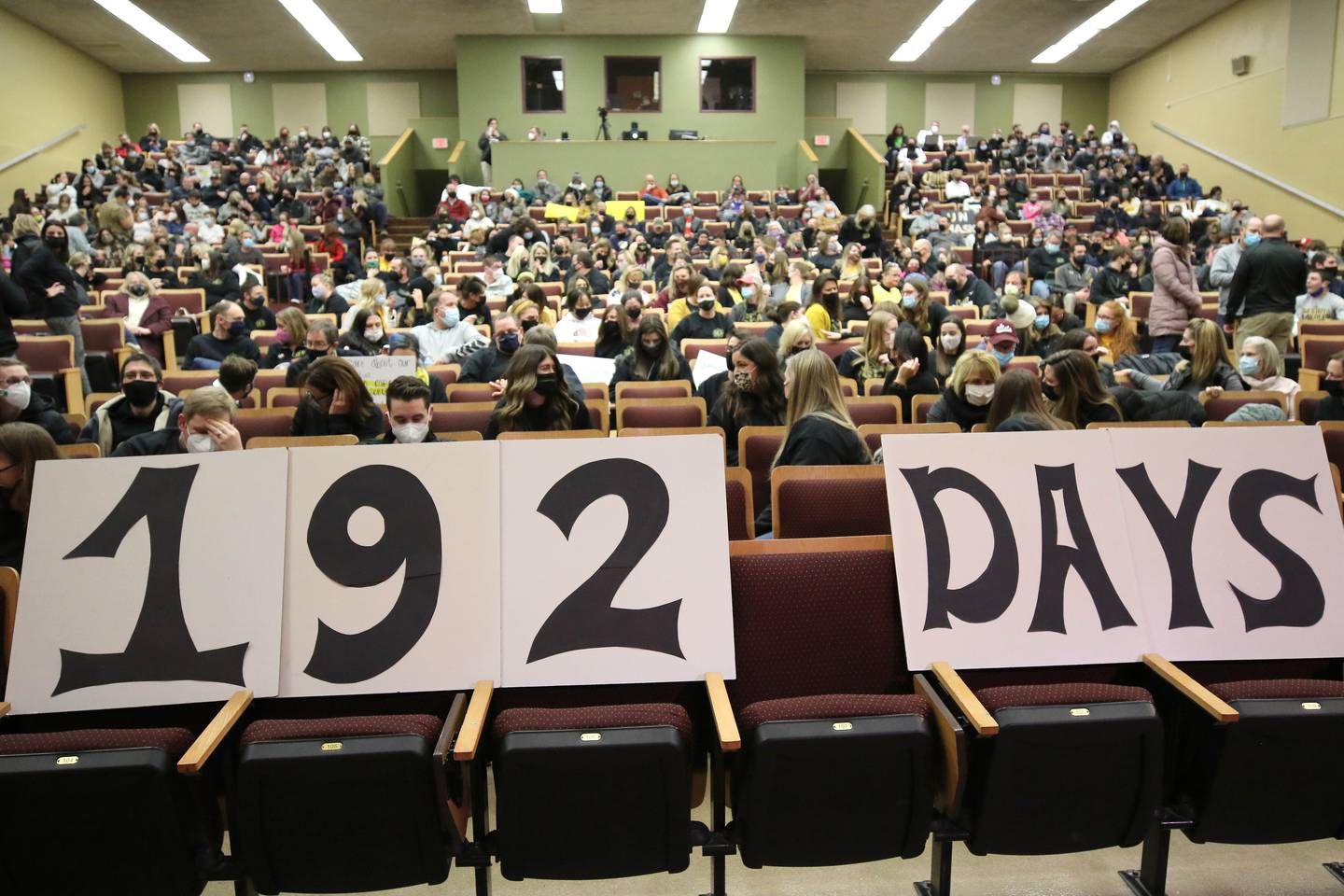 "Any individual unwilling to adhere to the mask requirement is asked to leave," Dombeck said.
About 20 minutes later, the board returned to a largely masked audience and announced the in-person public portion of the meeting would be canceled.
"The continued resistance to the district's attempts to enforce its COVID-19 mitigation protocol providing for masking requirement for the public attending this meeting has created a substantially unsafe condition," Dombeck said and was met with boos and yells. "The meeting ... cannot continue in person and as such is preventing conduct of the public business."
Dombeck's announcement was greeted by booing, several in the crowd yelling, "You're pathetic," "Coward" and "Do your job."
At one point, an audience member stood up and asked that the meeting be allowed to continue out of respect for the teachers.
In Dombeck's announcement, he cited COVID-19 health and safety concerns, and said Sycamore Superintendent Steve Wilder had determined an in-person meeting was no longer prudent. Dombeck said the meeting would reconvene virtually and cited the Illinois Open Meetings Act.
According to the school district's website, "the reconvened meeting will be held without the physical presence of a quorum at the regular meeting location."
The board reconvened at 8:45 p.m. in a virtual setting, which no longer allowed for public comment. A virtual livestream of the meeting was available on Sycamore District 427′s YouTube channel for viewers to watch.
The union's six-member bargaining team will meet virtually with three members of the school district's bargaining team and a federal mediator in New York on Thursday.
"We hope for a resolution and a contract, but we will continue to plan for the alternative," Brens said. "A strike was always our last resort and the last thing we want. However, the board needs to recognize that we have reached our breaking point."
If the negotiation with the federal mediator does not end in a bargaining agreement, members of SEA will meet next week to plan for the next steps, which could include a strike.
"We are united, and we are shocked that it has come to this point," said SEA President Lynnae Ihm. "What we are asking for is entirely reasonable. It's time for the board to accept our offer and for teachers to have a contract."
This story was updated at 9:50 p.m. Tuesday, Feb. 8, 2022 with additional comment from the Sycamore Education Association and parents in attendance at the Sycamore District 427 Board of Education meeting Tuesday.