Sycamore Superintendent Steve Wilder said it's too early to say whether the district's school board will reverse course on optional mask-wearing in the fall as new federal guidance was updated Tuesday amid a surging COVID-19 delta variant in portions of the country.
Wilder said the news -- that the U.S Centers for Disease Control and Prevention is now recommending masks be worn indoors for all teachers, staff, students and visitors to schools, regardless of vaccination status -- is still fresh.
"We'll have some conversations internally, communicate with the health department and get their take on it as well as their recommendation," Wilder said Tuesday. "It's hard to say right now if the new guidance will definitely change our planning for next year or not. When something new comes out we just want to make sure we're reading through it carefully before we can make decisions. I know our community will be very interested in an answer to that question."
The CDC reversed course Tuesday afternoon on some masking guidelines, recommending that even vaccinated people return to wearing masks indoors in parts of the U.S. where the coronavirus is surging. Citing new information about the ability of the delta variant to spread among vaccinated people, the CDC also recommended indoor masks for all teachers, staff, students and visitors to schools, regardless of vaccination status.
That new guidance is a juxtaposition to recommendations issued by the federal agency July 9, which instead of a sweeping country-wide mandate instead directed local districts to look to local data -- hospitalization rates, COVID-19 virus counts, and vaccination rates specific to local communities -- to inform their decision related to face coverings and public health policies for the upcoming school year.
The Sycamore school district, which has about half of its student body population under the age of 12 and therefore ineligible so far to receive the COVID-19 vaccine, Wilder said, begins classes Aug. 18.
Both Sycamore and Genoa-Kingston school boards have opted to make masks optional in the fall, while DeKalb's district, awaiting a final board vote, is leaning towards continuing with required masks.
Wilder said based on the previous CDC guidance, he felt Sycamore school board's mask decision, made July 13, was "reasonable...based on what we knew at the time."
"But like everything with COVID, things can change quickly," Wilder said. "We'll review this, consider any changes and communicate that to our parents and families as soon as we're able to."
Parents who attended recent Genoa-Kingston and Sycamore school board meetings spoke in majority favor of optional mask-wearing, as district leaders look to weigh parent input with public health guidance.
Sycamore's school board will not meet again until Aug. 10, six days before teachers return and a week before students file into classrooms again. Wilder said while he's hopeful the chaotic state of education amid ever-evolving pandemic feels more stable than this time last year, the past week has felt different.
"One of the things that was very challenging last summer was that we were waiting for guidance from the state up until the end of July," Wilder said. "That's when we really got the first guidance, and things continued to change. I know community members and families were very frustrated by that. We were frustrated by that."
According to Illinois Department of Public Health data, 92,232 total vaccine doses have been administered to DeKalb County residents, and 44,918 residents, or 43.13% of the county's population of 104,143, have been fully vaccinated. The seven-day rolling positivity rate for Region 1, which runs north to Rockford and west to the Iowa border, is 4.3%. The county positivity rate is at 3.6%. Positivity rates are reported with a three-day data lag. Region 1 also reports a seven-day average of 26 COVID-19 patients hospitalized.
"We really felt like we were in a better place in the spring as the school year ended," Wilder said, citing low virus case counts and hospitalizations this summer, as vaccines arrived. "I don't know that I felt confident, but I felt much better than last year. And then here in the last week or so, it just feels like the ground underneath us is becoming less stable. I just hope that we can avoid a situation like last year where guidance was coming out very last minute and then we had to react to it."
Despite what comes next, Wilder said he hopes to give families as much planning time as is possible.
"One of the things I've tried to stay committed to this year is making decisions as early as possible so we can communicate these to our families, gives them time to plan. And keep our fingers crossed that the ground doesn't change too much."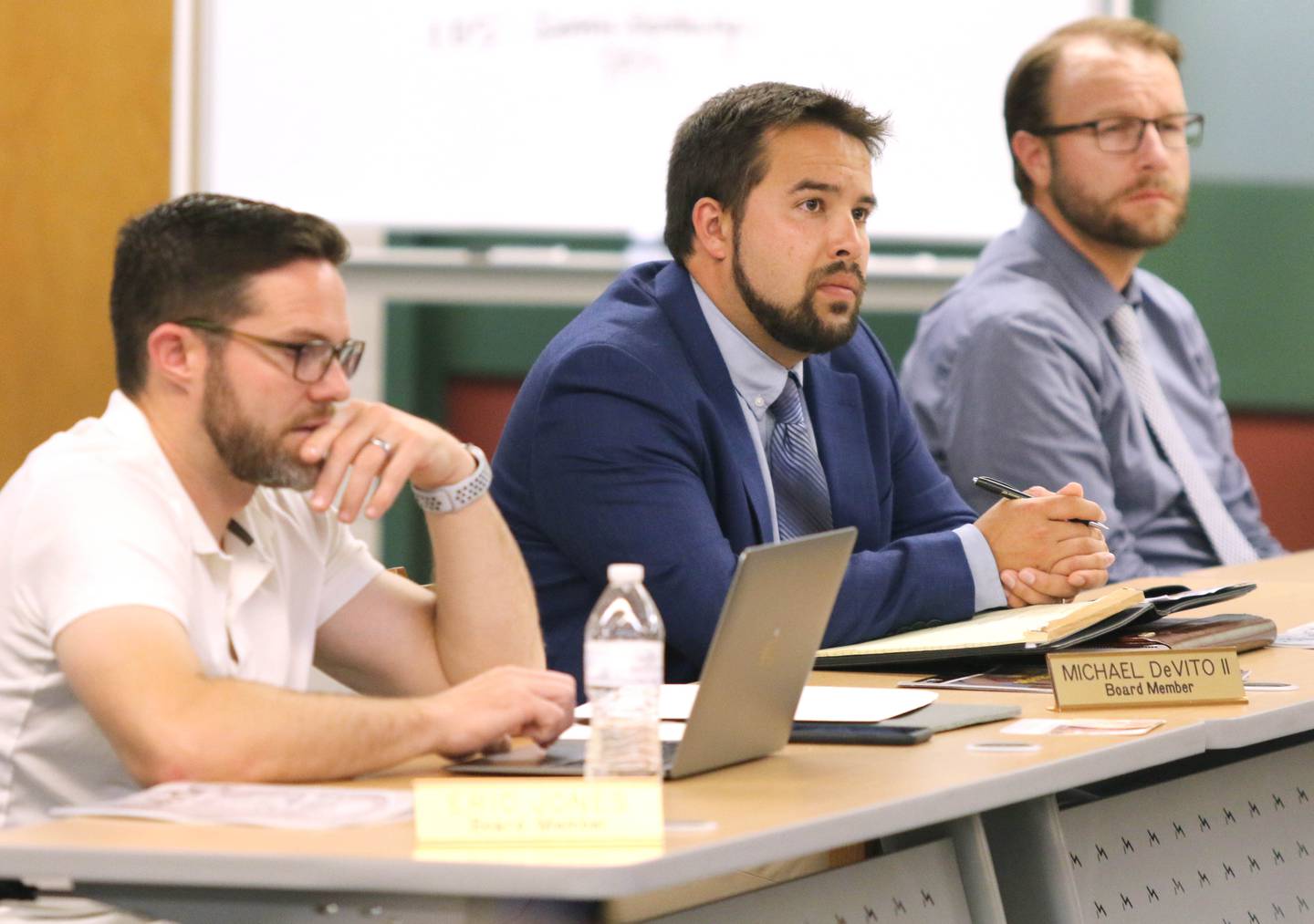 In Genoa
Genoa-Kingston Superintendent Brent O'Daniell said that the school board has made the policy that "masks will be recommended but not required," but that the new CDC guidance was discussed at the board meeting Monday.
"Unfortunately, we have become used to ever changing information disseminated at random and inconvenient times," he said. "We are getting used to the changes and dealing with them the best we can. We have to be flexible and willing to pivot and communicate when things change."
Currently, the district is not tracking vaccination status in students, faculty or staff. Like Sycamore, O'Daniell said that about 48% of students are under 12 years old and ineligible for a vaccine.
The school district has offered on-site testing and vaccination clinics when offered by the health department, and O'Danielle said that if approached, "we will be glad to host again."
Amanda Christensen, the regional superintendent of the DeKalb County Regional Office Education, said that "almost every week, we receive changing information regarding guidance in schools."
"We're just trying to keep up with the information," she said. "The ROE holds a weekly meeting with superintendents and the IDPH to discuss positivity rates and vaccination rates, so districts can make the best informed decisions they can."
She attributes the difficulty of creating mask mandates in "the inherent tension between the desire for local control and desire for consistency and statewide policy."
"Right now, the IDPH uses the words 'should be masked,' not 'required to' or 'mandated,' which leaves room for interpretation by school boards and superintendents," Christensen said. "However, only masks are politicized. Nobody is questioning social distancing, sanitation efforts or air quality control. Those are all layers of protection that nobody is questioning or discussing."