SYCAMORE – After 51 years, Donna Hill, a Sycamore School District 427 educator, is set to retire this summer.
When Hill, a 74-year-old Sycamore resident, first began her tenure with the school district in 1971, Richard Nixon was president, Walt Disney World was holding its grand opening and email was being invented.
In 2005, 34 years later, Hill briefly retired before realizing nine months later that she just wanted a sabbatical. When she retired from teaching, she came back as a paraprofessional.
Per an end-of-school-year tradition, the May 23 school board meeting focused on thanking teachers, faculty and staff of the district for their hard work throughout the 2022-23 school year. During the meeting, the board gave shoutouts to retirees, including Tim Carlson, Jodi Holtz, Pam Schramer, Jayne Klein, Christine Berg and Wayne Zelasko.
When Hill took to the podium, however, she flipped the script.
"I'm going to reverse it. I thank this district, this town. I have gained far more from 51 years than any kids have gained from me. I mean, it goes back – I was 22 when I walked into the doors of North School, and I just – I'm overwhelmed at the people I've met, the parents, my colleagues, my friends that go back 51 years. I was the baby when I walked in," Hill said. "All I can say is if you're teaching now, love it – try to love it. It's a little harder, maybe, to love it today. There's a lot of interferences today that most of you are aware of."
A retirement party recently was held at Sycamore Middle School for Hill. The party featured a display of lesson plans Hill had created over the past three decades, District 427 Superintendent Steve Wilder said. That included 30 full yearly lesson plan books and 21 datebooks from when Hill worked as a teacher's aide.
"So I had to leaf through those a little bit," Wilder said. "It's fun to see how things have changed a little bit. Some things hadn't changed as much as I thought they had, but it was fun to do that and literally see history."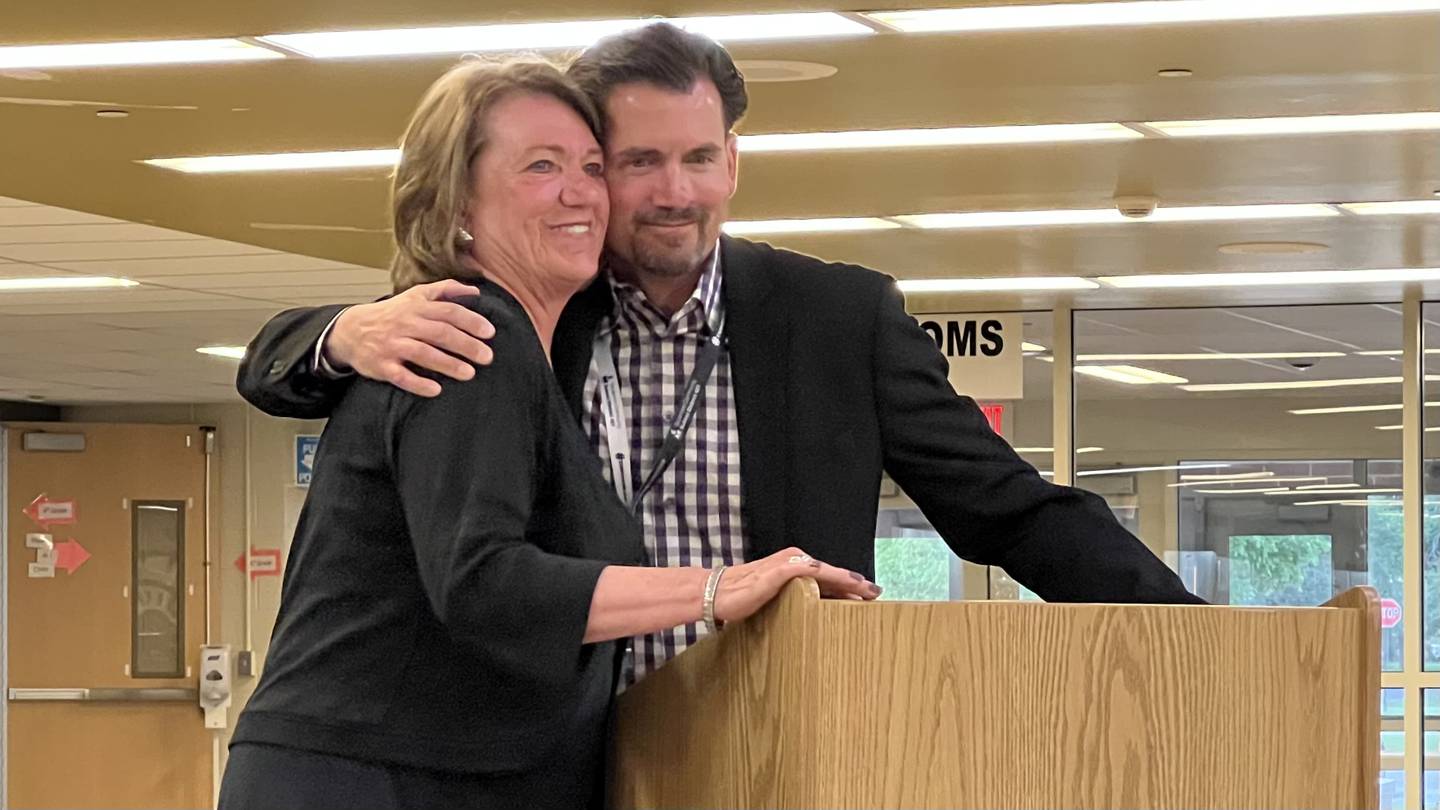 Since 1972, dramatic changes in technology, educational pedagogy and paradigms have transformed the way classrooms are run and how students are taught. Hill said she believes the public education system is dealing with a lot of interferences, meaning educators and school districts as a whole sometimes have to "scramble for support." She said that's all the more reason for career educators to consider how important their jobs are.
"Think of the good in this job, think of the kids, think of what you're doing – every bit of energy, you'll never get paid for the energy you put forth. And the more you put forth, the more you love 'em, the more they become your kids," Hill said. "My friends here in the front row know that once they become your kids, they're always your kids."
Hill's career has spanned enough decades that her one-time students now have careers of their own.
Another retiree, Berg, was one of Hill's elementary school students.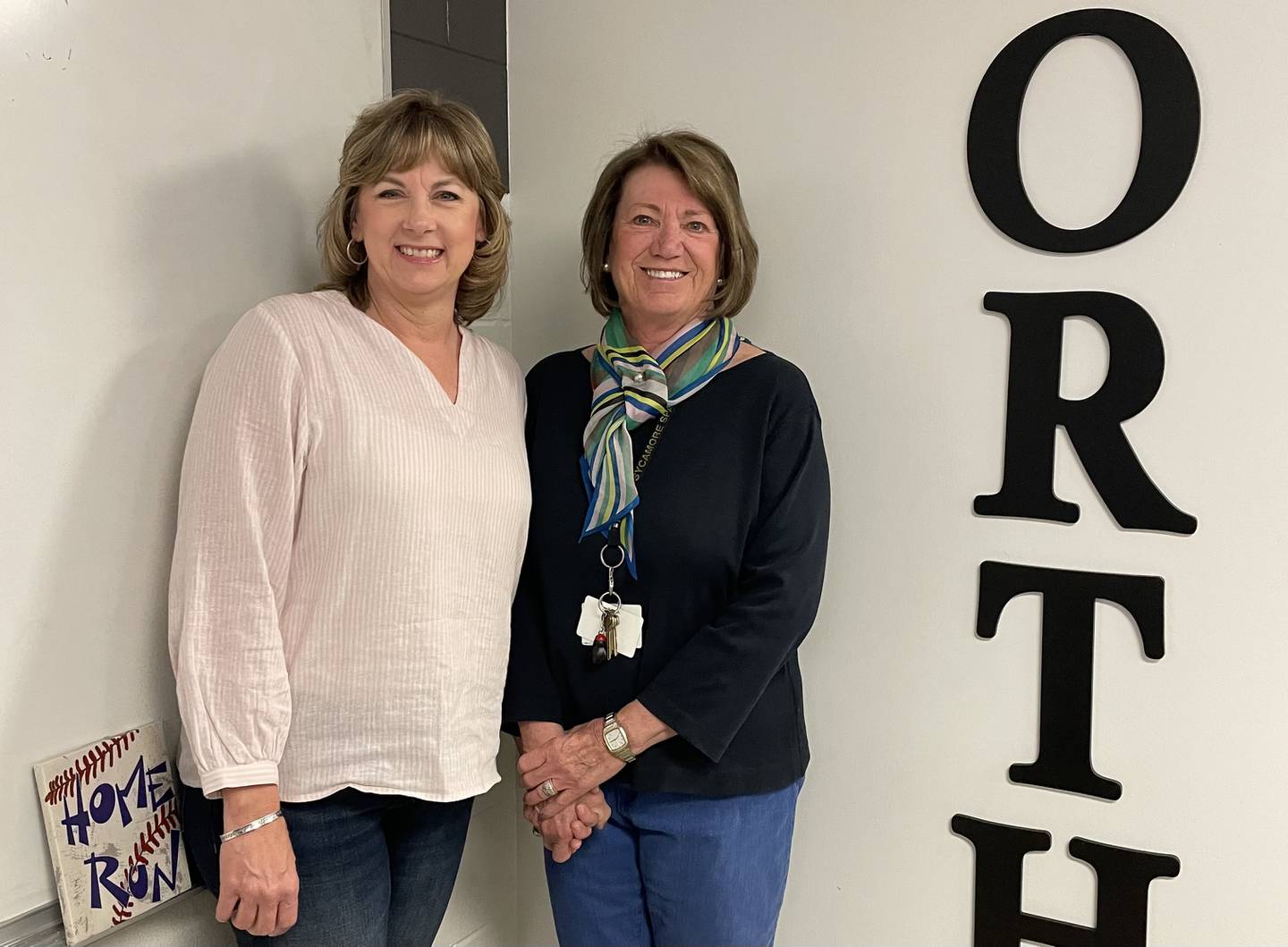 Berg, 56, of Sycamore was in one of Hill's first second-grade classes at North Elementary. Berg said she remembers how she admired Hill even as a 7-year-old. During recess, she would ask to hold Hill's hand as they walked around the playground. When they came inside, she'd ask to hang up Hill's coat.
"I just remember the connection and warmness that she gave and made us all feel special," Berg said.
Then, 33 years ago, Berg became a District 427 employee and found herself working in the same building and alongside her childhood hero.
Initially, she didn't want to call Hill or other previous educators by their first names, Berg said, but over time, a special relationship developed.
"I feel like it's one of those things from a small town that only happen there, right? Like there's so many connections between family, staff, co-workers," Berg said. "I was surprised to find out she was retiring the same time I was. So that was pretty special."
Recently, Hill went to a 50th birthday party for a student she taught more than four decades ago. She hadn't seen him since he left North Elementary, but upon invitation, she was happy to go and surprise her former student.
"My first kids are 56 years old now, and I had them when they were 7 and 8. Those are the perks you get that money can't buy, and they'll get you through," Hill said. "I went to bed the other night, said my prayers, and I just said 'Thank you, God, I picked the right career.' We have a lot to complain about, and it's legit, but I tell you that stuff that money can't buy is the stuff that makes your life worth living. So enjoy it – really enjoy it."