MANLIUS – Traveling quite a distance to the Class 1A Bureau Valley Sectional on Wednesday, the Indian Creek Timberwolves made the most of their track and field trek with a fourth-place finish and five state qualifiers.
Brooke Probst won the high jump (1.68 meters) and took second in the triple jump (10.55 meters), and Reagan Gibson took the top spot in the pole vault (3.35 meters).
Jolee Larson added runner-up finishes in the 1600 (5:49.74) and 3200 (12:10.47), and Kaitlyn Frazier was second in the 100 hurdles (16.91 seconds). Ellie Bend also hit the state qualifying mark in the pole vault (2.74 meters).
Probst popped a PR jump in the triple jump to easily surpass the state qualifying mark, and was buoyed by the announcement of her win in the high jump.
"It was so funny, when I PR'd [in the triple jump], they were announcing the high jump results, and I stood there on the runway and they said, 'First place, Brooke Probst,' and I thought 'Woo!' " she said with a laugh. "I was so ready, and then I took off, and that's when I PR'd. I think that had a lot to do with it, too, if I'm being honest, a lot of adrenaline. I'm really excited.
"I made it to state in triple jump last year, and I really wanted to do it this year. I knew I had to pull it out if I really wanted to go. When those other two girls [St. Bede's Anna Lopez and Amboy's Elly Jones] came in and both jumped state qualifying, I knew I really had to now. I took everything I had in me and exploded through it."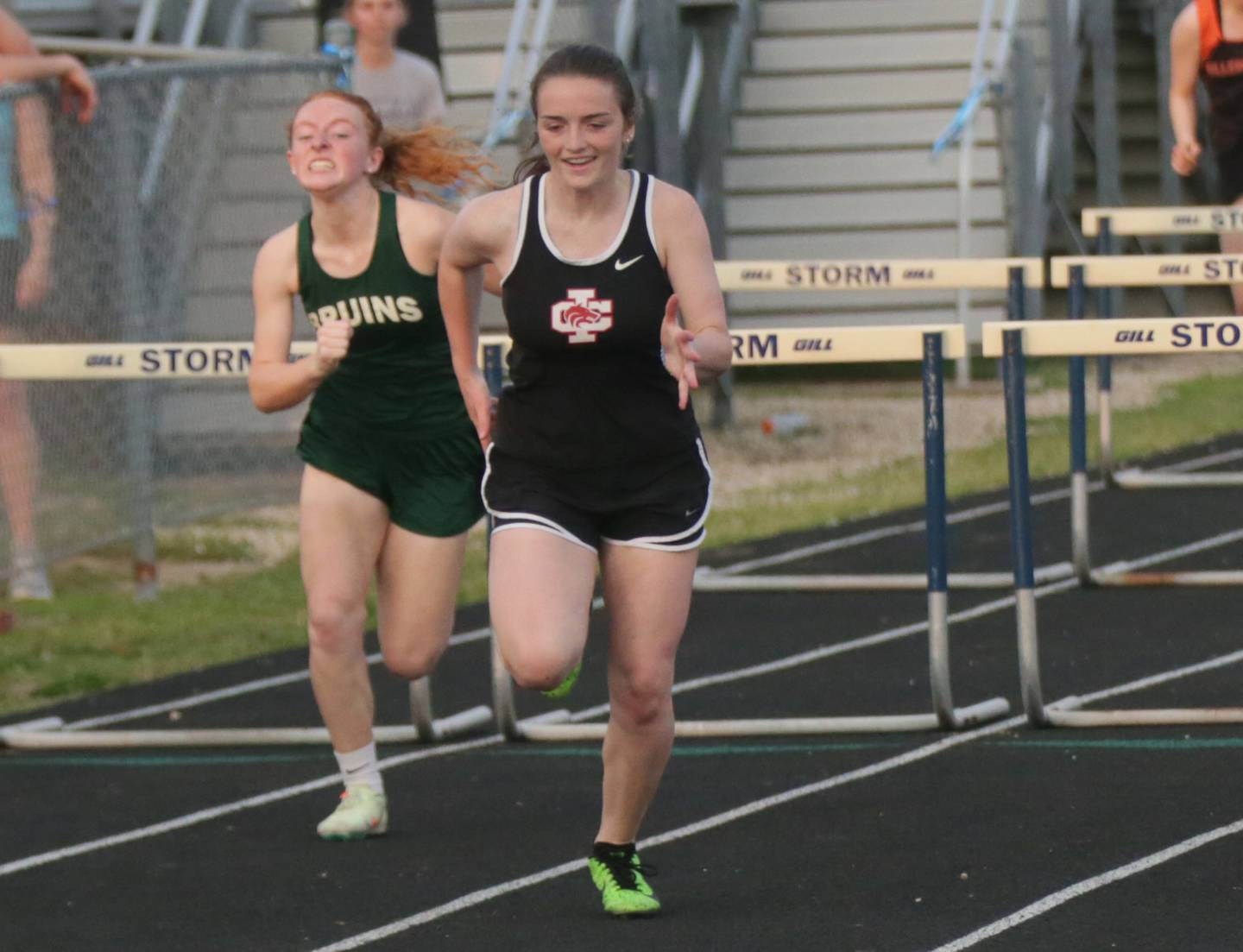 Gibson also put together one of her best performances of the season in the pole vault, and it came at the perfect time.
"It was really nice to see my name at the top after all the hard work. I've really been struggling this season, so to win was really a relief, and I know I can still do it ..." she said. "At state, I'm just going to see what happens and try to clear some bars. I have expectations. It would be really cool to get an attempt at a PR bar, which for me would be 11-6 or up. I had a really good attempt at it today, but really just a PR would be amazing."
Larson was happy with her two-mile race, especially in the hot, humid conditions – and the fact that she had a long day Tuesday, as well.
"I was really happy with it, considering I was so worried about the heat – plus I played a soccer game [Tuesday] night. It was regionals and we won, so we advanced, which is really exciting," Larson said. "But it was at Augustana College, so I was home late last night, so I was worried about getting tired in the heat. But I think I ran a smart race, which I usually don't do. I think I paced myself really well. My coach told me my splits, and I just think I ran a smart race and a good finish, so I as really excited about it."
She ran a smart enough race to save enough in the tank to make it to state in the mile later in the meet. She said she's just ready to enjoy the big blue track in Charleston next week.
"Honestly, this meet is the most nerve-wracking, so just to make it there is really fun," Larson said. "I hope I do well at state, I think I have a chance. Last year, I placed 10th, and I'm hoping to do better than that number. But I'll be happy with whatever happens as long as I have fun."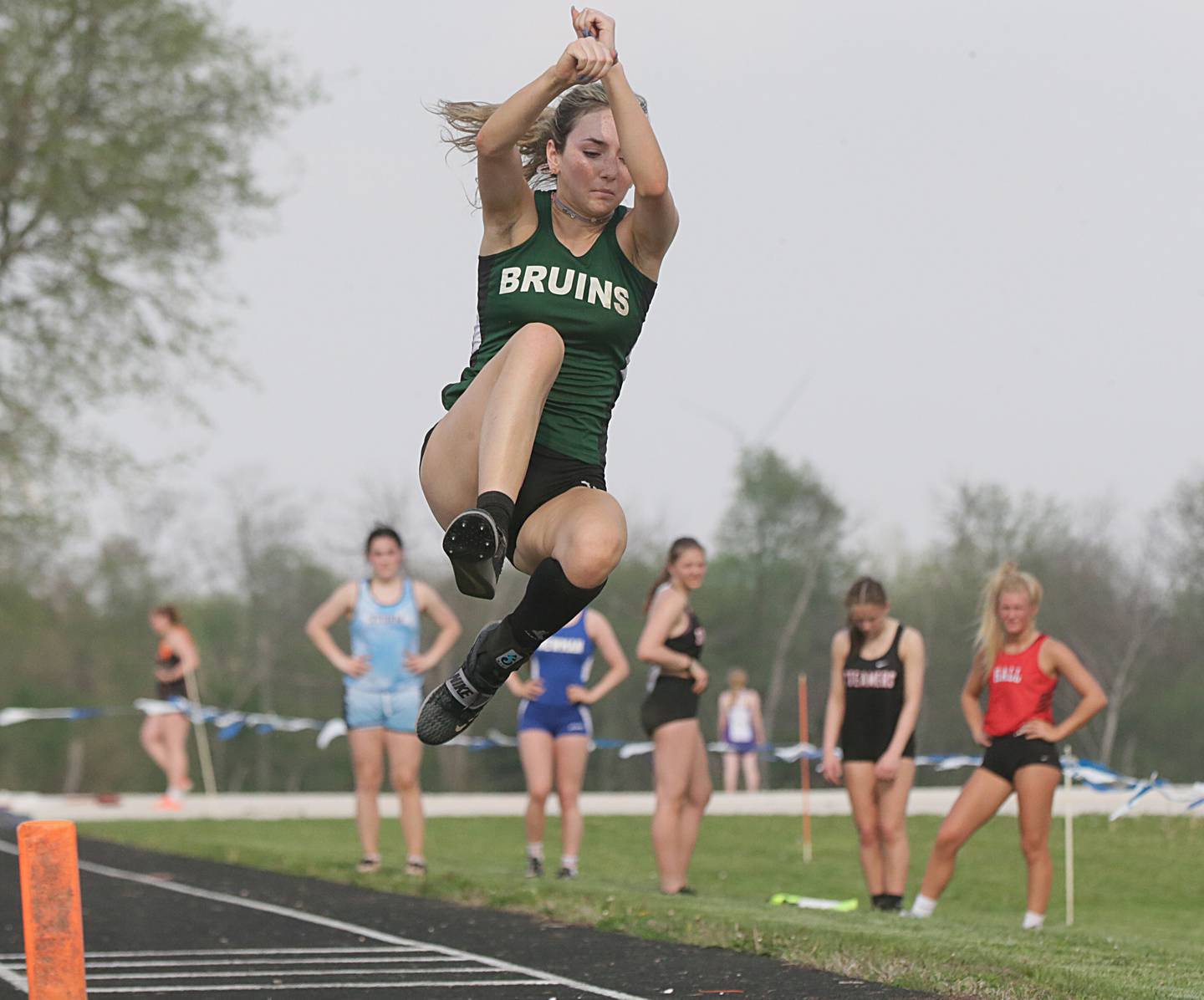 St. Bede's top performer was Anna Lopez, who will make the trip to the state meet in three events. She won the triple jump (10.93 meters) and took second in the long jump (4.99 meters), and then took third in the 100 but hit the state qualifying mark of 12.95 right on the number.
She credited the weather and the strong competition in her events with helping her advance.
"It's definitely way easier to participate in jumping, long jump and triple jump because of the heat," Lopez said. "I'm more proud of triple jump, it was a PR. Running, I didn't think I did too well, so I'm happy I hit it on time.
"Overall, I think it was a pretty good day, because weather plays a big factor, and along with that the competition."
Lopez was able to channel the pressure of the big meet into strong finishes.
"It's definitely a lot of pressure, everything I've been working toward [in the] offseason, indoor season, beginning of this season, it all builds up to this point, and you just want to make sure it's worth it," she said.
Hall's top finish came from Promise Giacometti, who placed third in the 200 (27.44 seconds) to just miss out on qualifying for state.
Bureau Valley got a third in the 4x200 (1:56.16), and Ashley Nordstrom finished fourth in the shot put (10.03 meters).
Marquette's Maggie Jewett was part of two third-place runs to lead the Crusaders. She took third in the 800 (2:30.90), then teamed with Lilly Craig, Morgan Nelson and Mary Jo Lechtenberg to finish third in the 4x800 (11:47.57).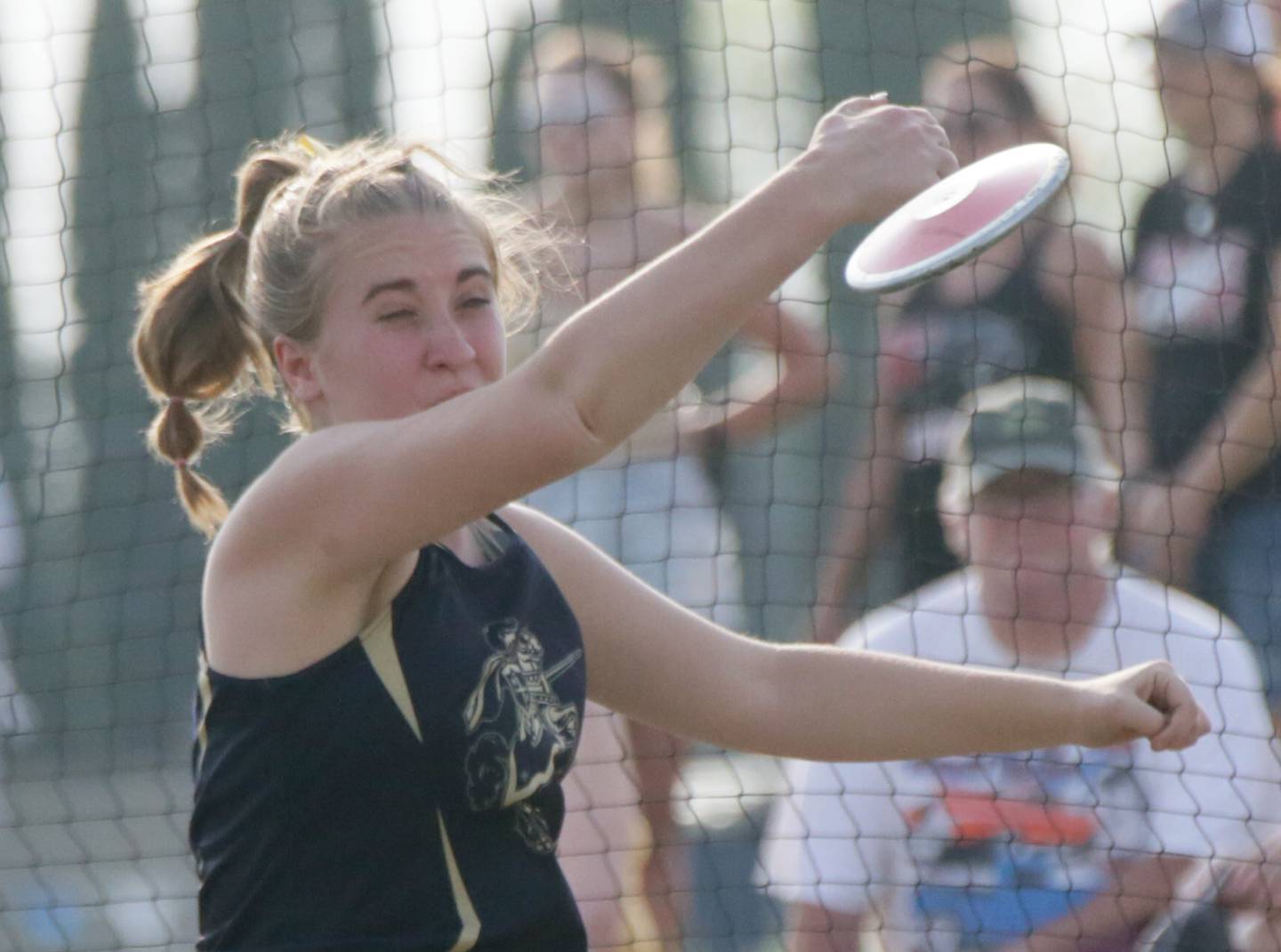 While it wasn't the end to the season she wanted, Jewett was proud of the way she and her teammates competed.
"I tried my hardest and gave everything I had out there. All you can do is try," she said. "You just have to run hard all the way. The worst thing you can do is regret after a race, knowing you could've gone out there and done better."
Annawan-Wethersfield won the sectional title with 125 points.