Growing up in Norton, Ohio, near Akron, Bears rookie wide receiver Tyler Scott was a big Ohio State fan.
The 21-year-old receiver admitted, too, that he kept following the Buckeyes even when he went to play college football at Cincinnati.
"I remember watching [Justin Fields] and just how explosive he was and the playmaking ability and what he brought to the table," Scott said. "And being drafted by Chicago, he immediately hit me up after I got drafted and he DM'd me on Instagram and kind of introduced himself. So it was pretty cool."
Soon, Scott will be catching passes from Fields. General manager Ryan Poles drafted Scott with a fourth-round pick (133rd overall) a couple weeks ago. When Scott was in the building at Halas Hall for rookie minicamp, he finally met Fields in the team weight room.
"I'm just here to make his job easier," Scott said.
Scott adds speed to the position. At 5-foot-10, 177 pounds, he's not the biggest target, but he has 4.4 speed in the 40-yard dash and can stretch the defense simply by being a deep threat. Scott was a state champion sprinter in high school.
Matt Eberflus and his coaching staff used Scott in the slot frequently during rookie minicamp last weekend. He primarily played as an outside receiver at Cincinnati. Scott is in favor of wherever the coaches want to put him on the field.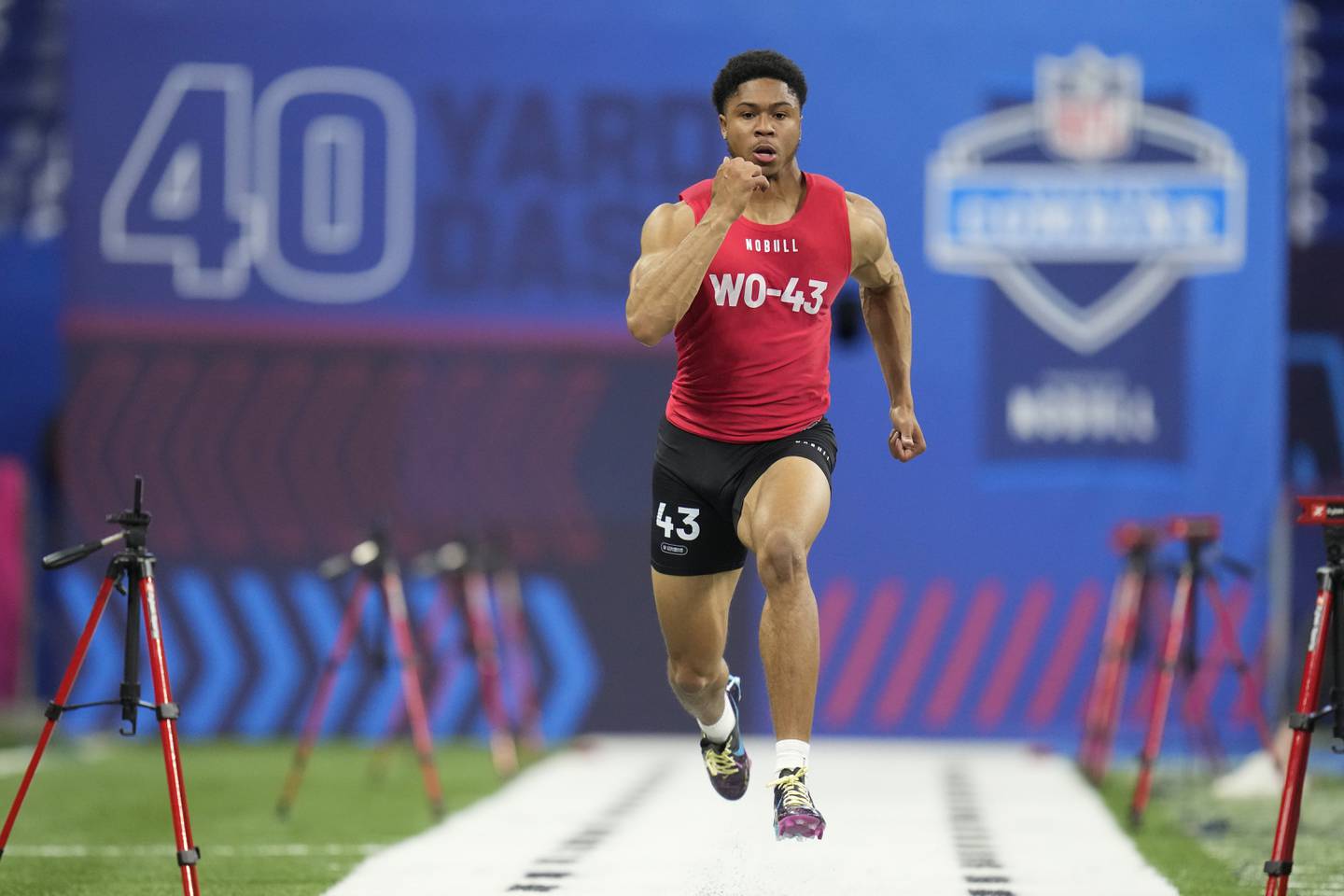 The challenge will be harnessing Scott's speed and turning him into an NFL route runner. If he does continue playing in the slot, that will bring different challenges than he's used to outside.
Bears wide receivers coach Tyke Tolbert said any adjustments always come back to the fundamentals.
"Whether it's cone drills, whether it's top of the route technique, whatever that is, it's repetition over and over and over again," Tolbert said. "I like to play golf, so I equate everything to golf. I can't just go out and play golf and be good at it. I have to go to the range and hit a lot of balls to be able to get good at it. So, same thing with Tyler."
"I remember watching [Justin Fields] and just how explosive he was and the playmaking ability and what he brought to the table."

—  Tyler Scott, Bears wide receiver
Poles and the front office have spent resources and time trying to provide Fields with a better receiving group. Fields began the 2022 season throwing to a starting lineup that included Darnell Mooney, Equanimeous St. Brown and Dante Pettis in Week 1. The results were not good. The Bears had the worst passing attack in the NFL in more than a decade. They were the first offense to average fewer than 140 passing yards per game since 2011.
It was painfully obvious the position needed help. That's why Poles traded a second-round draft pick to Pittsburgh for receiver Chase Claypool at the trade deadline last year. He insisted on acquiring DJ Moore from Carolina in the trade for the No. 1 overall draft pick. Now, he has added Scott with a fourth-round draft pick.
Mooney, Moore and Claypool are sure to begin the season as the starters. St. Brown and Pettis are solid veterans off the bench. Velus Jones Jr. returns after an underwhelming rookie season. Scott comes in looking to compete for a spot.
Overall, there's more competition and more talent across the board. Last year, it was a question of who is going to step up besides Mooney? This year, the bigger question is who will be left out.
"Everybody has a different skill set," Tolbert said. "So whatever skill set they have for the plays we run, we're going to put those guys in those positions to make those plays."