It was the summer of 2019. Those hot, muggy days when school was out and all there was to do was play football and hang out with friends.
Football summer camp neared its end at Barrington High School and head coach Joe Sanchez prepared to let his athletes out for a two-week break before fall camp started up in early August. What the players did during those next two weeks was up to them.
Lukas Van Ness, a top defensive end on the team who had committed to Iowa earlier that summer, sought out his coach for some advice.
"I remember him reaching out to me wanting any recommendation on a book about leadership," Sanchez said.
Sanchez, who has coached the Broncos since 2002, recommended "The Power of Positive Leadership," by Jon Gordon.
Nearly four years ago, long before his first snaps for the Iowa Hawkeyes and well before he entered his name in the 2023 NFL Draft, Van Ness wanted to become a better leader. At the time, Van Ness preferred to let his actions speak louder than his words. In some ways, he still does today, at least according to some of his former teammates and coaches.
"He was, for the most part, kind of a quiet leader, I would say," former Barrington running back Quinn Ketel said. "He always really led by example, which I think is what we all really liked about him. You never had to question effort."
"His play certainly speaks for itself," added Iowa assistant defensive line coach Jay Niemann.
But four years ago, heading into his senior season, Van Ness knew his team and his defense needed a leader. He was the stud pass rusher. He was the team's star defender committed to play in the Big Ten. Whether he asked for it or not, his teammates were going to look toward him.
Much like he approached footwork or the weight room or his understanding of the X's and O's, Van Ness saw leadership as an area where he needed to improve, and he set about doing so. When the Barrington players returned two weeks later for fall camp, Van Ness had read the book and taken notes.
"That just speaks to him and the attention to detail and being just very aware of everything that he does and what kind of a ripple effect that has," Sanchez said. "That's something that I also remember about him."
His teammates noticed it, too.
"Immediately, when we started that season, he knew he had to step up," former Barrington safety Lucas Kozlowski said. "He was more vocal than I'd ever heard him."
'This is insane'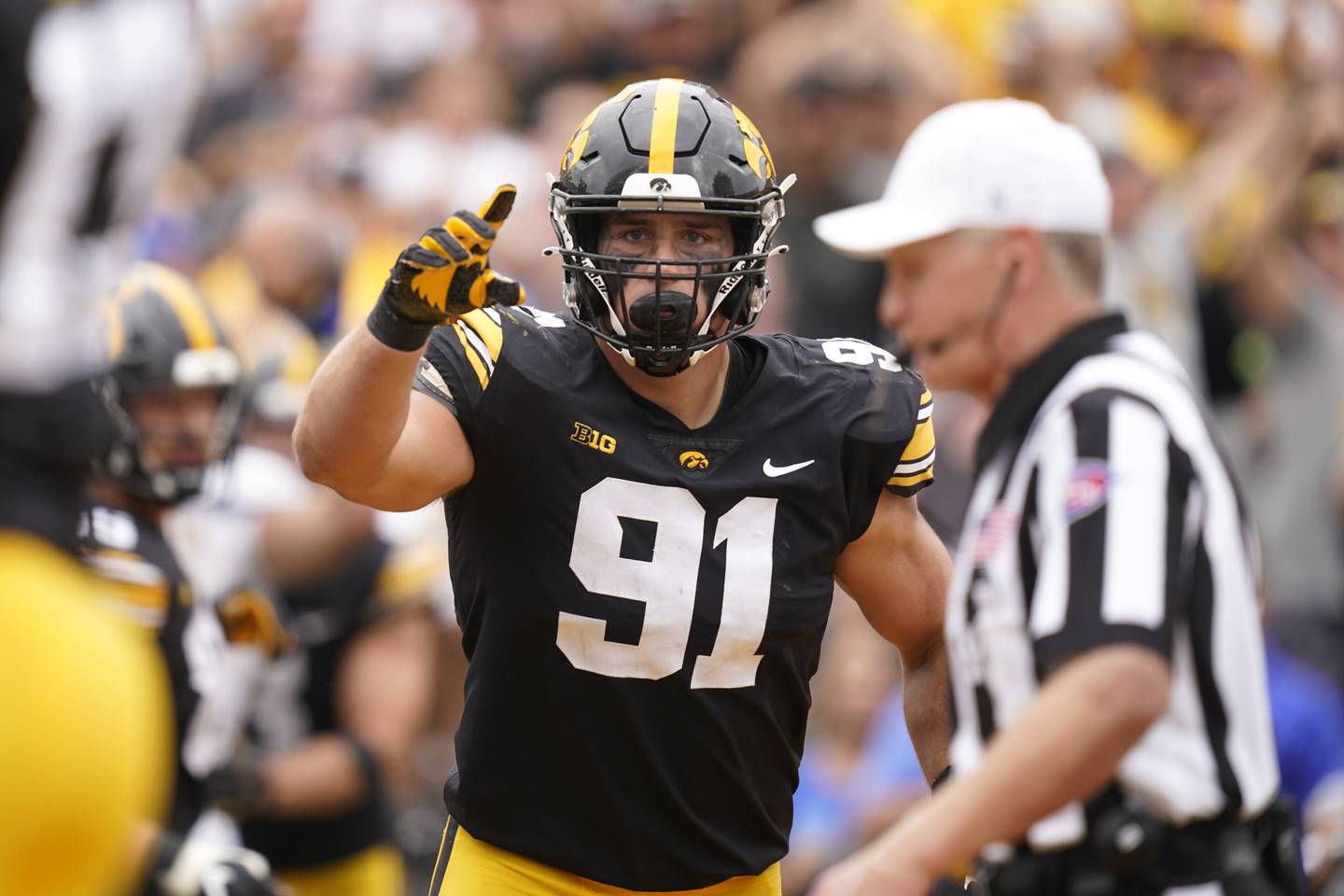 The 21-year-old Van Ness is one of the most intriguing prospects in this year's draft. He redshirted his freshman season and is leaving Iowa after playing in only 27 college games over two seasons. He has never technically started a game. The Hawkeyes reward their seniors with starting spots. Iowa seniors John Waggoner and Joe Evans started ahead of him last season, but Van Ness ultimately played more snaps.
"We all knew and understood that when push came to shove and we needed him to be out there, he was going to be out there," Niemann said of Van Ness.
A year ago, Van Ness wasn't on the radar of the average NFL fan. Go back and look at those "way too early" mock drafts from May 2022 and Van Ness' name is nowhere to be found.
He moved from defensive tackle to defensive end over the offseason and proved in 2022 that he could play on the edge. He totaled 11 tackles for loss and 6.5 sacks for the Hawkeyes last season.
At 6-foot-5, 272 pounds, he has the ideal frame and the athleticism for an NFL pass rusher. He might be relatively raw, in terms of experience, but he has the tools that teams want to see. His Iowa teammates nicknamed him "Hercules" because of his chiseled frame and his work ethic in the weight room.
It surprised no one that he performed well at the NFL Scouting Combine. He ran the 40-yard dash in 4.58 seconds and performed the three-cone drill in 7.02 seconds.
"We're all just having a lot of fun with it," Van Ness said at the combine. "Obviously, my parents are super proud of me and I'm just really happy to be here."
Ketel texted his high school buddies during the combine.
"We were all like, he wasn't that fast when we were in high school," Ketel said.
Van Ness' draft stock has skyrocketed over the last few months. There is plenty of uncertainty heading into the draft, which begins on April 27, but Van Ness is frequently being discussed as a first-round pick. Some draft analysts have him as a top 10 pick.
"One of my best friends is about to get drafted in the first round," Kozlowski said. "This is insane."
The traditional route
Van Ness took what Sanchez called "a traditional route." It's practically unheard of these days for a top recruit and a future NFL draft pick. Van Ness played with the freshman team as a freshman. He played with the sophomore team as a sophomore. He didn't take a varsity snap until junior year.
"That's not because of a lack of talent," Sanchez said.
The Barrington coaches knew they could find a place for Van Ness when he came out for football as a freshman. He had played hockey from a young age, but didn't try football until eighth grade. When he went out for the freshman football team, it was a matter of figuring out where he fit best. He played tight end that season, but he kept getting bigger and stronger. As a sophomore, he found his footing as a defensive end.
"It was pretty evident that if he did grow into his body, he definitely could have been [a D-I player]," Ketel said.
Pretty quickly, the position felt right. By his senior season, he was playing defensive end on defense, right guard on offense and contributing on special teams. He rarely, if ever, took a snap off.
Ketel, the running back, loved running behind Van Ness because Van Ness' arms were so long defenders couldn't get around him.
During their junior season, Barrington had an early September matchup against Maine South, which featured offensive tackle Peter Skoronski. Like Van Ness, Skoronski is now a potential top 10 draft pick. Back then, he was a highly-recruited prospect who was widely considered the top recruit in Illinois in the class of 2020. Van Ness, who didn't have any college offers at the time, held his own against Skoronski.
"It was at that moment when Lukas saw himself competing against one of the top-rated offensive linemen, not just in the state but in the nation, I think that's when Lukas went, 'I can do this,'" Sanchez said.
Van Ness and Skoronski would continue to duke it out in college with Van Ness at Iowa and Skoronski at Northwestern. The two know each other well and used to work out at the same training facility in the northern suburbs.
"He's a beast," Skoronski said at the NFL Combine in February. "I've been on the receiving end of some of his best rushes. But you know, he's got elite speed and power. I always imagined that's what it will be like at the next level, a bull rush like his."
A few months after his junior season, in May 2019, Van Ness attended a showcase at Lindenwood University near St. Louis. He received a few college offers earlier that spring, but they were mostly from smaller schools.
The camp took place during a school day. Van Ness, his dad and his brother took the day off to drive south. With classes to teach, Sanchez remained in Barrington. During his first open period, he checked his phone. He had about a zillion messages and missed calls. College coaches wanted to know who the heck this kid was. Later that same day, Van Ness received his first Power Five offers.
Because he was already heading into his senior season, the process moved quickly from there.
Three weeks later, he attended a camp in Iowa City. Iowa coach Kirk Ferentz had briefly met Van Ness a few months earlier. That June, Ferentz could tell that Van Ness had spent a lot of time in the weight room since the last time they met.
"The scary part about recruiting is we start so early now," Ferentz said last month after Van Ness' pro day. "But he changed, not dramatically, but matured since six months prior to that. We ended up offering him out of the camp. Felt really good about him."
When Iowa offered him a scholarship, Van Ness' recruiting process might as well have been over right then and there. He had family in Iowa and his dad, Jason Van Ness, grew up an Iowa fan. His older sister already attended the university.
Iowa was a no-brainer.
A defensive end on skates
Steve Martins remembered sitting in front of representatives from the Amateur Hockey Association Illinois and showing them the video. Van Ness' first love was hockey. He had been on the ice since he was little.
In high school, as a member of the Barrington club hockey team, he found himself being accused of purposely elbowing an opponent in the head.
"The parents and the other team would cry foul because he was so big he would inflict pain when he wasn't really doing anything," said Martins, the former Barrington hockey coach.
On the play in question, Van Ness had been skating over to the bench to make a line change. The opponent skated across his path. Van Ness never even saw him coming. They showed the video to the AHAI governing body, which – much to the relief of Martins and Van Ness – agreed that there was no malicious intent.
Nonetheless, Van Ness was constantly at the mercy of hockey referees. Martins would plead with referees before every game to take into account that Van Ness was just bigger than everybody. Put a 6-foot-5, 240-pound defensive end on skates and he's going to knock some people over.
"They would chuckle and say, 'Well, he's got to watch it,'" Martins recalled.
"It's probably not good to say it, but my last two years I think I led the league in penalties," Van Ness said.
During high school Van Ness continued playing hockey, even as football took up more of his focus and attention. When Martins, who played professionally for 14 years, was growing up Canada, his coaches made him choose: football or hockey. He never wanted to force his athletes to make such a decision. The football players who also played hockey were welcome to practice as much or as little as they liked during football season. Van Ness typically waited until football season ended to join the hockey team.
Even when it was clear that football was going to be his future, Van Ness kept returning to the ice.
"Him being on the ice demands so many different skillsets," Martins said. "Being physically able to skate, turn, stop. The conditioning of it. The short spurts up and down. The physical aspect of it. And just the overall camaraderie of being on a team, I think it was probably really nice for him to – I wouldn't say get away from football – but to have that continuing on throughout the winter months when football was just in the gym."
During his senior season in 2019-20, Barrington had one of its best teams ever. The team reached the AHAI state semifinals. A matchup against state powerhouse New Trier Green loomed on a Sunday in mid-March. The winner would play in the state championship game at the United Center.
Days before the big matchup, the world shut down. That Friday, AHAI canceled the rest of the tournament.
"It was devastating," Martins said. "Probably one of our best, if not our best team."
It was a premature end to Van Ness' hockey career, but there were bigger things ahead for him on the football field. He believes all those years on the ice made him a better football player.
"Hockey requires a lot of agility," Van Ness said. "It's a hard sport to play. It's very physical, it's very demanding. But a lot of those attributes contribute to the player I am today."
To stay or to go?
With a weekend off last fall, Van Ness returned to Barrington to watch his younger brother, Devan Van Ness, and the Broncos take on Conant in a Week 8 high school game.
The Hawkeyes were coming off a frustrating, 9-6, loss to Illinois in Champaign. Van Ness and the Iowa defense held Illinois to three field goals, but still the Hawkeyes came up short.
That weekend, Van Ness caught up with Sanchez. Lukas was a redshirt sophomore, in his third year at his dream school, and he had never technically started a game. When Sanchez spoke with Van Ness, there was no discussion of the NFL. The focus was on Iowa.
"It was more like: What do we got to do to get our season back on track?" Sanchez said.
The next few months changed everything. Van Ness has not only catapulted himself into the draft conversation, but he has emerged as a legitimate first-round pick. His relative lack of experience is what has NFL evaluators drooling at the possibilities.
Is he a 3-technique interior defensive lineman or is he a pass rusher off the edge? The answer is in the eye of the beholder. Iowa trains all their defensive linemen to play multiple spots. Whichever NFL team drafts Van Ness is going to be getting a player who they can mold in any number of ways.
NFL teams love two things when it comes to the draft: proven production in college and tantalizing athletic potential.
"Somebody's going to get a gem in this kid because he's not like normal kids where he's been playing football his whole life," Sanchez said. "He's still learning the game."
In January, Sanchez drove to Nashville to watch the Hawkeyes take on Kentucky in the TransPerfect Music City Bowl. They met up after practice the day before the bowl game. Even then, Van Ness and his family didn't know if that would be his final college game.
"I really do firmly believe he had no plan in his head of leaving early," Sanchez said.
"I know the decision didn't come lightly and they consulted a lot of different folks," said Niemann, the assistant D-line coach at Iowa. "I'm sure Coach Ferentz had conversations with him along the way."
Iowa rolled to a win, 21-0. A few days later, Van Ness announced on Instagram that he was turning pro.
A culmination
Ketel distinctly remembers standing next to Van Ness during their senior season. They were at practice, but they were both on the sideline, taking a breather.
"If you had the opportunity to go to the NFL, would you want to do it?" Ketel asked Van Ness.
Van Ness looked at the running back and said, "If the opportunity ever presented itself, it'd be hard to say no."
The opportunity is here.
Ketel, now a student at Kansas State, plans to make the two-hour drive from Manhattan, Kansas, to Kansas City for the draft's opening night April 27. His high school teammate is likely to hear his name called, and Ketel wants to be there for it.
"He's a good guy, a really genuine human being, so it couldn't have happened to a better person," Ketel said.
Amid all the workouts and team visits that come with preparing for the draft, Van Ness recently texted Kozlowski, who now plays at Butler, asking how his team is looking next season.
"This is someone who's going in the first round and he's asking me how my school is and how I am fitting into my team?" Kozlowski said. "That really shows me that he's the same guy."
Four years after Van Ness asked his coach for a book on leadership, Kozlowski sees a "super confident and amazing leader," but he also sees someone who doesn't forget how he reached this point.
Receiver Scotty Miller, who won a Super Bowl with Tampa Bay and recently signed with the Atlanta Falcons, was the last former Barrington player drafted. Miller was a sixth-round pick in 2019.
Sanchez takes no credit for any of his former players' success. He's quick to point out that it takes a staff of a dozen coaches to run a football team. His staff takes pride in being "a small part of helping Lukas get there."
"He has a great admiration for home and he doesn't forget where he's from," Sanchez said. "That's what makes it even more special."