LAKE FOREST – Longtime Bears lineman Cody Whitehair could be moving back to the center position.
The seven-year NFL veteran began his career as a center and has played several spots on the offensive line over the years. But most recently he has been entrenched as the starting left guard. That's where he played during each of the last two seasons.
His best season, a Pro Bowl season in 2018, came while snapping the football at center.
Bears general manager Ryan Poles confirmed this week that the team could try Whitehair at center. Poles agreed to a contract with free agent offensive guard Nate Davis, previously of the Tennessee Titans, earlier in the week. That move signaled some changes could be coming.
"There's some flexibility and some conversations where Cody could work some center," Poles said at Halas Hall. "He's got almost 4,000 snaps there. Had some good seasons there. So we're going to move it around a little bit and see if we can get the best front three possible."
With Whitehair at left guard and Teven Jenkins at right guard last season, the Bears found some semblance of consistency at the guard spots. The addition of Davis raised the question of how exactly he might fit in with those two. The Bears still have center Lucas Patrick under contract for one more season.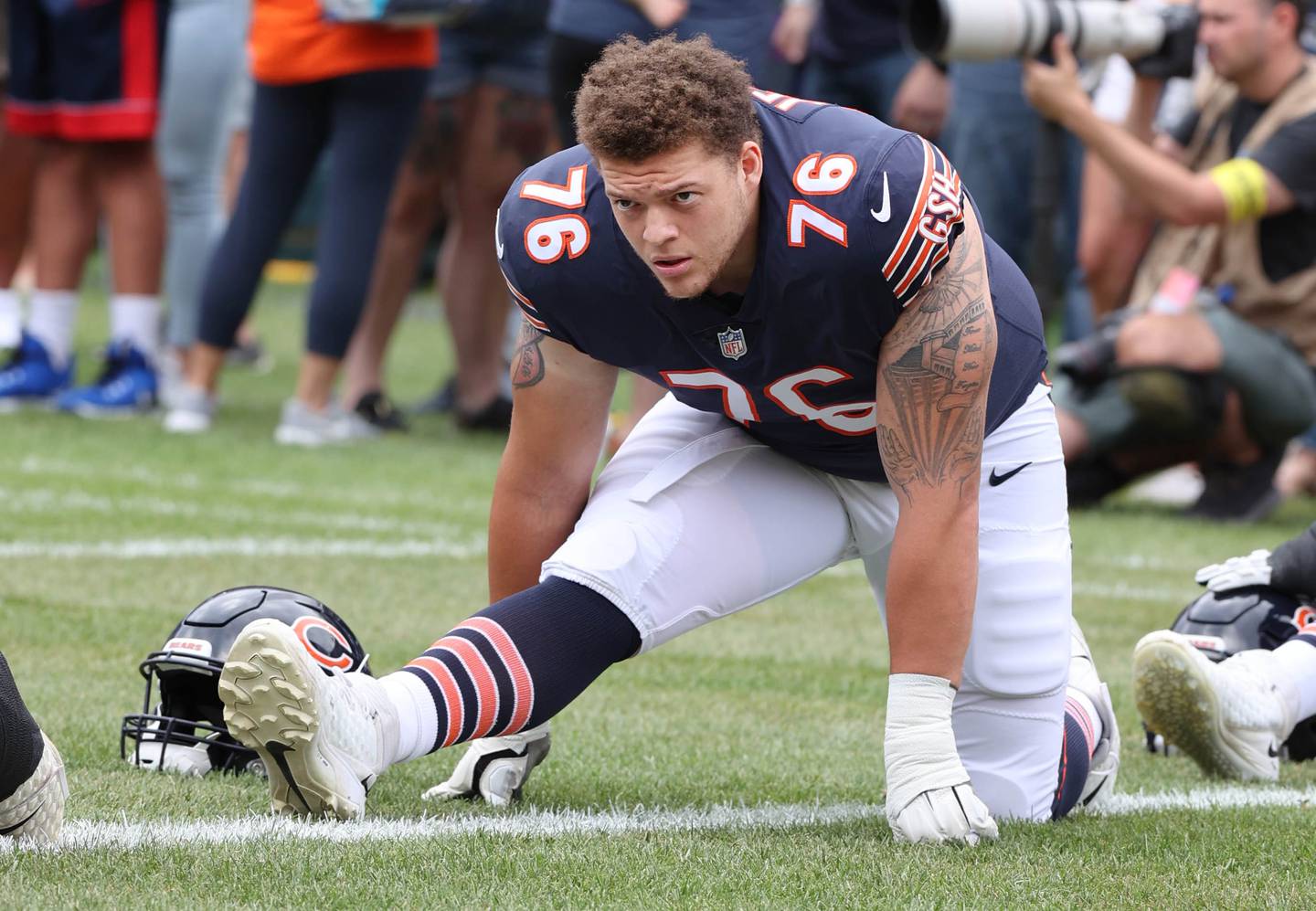 Patrick came to Chicago a year ago expecting to be the starting center. A thumb injury derailed that plan during training camp. When he did return, the thumb injury impeded his ability to snap the football, so he moved to guard. All in all, he wound up playing only one quarter of football at the center position.
But even when he was at guard, Patrick struggled. He even admitted during the season that he wasn't playing up to his own standard.
Poles said the goal will remain the same: To find the best combination of five linemen, whatever that is. The Bears took their time deciding that last summer, using several players in various roles through training camp until they settled on a starting five. It could be much the same this summer.
There's some flexibility and some conversations where Cody [Whitehair] could work some center."

—  Bears GM Ryan Poles
Davis has played almost exclusively at right guard during his four years with the Titans. It seems reasonable that the Bears would leave him where he is most comfortable. Davis could probably play the left side, but why mess with something that has worked for him? If Whitehair slides to center, Jenkins could shift over to left guard.
Jenkins just began playing the right guard spot last year. It was essentially a new position for him. He picked it up quickly last year, and if he can do the same with the left guard position the Bears could feel good about an interior with Jenkins, Whitehair and Davis from left to right.
Patrick could be the first backup off the bench. Larry Borom and Alex Leatherwood could be options off the bench.
Poles also said that Braxton Jones, who started as a rookie last year, will continue to be the starting left tackle – at least, as of now.
"For a young rookie from Southern Utah to start and play every snap, we thought he did some really good things," Poles said. "Some growth and development from him. He's working out, getting bigger and stronger. So right now, he's the starting left tackle. If we could create competition and move guys around to see what the best five is, that's what we will do."
If the Bears can find a reliable right tackle, whether in free agency or the draft, they could feel really good about where the offensive line is at.