LAKE FOREST – The Bears will kick off their 2021 training camp this week with players arriving Tuesday and the first practice on Wednesday. For the second consecutive year, training camp will be held at the team's Halas Hall training facility in Lake Forest.
Shaw Local will have all the news, notes and analysis to help Bears fans through camp. Below is everything you need to know ahead of training camp.
For the latest and most up-to-date news from Lake Forest, follow @bears_insider on Twitter. You can also follow Shaw Local Bears beat reporter Sean Hammond directly at @sean_hammond on Twitter and @bears_reporter on Instagram. Shaw Local analyst Hub Arkush, who has more than four decades of experience on the Bears beat, is available on Twitter at @Hub_Arkush.
To help support our Bears coverage, subscribe at shawlocal.com/register.
About 1,000 fans will be in attendance for select practices at Halas Hall, with the first open practice on Thursday. The Bears moved camp back to Halas Hall permanently last year after 18 years in Bourbonnais. The move to Lake Forest coincided with the team's recently completed renovations at the Halas Hall facility.
What's the schedule?
The Bears are going to be busy throughout August and into September. The schedule is subject to change.
Some key dates to note are the Meijer Bears Family Fest at Soldier Field on Aug. 3, preseason games at Soldier Field against the Dolphins on Aug. 14 and against the Bills on Aug. 21, and an away preseason game on Aug. 28 at Tennessee.
The Bears will host the Dolphins for two days of practice on Aug. 11 and 12, ahead of their preseason game. Those practices are closed to the public.
The Bears will open camp with 90 players on the roster. On Aug. 17, all teams must cut their rosters to 85 players. On Aug. 24, teams must cut their rosters to 80 players. On Aug. 31, teams must cut their rosters down to 53 players ahead of the regular season.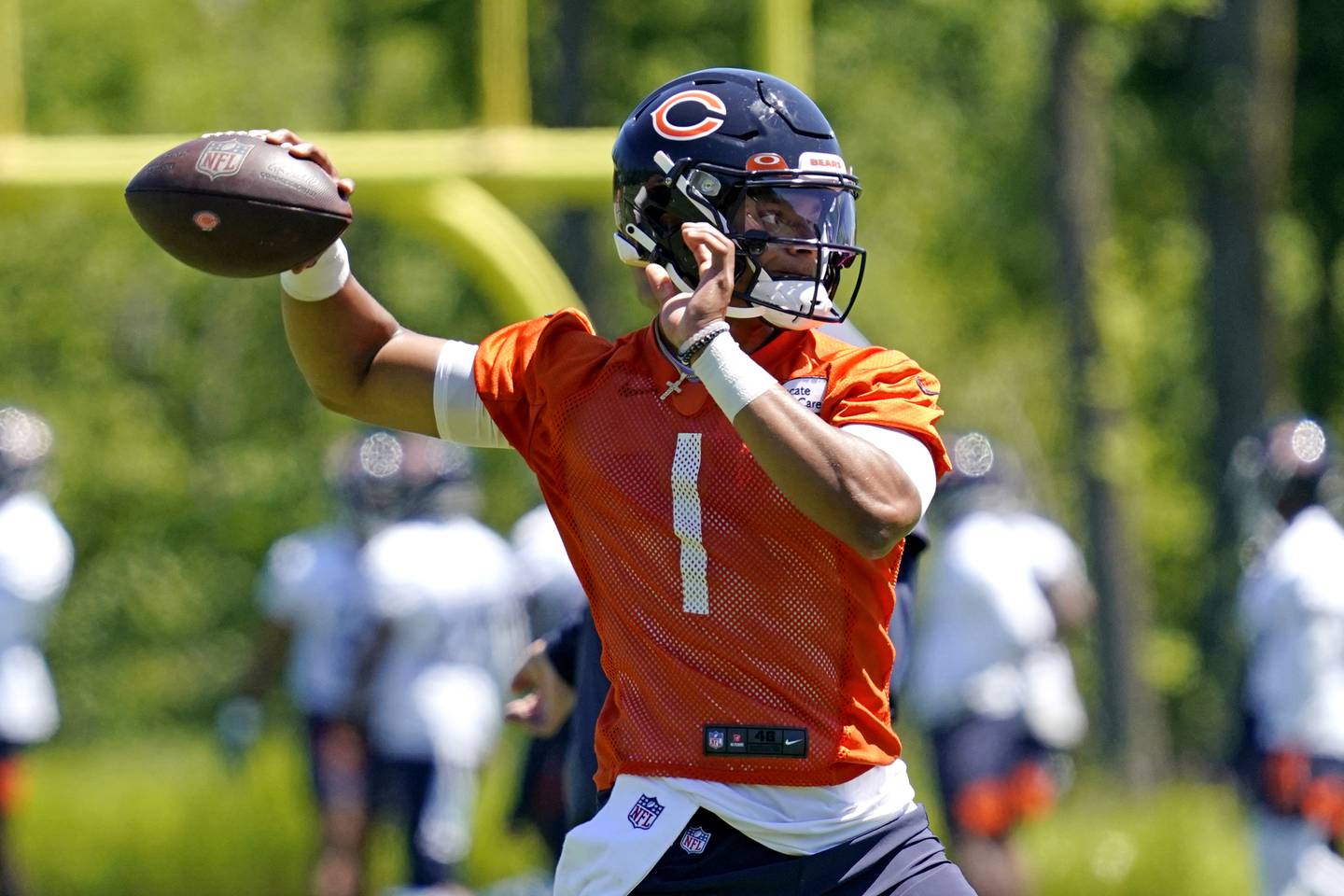 What's the deal at quarterback?
While the Bears selected quarterback Justin Fields with the 11th overall pick in the draft, he's not likely to take on the starting role anytime soon. Head coach Matt Nagy's plan is to start veteran free agent signee Andy Dalton, at least to start the season.
What that means for training camp is that Dalton will receive the vast majority of the snaps with the first-string offense. Fields will be working with the second-string. Veteran Nick Foles will work with the third-string.
[ Bears training camp begins in late July. What can Justin Fields do to prepare between now and then? ]
[ Justin Fields' deep ball is turning heads already at Bears OTAs ]
Fields was, at times, impressive during organized team activities this spring, especially with his deep-ball ability. He certainly brings a level of athleticism to the quarterback position that the Bears haven't had in a long time – maybe ever.
But head coach Matt Nagy is adhering to the blueprint he and coach Andy Reid used for then-rookie quarterback Patrick Mahomes in Kansas City back in 2017. That likely means Fields will remain stuck behind Dalton on the depth chart, no matter how impressive he looks during training camp.
What about the rest of the team?
Analyst Hub Arkush has already taken an in-depth look at every position on the Bears' roster. Check out his positional previews:
Special teams | safeties | cornerbacks | inside linebackers | outside linebackers | interior offensive line | offensive tackle | tight ends | wide receivers | running backs | quarterbacks
Who are the key players to watch?
Beat writer Sean Hammond ranked the top 25 most important Bears heading into the 2021 season. The complete list is available here:
No. 25: Damien Williams | No. 24: Anthony Miller | No. 23: Sam Mustipher | No. 22: Bilal Nichols | No. 21: Kindle Vildor | No. 20: Germain Ifedi | No. 19: Danny Trevathan | No. 18: Cairo Santos | No. 17: Tarik Cohen | No. 16: Desmond Trufant | No. 15: Darnell Mooney | No. 14: Jimmy Graham | No. 13: Eddie Goldman | No. 12: Cole Kmet | No. 11: Eddie Jackson | No. 10: Jaylon Johnson | No. 9: David Montgomery | No. 8: Akiem Hicks | No. 7: Robert Quinn | No. 6: Teven Jenkins | No. 5: Roquan Smith | No. 4: Coming soon | No. 3: Coming soon | No. 2: Coming soon | No. 1: Coming soon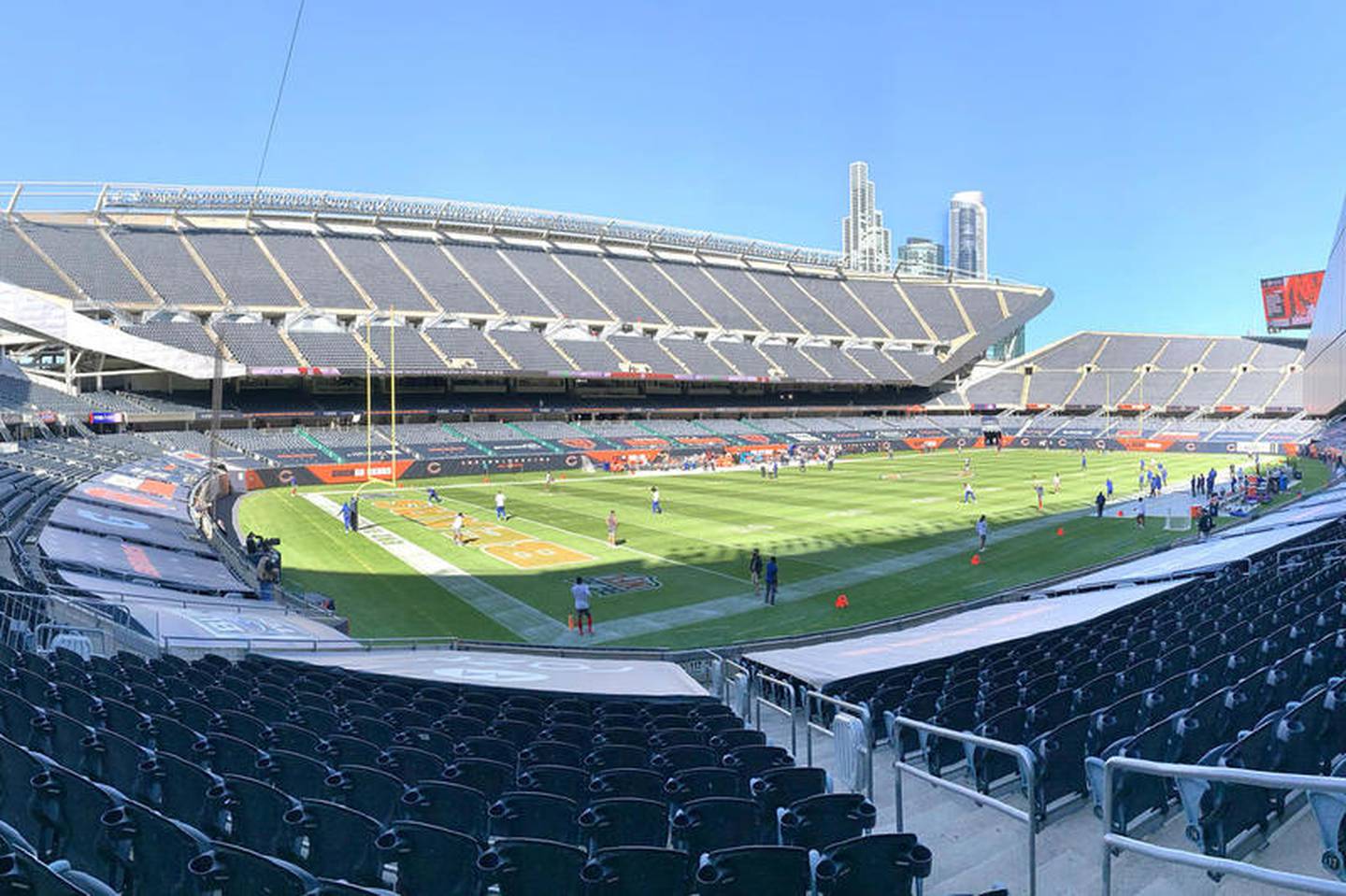 When does the regular season begin?
The Bears will visit the Los Angeles Rams on Sept. 12, opening the season on NBC's Sunday Night Football. They will face a familiar foe in former Detroit Lions quarterback Matthew Stafford.
The home opener at Soldier Field will be one week later on Sept. 19 against quarterback Joe Burrow and the Cincinnati Bengals. Fans are expected to return to Soldier Field at full capacity for this season.
The entire 18-week regular season Bears schedule is available here.
What's the latest on the Bears moving to Arlington Heights?
Nothing much has changed since the Bears announced they submitted a bid for the Arlington Park location in June. Churchill Downs Inc., which owns Arlington International Racecourse, is in the process of reviewing the bids it received for the 326-acre location, and might continue to do so for weeks.
Don't expect things to move too quickly. If the Bears are serious about a potential move to the suburbs, this will be a years-long process. For now, the Bears are mum about their bid.
[ Chicago Bears submit bid to purchase Arlington Park site ]
[ How could the Bears fund a stadium in Arlington Heights? How the 8 newest NFL stadiums came to be ]