Shawn Jeppson and Kailey Klein took the Hall basketball teams to great heights.
Jeppson led the Red Devils to two back-to-back state runner-up finishes and Klein led the Hall girls to their only state tournament appearance.
They are their program's all-time leading scorers, combining for more than 4,300 points.
They were each named First Team All-Staters.
Both went on to become 1,000-point scorers in college, Klein scoring 2,000-plus.
And they each excelled in other sports at Hall.
For all of their accomplishments, they are being inducted into the Bureau County Sports Hall of Fame.
The Cherry Comet
The first time Mike Filippini, then the Hall girls coach, saw Kailey Klein, the girl from little Cherry, he knew he had something special.
"The first practice we had when Kailey was a freshman, I had her go with the varsity to see how she'd handle it. That experiment lasted about two drills into practice and I said, 'Well Kailey is now on the varsity,'" he said. "She had it from the beginning and really changed girls basketball at Hall. She made everyone better, was an extremely hard worker and very very humble. She's one of the best basketball players to ever play in the Illinois Valley area."
That little girl from Cherry became a Hall and IHSA legend.
As a sophomore, Klein had a breakout game of 58 points against Rochelle.
The best was yet to come.
As a senior, she averaged 24.0 ppg, leading the Lady Devils to the 2006 Class A State Tournament, falling to Flanagan in the quarterfinals. She was named First Team All-State across the board - Associated Press, IBCA and Chicago Sun Times.
Klein holds Hall records for most points (2,486) and rebounds (1,188) and is the NCIC's all-time girls' scoring leader.
The Cherry Comet is the only four-time BCR Basketball Player of the Year earning First Team NCIC All-Conference each year.
Although basketball is where she made her name, Klein was not all just about hoops.
The BCR Player of the Year also led the Lady Devils volleyball team to the Elite Eight, placing fourth, and could have gone that route to college had it not been for her basketball talents. She also participated in track and field, named as the BCR Female Athlete of the Year for the 2004-05 and 2005-06 school years.
"I have so many great memories of being a Lady Red Devil! The absolute best memory for me was making a run at two state titles my senior year in volleyball and basketball," Klein said. "The way the students, faculty, parents, and community rallied behind our success is not something I will ever take for granted. There is something to be said about competing in a small high school in Bureau Country that outsiders just do not understand. It may take the same 12 student-athletes playing multiple sports just to field a team, but we are coming for you."
"I will be forever grateful for the small town support that led to big town success. Thank you to all my family, teammates, and coaches that helped put Cherry, IL on the map."
From Hall, Klein went on to Cleveland State University, leading the Vikings to two NCAA Tournament appearances. She still holds the CSU school scoring record with 2,140 points and free throws (605) and remains top 10 in 10 other school records. She became the first player at CSU to have her number (23) retired.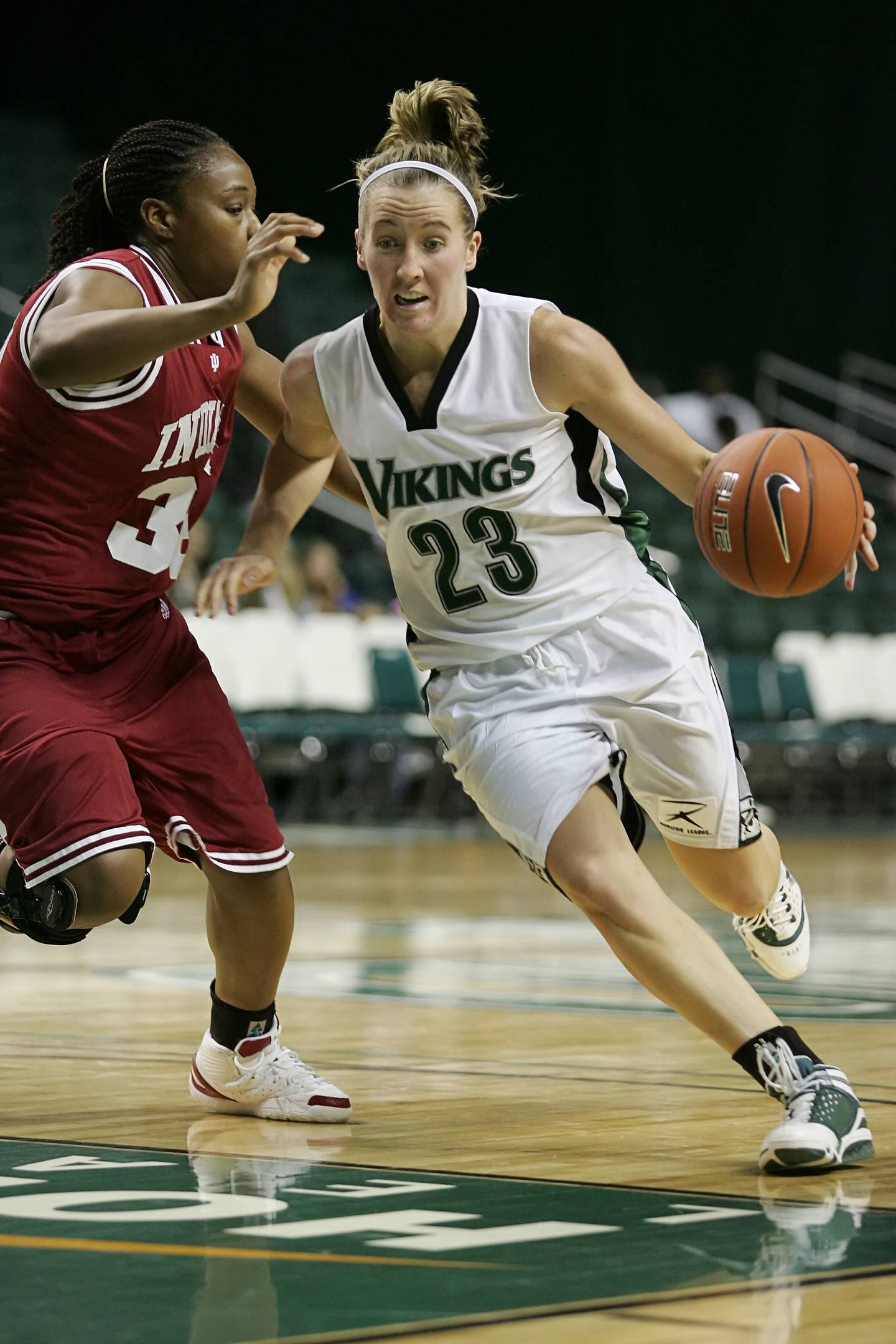 Klein went out with a bang for CSU, scoring 31 points in her final game in the NCAA Tournament against Notre Dame, the very school she dreamed about playing for.
"It was definitely beyond what I even expected," Klein said of her college career. "I was a small town girl from Cherry and everyone said I wasn't playing the competition the Chicago kids play. My first few games freshman year (at CSU) I was on the bench. To see where I ended was night and day."
After time in camp with the WNBA's Connecticut Sun, Klein played professionally in Europe.
Backbone of Red Devil success
Jeppson was part of a rich era of Hall sports, playing key roles in two state championship games in both basketball and football.
He was a scoring machine for Eric Bryant's Hustlin' Hall Red Devils basketball teams, who made back- to-back trips to state in 1996-97 and 1997-98. He remains as the Hall boys' all-time leading scorer with 1,829 career points.
Jeppson, who lives in Spring Valley with his wife and two boys, remembers the thrill of first being pulled up to the varsity late in his freshmen year, admittedly overmatched, but proving to be a learning experience to know what he needed to work on to succeed.
He poured in a record 51 points in the 1997 state championship game as a junior, which remains the most points scored in any state title game. Jeppson's record game went for naught with the Red Devils falling to Warsaw in overtime, 92-85.
"Naturally the games at state will always be something that I'll never forget, especially the last one as I had the best game of my career with 51 points," he said. "Things just clicked that night for me offensively. Hard to describe, but I would of traded it in a minute for a win. Although we didn't win that last game, the community support was unbelievable and always was during my time at Hall."
With Jeppson and most of the Hall core returning, the Red Devils were ranked No. 1 in the state season long in 1997-98, won the NCIC championship, and took a 32-0 record into the title game. Jeppson had a mishap with a TV camera during the pregame introductions, slicing his shooting hand. Hall lost once again, falling to Nauvoo-Colussa, 45-39.
"Winning the NCIC and having an undefeated regular season and a second trip to state were unbelievable accomplishments for our team. When you play in front of 11,000 people at Carver Arena you simply do not forget memories like that," he said.
The Red Devils guard was the top vote-getter on the Associated Press Class A All-State Team and tabbed as the Best Class A Player by the Chicago Sun Times.
In an 1998 interview for Jeppson's BCR Player of the Year story, Hall coach Eric Bryant said Jeppson never tried to do too much and "did a great job fitting into the team concept and all that helped make our team a lot better."
Jeppson got his first taste of state competition in football as the quarterback for the Red Devils' 1995 state champions, which had a late, come-from-behind 38-32 win over DuQuoin. The Red Devils returned to state the next year, falling to Carterville, 23-20.
He was named as the First Team All-BCR and NCIC All-Conference quarterback both years.
While the records, including breaking his dad's school free throw percentage record, are nice, he said that's not why he played the game.
"Records are just milestones along the way. None of us played for individual accomplishments, we played to win and we did a lot of that throughout our four years," he said. "Without great coaches and teammates I do not end up with those accolades or a scholarship to Illinois State to continue my athletic career. To this day, I'm proud of my time and appreciate the friendships that were built at Hall."
The Red Devil became a Redbird when Jeppson took his game south down I-39 to Normal to play for ISU. He played in 118 games with 38 starts for the Redbirds, averaging 9.8 ppg. He finished with 1,160 career points, ranked 34th best in program history.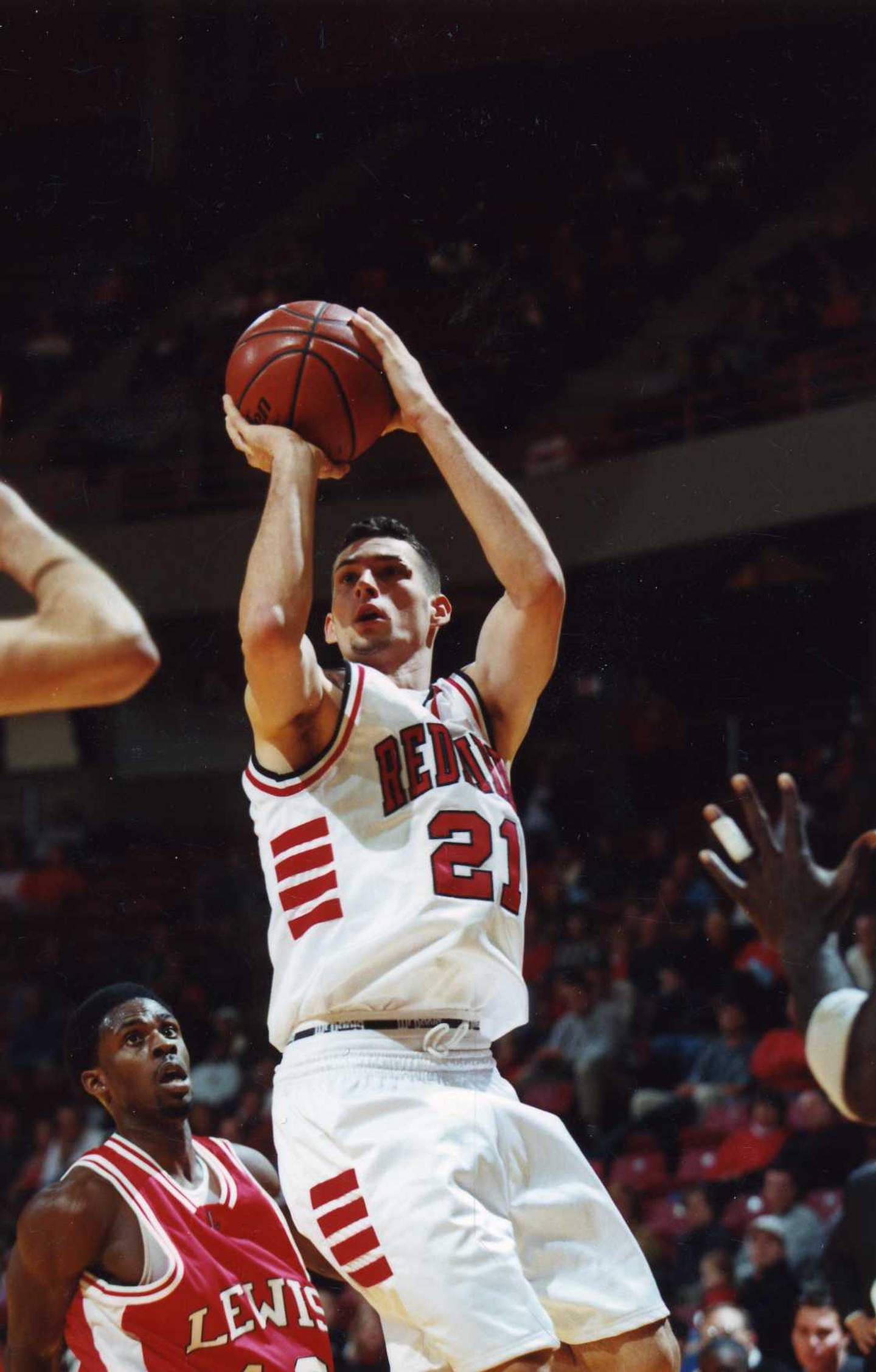 The Kailey Klein File:
* All-time leading scorer for Hall/NCIC (2,486 points)
* All-time leading rebounder for Hall (1,188)
* First Team Associated Press, IBCA, Chicago Sun Times All-State
* All-time leading scorer for Cleveland State University
* Illinois Valley Sports Hall of Fame
The Shawn Jeppson File:
* All-time leading scorer for Hall (1,829 points)
* First Team Associated Press, IBCA, Chicago Sun Times All-State
* First Team NCIC quarterback
* Illinois Valley Sports Hall of Fame
* Inaugural Hall HS Hall of Fame