You couldn't have blamed Matt Carpenter and Jordan Montgomery for walking into the wrong clubhouses and dugouts at Busch Stadium in St. Louis on Friday night.
Four days after being traded from the Yankees to the Cardinals, Montgomery found himself reporting to duty with his new team to face none other than his old team.
The southpaw pitcher said it was going to be rough to face his old teammates and friends in his very first game with the Cardinals on Saturday. He tried to avoid making eye contact with any of the Yankees when he took the mound, especially with catcher Kyle Higashioka, because he knew he'd get to emotional.
The Yankees manager, Aaron Boone, said it was indeed a weird scenario.
Yankees slugger Aaron Judge said seeing Montgomery in red was a "little funky."
Montgomery, who was traded for popular Cardinals center fielder Harrison Bader, went five innings before being lifted due to leg cramping, picking up the 1-0 decision over the Bronx Bombers.
Carpenter spent 11 mostly successful seasons wearing the Birds on the Bats before being released following the 2021 season. He signed a minor league contract with the Texas Rangers this spring, asking to be released when told there was no room for him at the big league level. He said he thought his career was over.
Then the Yankees called and he had resurgence, clubbing 15 homers and batting .305 before fouling a pitch off his foot Monday night and suffering a fracture.
It was a highly emotional return to St. Louis for the former Redbird, who said he tried to cry it out before the game so he wouldn't do it during it. He was able to hold it together with the media in Friday's press conference, until sharing the story of how excited his kids were to come back to St. Louis.
Carpenter received a heart felt standing ovation when he stepped to the plate for his first at-bat each game over the weekend.
Both players are finding changes off the field with team policies. Carpenter had to shave his trademark beard due to the Yankees' long-standing policy of having no full facial hair. He is now sporting a mustache that has been drawing a lot of attention, more than he said he would have ever imagined.
Montgomery said with his new facial freedom, he plans to grow a beard, noting how his fiancee loves him with a beard.
Bader, who is on the injured list, did not make the trip back to St. Louis with the Yankees. The New York native played six seasons with the Cardinals.
Many milestones
I've been to many big games at Busch Stadium 3, including Opening Days, the 2009 All-Star Game and World Series and playoff games, packing thousands of Redbird rooters into the stands. Saturday's crowd of 48,581 topped them all, the largest in the 16-year stadium history since it opened in 2006.
The Cardinals-Yankees three-game series over the weekend was full of many other milestones, including:
• Sunday's 4 1/2 hour game, a 12-9 win by the Cardinals, was the longest nine-inning game in stadium history.
• The Cardinals swept the Yankees in a three-game series for the first time in franchise history.
• The Cardinals were the first NL team to sweep the Yankees in intraleague play in 15 years.
• Cards catcher Yadier Molina got his 1,000th career hit at Busch Stadium Saturday, a single to left field in the third inning, the most by any player.
• On Sunday, Cards shortstop Paul DeJong, clubbed his 100th career homer into Big Mac Land high above the left field fence, to put the finishes on a 12-9 victory.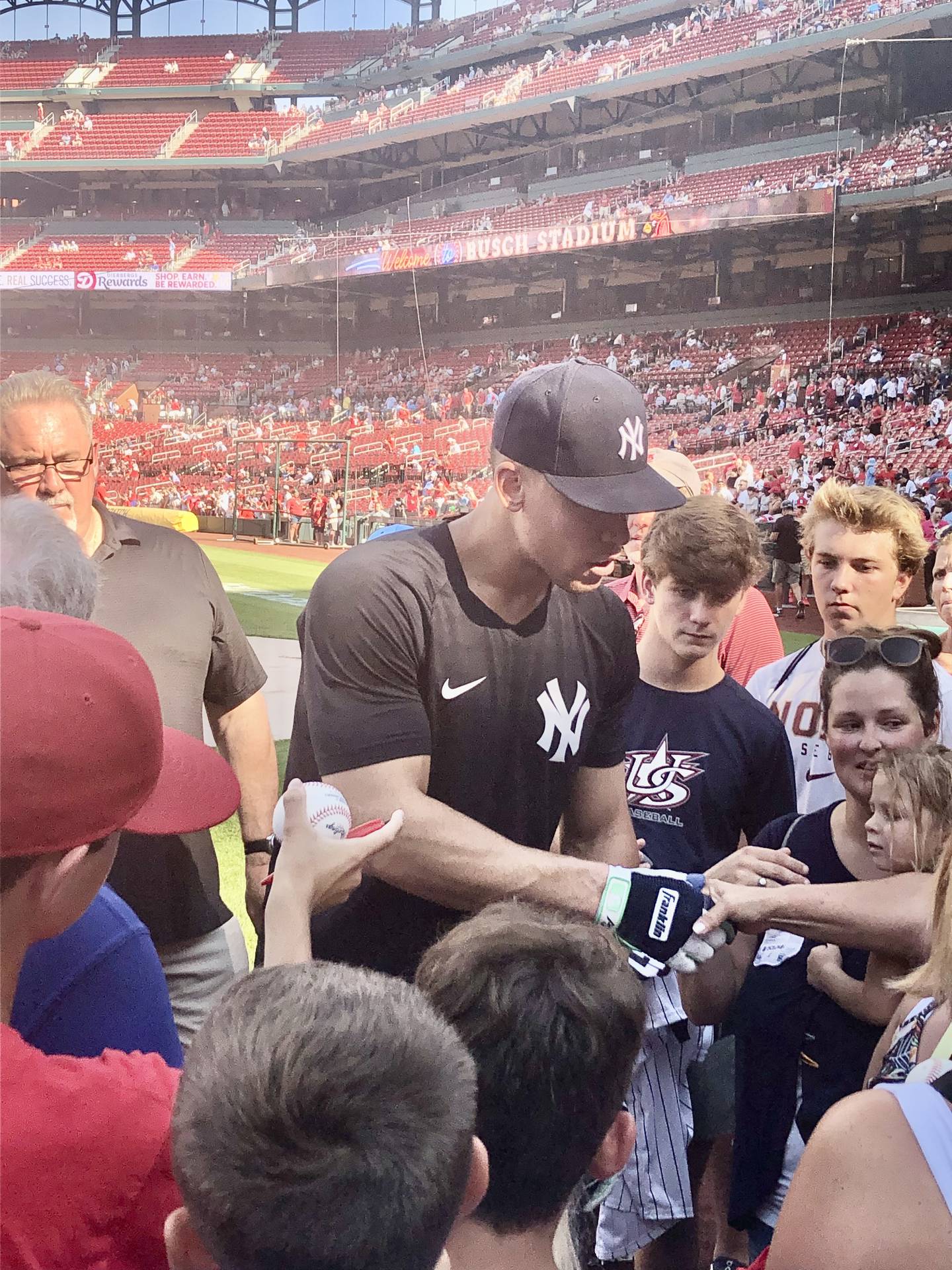 All Rise
It was cool to see Judge, who has smashed 44 homers this year and chasing the A.L. all-time record of 61 held by former Bronx Bomber Roger Maris, take the time to meet with a big group of youngsters on the field before Saturday's game after batting practice. He didn't have to, but he signed autographs for each one and talked to them.
Baseball needs more players like him.
Walk it up
I always find it interesting to hear the "walk-up" music requested by players when they come to bat. I remember the "walk-ups" for many players over the years. I especially appreciate Paul Goldschmidt's choice of Crowder's "In the House."