Forrie Finn got a phone call from Doreen Flinn and knew exactly what she meant when she told him, "You're the last one."
With the passing of her husband, Lew Flinn, Finn is now the last living member of Princeton's Famous Five - Dick Hult, Joe Ruklick, Gary Mulalley, Flinn and Finn.
They put Princeton Tiger basketball on the map by becoming Princeton's first basketball team to reach state finals in 1955 (the 1954 team also reached the Sweet 16 in Champaign).
The Famous Five led the Tigers to a fourth-place finish in the one-class system and no PHS team has gone back since in 66 years.
"I hate to be the last one ... That's the way it is," said Finn, who just turned 84.
The Famous Five was a magical group of friends who all happened to be good at sports, especially basketball.
"We all clicked," Finn said. "We didn't do anything special. We just played. Not a single one of us thought it was anything special about it. We just loved to play."
Flinn is widely regarded as the greatest all-around athlete to come out of Princeton High School and Finn would not disagree.
"He was a hell of an athlete," he said. "He was a natural athlete. Things came easy to him. He was outstanding in every sport."
When I asked him what Flinn's best sport was, Finn said football.
"He was obviously good in all of them, but he was outstanding in football, I think," said Finn, who was on the receiving end of Flinn's passes playing end. "He was quarterback and he ran the team. We all followed him. He was a team leader. Same way in basketball.
"You could count on him as a teammate. I never enjoyed a teammate more than I enjoyed Lew. A nice guy. Just a nice guy."
Finn recalls joining Flinn after the state track meet in 1955 which Flinn won the state pole vault championship in a special meet at a college in northern Illinois. Finn won the quarter mile and Flinn won the pole vault.
"I think with our points together we won the meet," Finn said. "Two events and we won both of them. First time I ran on an indoor track. Quite an experience."
Sheffer remembered
The mastermind behind the Famous Five and Princeton's push to state was coach Don Sheffer. A standout player at Southern Illinois, Sheffer came north and turned Princeton into a state powerhouse in just a short time.
Sheffer had a 247-152 record in 15 seasons (1950-65) at PHS, leaving a legacy that would never be matched again.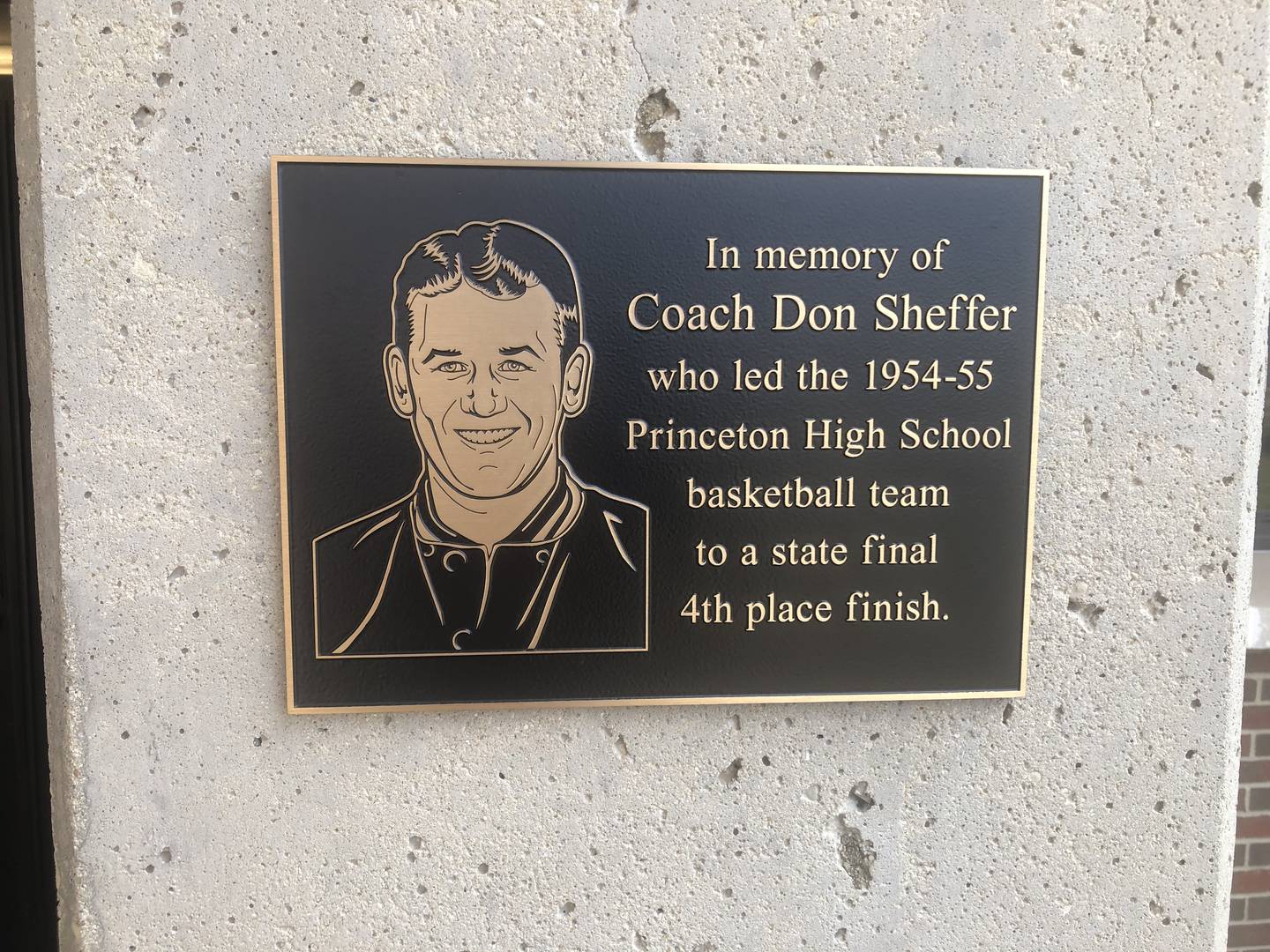 He was recently recognized with a plaque and bench outside of the Prouty Gym entrance at PHS off of Euclid Avenue, a project spearheaded by the team's manager, Bob Hudson, of Princeton. It was Hudson's way of paying back the coach for the way "he treated me through the school years."
"I had some knee problems and wasn't able to play basketball. He helped me through life," Hudson added. "It was a way to honor him for the great job he did for Princeton High School."
Tiger players like Finn and John Smith ('57), and Flinn before them, say Sheffer was a task-master and disciplinarian, who made all of his teams and players better.
"He pushed you and made you better. He got all out of you that was there to get out," Finn said.
Finn joked about the motivational paddle that Sheffer utilized to get his message across and players weren't executing properly.
"He didn't care who you were, you got it," Finn said with a laugh.
Sheffer came to Princeton in 1950. He told the school board he would take the basketball team to state one day, and despite a shaky start when some Tiger fans were ready to ship him back to southern Illinois, four years later, they did. Twice.
Finn also shared how Sheffer would routinely drive the Famous Five players to ballgames in his own personal car to make sure they were focused to play.
"He felt like we were too rambunctious playing around on a bus going to a game and not concentrating what we needed to. We had a few good ring-leaders," Finn said, with another laugh.
In 1953-54, the Tigers became Bureau County's first Sweet 16 team, compiling a 24-game win streak on the way to a 28-4 record, falling to Quincy 64-60 in Sweet 16 play in Champaign.
Sheffer's Tigers entered the 1954-55 team season with high expectations and did not disappoint, winning their first 23 games of the season and ranked No. 1 in the state.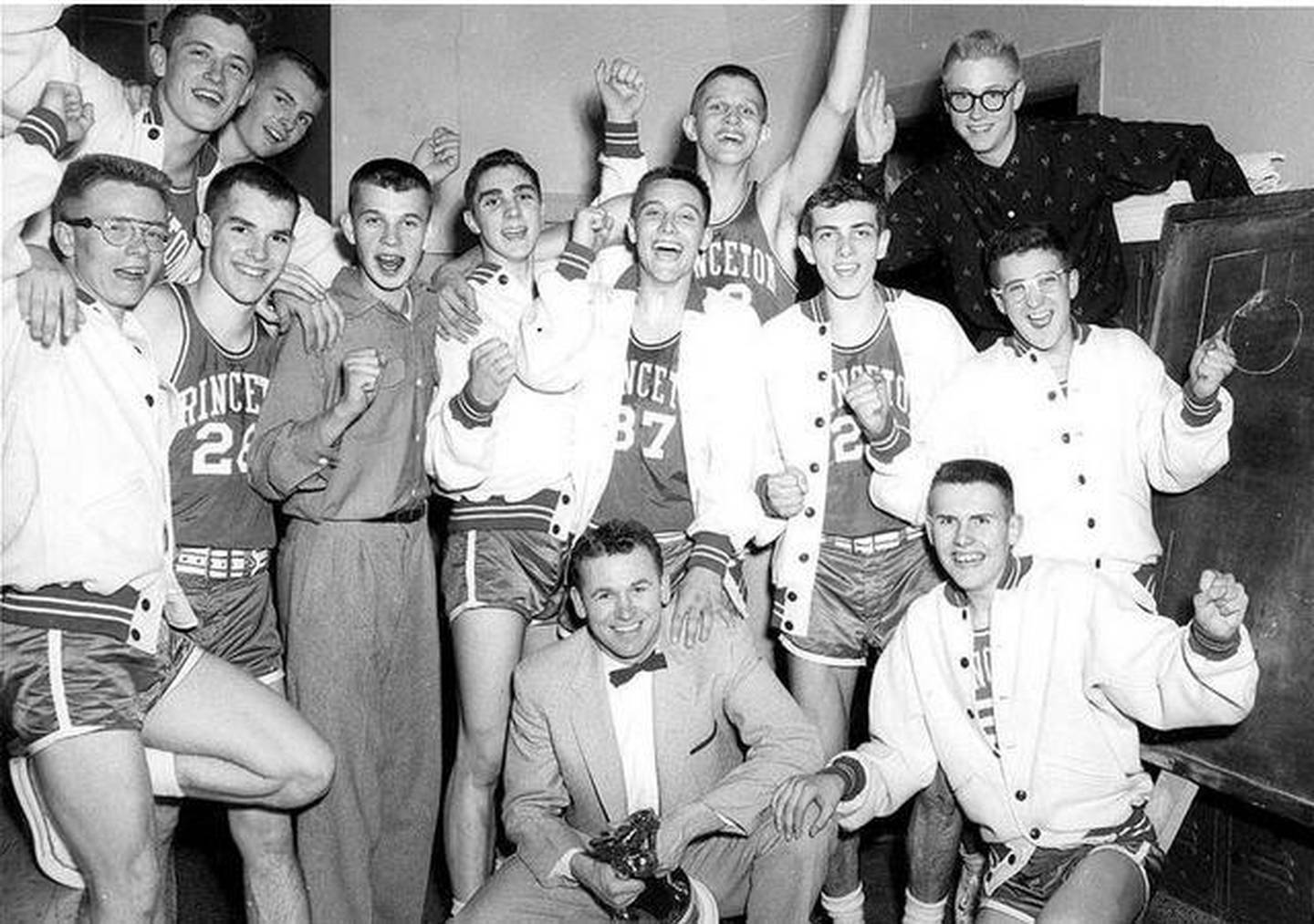 At state, the Tigers beat Moline 60-58 on reserve Jerry Zurliene's free throw heroics and Shawneetown 66-48 to reach the final four. They fell to Elgin 71-66 in the semifinals and then to Pinckneyville 58-53 in the third-place contest, finishing at 32-3.
In 1965, Sheffer left PHS, retiring from teaching and coaching to start up his own insurance agency until his retirement in 1988.
Kevin Hieronymus is the BCR Sports Editor. Contact him at khieronymus@bcrnews.com