How many skill sets do we have in 2023? How many would be useful in 1840′s Bureau County?
We would rely on our basic communication talent, interpersonal skills, hand and eyes coordination and a whole lot of common sense. Most of our skills would be on the job, not unlike our early county settlers.
With little knowledge and no Google, pioneers had to be farmers, teamsters, hunters, fisherman, doctors, pharmacist, blacksmiths and bakers. Just the building of a log cabin took a real estate agent, architect, house designer, supply management specialists, carpenter, roofer and mason.
They only had two adults, a couple of children and more determination we can hardly image. Let me share my experience.
We live on a small 40-acre property that has been in the family for 60 years. Two of the 1890′s barns were beyond restoration and were salvaged for siding, flooring and our recreational room. All that was left were two piles of 20-foot barn poles.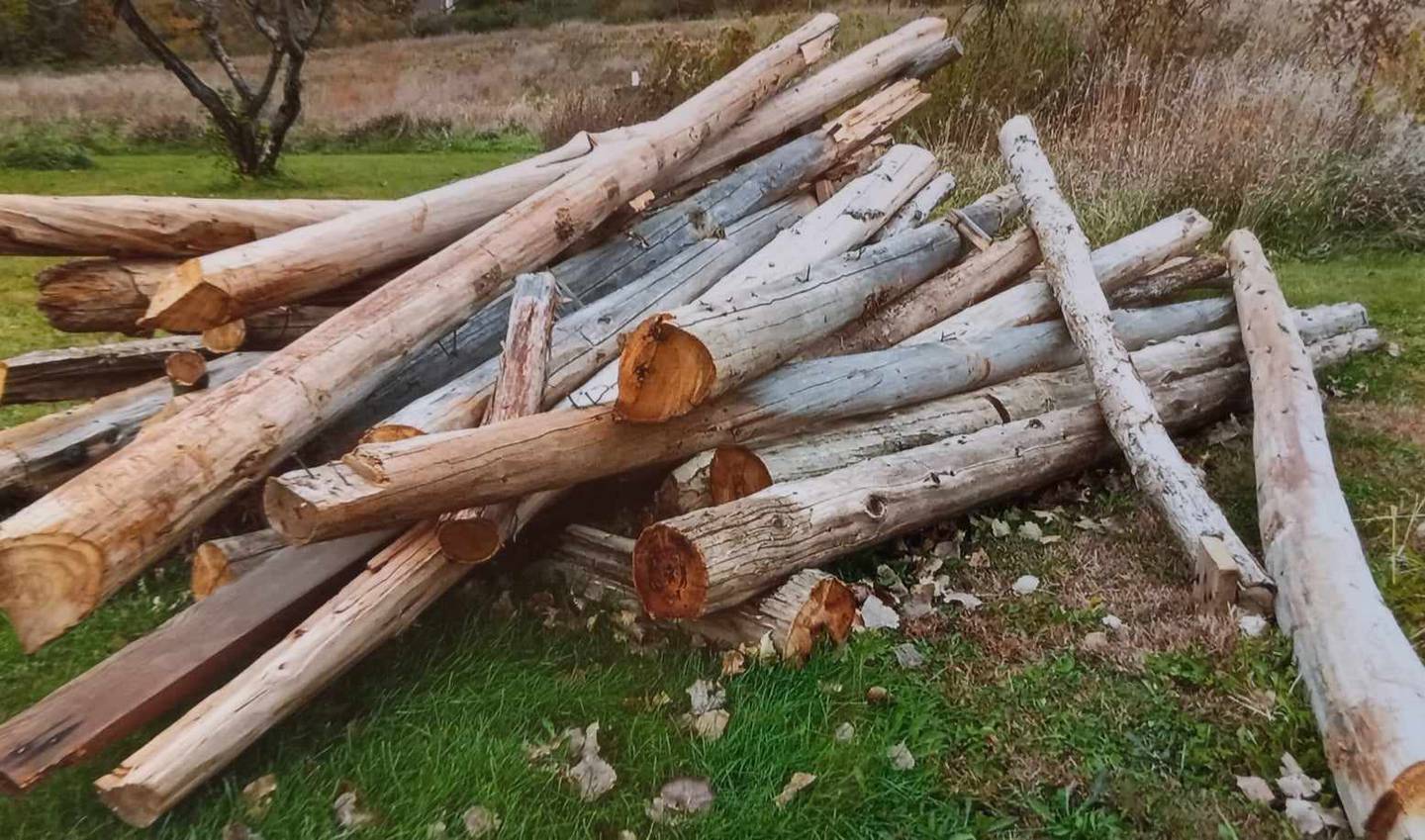 A neighborhood bonfire was considered, but a friend suggested a pre-civil war pioneer log cabin. The supply management part was already taken care of and the cabin construction rules were simple: be safe, use early designs and basic tools when practical, use local materials, no helpers and no time limit.
The site location was correct as the old growth and hardwood timber was to the south, pasture and a well-used path to the north.
A barn pole inventory of number, size and condition drove the next decision. The cabin would be 10x12, eight logs high, with one door and two windows, a porch overhang/sleeping loft and an inside root cellar.
The only purchased material would be two windows, six hinges and a few nails.
Chinking, the installation of various materials installed in horizontal voids between log walls to prevent air and water from entering a structure, was completed using Neponset clay, pond water and local straw mixed on site.
The tools used would be a level, draw knife, tape measure, hammer and a DeWalt 60-volt battery powered chain saw that was "teleported" back in time to shape the notches. Most of the log positioning meant being visually discernible.
The foundation was store bought, pressure treated lumber but the popular hickory and pine logs were in a natural state. The first log was photographed and the adventure began.
Friends had offered to assist but I was determined to build a cabin by my own skill set and physical strength. Rolling and fitting the eighth log into position by hand was very challenging. A small tractor was only used to set the center roof support, but that was it.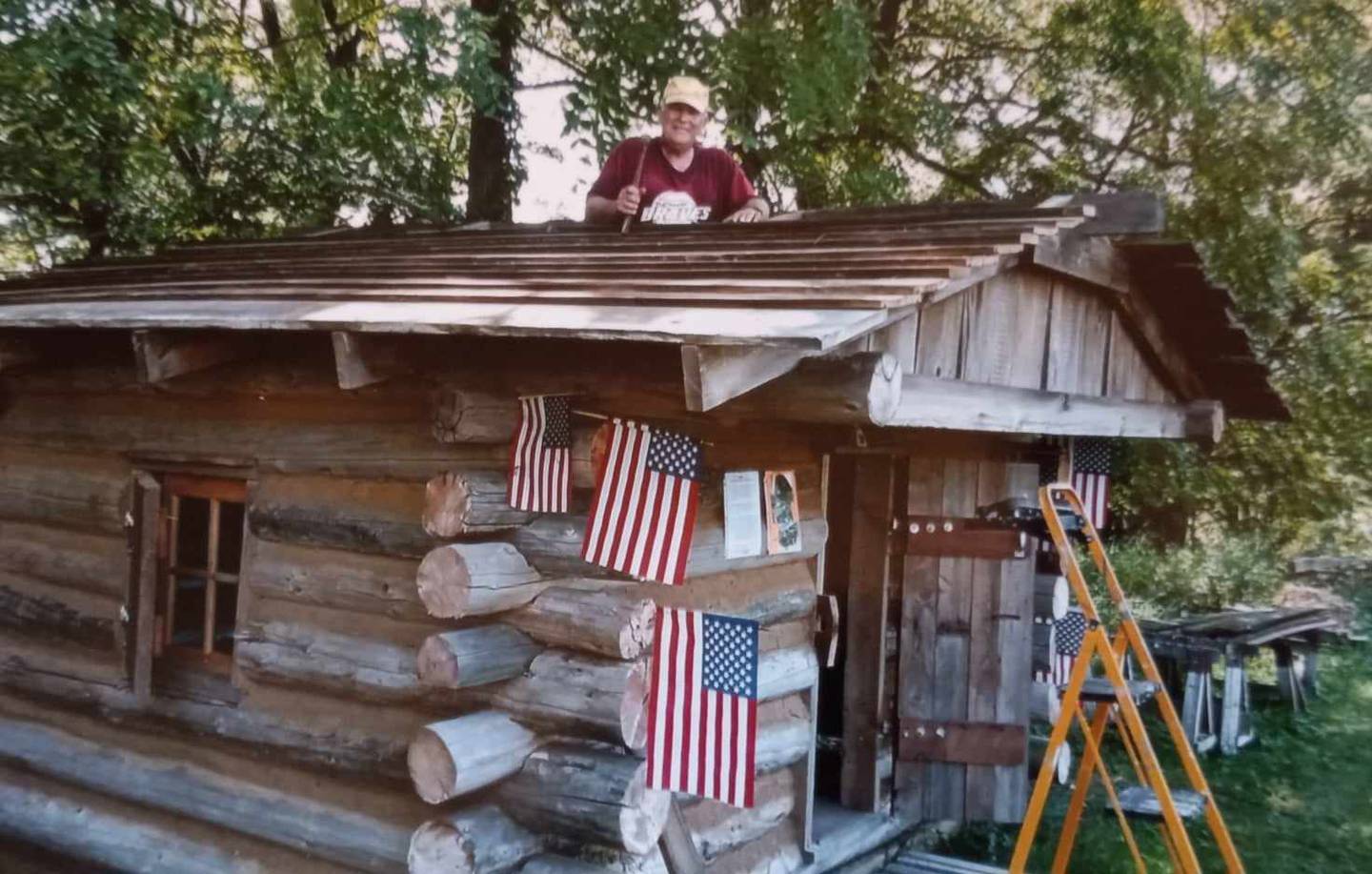 Chinking looks simple but is a time monster. Small branches were stuffed between the logs to provide a surface for the mud to grab; then both sides must be packed.
The floor and loft came from the worn hay mow boards and rafters from full dimensional 2x6′s. Once the door and two windows were installed. I was ready to stock my inside root cellar with potatoes, apples and carrots; plastic ones from GoodWill.
A small eight-foot livestock pen is nearby with a pig, goose and three chickens; full size cement lawn ornaments. A 5x5 wooden shipping container was converted to represent an early trading post ran by the fictitious Thaddeus and Abigail Wells.
They would have traded with the early settlers and area Native Americans, as well. Diaries reported July 4, Independence Day, celebrations that became an opportunity for trading posts to get together with all their customers.
Move-in day consisted of a old chest, table, two chairs and a small kitchen cabinet with a homemade hackberry wood top. Fabricated was a rope bed with a homemade tightener.
The log cabin is certainly wind resistant but cold in the winter and hot in the summer. In fact, upper clinking was knocked out in the summer to provide ventilation.
A stone lined-fire pit is in front of the cabin to represent a cabin before a mud and stone fireplace could be constructed.
My wife challenged me to sleep in the cabin and prepare meals. So, on a cool August night I checked that box.
I could hear owls and coyotes but a restless mouse in the loft gave me pause. I slept sound and had cowboy coffee and range free eggs the next morning. I could see why a snug cabin was a step up from living out of a covered wagon for six weeks.
Folks said I should build another cabin for a church and another for a school. A good thing for me, the first cabins were the church and the school (see Pioneer Struggles #8 and #16).
Today the single cabin, livestock pen and tiny trading post serves as a mini-museum for the boy scouts, church youth groups and visiting family. It doubles as a play area for grandkids, cousins and friends.
Sometimes I set up a small corn sheller and a hand grinder and let the kids make corn meal. They quickly learn how pioneer work was labor intensive.
Over the last three years I have written about pioneer winters, fall wildfires, neighbors, religion and education. I am grateful for the early diaries and accounts of pre-civil war life in the area.
A writer's goal is to be accurate, but a log cabin build has provided another perspective and appreciation of the period. It now stands as a visual and hands-on lesson of their struggles, thanks to Thaddeus and Abigail.
Lt. Col. Dick Wells lives on the Great Sauk Trail, Neponset. He has an Economics Degree and Master's Degree in Military History and has completed an application to the SAR-DAR. His fifth great-grandfather served as a Captain in the Revolutionary War. This is the 18th story in a series called Pioneer Struggles.