PRINCETON – This weekend, the Chlum family of Princeton will host an awareness event at Boggio's Orchard in Granville in honor of their son, 5-year-old Ryne, who was born with the rare genetic disorder KBG Syndrome.
What is KBG syndrome? It's extremely rare, for starters. Only about 600 cases have been diagnosed worldwide. The cases continue to rise each year as doctors and geneticists become more familiar with the disorder. KBG represents the surname initials of the first families diagnosed with the disorder.
KBG syndrome is a gene mutation that affects the body in a variety of ways, including developmental delays, speech delays, behavioral issues, small stature, low muscle tone, skeletal abnormalities, heart defects, hearing loss, seizures and more.
Ryne struggles with more mild effects, parents Kevin and Justina said. He is short-statured and has low muscle tone. Ryne was born with a hole in his heart and cannot keep up physically with other children his age. He has struggled with digestive issues since birth and sees a speech therapist. Other than that, Ryne is a happy child who loves life, his parents said.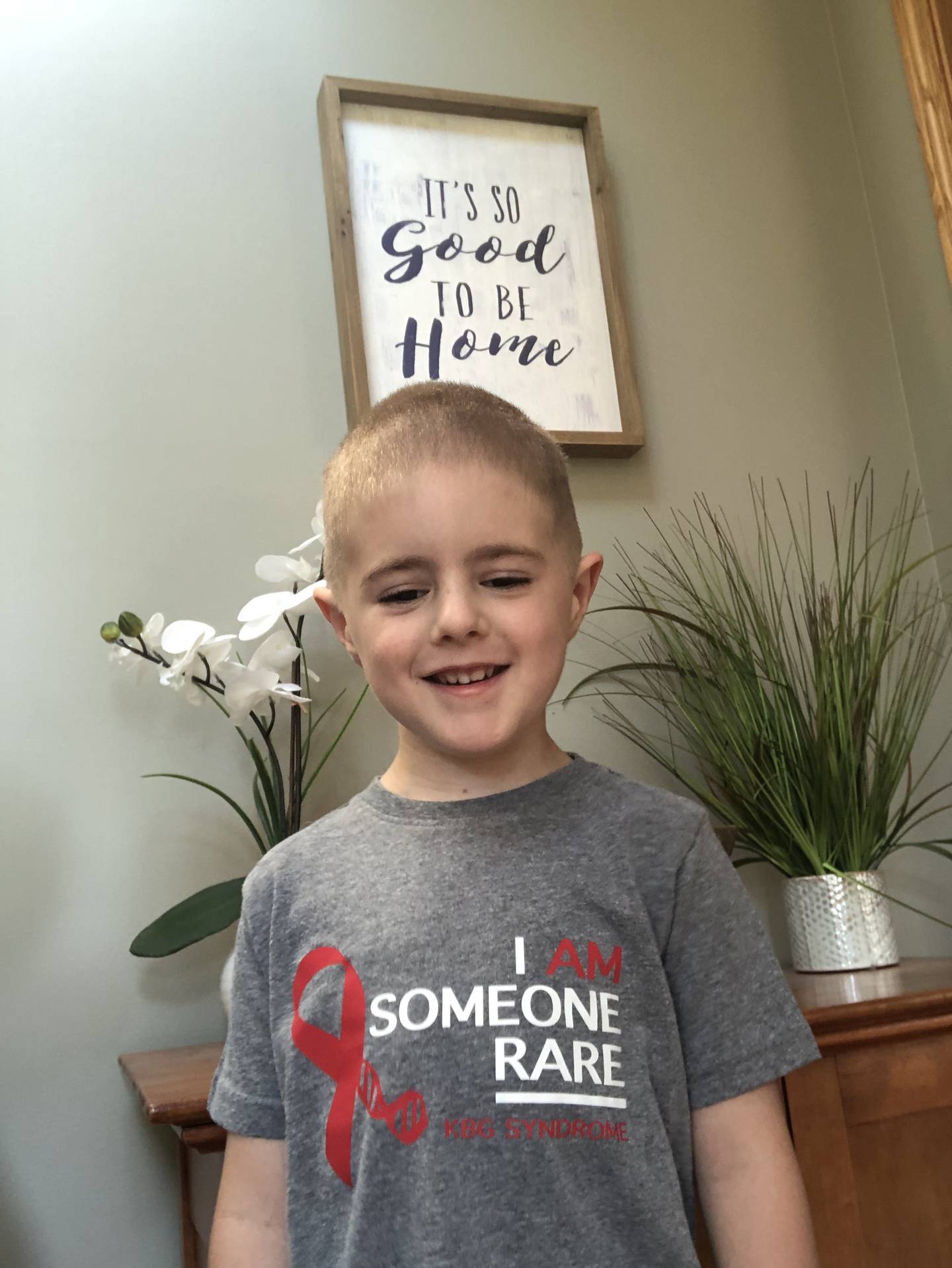 Justina said he's the wittiest child, who has the most hilarious comebacks.
Kevin said Ryne is very friendly and social. They get comments a lot from the teachers at Douglas Elementary School, where Ryne goes to kindergarten, who share that everybody knows Ryne because he has to say "Hi" to everybody he sees walking down the hallways.
When Ryne was born in May 2016, the Chlums had no idea he would be different. But as Justina describes it, something was always a little off about Ryne since the day he was born. The first sign was difficulties with feedings.
As difficulties and symptoms would arise, Justina and Kevin sought answers from doctors and specialists, only to be told that Ryne was a healthy child with no serious issues.
But parental instincts continued to nag at them as Ryne developed into a toddler with more severe symptoms that never seemed to come with answers as to why they were there. This sent Justina and Kevin on a three-year journey to seek out an answer so that Ryne could receive the correct help they felt he needed. They spent time at the Mayo Clinic in 2018, when Ryne was just 2 years old, where they visited with numerous specialists. A geneticist conducted a basic genetic test on Ryne, but it provided no answers for the Chlums.
Feeling defeated, they continued on with life until the following summer when Ryne had his first dental visit before preschool. It was the dentist who explained to them that Ryne had no adult canine teeth and that it appeared some of his teeth would grow out of the roof of his mouth. Hearing this, the Chlums were adamant that their son had a genetic disorder. So they went back to the Mayo Clinic in 2019 to undergo a more thorough genetic test that finally came back positive for KBG syndrome.
Getting the results brought forward a variety of emotions for the Chlums. First, there was confusion. What was KBG syndrome? There wasn't a lot of information out there other than the brief explanation Google provided. Because it's such a rare syndrome, not a lot of research has been done to offer more information and explanation. However, there was relief knowing they finally found an answer for their son. That was followed by heartbreak and worry about what this meant for Ryne's future.
Right now, other than his short stature, Ryne appears to be just like any other kid. And he keeps up with his classmates on an academic level. Justina said she will be the first to tell anyone that it's because of Kevin and his persistence working with Ryne on letters and numbers five days a week.
The Chlums know that there will eventually be a time when Ryne will begin to struggle and fall behind in school. Most likely, the third or fourth grade when students transition away from repetitive learning and Ryne is unable to grasp new information as quickly as others.
For now, Ryne is seeing an occupational therapist out of Naperville who the Chlums can't say enough goods things about. She continues to provide them with a better understanding of Ryne and the reasons why he does things certain ways.
Kevin said there won't be much more to do for him until Ryne hits puberty.
"Going forward, the most important thing for him/us is to monitor for signs of early puberty, which is common in KBG, and hearing loss, which can come on later," Kevin said.
During the day-to-day, the Chlums cope by continuing to be a strong shoulder to lean on for each other. They are also grateful for the strong support they receive from family and friends.
Justina admits it's still a struggle to see other families with "perfect children."
"It's hard to not compare your kids to other kids as far as where they're at academically or physically or with sports. I do struggle with that a little bit," she said.
For Kevin, his worries include wondering about what the long term with Ryne might look like.
The Chlums said they definitely have a better understanding and awareness of the struggles parents are dealing with. If there is one life lesson they've learned through this journey it's to be more compassionate towards other families with children, because as they say, "You never know what others are going through."
In honor of this weekend's event, the Chlum family has reached out to businesses and organizations for donations to raise money for the KBG Foundation. They, so far, have raised about $15,000. There will be a 50/50 raffle held Saturday, with proceeds also going to the foundation. Supporting the foundation will fund further research into KBG Syndrome.
The Chlums are welcoming other families to the Orchard on Saturday to take part in a day of festivities. Social distancing and COVID-19 guidelines will be followed.
To learn more about KBG syndrome, visit www.kbgfoundation.com.
Disclosure: Kevin Chlum is a Shaw Media employee and the sports editor for the NewsTribune.