SPRING VALLEY - Hall High School had a great run of five state championship game appearances between boys basketball and football over a six-year stretch from 1995-2001.
The Red Devils won two state titles and could have very easily won five.
Hall was blessed with a run of great all-around athletes, who excelled in many sports, names like Shawn Jeppson, Eric Bryant Jr., Joey Reed, Nick Sterling and many others.
Both programs also had great leaders - Gary Vicini and Eric Bryant Sr. - to guide them to success.
Vicini was head coach in many sports at Hall, but made his name in Red Devil football. He guided the Red Devils to three state championship appearances, winning twice - 1995 and 2001 — and won nearly 200 games, 32 in the playoffs.
Bryant compiled a 277-238 record in 19 years at Hall, including two straight runner-up finishes in the 90s, winning the school's first NCIC championship.
For their accomplishments, the Devils duo are the 2021 individual inductees into the BCR's Bureau County Sports Hall of Fame.
Former Hall Athletic Director Frank Colmone hired both coaches and had great respect for each one.
"They both worked very hard at their jobs. They built programs and turned things around. A state champion and a couple runs in basketball," said Colmone, who was the Hall AD from 1970-93.
"Fortunately we had some good material coming up and they utilized it the best. You can have good material, but you've got to make the best out of it. You won't always win if you don't make the best of what you have and they did."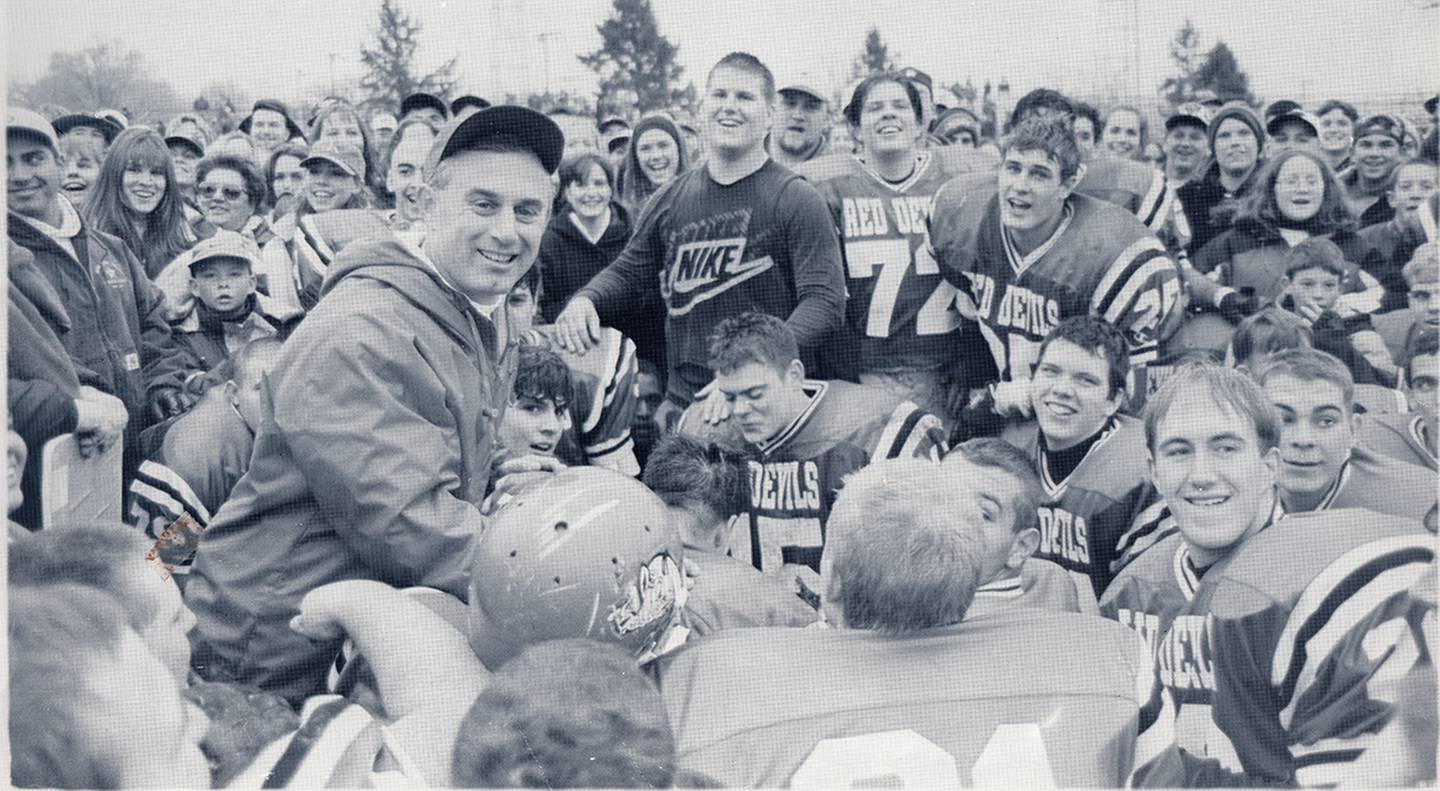 Rough starts
Success didn't come right away for either coach.
Vicini took over a Hall football program that was down on its luck in 1984 and the Red Devils' luck didn't change any in his first three seasons, going 3-6, 1-8 and 0-9.
By the fourth year, Vicini had the Red Devils rolling with five straight playoff appearances in 11 out of 12 years. The Red Devils' run was capped by the 1995 state championship, followed up with a state runner-up finish in 1996.
"It started pretty rough my first couple years, the '87 team turned it around, that was the first year we made the playoffs," Vicini said. "Everything seemed to take off from that first year of the playoffs and just built on each year.
"When we got into the 90′s, we had some tremendous athletes come into Hall High School and made it a lot easier on me. Winning does a lot for kids and everybody wants to be a part of a winning program and each year seemed be more of a challenge to be better than the previous teams had done the year before."
Hall won another state crown in 2001. All told, Vicini compiled a 195-80 record with 20 playoff appearances in his final 22 years. His teams compiled a 32-18 playoff record.
Vicini said he was blessed with a lot of great athletes and a great line coach in Steve Smith.
"Steve did a tremendous job coaching the line. Obviously, everybody knows we ran the football," Vicini said with a laugh. "You put the ponies upfront so the horses can run. We had some great offensive Iines that Steve was able to develop for our run game. When you combine that with some really talented skill kids it equals a successful program over the years."
Vicini said it was a lot of fun, but a lot of work, too.
Vicini was head baseball coach for 17 years, going 183-218 from 1977-93 with three regional championships. He followed Colmone as AD and was also head coach in girls track and softball.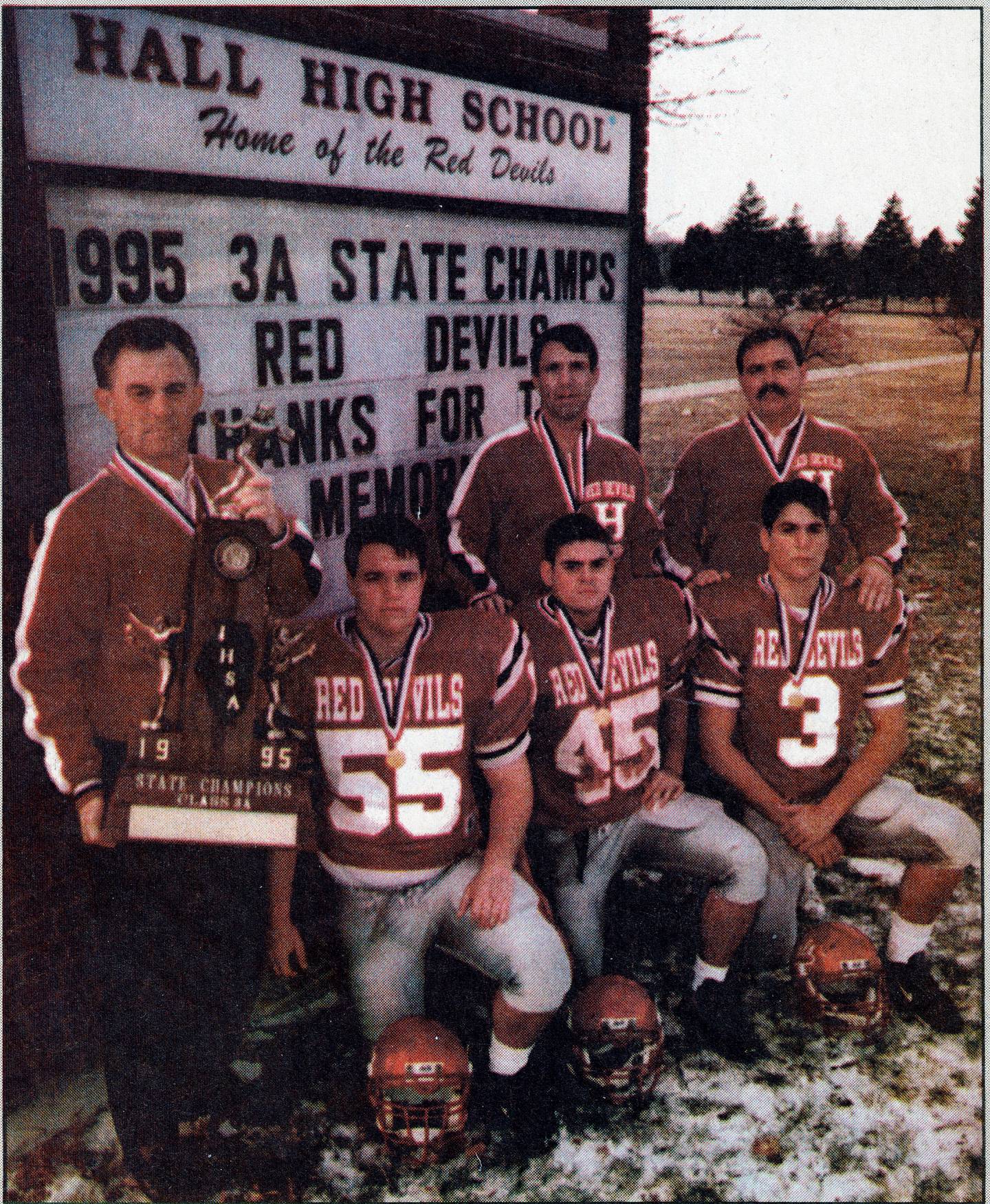 Bryant had a little easier time getting the Hall hoopsters up and running. After a 2-23 debut in 1984-85, they went 13-12 the next, the start of four straight winning seasons. Bryant had 10 winning seasons out of 19 years, compiling a 277-238 record.
Bryant's Hustlin' Hall Red Devils hustled their way to six regional championships and three sectional titles, capped by back-to -back state runner-up finishes in 1996-97 and 1997-98. Hall was ranked No. 1 in 1998, undefeated in their first 32 games before falling to Nauvoo-Colussa 45-39 in the state title game.
Bryant doesn't like to talk about his favorite moments, because he enjoyed them all. He especially enjoyed coaching his three sons - Christian, Lenny and Eric Jr.
"I enjoyed years when we had losing seasons, but thought the kids performed the best they could. You do the best you can with what you got," he said. "I thank all the players who played for me for giving it all they had. When you have good players it makes a coach a whole lot smarter.
"I always remember something my dad told me when I decided to go into coaching. He said, 'I've seen coaches ruin more players than they've helped.' I swore I would not do that. When you got a good one, you've got to let them go. They get a little more rope than everybody else."
Old-school coach
Bryant was an old-school coach, known for his discipline. He said he learned it coming up with coaches at DePue, including football coach, Don Dobrino.
"You catch some flack from some parents, but I just told them, I'm going to do things my way, not your way. I'm the one who's getting paid and I'm the one who's going to get fired if I'm not getting the job done," he said.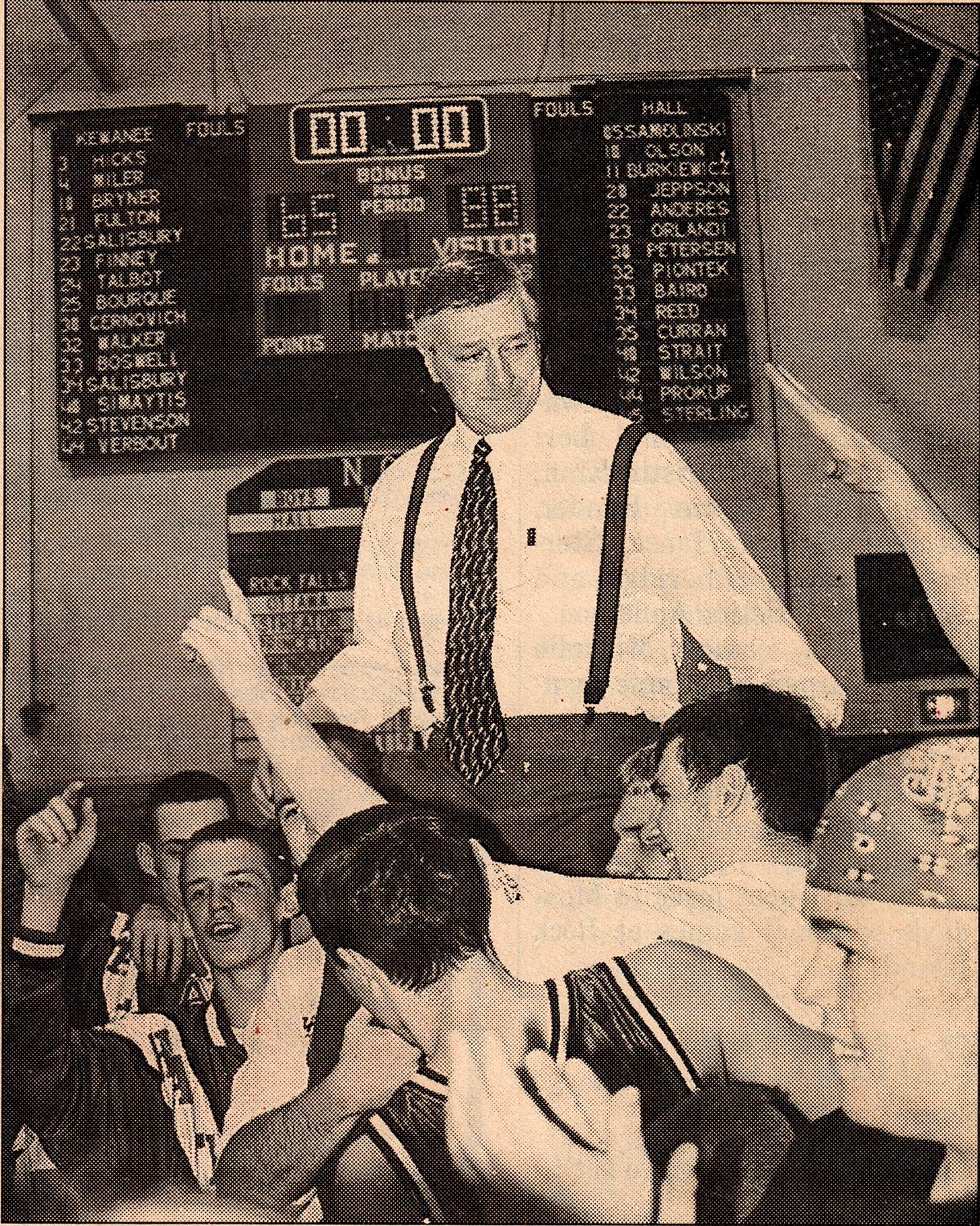 Colmone and Vicini appreciated Bryant's coaching style.
"One thing about him, he goes by the book. He's a strong disciplinarian," Colmone said. "I like a guy that's going to set rules and you're going to follow them. Either follow the rules or don't play and they learned to follow them. I think if more coaches had rules they'd be a better program."
"Eric came in well known from DePue. He had the ability to get kids to play and some strict rules. Just like football, the kids learn to play for the coach, and they played for Eric," Vicini said. "He just did a tremendous job developing our basketball program at Hall High School."
Bryant also coached his hometown DePue Little Giants 10 years over three stints with a 154-106 record. He guided the Little Giants to the Sweet 16 in 1979-80, going 27-3, and after his long run at Hall, came back to coach at DePue one year in 2004-05 (9-16).
Bryant said it was a tough decision to leave his hometown school to go to neighboring Hall.
"It was my hometown, I really didn't want to leave," he said. "But I had five kids. When I first started teaching at DePue, I was getting paid $7,400 a year .... As much as I hate saying it, I did what was best for my family. I'm not ashamed of saying that. I had to leave to provide better for my family."
Stellar athletes
Both coaches were outstanding athletes in their own right.
Bryant was the first quarterback for DePue when it reinstated football in his senior season, before suggesting to Dobrino he should move to halfback so Dobrino could groom a younger player to become his quarterback for the next season.
He was a standout basketball player and a member of the Little Giants' 1000-point club and went on to play at IVCC and Western State College in Gunnison, Col. with his brother, Lenny.
Bryant has been inducted into the Hall High School and IBCA hall of fames.
A standout multi-sport athlete at Ottawa, Vicini (Class of 1972) was inducted into the Ottawa High School Hall of Fame in 2018. He graduated as the all-time leading rusher with 1,821 yards over two football seasons and finished his career with 2,167 yards of total offense.
He went on to play football and baseball at Illinois Wesleyan University.
Vicini was elected into the Illinois High School Football Coaches Hall of Fame in 2004 and into the inaugural Hall High School Hall of Fame in 2010.