After seven terms on the Princeton Elementary School Board, Steve Bouslog decided not to run for reelection in 2023 marking the end of his 28-year run on the board.
Current board members, Superintendent J.D. Orwig and members of his family gathered Monday to honor Bouslog's years of service to the board.
"I would certainly be remiss if I didn't tell you that (Bouslog) had a great impact in the short time that I was able to work with him," Orwig said. "When I think about his impact on me, I just think about what we are doing here right now; the procedural things that he had down because he was immersed in it for so long."
Bouslog was presented with a honorary plaque from the PES Board to commemorate his years of service as a member and board president.
Bouslog thanked his fellow board members, the faculty at PES, his family, the superintendents he worked alongside and the voters for putting their confidence in him for 28 years. He left the current board members with a piece of advise he received from a former PHS board member when he was first elected.
"You represent a lot of different stakeholders in this district," Bouslog said. "You represent seniors, teachers, parents, grandparents and farmers; but in every difficult decision if you can make all of the kids your top priority then you will never make a bad decision. I always tried to follow that and I would encourage all of you to remember that as well."
As he ended his comments to the board, he reminded the members that while he will no longer be a member, he will remain just a phone call away.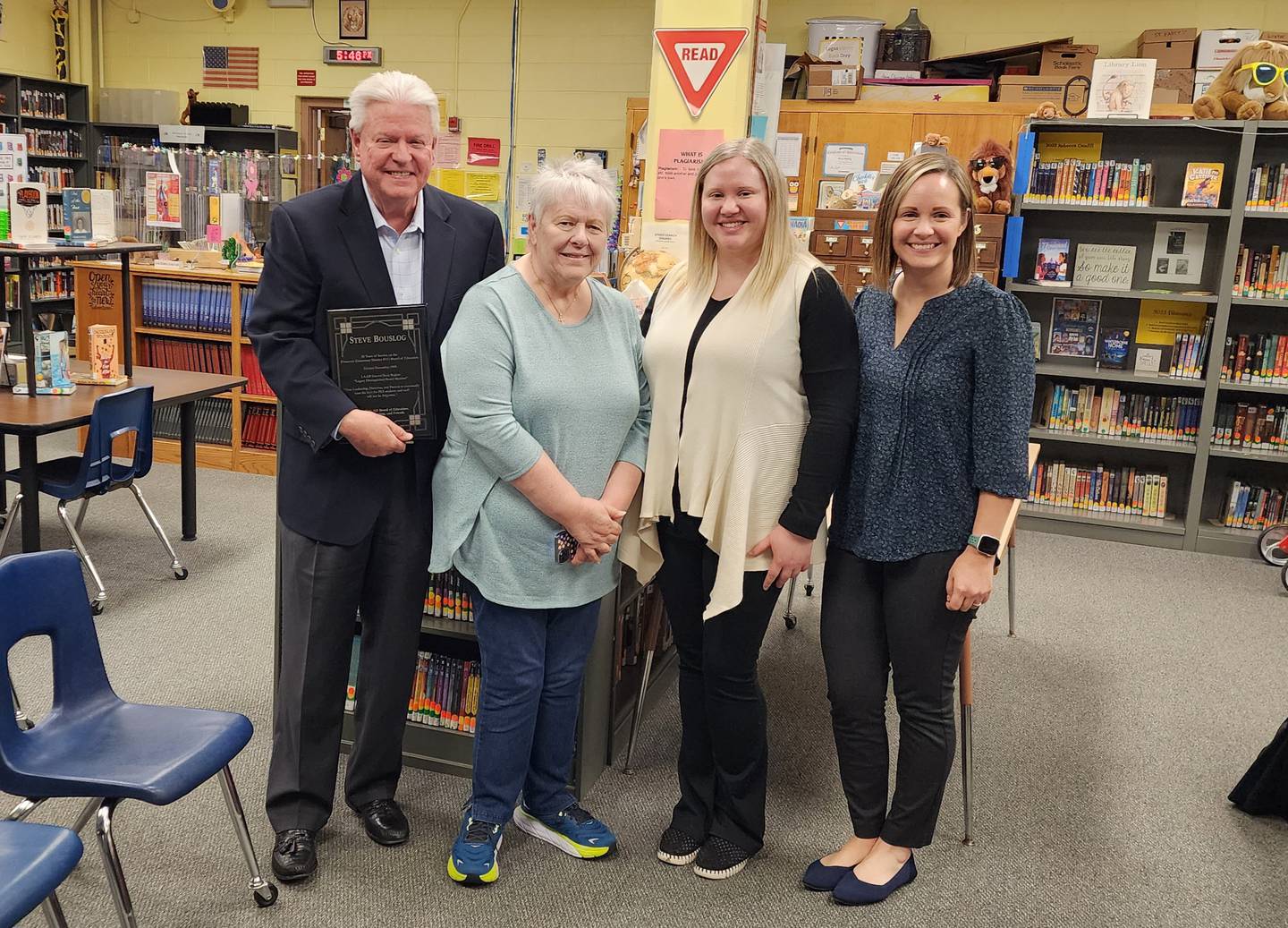 Aside from the PES Board, Bouslog has held numerous other service positions throughout the community over the years including in Princeton Chamber of Commerce Board of Directors, Historical Society Board of Directors, Youth Service Bureau Foundation Board, Junior Achievement, Princeton Jaycees, Genoa, Sycamore and Princeton Rotary, Princeton Street Concert Committee, Knights of Columbus, Princeton Tiger Athletic Booster Club and Student Council Advisor, Bureau County Daycare Board of Directors, Homestead Couple Steering Committee, Princeton Moose Lodge, Princeton Elks Lodge and Princeton Youth Baseball League.
Bouslog was also honored at the Illinois Association of School Boards Fall Division Meeting as a "Legacy, Distinguished" Board Member, an honor only received by those with 25 years of more of service on school boards.
Only 47 board members have reached this status and only two have reached this honor in the Starved Rock Region of the Illinois Association of School Boards.
For his commitment to community service, Bouslog also served as a Grand Marshall of the Homestead Festival in 2021.
Bouslog began teaching social studies in 1973 at Princeton High School and also coached freshman basketball and baseball.