PRINCETON – It was a fun night to be a Princeton Tigers basketball fan Friday at Prouty Gym.
The Class 2A No. 1-ranked Tigers beat rival Hall 88-50.
They improved their record to 24-0, stepping into school history to better the 23-0 record start of the 1954-55 Tigers, who finished fourth in state with a 32-3 mark.
And senior Teegan Davis became the 12th player in school history to score 1,000 career points with 1,001, finishing the night with 12.
"It was a big night, wasn't it? We put an emphasis on it, I guess," Tigers coach Jason Smith said. "It just means a lot for this group to be in the record books like that in this high school. They deserve it. They put in a lot of work to get it done.
"This kid here, Teegan. He's been with me since his freshman year. Him and Grady [Thompson] and Christian [Rosario]. They all bought in and set high standards for what Princeton basketball is all about, and I couldn't be any prouder of a group of kids and his individual efforts as well. Just proud to be all those kids' coach."
Davis' 1,000th-point basket came on an early fourth-quarter drive to give the Tigers an 82-48 lead. The other four starters all checked out, but Smith kept Davis in the game to achieve his milestone.
The game was stopped to recognize the moment, and Davis was presented with the game ball. He promptly ran it over and gave it to his little fan, Zane Britton, bringing the boy's mother to tears.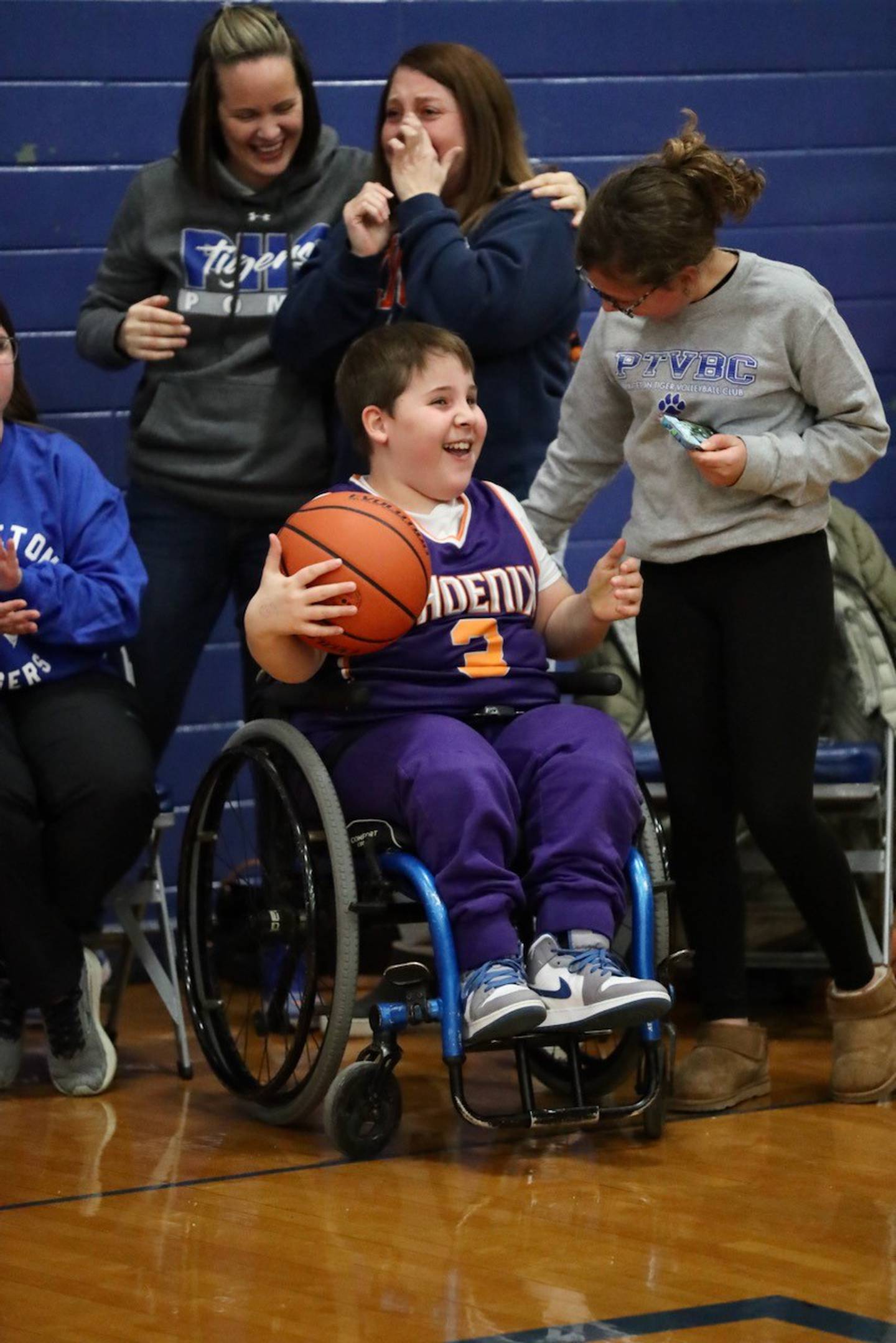 "It's something cool. It's an achievement, but we're down here to win and everything. Everybody here can score. Just keep on winning," Davis said. "We thought it was important to get that out of the way tonight to move to bigger and better things. We wanted to get whatever out the way tonight so we can focus on tomorrow's game against Normal U-High."
The Tigers, who improved their record to 8-0 atop the Three Rivers East, had their engines revving from the start. They doubled up the Red Devils 28-14 at the end of the first quarter and led 55-21 at the half.
"I thought we got off on the right foot with a good start," Smith said. "Did some things different defensively. Thought it looked really good. Kids bought in. Fun group to watch when they're like that."
Hall senior standout Mac Resetich didn't see it as much fun. When asked if he liked playing a team as good as Princeton, he said, "I don't like it all."
Hall coach Mike Filippini was pleased to see his team show some fight in the third quarter, outscoring the Tigers, 24-23, after a tough first half.
"First half they just got frustrated. You preach all week to try to slow the game down. Try not to get frustrated, knowing Princeton is going to pressure us," he said. "You can't simulate that in practice. They start four kids taller than anyone in our program.
"Princeton is very deserving of their No. 1 ranking. I was really happy we outscored them in the third quarter. So that's a positive. They could have quit. I told them at halftime, 'They want to score a 100 on you. The place is packed. They want to see them score 100. You guys have to have some pride.'"
Thompson led Princeton with 24 points as he continued his charge on Joe Ruklick's all-time boys scoring record (1,306), now down to 29 points to break it.
Sophomore forward Noah LaPorte added 20 points and senior forward Kolten Monroe matched Davis' 12-point effort.
Resetich was a one-man wrecking crew for the Red Devils, pouring in 24 points on the night, 16 in the third quarter alone. Like Thompson, he cracked the 1,000-point mark earlier in the season.
Filippini said Resetich asked him if he was mad he missed a dunk. "I told him, 'No, I wished you would have tried two or three more.'"
Filippini said the Red Devils have to take their lumps and get better for it.
"Game's like that make you better," he said. "Princeton's a good team, Smitty's a good coach, and Princeton has a lot of athletes and good kids. What they got, two 1,000-point scorers? You can tell they have a lot of talent."
Notes: Jordan Reinhardt scored 35 points to power Princeton to a 61-42 win in the sophomore prelim. Liam Swearingen added 11 points for the Kittens. Wyatt West had 12 points and Jack Jablonski 11 points for the Red Demons.