Princeton went 4-0 in last year's Princeton Holiday Tournament but came away empty-handed because of the free-throw tiebreaker.
This year's 4-0 record landed the tournament championship and left no doubts the winner.
The Tigresses used a 24-0 second half run to run away from Erie-Prophetstown, 42-17, Saturday evening, finishing another perfect run through the tournament to capture the crown. It was the first title in their own tournament since 2011
"Last year was a giant disappointment losing it, because we won all our games and lost by free throw percentage," said Princeton senior Mariah Hobson, who was named to the all-tournament team. "We had that in the back of our mind all practice long we were not going to lose this game here not on our home court. It's a great feeling.
"We knew we had something to prove tonight and that's exactly what we did."
Princeton coach Darcy Kepner said last year's disappointment was a lot of motivation this year.
"We talked about it all summer and all this week. They wanted revenge and to prove they were the best team in this tournament and I think they did that," she said. "The kids came out and played hard and you could tell they really wanted it out there. I'm really happy for them."
In earlier games Saturday, St. Bede rallied from a 10-point deficit to defeat Stark County, 44-43, for fifth place while Midland beat Henry 35-19.
Princeton 42, E-P 17
Salina Breckenridge converted a 3-point play to pull E-P within 18-15 midway through the third quarter. Then the wheels fell off for the Panthers as the Tigresses raced away.
Olivia Gartin hooped to get the Tigresses in motion. Isa Ibarra scored on the break via passes from freshmen Camryn Driscoll to Keighley Davis and then added a 3-pointer to put the Tigresses ahead 24-15.
The parade continued as Davis hooped off the glass, Driscoll converted a steal and layup from the left side and Davis connected again to close the third quarter out for a 31-15 Princeton lead.
The quarter break did little to slow the Tigresses down. Davis scored and then followed with a steal and layup to make it 35-15. Princeton ran off seven more points before E-P scored, capped by a basket by senior Gen Tirao, to put the Tigresses ahead 42-15.
Kepner said it was all about being patient.
"I think we were forcing some stuff in the half court in the first half. But we stayed with it, things opened up and I think our defense goes a long ways and we turned it into offense when we could," she said.
Hobson had no idea the Tigresses had that kind of run going.
"I knew we were doing really well in the half court when people think we can't. Twenty four (in a row), that's a lot, for sure," she said. "That's something I know we can do for sure. We've just got to execute like we did and I'm just really proud of the team."
Miyah Fox led Princeton with 23 points and Gartin netted 10. Davis and Ibarra had six each.
All-tournament selection Kennedy Buck led E-P with five points.
Princeton will be idle until Monday, Nov. 28 when it travels to Sandwich.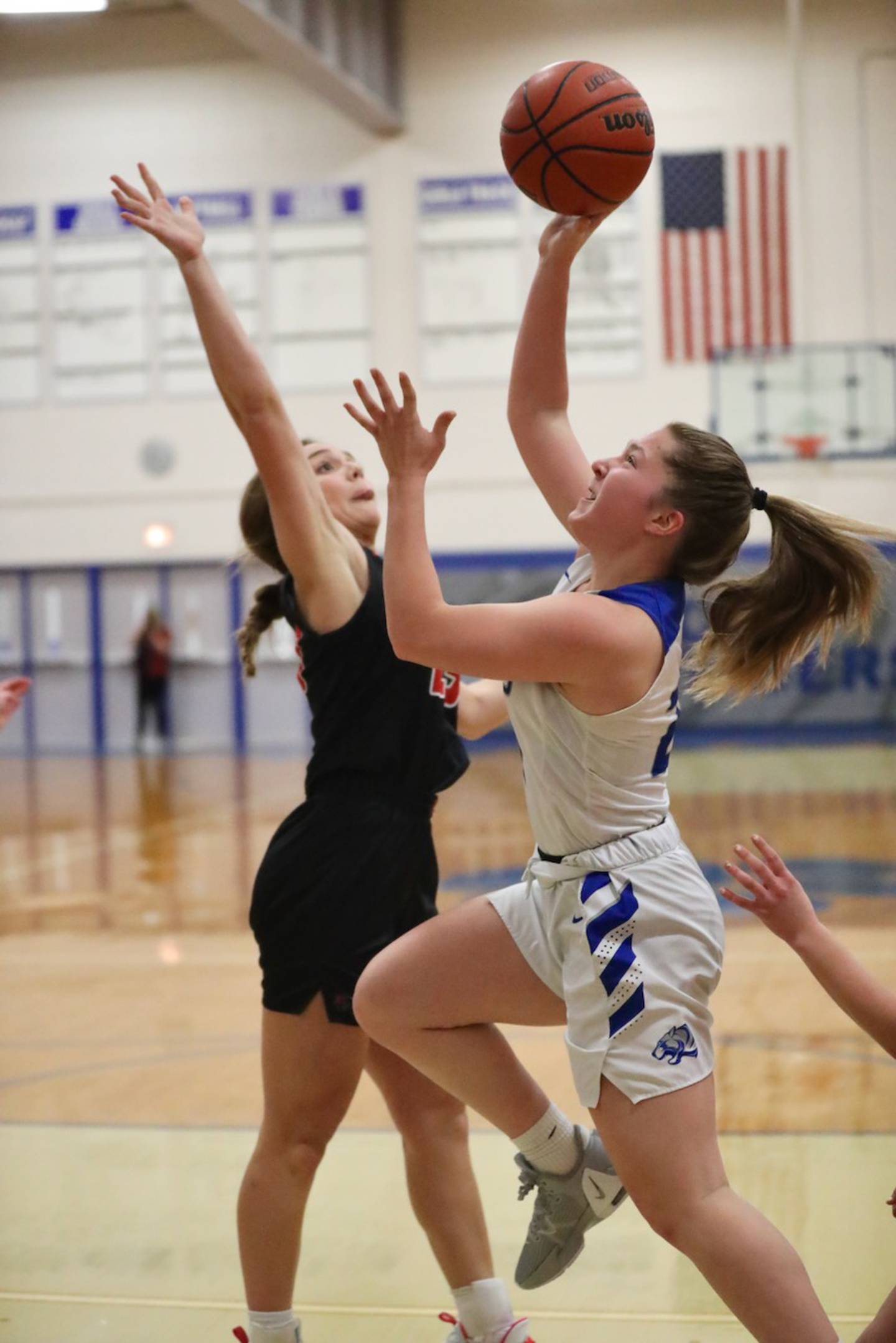 St. Bede 44, Stark County 43
The Bruins rallied from a 35-25 deficit to start the fourth-quarter, defeating the Rebels on Kristal De Le Torre's game-winning shot with 23 seconds left. First-year St. Bede coach Stephanie Mickley said the Bruins' defense made the difference.
"We thought we'd put some ball pressure and the girls really showed some grit," she said. "They were tired. They were beat up and kept their composure and capitalized on some things. They got the job done. I'm very, very proud of them.
"They really fought hard. They're starting to become the team I know they can be. They're starting to believe in themselves."
St. Bede's littliest girl, De La Torre, came up big in the end, penetrating the lane and sinking her left-handed shot over the taller Rebels.
"She got the right amount of arc on it," Mickley said. "We talk about being smart with penetrating and knowing what the size difference is. But she got it off at the right time. That was a big difference in the game."
Ali Bosnich scored 24 points before leaving late with a fall to the head and was being evaluated. Ella Hermes added 14 points.
Notes: Gartin joined Hobson on the all-tournament team along with Kate Stoller and Kate Salisbury of Bureau Valley, Ali Bosnich of St. Bede, Ava Hatton and Gracie Cuicci of Putnam County, Sophie Milloy of Midland, Lindley Johnson of Stark County and Sydney Schwartz of E-P. ... St. Bede captured the F/S championship by defeating Erie-Prophetstown, 33-18. Princeton beat PC 27-19 for fifth place and BV beat Streator 23-22 for seventh place.