Mac Resetich led off the April 11 game at Princeton with a walk and promptly stole second. The fun was only beginning.
He took third on a wild pitch and when the pitcher didn't cover the plate he roared around third base to score easily in a game the Red Devils won 2-0.
That summed up Resetich's season for the Hall Red Devils in one play.
The Red Devils road-runner turned his speed into a weapon on the base paths.
He sported an area-best .412 batting average, and led all players with 40 runs scored, 31 steals, four triples and seven home runs. The TRAC East First-Team All-Conference pick also drove in 31 runs.
For all of his accomplishments, Resetich is the 2022 BCR Player of the Year.
"I always love starting the game off. Getting that energy up, the first at-bat. I'm trying to score any way possible. I thrive on anything I feel fast enough to do. I got to use my speed to my advantage."

—  Mac Resetich
Speed kills
The speed game is the only kind of game Resetich knows how to play.
"I always love starting the game off. Getting that energy up, the first at-bat. I'm trying to score any way possible," he said. "I thrive on anything I feel fast enough to do. I got to use my speed to my advantage."
While he's happy to show his power because "nobody ever expects the leadoff guy to hit home runs," it's the speed game that thrills him most.
"Definitely, using my speed. I like that a lot more. I'd rather hit an out of the box double or a triple than a home run," Resetich said.
Resetich has never ran track, but would love to. He said he's ran a 6.2 60-yard dash, which is the equivalent to 55 meters.
Hall coach Tom Keegan has one signal for Resetich — go. He always has the green light.
"As far as pulling in the reins it depended on the pitcher, catcher and scoreboard, but more often than not he was off to the races," Keegan said. "Mac set the tone for us offensively. We went as he went. His presence on the base paths could change the whole dynamic of our innings because he gave us the opportunity to score runs.
"His offensive numbers speak for themselves, but just the way he plays the game is what impressed me. For example, early on he hit a moonshot for a home run but he assumed nothing and busted out of the box. He pretty much was touching second base as the ball landed and it's refreshing to see a kid play the game that way."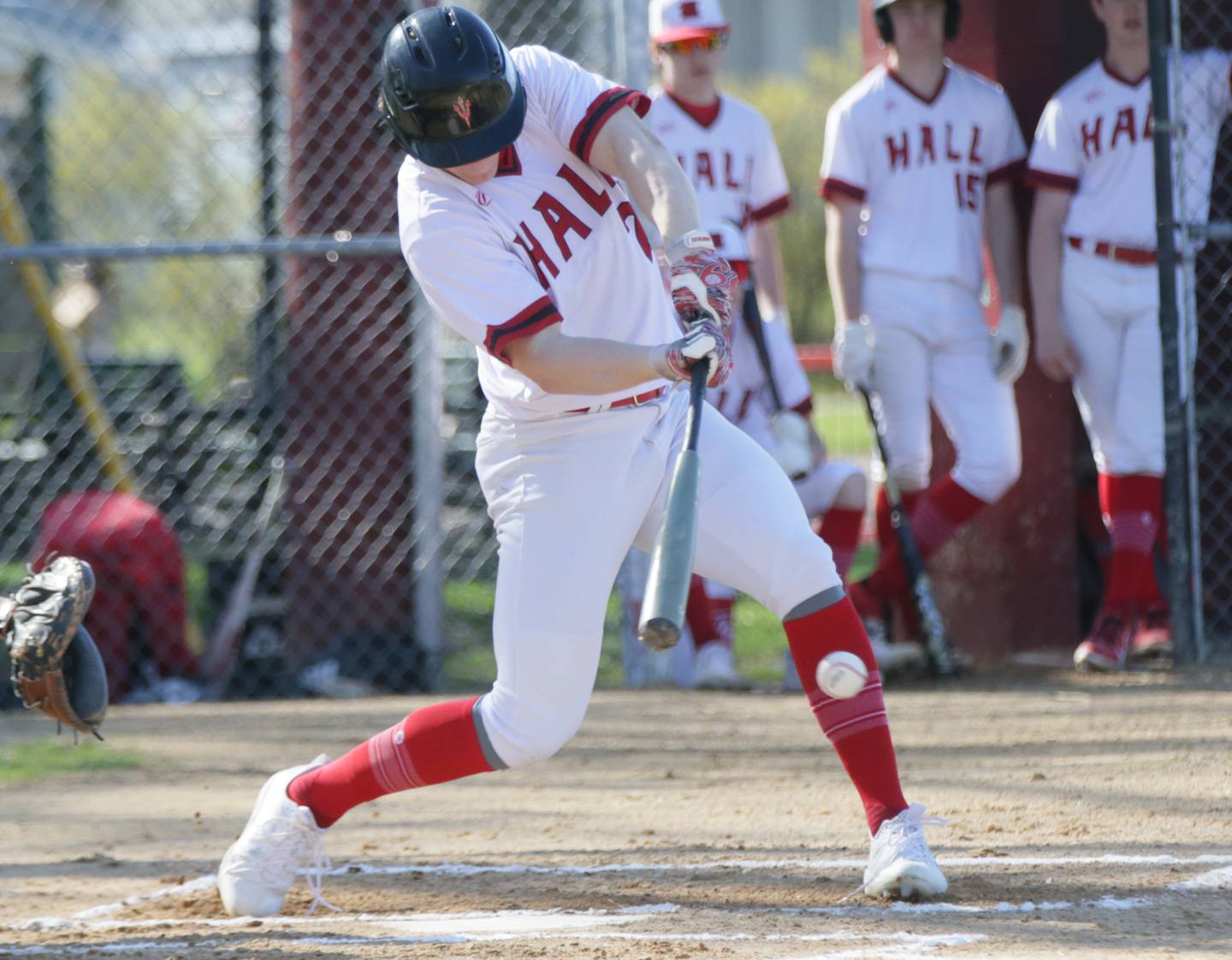 Keeping up the tradition
Resetich was a seventh grader when the Red Devils won the IHSA Class 2A state baseball championship in 2018. He said he really looked up to that that team, which included his brothers, Chance and Grant, and wanted to carry on the Red Devil tradition.
"Especially with both my brothers being on the team, Chance being a starter, that really impacted me to like baseball a lot. Because obviously, you want to win," he said. "I looked to my brother and Cam (McDonald) and all of them. Something I wanted to do, playing DI and stuff.
"Winning a regional every year like they did is something everybody wants to do. Winning the conference (is nice), but regionals is a lot more."
Chance Resetich just finished up a two-year stint at Black Hawk College and is playing for the Illinois Valley Pistol Shrimp in the Prospect League in Peru this summer before heading off to Division I Southeast Missouri. That's Mac's goal to follow him to that level.
That the Red Devils (18-10) came up short in regionals this year left a sour taste for Resetich. He said he and his classmates will be ready to make amends next year.
"That really does kind of hype all of us up. We really want to go on a run next year, make it happen," he said. "It will take a lot more work, defensively mainly. The bats and pitching will come. I think we have all that."
This summer, Resetich will be honing his game for the Midwest Hitman with Hall teammate Kyler Lapp, the Red Devils catcher.
"I think summer ball helps out. Hopefully, my bat takes off because I already have the speed and fielding," he said.
Keegan is already looking forward to Resetich's senior season.
"I'm looking for big things out of him again next season and hopefully he and his senior teammates can make us relevant in the postseason next year," Keegan said.
The Mac Resetich File:
• 2022 BCR Player of the Year
• TRAC East First Team All-Conference
• Batted .412 with 40 runs, 31 steals
• Had 7 homers, 31 RBIs