MANLIUS – Newman coach Ray Sharp notched his 300th career victory at the Storm Cellar on Wednesday night, but it didn't come near as easy as it appeared it would.
The Comets led by as many as 14 points in the first quarter and by 16 points in the second. Newman, however, watched Bureau Valley storm back to take a 49-46 lead at the end of the third quarter, then go back up 62-61 with one minute to play.
The Comets stole the ball from Bureau Valley and made three free throws in the final 16.5 to hand Sharp his 300th victory. BV athletic director Brad Bickett presented Sharp with the game ball afterward.
"Boy, I tell you. We really started out strong and they just played harder than us in the second half for about 2 1/2 quarters and really came back and took the lead – and put us in peril a little bit," said Sharp, who is 300-116 in two stints at Newman, coaching from 1991-94 and then the last 12 years.
"I give them a lot of credit. They played very hard. [Carter] Salisbury was phenomenal, 28 points. We could hardly guard him. Him and [Adam] Johnson were tearing us up. I give them a lot of credit. We got up early and they fought back. They showed a lot of heart."
Newman senior Marcus Williams, who led all scorers with 32 points, said it was nice to get their coach his milestone victory.
"I found out earlier today that was going to be his 300th. I knew we had to go out and get this one," Williams said. "It was a very hard-fought game. Their guards played extremely well. Their whole team played extremely well in the second half. I'm glad we got it done."
BV coach Jason Marquis praised Sharp for reaching his milestone victory and being a great friend to the rest of the coaches in the conference.
"I don't know guys who work much harder at coaching high school basketball than Ray," Marquis said. "Kind of used to be you'd ask Ray for a film and he'd give you 11 different films. I don't think I've ever have a text or phone call go unanswered by Ray. He's committed to our conference. Always has his kids prepared to play. He's just a good guy."
The Storm (9-9) scored the last 12 points of the third quarter to take their first lead of the night, going up 49-46 at quarter's end.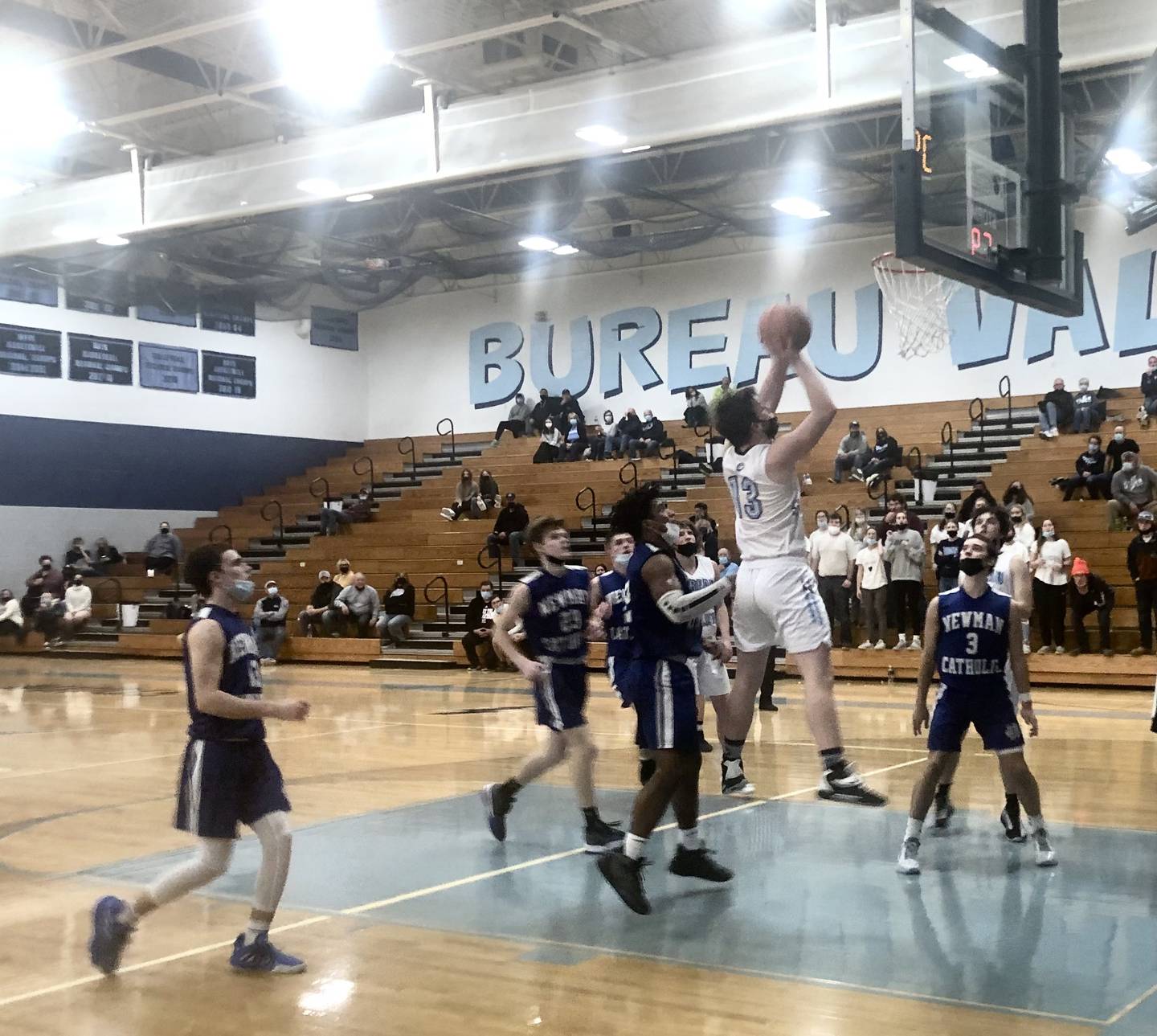 Salisbury, who led BV with 28 points, hit back to back 3-pointers to stretch the Storm's lead to 54-49 to start the fourth quarter. Johnson (18 points) later hit back-to-back buckets to put the Storm ahead 58-55.
Owen McBride hit a 3-pointer to put the Comets back in front at 59-58. After the mask timeout at 3:53, Newman spread the floor, running time off the clock.
Williams hit 1-of-2 free throws at the 3:03 mark for a 60-58 Comets lead, and Nolan Britt added another foul shot to make it 61-58 at 2:13.
Salisbury drove to the basket twice and dished off for baskets by Nevin Bolin (2:02) and Layton Britt (1:12) to put the Storm back in front at 62-61.
Salisbury finished with eight assists and did a good job getting his teammates engaged in the game, Marquis said.
"Sals, I think, is just becoming a better player consistently," he said. "For a kid who's as good a scorer as he is, to not get tunnel vision and keep his head and recognizing what the defense is doing. He's becoming like a quarterback. Before he gets to the line, he's got a little bit of an idea what they're doing and as soon as the ball snaps."
McBride stripped the ball from Salisbury and Sharp quickly called a timeout before the tie-up. Sophomore Lucas Simpson sank a pair of free throws to put the Comets back in front good at 63-62 with 16.5 left to play.
Marquis said he'd want the ball in Salisbury's hands "100 out of 100 times" in that situation.
Simpson, who netted 13 points, added another free throw for the game's final point.
Sharp said that's the kind of game you can expect around the conference.
"There's not an easy game in our conference," he said. "Princeton and Kewanee are kind of on top and the rest of us are battling. Everybody can beat everybody this year, and I think that's how it's going to be. We've got to hope other people can beat some teams, and I think they will. I think it's just a competitive conference."
Williams and Salisbury had quite the dual, combining for 60 points on the night.
"He's a very good player. Probably one of the best I've seen around here running the pick-and-roll," Williams said. "A very strong guard who can pull up from anywhere. Just a very strong player."
Newman (11-6, 2-1) used a 16-0 run to grab a 21-7 lead in the first quarter, with Williams hitting four 3-pointers and scoring 14 points overall.
A 9-0 run early in the second quarter stretched the Comets' lead to 30-14 with 5 minutes to play in the half.
"You can't spot good teams that big a lead. Something we've done a couple times," Marquis said. "Struggled to get stops early. Nice job by our kids and assistants to recognize adjustments defensively to start to get stops in the second quarter."
BV outscored Newman 10-2 down the stretch in the second quarter to pull within 35-27 at the half.
* Storm front: Newman won the sophomore prelim 53-46. Jon Dybeck had 17 points and Corbin Chimm 16 for the Storm. Mac Hanrahan and Isaiah Williams each had 14 points for Newman. .... BV won the freshmen game 26-22.