LAMOILLE - Darcy Earley had to make some adjustments after her Hall volleyball team dropped the second set to host LaMoille at Dean R. Madsen Gymnasium Monday Night.
It had nothing to do with Xs and Os, but rather all about getting their heads back in the game.
Hall got things going mid way through the third game, outscoring their hosts 9-2 down the stretch to put the finishing touches on a 25-15, 15-25, 25-14 win in non-conference play.
"I told them, 'You guys have to play smart, take your brains and reattach them to the rest of your body and do what we're supposed to do with the ball. We had people standing, and not readjusting .... We finally figured it out," Earley said.
LaMoille, who surprised their guests from Spring Valley in Game 2 by taking a 25-15 decision, scored five straight points to tie Game 3 at 9. Hall used two LaMoille hitting errors and a back row hit by senior Mia DeAngelo to go up 16-11.
Hall (8-23) sided out at 17-2 before Katelyn Pullam stepped to the service line, ripping off seven straight points, capped by her second ace, to go up 23-12. Ella Taliani finished off the match two points later at 25-14 with another ace.
Earley attributed senior libero Katelyn Pullam (20 digs) for helping to right the Devils' ship.
"Katelyn worked her butt off. She does a great job getting the ball up. She's doing well for the team," Earley said.
DeAngelo added 15 digs while Kierra Wozniak had a team-high three kills.
Game 1 was a bit of a seesaw battle with Hall going up 13-7 only to have LaMoille (4-15) tie things up at 14 with an 8-1 run.
Not to worry for Hall as sophomore Taylor Coutts put things in her own hands, serving for nine straight points with six unreturnable serves (five aces) to put the Red Devils up 24-14. Hall finished off the game 25-15 with a LaMoille hitting error.
Earley said Coutts is a rising star.
"She's very good and she'll continue to get better," Earley said. "She's very coachable and does a great job."
After a break to announce the winners of the "Pink Night" baskets, LaMoille fans became tickled pink over their team's play in Game 2.
Junior Bella Drummer put her No. 12 on the scoreboard with a kill to give the Lions a 12-6 lead. Sophomore Nataleigh Wamhoff hit a perfectly placed shot into the deep right corner, as designed, to push the LaMoille lead to 19-9.
Senior Kiersten Shevokas hit for the final game point at 25-15.
First-year LaMoille coach Kaitlyn Hughes said the key to the Lions' success in the second set was their turnaround and being able to side out fast.
"We have a strong serving team, when we make serves, which kind of threw Hall off," she said. "My big thing with hitters, is aim for the corners, just aiming for shoulders and aiming deep. I think that helped us a lot in that second set, just being able to put a ball away.
"In that third game, we didn't have any trouble with serve receive, it was just putting a ball away. Being able to defeat them and put that ball away and go on to side out."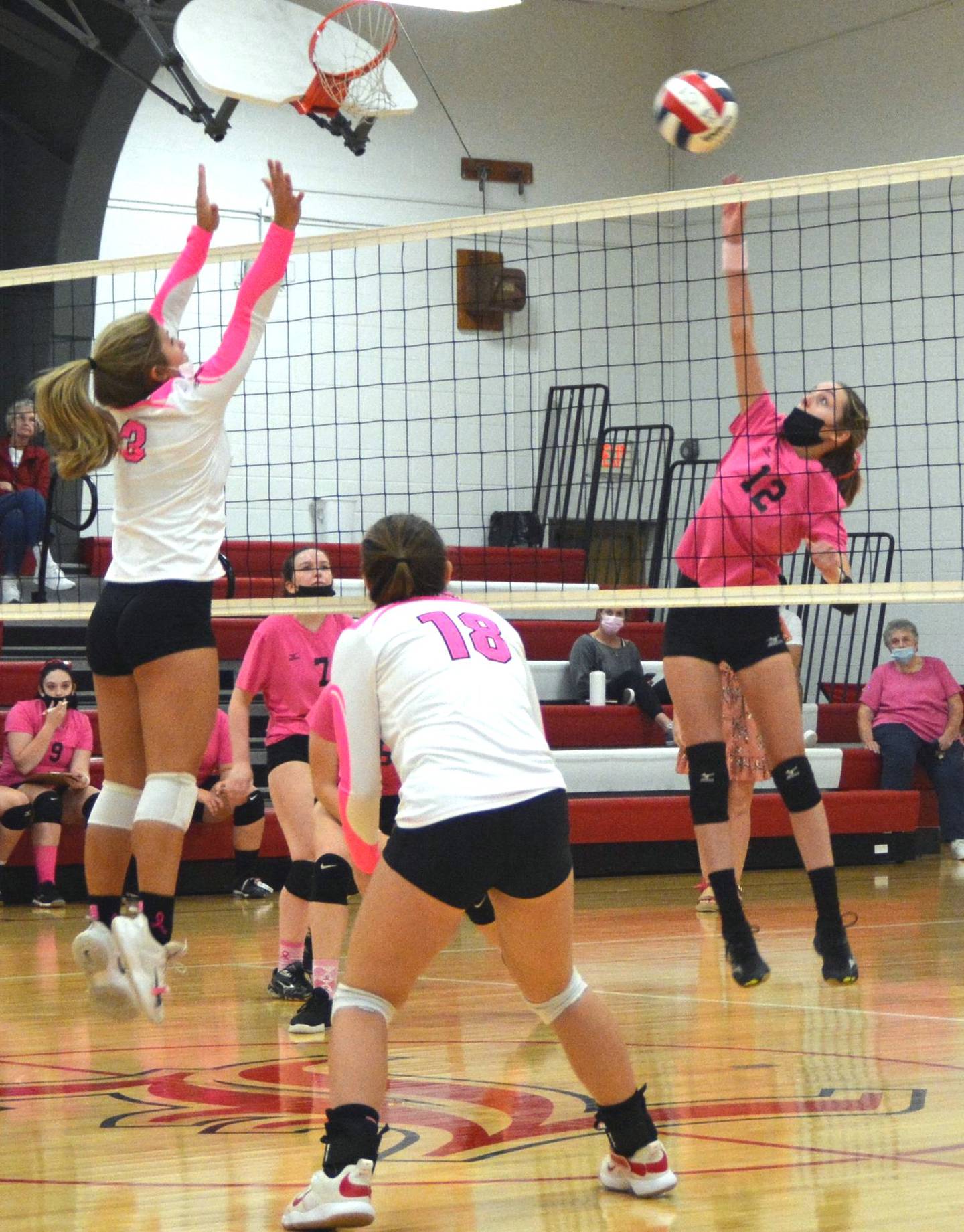 Earley said her team just lost its intensity in the second game.
"I thought we could have played better in the second set. It's almost like they expected it ... 'Here you go, 'here's the game,'" Earley said, indicating as if someone was handing you something "That's not going to happen. Everyone's got to fight tooth and nail, all night long. No team's going to lay down. Work hard, be scrappy and do the best they can."
Hughes, a 2015 graduate of neighboring Ohio, played for the former LaMoille-Ohio co-op. She's enjoying returning to coach in the gym she played at and loves the small town community.
Her first year has been a bit of a challenge, losing one senior before the season and two during the season, Ki-'Yanna Moore and Leah Williams, to ankle injuries. She now plays five freshmen - Bella Fischer, Laela Shevokas, Sadie Quest, Olivia Sadnick and Claire Lovgren - in the varsity match.
"Can't really complain. Lot of it now is mental and making sure the other team doesn't go on runs. But we've come a long way," Hughes said. "I had freshmen coming in not being able to serve overhand and now I'm throwing them in to be designated servers, so it's great."