Hall High School has been playing football dating back to the late 1800s. Only two Red Devils teams can call themselves state champions.
The last Hall team to reach the pinnacle of state was Gary Vicini's 2001 Red Devils, who shut out LeRoy, 21-0, to capture the Class 3A title in Champaign. A group of players from that team were reunited at Nesti Stadium for the Red Devils' versus Princeton on Sept. 10, some seeing each other for the first time in years.
In any case, it was good to get the gang back together.
"I was telling the guys two weeks ago when we were putting this together, Hall High School has been around for 120-some years. Two teams have won state. It's something that we share," said Doug DeSerf, a summer sophomore call-up that season. "It will never go away. It's something as a bond that we'll always have. It will always jell us together."
DeSerf said it really doesn't seem like it's been that long ago.
"Does it seem like 20 years? Of course not," he said. "If you say 20 years, it only feels like 10. If you say 40, it only seems like 20. It's like half the time. That's how I see it.
"Haven't talked to a lot of these guys in five or six years, (but) you pick it right away."
Standouts on the team were many, including Nick Slover, brothers Brant and Reid Baltikauski, Levi Derber, Chaise Thomas, Nick Slover, Aaron Bogacz, Dan Fusinato, Steve Coutts, Cody Gualandi, Phil Villarreal, Jake Koch, Erik Golden, Jason Haskell, Ryan Ferrari and DeSerf, all of whom received first or second All-BCR recognition or honorable mention.
"That group was one of a kind. Every kid, from special teams to a starter, had a heart to play football," said Slover, a two-way First Team All-BCR and unanimous NCIC all-conference linemen. "They were all talented in their own way. And loved to win. I was grateful just to play with such a talented group of guys."
DeSerf said everyone on the team had lots of dedication, pride and drive.
Brant Baltikauski, the senior BCR First Team/unanimous NCIC all-conference quarterback, said the Red Devils had the perfect mix to be successful.
"We had a really tight group of seniors. We gained a lot of experience from playing time our junior year and had a handful of sophomores and juniors that filled our weak spots," he said. "I think we were the first class that ran the same offense from youth football all the way through high school, which played a huge part in our offensive success. Our defense was really dominant throughout the year because we were fast and coached well."
The moment that stands out most for DeSerf that championship night is when junior backup quarterback William Chiado was forced into the game when Baltikauski was knocked out of the game on a late hit while holding the kick for DeSerf on Hall's first touchdown, a 70-yard run by Derber, less than a minute into the game.
When many thought all might be lost, Chiado famously shined under pressure and led the Red Devils to the state title.
"Brant went down after I kicked the extra point on the third play of the game, and we brought in the junior backup quarterback," DeSerf said. "That just shows that no team is just one man. We could still play a good game of football, a solid four quarters, with the back up QB. Maybe a backup running back if that happened.
"I think we were put together well as a team, offensively, defensively. No matter what problem came, we could handle it."
DeSerf also still vividly remembers the "big" 67-yard fade touchdown pass Chiado threw to Ryan Ferrari at the end of the third quarter to put the Red Devils 14-0 and help send the Red Devils to the title.
Chiado only completed 2 of 9 passes, but connected on the one that mattered most.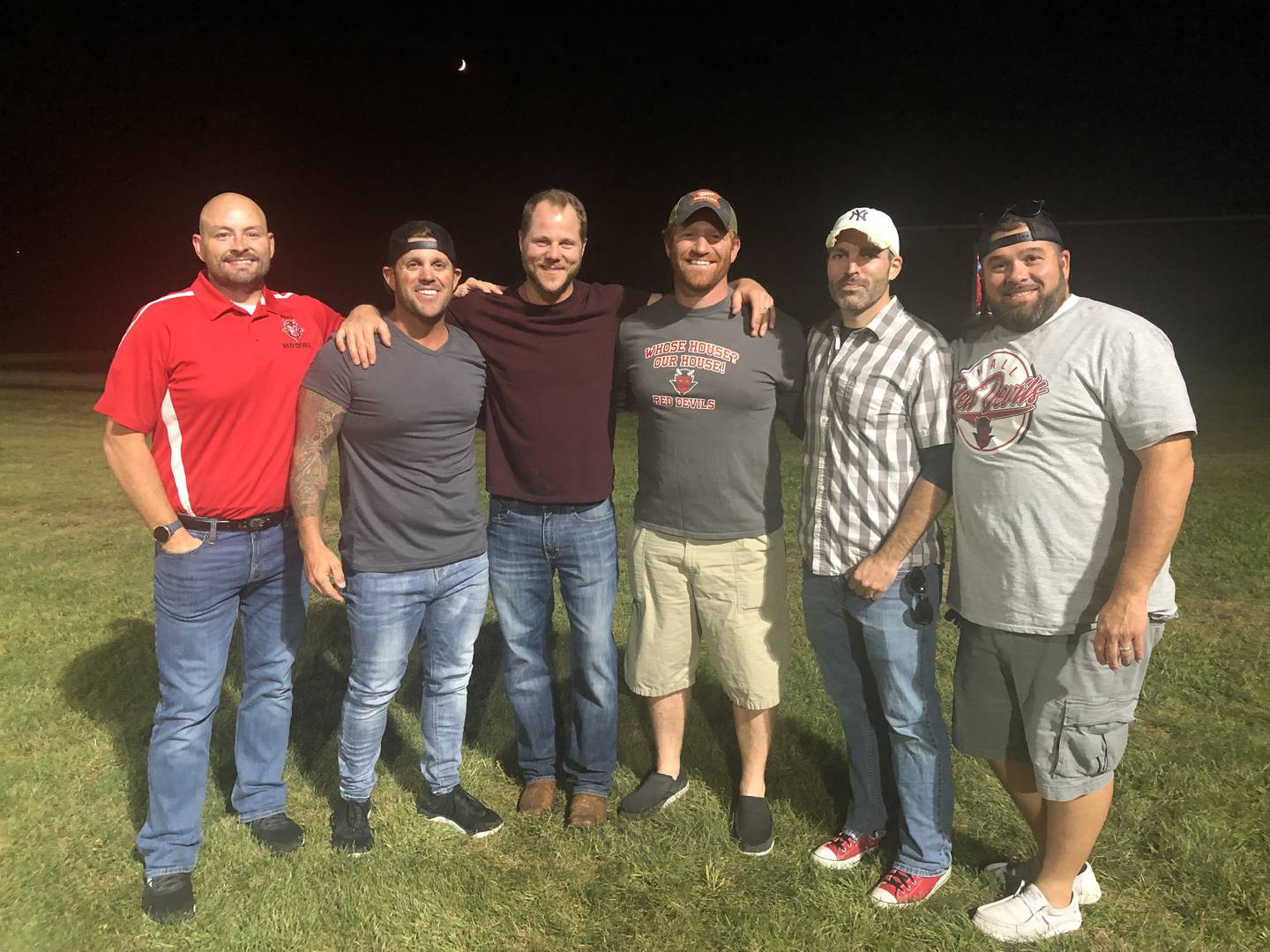 While winning the championship is obviously the best memory, Brant Baltikauski said the two playoff games before that have always stood out to him, when the Red Devils beat tough Bloomington Central Catholic (27-0) and Stillman Valley (13-7) teams.
"I think we shut out BCC. Our coaches had us prepared to the point where we knew the plays they were going to run and and our defense was able to execute," he said. "The Stillman Valley game was the toughest of the year. They had the ball almost the entire second half, and we stuck together and stopped them late in the fourth quarter."
Another favorite part of the year for Baltikauski, who is an operations manager for a Walmart Distribution Center, was that, "I was lucky enough to play with my brother the entire year."
For DeSerf, he'll never forget the moment Vicini told him to walk over to the varsity side of the field at summer camp when he was heading to the sophomore side. He knew he had arrived. Little did he know the fun was only beginning.
BCR sports editor Kevin Hieronymus covered the 2001 Red Devils at state. Contact him at khieronymus@bcrnews.com