LAKE FOREST – It's time to put the focus back on football.
Following a strange week at Halas Hall, the Bears travel to Kansas City for a Week 3 matchup against quarterback Patrick Mahomes and the Chiefs.
The Bears are trying to rebound from an 0-2 start to the season, they are doing so without a defensive coordinator, and starting quarterback Justin Fields gave an honest, if somewhat critical, assessment of his play and the play calling this week.
But the Bears are ready to turn the page. Head coach Matt Eberflus' team has a tough test ahead of it. The game kicks off at 3:25 p.m. on FOX. Here are five storylines to watch.
1. How will the Bears respond to a tumultuous week?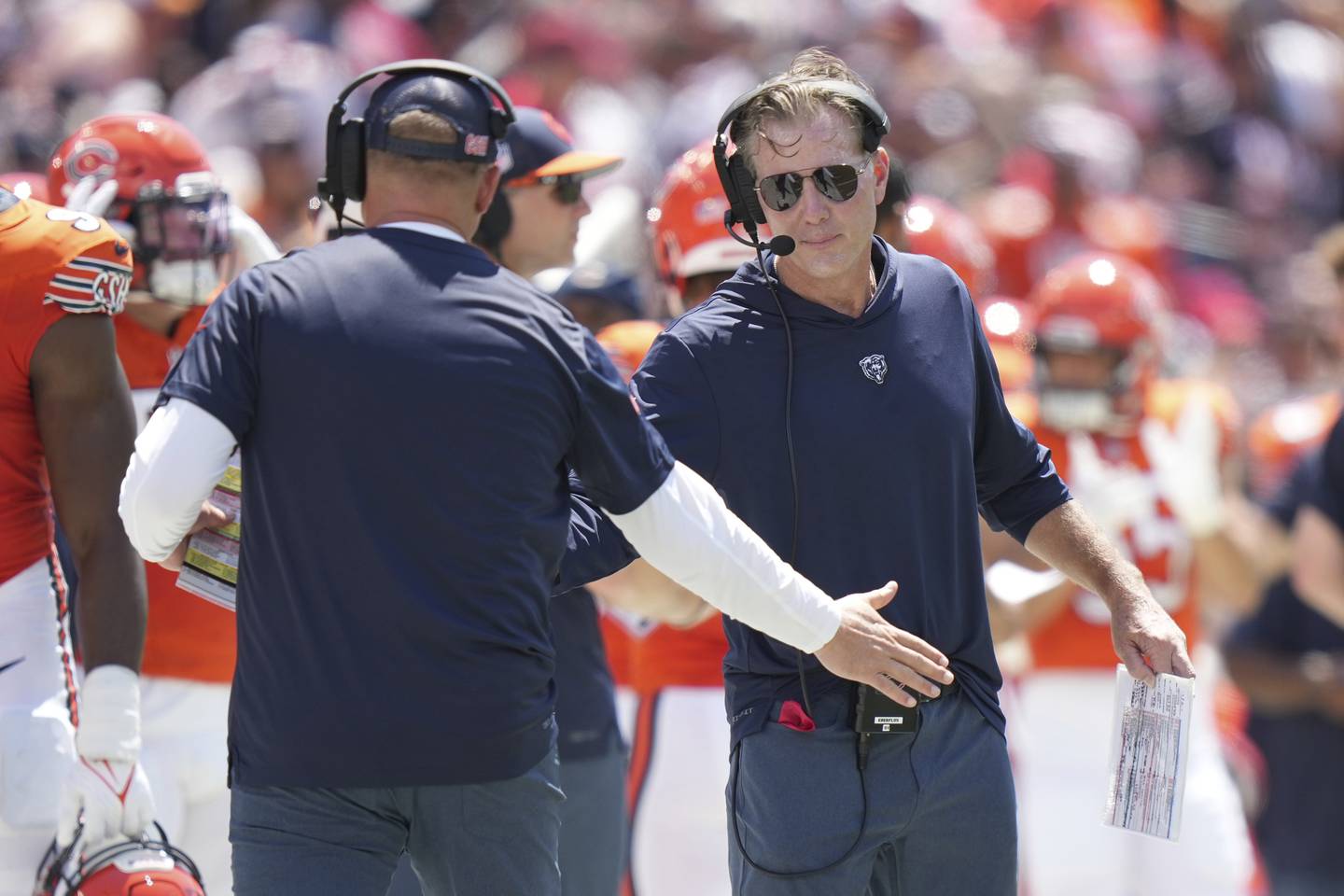 Just about everything that could go wrong this week did. On top of the starting quarterback's comments on his play and the offense, plus Williams' sudden exit, starting left tackle Braxton Jones went on injured reserve with a neck injury.
This is the type of week that tests NFL head coaches. How will Eberflus rally his team and keep the focus on the football field? That is the prevailing question this week.
Even with all the rumors flying around social media about Williams, the players seemed as if they didn't know much more than anyone else.
"I hope he's OK," defensive tackle Andrew Billings said this week. "I hope everything's all good, but when you get to the building, you just focus on your job first."
The players have no choice but to turn their attention to the football field. Eberflus will continue to call the defensive plays, at least this week.
[ What to know about Alan Williams' resignation as Chicago Bears defensive coordinator ]
2. Will there be noticeable changes in the offense?
Fields made a point to recant any criticisms he made of the offense, but the fact remains that Fields' concerns were real. As he said during the original news conference, Fields had already brought up those same concerns with his coaches.
So how will offensive coordinator Luke Getsy take those comments and apply them to the game plan?
"We always reflect on what we talk about together," Getsy said. "Always. That will never change. It always has been and always will be."
That doesn't necessarily mean the Bears will change what they ask Fields to do. Last week against Tampa Bay, Fields remained in the pocket for a long time. He rushed for only three yards. Will the Bears look to move the pocket more? Will they call more designed runs for their quarterback?
Eberflus wouldn't give any indication if the offense might look different, but he did give this hint with a wry smile on his face, "I think [Fields is] excited for the game. I can just say that, for sure."
3. Can the pass rush disrupt Mahomes?
Last week, the Bears were close to sacking Tampa Bay quarterback Baker Mayfield several times, but came away with zero sacks. Through two games, the defense has one sack (thanks to free agent addition Yannick Ngakoue). The Bears are one of four NFL defenses that have yet to create a turnover.
The task might be a little tougher against Mahomes, the two-time MVP. Mahomes is slippery. He's tough to bring down, even when a defense does pressure him. Not to mention he can throw the football from just about any angle.
Through two games, though, Kansas City is allowing pressure on 25.6% of dropbacks. That's the eighth-highest pressure rate allowed among NFL teams. The Chiefs also rank eighth in the league with an average of 8.9 yards per scramble, according to Pro Football Reference. That just highlights Mahomes' ability to escape trouble and throw the football on the move.
"There ain't anything he can't do," cornerback Jaylon Johnson said.
4. Can anyone stop Travis Kelce?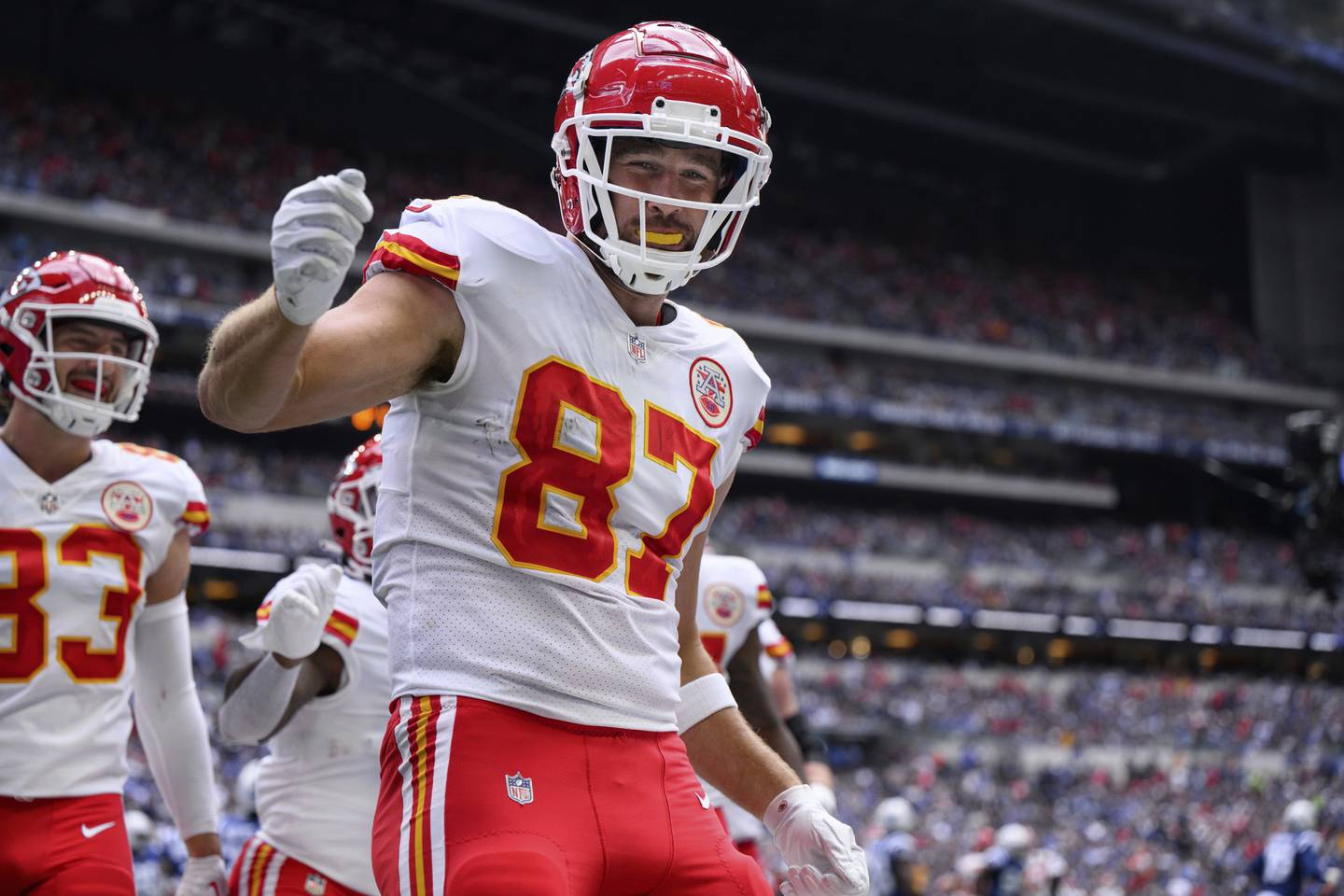 Chiefs tight end Travis Kelce is back to full strength after missing the season opener with a knee injury. Without Kelce in Week 1, the Chiefs' pass catchers made some errors. With him back last week against Jacksonville, Kelce was targeted nine times and scored a touchdown.
The Bears, though, have added a linebacker who is quite familiar with Kelce. Tremaine Edmunds faced Kelce numerous times when he was a member of the Buffalo Bills, including twice in the playoffs.
To combat a 6-foot-5, 256-pound All-Pro tight end, a defense needs a rangy linebacker with long arms. That's exactly what Edmunds is. At 6-foot-5, 250 pounds himself, Edmunds should be a game-changer for the Bears in the middle.
"You just got to have a good plan going into it," Edmunds said. "Obviously, [Kelce] is a great player. We all know that. We all see, he's one of those guys you notice around the league."
It wouldn't be a surprise if the Bears defense gives Kelce a lot of attention.
5. Can Bears secondary hang with Chiefs?
Bears safety Eddie Jackson is listed as doubtful with a foot injury. Nickel cornerback Kyler Gordon was already out with a broken hand. The Bears are now down two starters in the secondary against a two-time MVP quarterback. That's not a great recipe for success.
The Chiefs' wide receiving group, despite winning a Super Bowl last season, is somewhat inexperienced. Kadarius Toney (who is questionable with a toe injury), Skyy Moore and Marquez Valdes-Scantling are listed as the starters on the depth chart. But obviously Kelce is the focal point of that passing attack.
If the Bears can somehow slow Kelce, they could hold their own against the top three receivers. That is, obviously, much easier said than done.
"As a cornerback, the best thing to do is stay disciplined," rookie Tyrique Stevenson said. "If you've got man coverage, stay with your man, because at the end of the day most of [Mahomes'] plays come off him scrambling and having eight to 10 seconds to be Patrick Mahomes and make a hell of a throw."