LAKE FOREST – Bears defensive coordinator Alan Williams resigned from his position Wednesday. The 53-year-old football coach had been one of head coach Matt Eberflus' first hires when he became Bears head coach in early 2022.
Prior to his resignation, Williams had been away from the Bears for about a week. He was not with the Bears on Sunday when they faced the Tampa Bay Buccaneers.
According to Eberflus, Williams was sidelined for an unspecified personal reason. Asked about it Wednesday, Eberflus declined to provide any further information. He was then asked if Williams was still the team's defensive coordinator and Eberflus said: "Like I said, I don't have any update right now."
Several hours after that exchange, the team announced that Williams submitted his resignation.
Williams released a statement that said he was "taking a step back to take care of my health and my family." In the statement, Williams noted that he intends to coach again.
It's not unusual for an NFL coordinator to be fired during a season, but it is unusual for one to quit just two weeks into the season. Here's what we know about the situation.
Who is Alan Williams?
The Bears hired Williams in February 2022 to be their defensive coordinator. Williams had been the Indianapolis Colts' defensive backs coach from 2018 to 2021, working for four years under Eberflus, who was the Colts' defensive coordinator. When new Bears general manager Ryan Poles hired Eberflus in 2022, the head coach set about hiring coaches who knew his 4-3 defensive scheme.
Williams has coached in the NFL since 2001. A native of Virginia, he played college football at William & Mary, where he was teammates with future Steelers head coach Mike Tomlin. As a player, Williams was a running back. He finished his college career with 1,220 rushing yards and 15 rushing touchdowns, while he totaled 131 receptions for 1,331 yards with seven scores.
He coached at the high school level in Virginia for several years after college before returning to William & Mary as an assistant coach in 1996. Williams jumped to the NFL in 2001 as an assistant with the Tampa Bay Buccaneers. He spent a decade with the Indianapolis Colts (2002-11) before becoming a defensive coordinator with the Minnesota Vikings for two seasons in 2012 and 2013. He then was an assistant with the Lions (2014-17) and again with the Colts (2018-21) before Eberflus hired him in Chicago for his second stint as an NFL defensive coordinator.
Williams previously coached under head coaches like Tony Dungy, Jim Caldwell, Leslie Frazier and Frank Reich.
Williams arrived in Chicago as Eberflus' right-hand man for the defensive side of the ball. Williams and his wife Lisa have three sons.
What do we know about his resignation?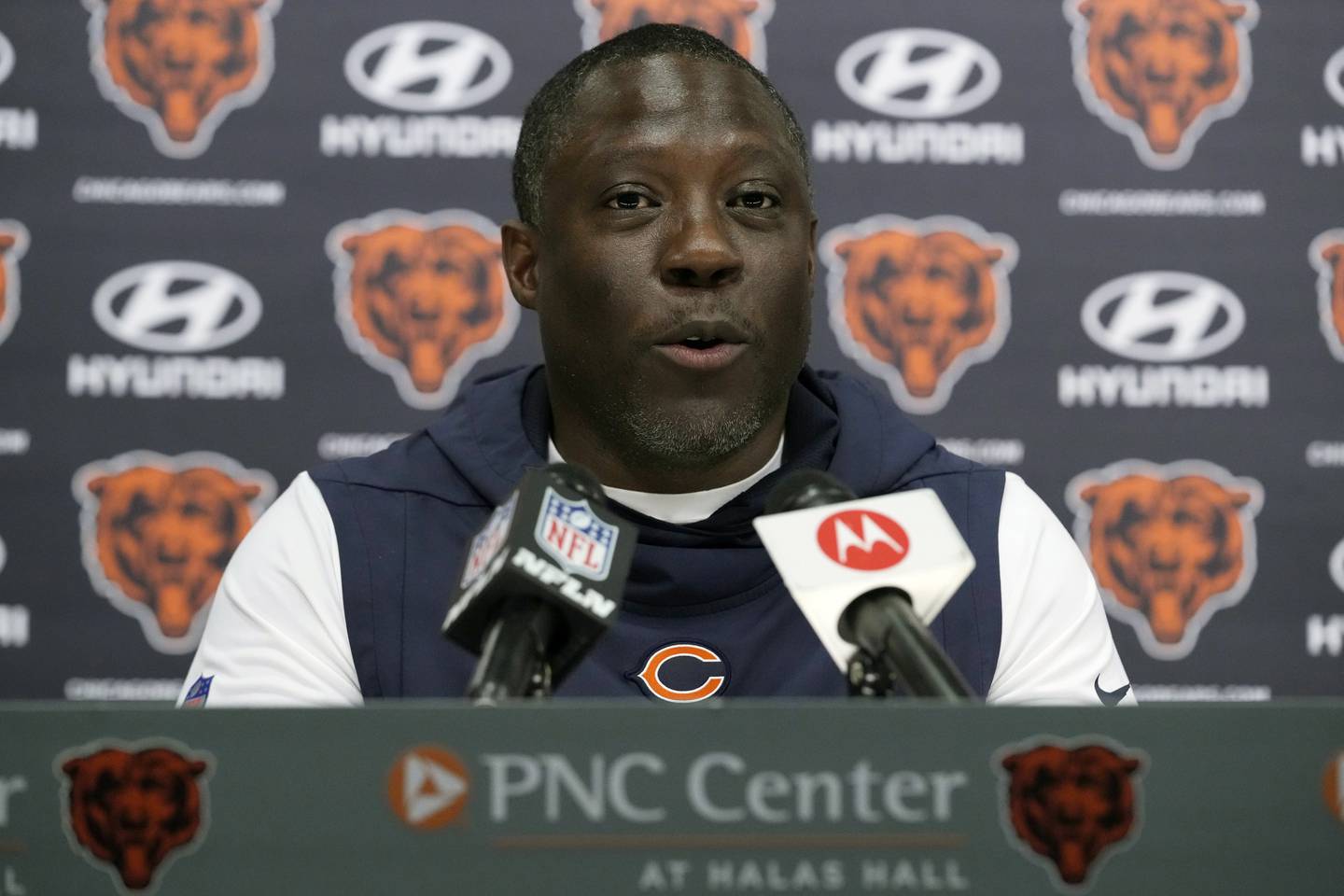 The details of Williams' exit remain murky.
The first notion that Williams was not with the team – at least publicly – was when he did not show up for his weekly media session on Sept. 14. A Bears spokesperson noted that Williams was out due to a personal reason. In the following days, Eberflus said Williams would not be with the team Sunday in Tampa, Florida, when they faced the Buccaneers. Eberflus called plays for the defense in Williams' place.
Asked about Williams again on Monday, Eberflus said he had "nothing to add."
That led to Wednesday, when Eberflus would not answer if Williams was still the defensive coordinator and Williams later resigned.
Poles, the general manager, briefly addressed the situation Thursday in an unscheduled media appearance, but did not provide any further information when asked about the timeline of events.
"I can't give many details there, but when he wasn't at practice [last week], I think that was addressed," Poles said.
Wild rumors swirled online regarding Williams' mysterious absence. This much is known for certain: The authorities never visited Halas Hall regarding Williams. A team spokesperson denied that rumor Wednesday and Poles did so again on Thursday.
"We try to work in truth and I know there is a ton of misinformation out there," Poles said. "Yesterday, we talked about Halas Hall being raided. That's completely false. Don't even know where that came from."
A lawyer representing Williams, Andrew M. Stroth, told 670 The Score's "Parkins and Spiegel" show that Williams' home had not been "raided" either.
"There is absolutely no criminal activity, there's no criminal allegations, there has been no raid on Halas Hall," Stroth said on the radio show. "None of that is true."
What happens next?
Eberflus will continue to call the defense Sunday against the Kansas City Chiefs. As if the Bears didn't have enough on their plate, they now have to face Patrick Mahomes and the defending Super Bowl champions.
Beyond Sunday's game, Poles hinted that the Bears could appoint a defensive coordinator.
"We'll figure out all the titles and everything, I'm sure, next week," Poles said Thursday. "None of that has been dealt with right now. We'll get through this week."
The Bears have several experienced defensive assistants who could potentially take on the role. Safeties coach Andre Curtis has coaching in the NFL since 2006. Cornerbacks coach/passing game coordinator Jon Hoke first became an NFL coach in 2002 and has coached at both the NFL and college levels since. Linebackers coach Dave Borgonzi has coached in the NFL since 2011, when he was an assistant with Eberflus in Dallas. None previously has been a defensive coordinator at the NFL level.
Rod Marinelli, who was Bears defensive coordinator from 2010-12 under Lovie Smith, is not currently coaching in the NFL, but coached in the league as recently as 2021. Marinelli has been a mentor to Eberflus over the years. He could be a possible outside hire.