CHICAGO – Sunday was a disappointing afternoon at Soldier Field for Bears fans. The Packers drubbed the Bears, 38-20, in the season opener.
A new era, it was not.
The Packers won their ninth consecutive game against the Bears and have now won 14 of the past 15 in this rivalry. Packers quarterback Jordan Love threw for three touchdowns, while Justin Fields struggled to move the ball down field with consistency.
Here are the five biggest takeaways from Sunday's season opener.
1. Bears passing attack flops
After months working to improve their passing attack, the Bears offense fell flat in that area. There were some good moments, but definitely not enough of them.
The quarterback looked like the same quarterback he was last season. Fields took too many sacks – four of them – lost a fumble and threw a pick-six interception to Packers linebacker Quay Walker. The passing attack was quite horizontal. The Bears were heavy on screen passes to the running backs and receivers. Fields averaged 3.3 air yards per pass attempt, according to NFL Next Gen Stats.
Much-hyped new addition DJ Moore caught two passes for 25 yards and they were two of the best plays Fields made all day. He also connected with Darnell Mooney for a 20-yard touchdown pass.
"They did clog him up a little bit, but his time will come," Fields said of Moore. "It's just kind of how the chips fall. He's not going to go for 100 [yards] every game. Of course, I wish he did."
Fields noted that Luke Getsy's game plan called for shorter passes, so that's what they did.
[ 'Sorry to my teammates and all the fans': Justin Fields, Chicago Bears offense off to slow start ]
2. The Packers looked like the better organization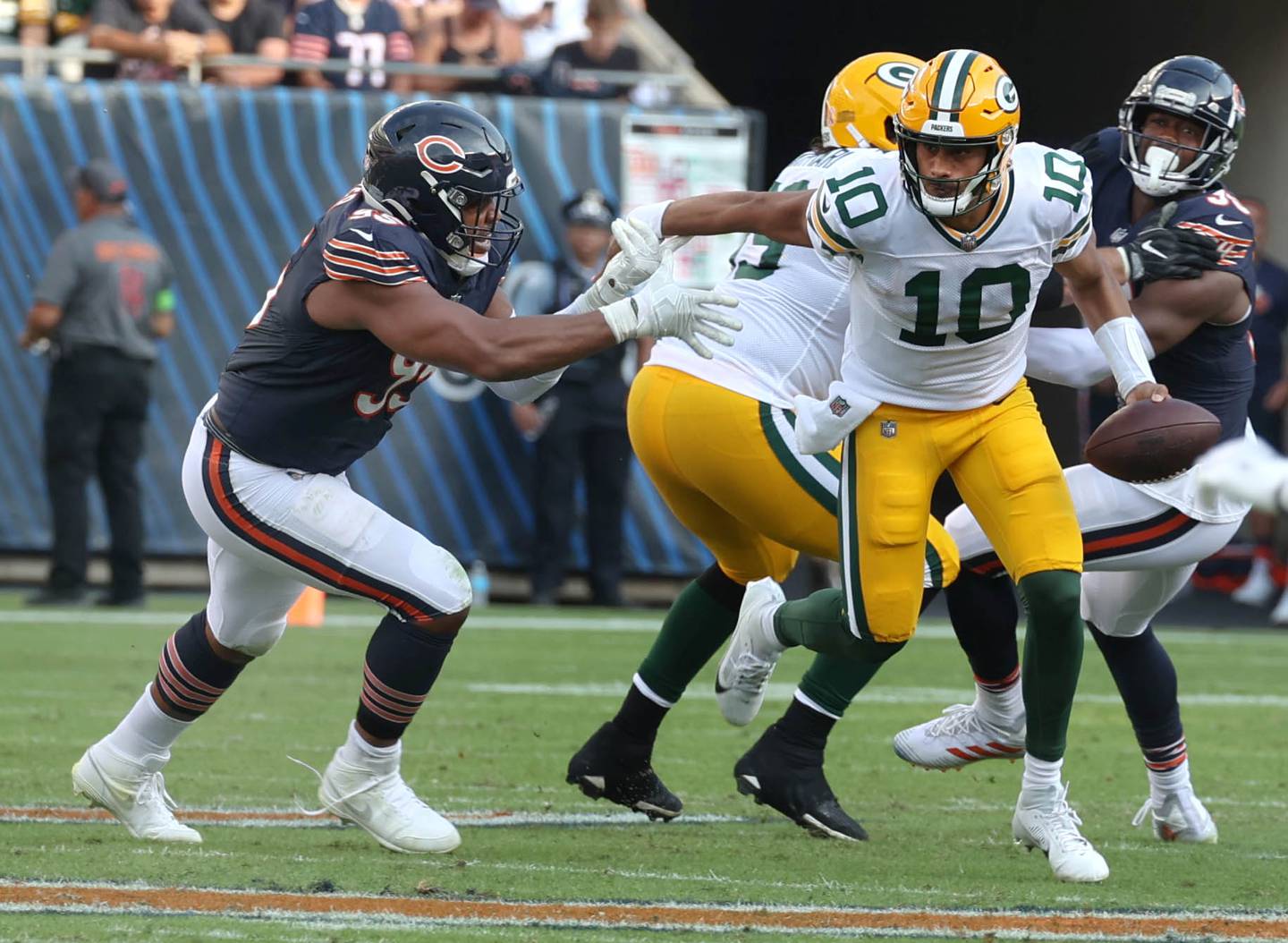 Forget the quarterback situation for a moment. It didn't matter if Love or Fields was the better quarterback Sunday. The Packers might be going through their own version of a youth movement, but they remain the deeper organization, talent-wise.
Running back Aaron Jones gashed the Bears, as he has over the years. He converted on a 51-yard screen pass that led to a touchdown and scored on a slant route that went for 35 yards. Packers first-round draft pick Lukas Van Ness had a sack. Last year's first-round pick Quay Walker had the pick-six touchdown. Second-year receiver Romeo Doubs caught two touchdown passes.
All of those guys looked like playmakers. Outside of Moore's two nice catches, the Bears had little spark.
Even without Aaron Rodgers, this is a Packers team that went to the playoffs in three of the past four seasons. There's a winning culture in Green Bay. Matt Eberflus and the Bears are still trying to build their culture.
It appears they still have a ways to go in that regard.
3. The Bears defense has to improve
Even after all the investment in the defense, both in free agency and in the draft, the Bears defense looked pretty much similar to last year. The Packers had no problem moving the ball on the Bears. Running the ball, Green Bay totaled only 2.9 yards per carry, which could be seen as a positive. Otherwise, there weren't many positives to point toward.
The defensive line was a weak point last season. The Bears added veteran edge rushers in free agency and two big defensive tackles in the draft. Still, the pass rush had limited effect on the game. The Bears sacked Love just once – Yannick Ngakoue had his first sack as a Bear – and hit him just three times.
"I feel like we've got to come up with a better rush plan," defensive end DeMarcus Walker said. "They did a good job of getting the ball out early in the beginning of the game. We've just got to come together and make plays. I don't think it's anything they were doing that stopped us. If the quarterback is getting the ball out fast, the quarterback is getting the ball out fast."
The Packers went 9-for-16 on third down and converted one of two fourth-down attempts. The Bears defense did not produce a turnover.
4. Questions remain about Bears' offensive line
Even with the additions of veteran guard Nate Davis and No. 10 overall draft pick Darnell Wright at tackle, the Bears offensive line still has questions to answer. The Packers hit Fields six times and sacked him four times. They also totaled seven additional tackles for loss.
Without Fields, the run game was nearly nonexistent. Khalil Herbert ran for 27 yards on nine carries, Roschon Johnson totaled 20 yards and a touchdown on five carries and D'Onta Foreman ran for 16 yards on five carries. Part of that was because the Bears were playing from behind in the second half, but part of it was also what the linemen were doing in front of them.
A Bears team that averaged 177.3 rushing yards per game last season (leading the NFL), and ostensibly improved two starting spots, totaled only 122 rushing yards Sunday.
As for the sacks, it remains a combination of Fields' play style and the offensive line.
5. On the bright side, this coaching staff makes adjustments
If there's a silver lining here, it's the brief history the Bears have with this coaching staff. Eberflus and Getsy adjusted last year. When the offense didn't work the first six weeks of the season, they rebuilt it around Fields and his mobility.
Maybe the plan of attack will be different next week against Tampa Bay. It's possible the horizontal passes were simply something the Bears thought they could expose against Green Bay. If it does become a trend, though, and the Bears continue to struggle, Eberflus and his staff will look for ways to change the plan.
It's Week 1. We have 16 weeks to go in the regular season. We have a lot of room to improve, room to grow. I think that's what we're going to do as long as we keep that positive attitude."

—  Justin Fields, Bears quarterback
"It's Week 1," Fields said. "We have 16 weeks to go in the regular season. We have a lot of room to improve, room to grow. I think that's what we're going to do as long as we keep that positive attitude."
This is going to be a work in progress.