The Bears have one last tune-up. They will take on the the Buffalo Bills during their third and final preseason game Saturday at Soldier Field.
Justin Fields and the starters are expected to play in Saturday's game. Despite dealing with several injuries along the offensive line, the Bears feel that it's important for Fields to see live game action ahead of the Sept. 10 season opener.
The Bears and Bills will kick off at noon Saturday. The game will be broadcast on Fox 32. Here are the storylines to watch.
Can the starters repeat their hot start?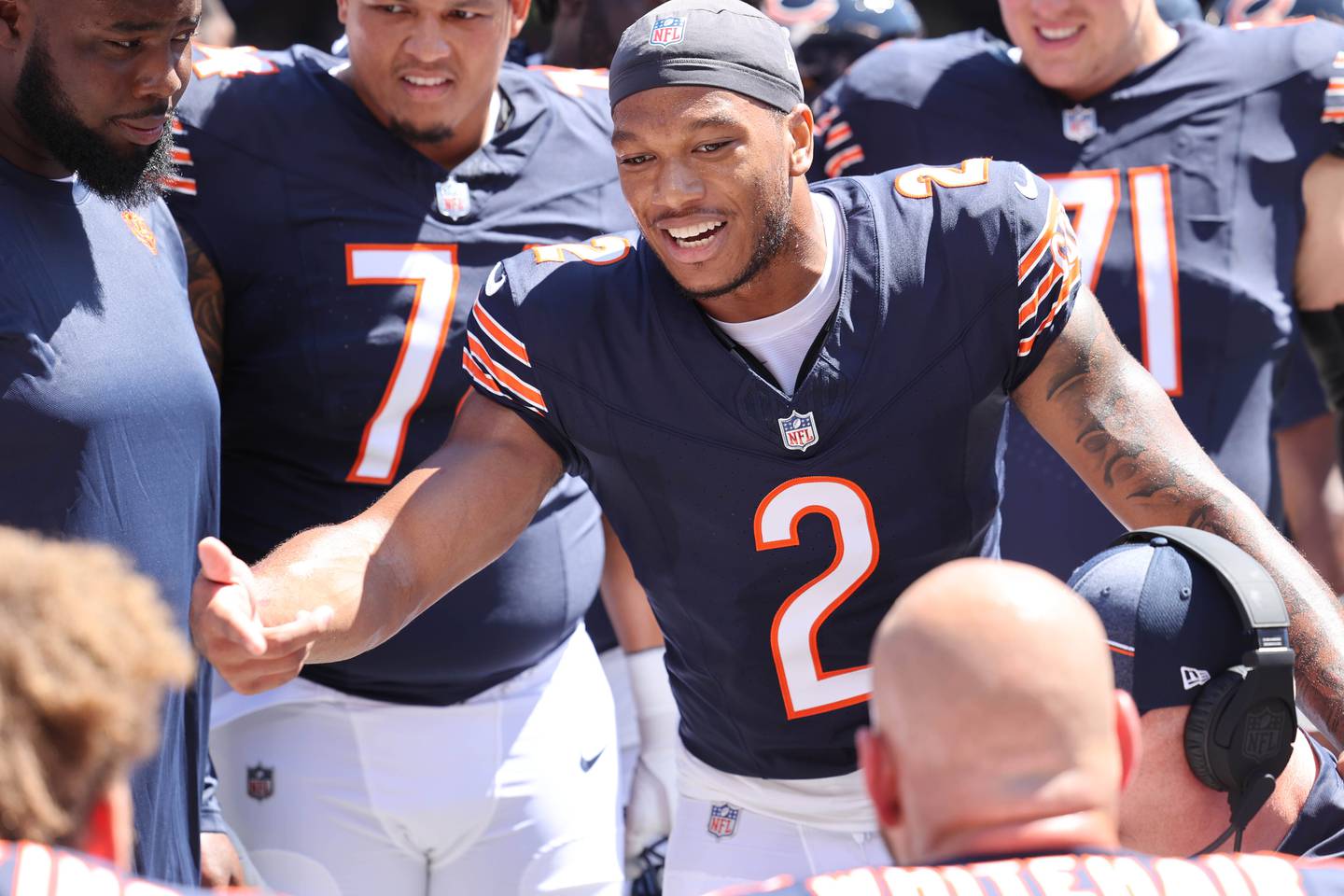 Fields and the first-team offense scored two touchdowns of more than 50 yards in the preseason opener. That's probably too much to expect from them Saturday. There is, however, some curiosity to see how this offense looks against a quality opponent like the Bills.
Fields didn't have to do too much in that first preseason game besides throw his playmakers the ball and let them run. He played only seven snaps in that game, then didn't play at all last week against Indianapolis. The Bears need to see Fields more before the regular season. This offense had the worst passing attack in the league last year. It needs to work out some kinks in the preseason.
"Can we do a good job with the game environment when we're all in there, [the] guys that are available to us," head coach Matt Eberflus said. "Can we operate? Can we be efficient on offense?"
How does a battered O-line perform?
Only two expected starters participated in practice Thursday on the offensive line: left tackle Braxton Jones and interior lineman Cody Whitehair. It's up in the air what this line will look like Saturday. Rookie right tackle Darnell Wright tweaked his ankle in practice this week. Left guard Teven Jenkins is expected to be out several weeks with a leg injury. Right guard Nate Davis hardly has practiced in August. Top backup Lucas Patrick also remains sidelined by injury.
The Bears have a number of options for how they can reconfigure the offensive line. With Patrick out, don't be surprised if Doug Kramer, a second-year pro who missed last season with a foot injury, sees significant action at center.
"He studies hard," said Jones, the left tackle. "He's very smart. So to have a guy like that at center, just come and do whatever he has to do to get the job done, I praise a guy like that."
Guards Alex Leatherwood and Ja'Tyre Carter could see action too. Larry Borom seems likely to start at right tackle.
Will Tremaine Edmunds see action?
Linebacker Tremaine Edmunds has not played a snap of preseason football. Edmunds missed much of the past three weeks with an undisclosed injury. He's the centerpiece of this year's free agent additions. The Bears signed him to a four-year contract worth up to $72 million.
Edmunds is exactly the type of rangy linebacker Eberflus thinks will elevate the play of his defense. So far, Bears fans haven't had the chance to see it. Edmunds returned to practice this week and appeared to be a full participant Thursday.
That means he could see action Saturday vs. the Bills.
"All the guys that were there [at practice] have the potential ability to start and play the game," Eberflus said. "And we'll see where they are in terms of the ramp-up."
Edmunds, now in his sixth NFL season, doesn't necessarily need the preseason reps. The defensive unit as a whole, however, probably wants to get a feel for what it's like having him in there in a live setting.
Position battles to watch
For many players at the fringes of the roster, Saturday's game is the last chance to show that they deserve a spot on the 53-man roster. NFL teams will cut rosters from 90 players to 53 by 3 p.m. Tuesday. As they say in the NFL, your tape is your resume. Players want to put their best foot forward on game day.
The No. 1 fringe roster spot to watch will be at quarterback. Can undrafted rookie Tyson Bagent snag a spot from veteran backups PJ Walker or Nathan Peterman? Bagent led an impressive 92-yard touchdown drive last week. But has he done enough over the past six weeks?
Eberflus would not say which QB will come off the bench first after Fields takes a seat.
That's still a competition [for backup QB], though, as we've said all along, and we're open to that. That's exciting, and that was created. It wasn't like we created it – when I say we, the coaching staff. That was created by pure competition."

—  Matt Eberflus, Bears head coach
"That's still a competition, though, as we've said all along, and we're open to that," Eberflus said. "That's exciting, and that was created. It wasn't like we created it – when I say we, the coaching staff. That was created by pure competition."
Another spot to watch will be at defensive end. Terrell Lewis and Trevis Gipson appear to be battling for the last roster spot there.