Tyler Scott knew he recognized Tyrique Stevenson from somewhere. The two were training together in Tampa, Florida, leading up to the 2023 NFL Draft. The first time they met, Scott couldn't escape the feeling that he had crossed paths with Stevenson before.
Stevenson told Scott he played for the Miami Hurricanes. That didn't ring any bells for Scott. Later, he found out Stevenson had played at Georgia.
"I was like, 'That's where I know you from,'" Scott said. "Because we played Georgia my freshman year in the Peach Bowl at Cincinnati."
Georgia and Cincinnati squared off in the Peach Bowl after the 2020 season. The Bulldogs had several players opt out ahead of the draft, which gave Stevenson a chance to play more.
Athletes have good memories when it comes to competition. Scott, a wide receiver, knew immediately that Stevenson was the cornerback in the No. 9 jersey who he squared off against that January day in Atlanta. Now, the two are teammates after the Bears drafted Stevenson with a second-round pick and Scott with a fourth-round pick.
Following that bowl game, Stevenson transferred from Georgia to Miami. Stevenson admitted that he was "naive" when he was at Georgia. The former five-star recruit was frustrated with his lack of playing time. He also wanted to be closer to his family in Miami.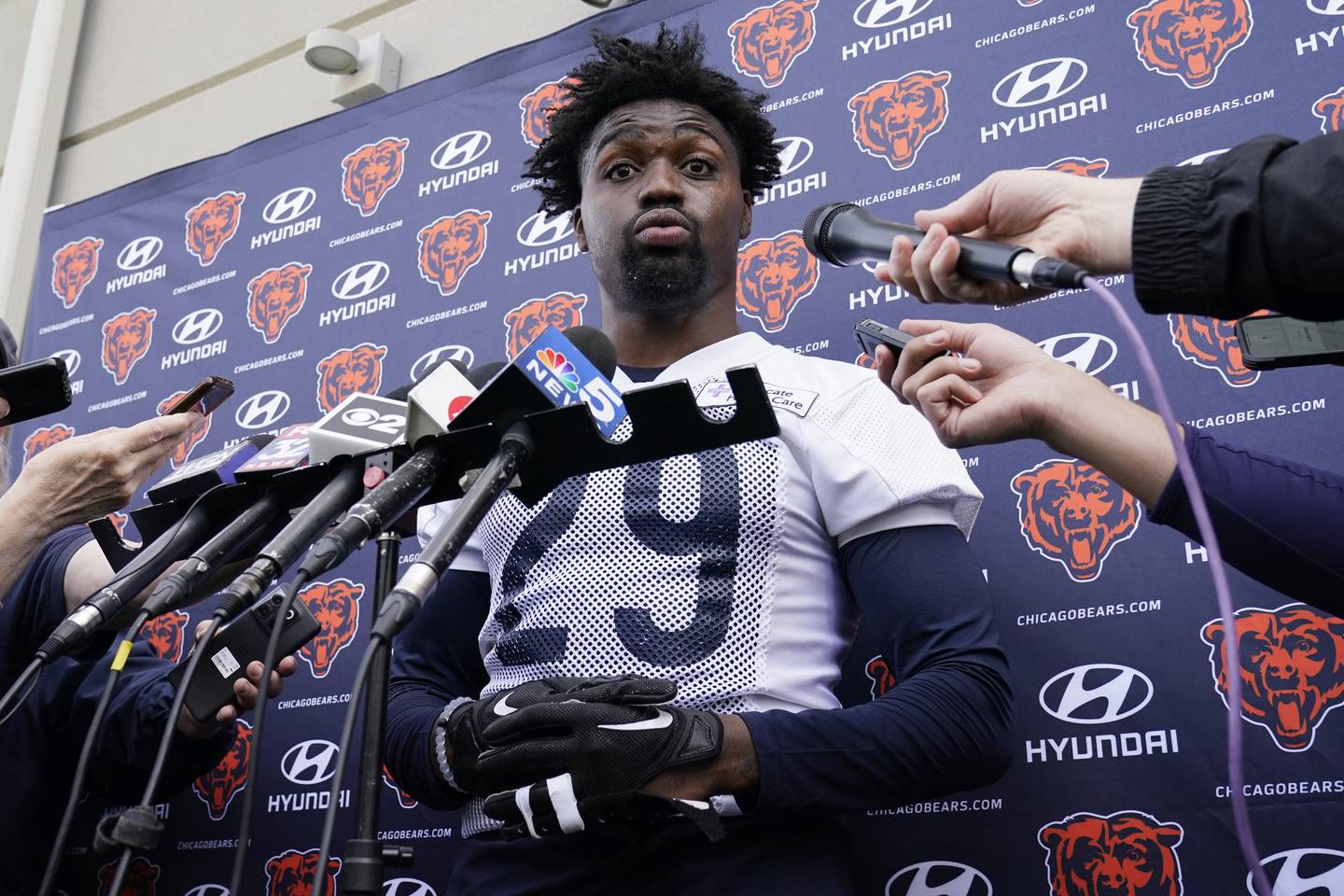 At Miami, he developed into one of the top corners in the country. The Bears traded up a few spots in the draft to select him with the 56th overall pick. Last weekend, Stevenson and Scott had the chance to square off again – this time on the practice field at Halas Hall during rookie minicamp.
"We definitely called each other right after the draft and definitely congratulated each other," Stevenson said. "We told each other, right then, it's time to get to work."
Stevenson joins what is looking like a promising secondary for head coach Matt Eberflus' defense. Cornerbacks Jaylon Johnson, Kyler Gordon and Kindle Vildor all return with starting experience. Eddie Jackson and Jaquan Brisker return as starting safeties.
The Bears intend for Stevenson to play as an outside corner. He will have to prove himself to earn playing time. His biggest competition likely will be Vildor, who was typically the fifth defensive back and played just under 50% of snaps.
"[Stevenson is] physical for the position, and he does a good job with his ability to redirect and get his hands on receivers and those type of things," Bears cornerbacks coach Jon Hoke said. "[He] does a good job of judging the ball in the air. He had a lot of really positive qualities that we liked."
Stevenson might be the most physical of the corners on the roster. He delivered some hard hits when he was at Miami. He will be an asset in run support, when needed.
Hoke loves Stevenson's length. He measures in at 6-foot, 198 pounds, with 32 3/8-inch arms. That length combined with 4.4 speed in the 40 and a 38.5-inch vertical jump makes for a dangerous athlete.
All the tools are there. Stevenson just has to prove himself.
"Come in with my head down and be a humble guy and just take as much coaching and as much information as I can and become a better rookie," Stevenson said. "And eventually grow myself and become a better pro."