The offensive line might be the most intimidating position to break into in the NFL. At least, Bears offensive coordinator Luke Getsy believes so.
There's often five established starters already in the room. A rookie has to prove himself, especially when he's a top draft pick who is expected to contribute right away.
That's what the Bears have in No. 10 overall draft pick Darnell Wright. The former Tennessee offensive tackle is expected to step into a starting role at right tackle immediately. Getsy said that Wright hasn't been fazed by anything in his early days at Halas Hall. The Bears hosted more than 60 players for rookie minicamp over the weekend. It was their first look at Wright and the rest of the 10 draft picks and numerous undrafted free agents they acquired.
"It's unique for someone that big to be able to bend and be that athletic and as explosive as he is," Getsy said. "I think that's just hard to come around guys that are that big, that long, with the length is unbelievable. And the power is unbelievable."
Last year, Larry Borom began the season as the starting right tackle, but the Bears benched him in favor of veteran Riley Reiff midway through the season. Reiff left in free agency and signed with New England. Borom remains on the roster and is likely Wright's biggest competition for the right tackle job. Alex Leatherwood, who has right tackle experience, also remains on the roster.
The Bears will continue to juggle things along the offensive line. The search for the best five linemen never ends. But the Bears feel a lot more confident with the moves they made over the offseason. As it stands, the line likely features Braxton Jones at left tackle, Teven Jenkins at left guard, Cody Whitehair at center, free-agent addition Nate Davis at right guard and Wright at right tackle.
At Tennessee, Wright was a starting left tackle in 2021 but moved to right tackle in 2022. He has experience at both spots. In targeting a right tackle with their top draft pick, the Bears have given Jones an endorsement at left tackle.
Jones played every snap at left tackle last season as a fifth-round rookie draft pick out of FCS Southern Utah. The coaching staff felt strong enough about Jones' performance that they see a future with him as their left tackle.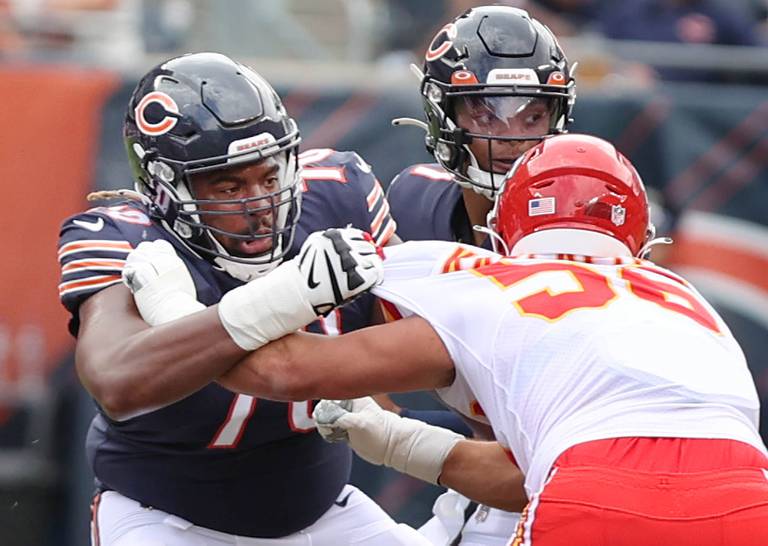 They could have drafted a left tackle and tried moving Jones to the right side, but they clearly felt Wright was worthy of a top-10 pick and that Jones can hold his own on the left side.
"Anytime you can stay somewhere and perfect your craft and bank more reps, yeah, it obviously helps," offensive line coach Chris Morgan said. "It helps a lot. Is it easy to go from right to left? No, it's not easy. Can it be done? Yeah, certain people can do it. Braxton did a good job last year, and the way things worked, he's the left tackle going into camp."
Morgan said Jones has "attacked the offseason" in the weight room in order to address some of his flaws, namely protecting against bull-rushing edge rushers.
Morgan confirmed that Jenkins will begin the year as the left guard. Jenkins was a revelation at right guard last season after previously being buried down the depth chart at right tackle. Jenkins started 11 games at right guard in 2022. In college at Oklahoma State, he didn't play much left guard and was primarily a tackle.
"For a guy that's been on both sides before, and a guy like Teven that's smart, talented, he's excited about it," Morgan said. "And it hasn't been that big of an adjustment for him now. He's still working."
Whitehair moves back to center after previously playing the position. He was a Pro Bowl center in 2018. Lucas Patrick, who can play center and both guard spots, also remains on the roster.
Once training camp begins in late July, injuries can change everything. And the plan hinges on Jones and Wright holding down those tackle jobs – no sure thing for two young players.
"[Morgan] made it real clear in the first meeting we had: Everybody in the room is the same player," Wright said. "It doesn't matter. You're here now, know what I mean? Now you have an opportunity in front of you. I'm going to try my best to capture that opportunity."