For the first time since 1974 and '75, the Rock Falls volleyball team will play at the IHSA State Finals this weekend at CEFCU Arena on the campus of Illinois State University in Normal.
The Rockets (34-6) will take on perennial power Breese Mater Dei (31-6) – making its third trip to state in the past four seasons – in the Class 2A semifinals at about 1:30 p.m. Friday. The other 2A semifinal is IC Catholic (35-3) vs. Carmi-White County (33-7) at noon.
Here are a few things to know about Rock Falls heading into the state tournament:
The Rockets are sending out their coach in style
For the past 26 seasons, Sheila Pillars had been prowling the sideline at Rock Falls. She announced before the season that she was retiring at the end, and her players have taken it to heart and run with the idea of making the season last as long as possible.
They made it to the final weekend – but this group of experienced, hungry Rockets isn't content just to be here.
"We're one of the lucky few that gets to practice longer than most," said Pillars, who has amassed a 641-282-5 record in 2 1/2 decades. "I go home and I think, 'Oh my God, we made it to state. That's the goal!' And then in your mind you realize now we have to re-ante up, and a whole other level has kicked in.
"I'm just super blessed with the kids that are working hard and have forged this opportunity for themselves, and I'm just along for the ride right now because they're doing all the hard work. I'm super proud of them, excited and ready to go, really."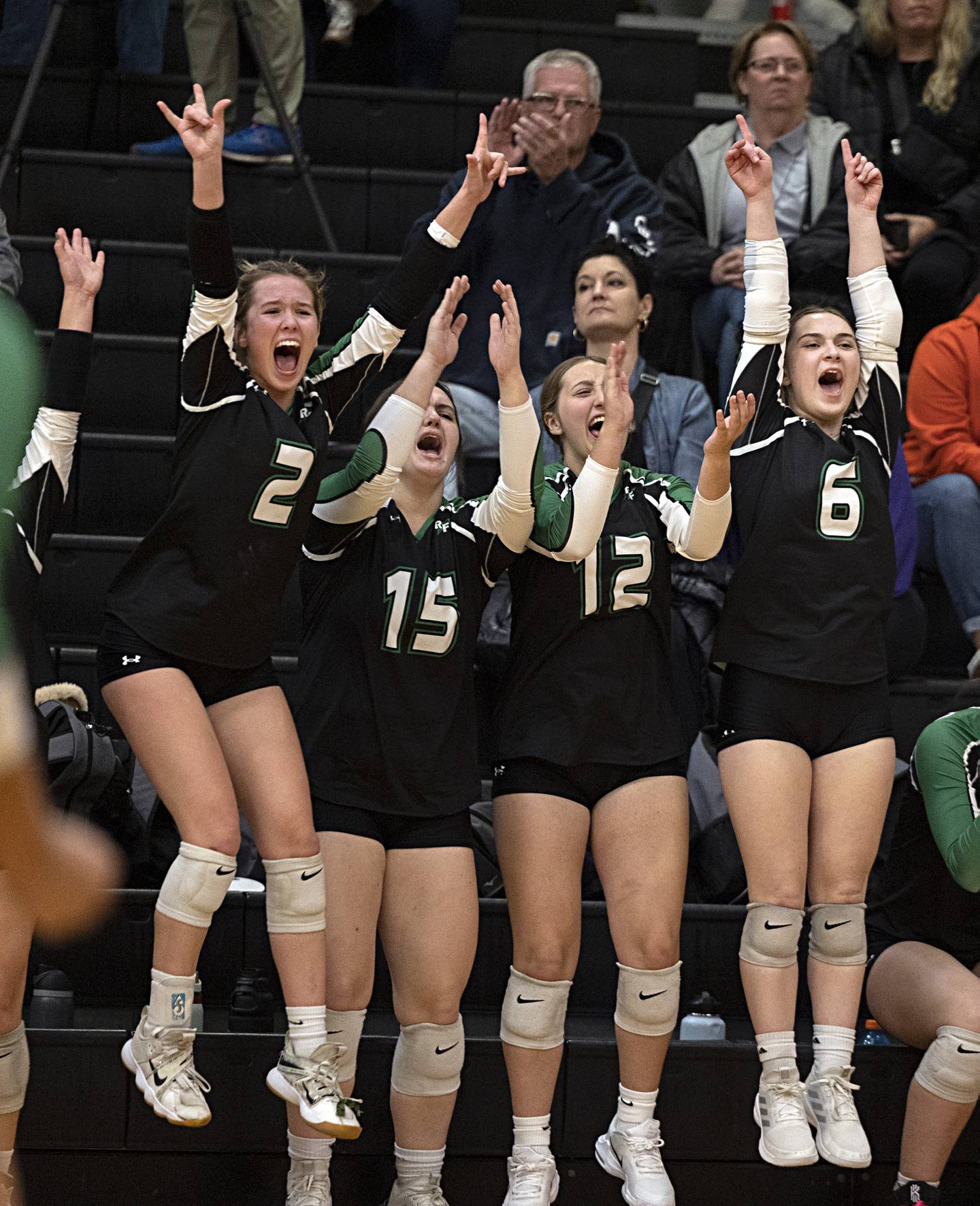 Experience and grit are what makes these Rockets tick
While it's the first time at state for Rock Falls' players, they're no stranger to big situations. The roster boasts eight seniors, and four of them played significant roles on the Rockets' 2021 Elite Eight team as sophomores.
What's more, most of this team has been playing together since middle school – when Pillars was their club coach – and several have known each other basically their entire lives growing up together as Montmorency students.
Claire Bickett (385 kills, 233 digs, 26 blocks, 19 aces), Nicolette Udell (350 kills, 54 digs, 47 blocks) and Denali Stonitsch (777 assists, 197 digs, 52 aces, 33 kills, 17 blocks) started on that 2021 team, and Sophia Moeller (187 digs, 34 aces, 13 assists) was a defensive specialist who played three rotations in the back row.
Add senior Taylor Reyna (96 kills, 62 blocks, 33 digs, 5 aces) and her sophomore sister Ari Reyna (56 kills, 45 blocks) in the middle, junior Kacie Witherow (54 kills, 43 assists, 38 digs) on the right side, and seniors Carli Kobbeman (361 digs, 31 aces, 27 assists) and Zoe Henson (141 digs, 26 aces) and junior Elizabeth Lombardo (51 digs, 11 aces) in the back row, and you've got plenty of talent and veteran savvy on the court at all times.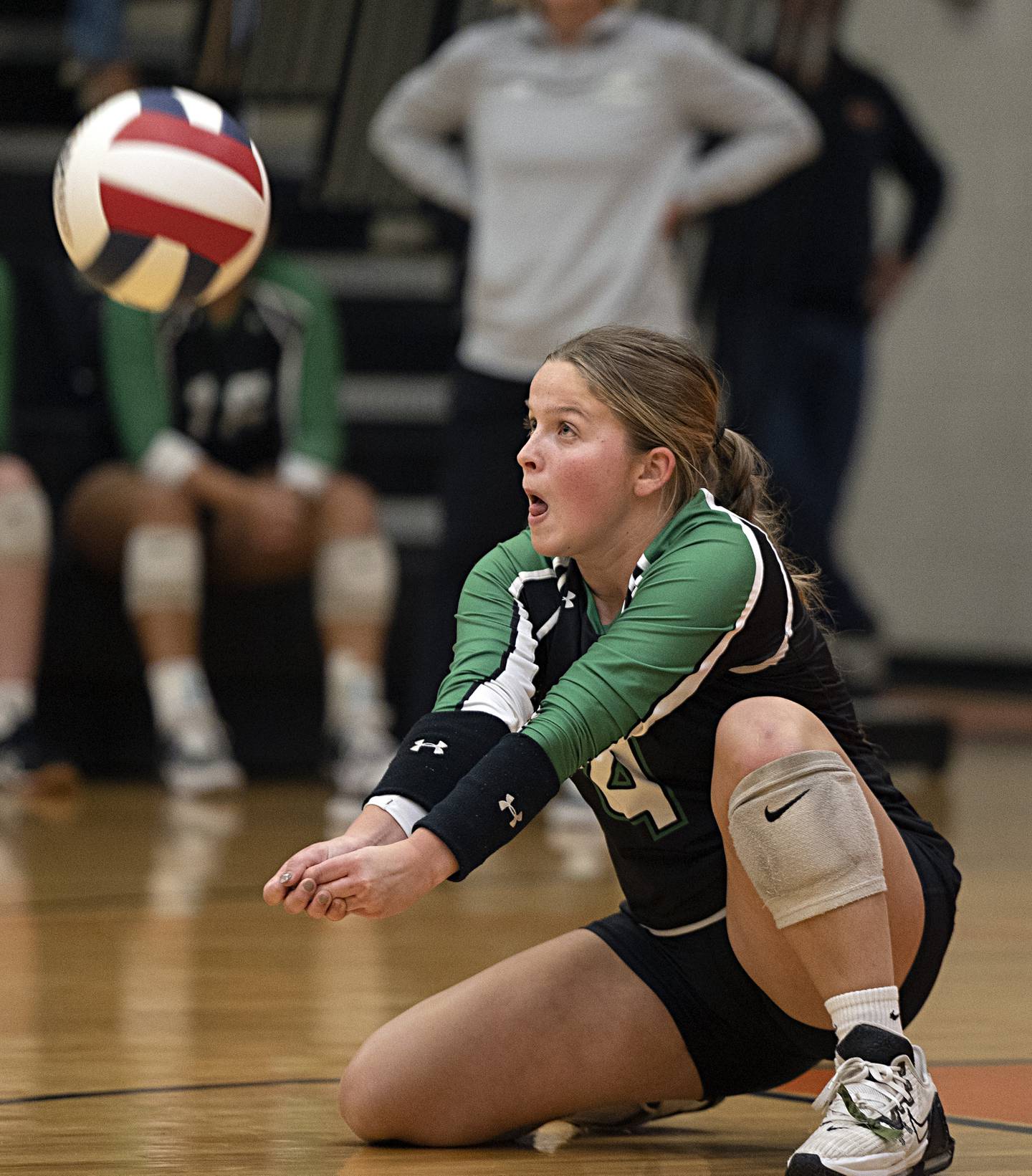 Scrappy defense and smart offense will be key
Rock Falls has long been known for its stellar defensive prowess during Pillars' tenure, and this team is no different. But the Rockets also have a pair of strong outsides in Bickett and Udell, a true floor leader in Stonitsch and the fire and burning intensity to win every time they take the court.
"We're scrappy, and these girls want to win as much as or more than I do," Pillars said. "We've just succeeded all season doing what we do. That's all we can do down there. If we're all moving and working as one unit, I think it'll be a really good game. I don't think we'll be too overwhelmed because of the experience we have, and we're excited and we'll be ready to go on Friday."
Rock Falls will have its hands full with Mater Dei. The Knights boast a front line of 6-foot-5 Alyssa Koerkenmeier (239 kills, 120 blocks, 30 digs, 14 aces), 6-3 Emma Johnson (190 kills, 52 blocks, 48 digs), 6-0 Ella Diercks (179 kills, 38 blocks, 55 digs), 5-10 Avery Wuebbels (129 kills, 42 blocks, 27 digs) and 5-10 Elyse Strader (128 kills, 45 blocks). Sophomore Addison Nenninger (461 assists, 151 digs, 76 kills, 43 blocks, 28 aces) and senior Reese Kalmer (255 assists, 143 digs, 25 aces) make the offense go from the setter spot, and junior libero Addie Lampe (290 digs, 84 assists, 26 aces) anchors a balanced back row.
"They're tall – really tall – and we just have to be more intentional with the ball and where we put it, and really try to set accordingly and hit around their blockers. We have to be ready to cover – we know we're going to get blocked – it's just that we can't give them 10 in a row because we're being careless," Pillars said. "I feel like if we're keeping them a little bit out of system and maybe vary what we do offensively – obviously we're going to be aggressive and still attack – maybe place our sets a little bit better so we can hit around the block a little bit more efficiently, hopefully they will have to play a little bit more defense than they're used to."