OREGON – An Ogle County judge ruled late Thursday afternoon that Cody Neuschwanger was acting in self defense when he shot and killed Devin Bailey following two domestic altercations at a Rochelle residence.
Neuschwanger, 26, of Polo, was charged with the death of Bailey, 37, of Oregon, who was found wounded about 9:15 p.m. on Oct. 29, 2020, outside a home at 1122 First Avenue in Rochelle.
[ Closing arguments in the case were made Thursday morning. ]
Bailey was transported to Rochelle Community Hospital, where he was pronounced dead from one gunshot wound to his abdomen.
"Everything happened in a matter of seconds. Based on the evidence, the use of force was necessary, but there were other avenues to take."

—  Judge John "Ben" Roe on his verdict
Ogle County Judge John "Ben" Roe rendered his decision after reviewing evidence presented during the two-day trial that included testimony from two men who were 17 years of age at the time, who said Bailey charged at Neuschwanger with what they thought was a large knife or a machete.
"Obviously a death occurred which is unfortunate to say the least," said Roe. "A lot of mistakes were made. The police should have been called, but that didn't happen."
Roe said his decision was based on case law that says self defense is justified if a defendant believes danger exists and the state fails to prove otherwise.
"It's dependent upon the circumstances," Roe said. "Was it reasonable under these circumstances to use deadly force? Going through the evidence, I do believe the defendant should have called the police."
But, Roe said, "based on the totality of the circumstances" Neuschwanger was justified in using deadly force and that the prosecution had failed to "meet the burden" under the law for the court to convict.
"I find the defendant not guilty of all four counts," Roe said, causing Neuschwanger's family and friends to embrace in the courtroom, some of them breaking into tears.
Ogle County State's Attorney Mike Rock and Assistant State's Attorney Matthew Leisten had argued Neuschwanger shot and killed an unarmed Bailey with a single shot to his chest
Defense attorney Michael Johnson argued Neuschwanger was trying to help a friend retrieve his mother from an abusive relationship with Bailey. Johnson added that the shooting was made in self defense after Bailey charged his client with a weapon that Neuschwanger believed to be a knife or a machete.
The weapon referred to was later identified as a rasp, a type of file 12 to 14 inches in length with a wooden handle. The prosecution argued that the rasp was not in Bailey's possession when he was shot.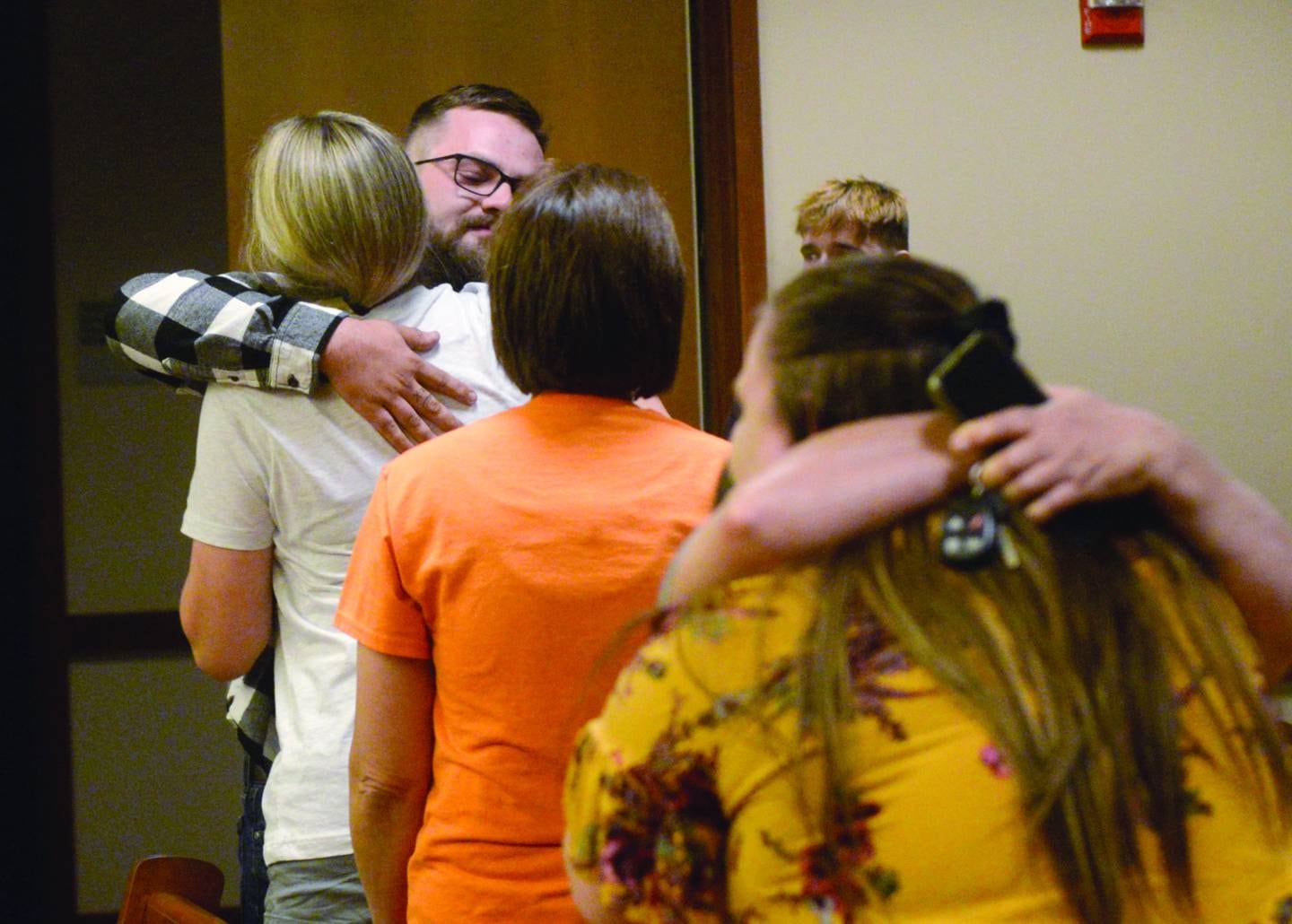 But Johnson said Neuschwanger's actions were made in self defense and argued Bailey had a "violent and aggressive character." Johnson said evidence of Bailey's past arrests in 2018 and 2019 included battery, disorderly conduct, aggravated domestic battery, and resisting a police officer.
After the verdict, Johnson said said Roe made the correct ruling.
"Truly, Cody was innocent. The fact they charged him, I get where they were coming from, they didn't have all the evidence at the time. It was a prior state's attorney, and by the way, the state's attorneys here were nothing but gentlemen. I think I had one objection in the whole trial, which is rare," said Johnson.
"I am just thrilled for Cody. I think this is the right resolution. To convict him of anything would have been wrong," Johnson said. "Hindsight is 20/20 and it is easy to be the Monday-morning quarterback. Like the judge said, some things could have been done differently, but they weren't. And at the end of the day, Devin gave Cody no choice. Cody did not want to do this. It was Devin's decision and this is Devin's background. He was a violent man and he met his demise."
Rock said he believed the state presented a good case to the judge and that the Rochelle police did a good job of investigating.
"The court determined that the case did not prove the charges beyond a reasonable doubt. We respect the judge's decision," Rock said.
Neuschwanger declined comment.
Attorneys agreed the shooting came after Neuschwanger and two other 17-year-olds from Polo argued and fought with Bailey following a domestic incident in the home involving one of the teen's mothers.
During the trial, Shawn Warczak, 20, of Polo, who was 17 at the time of the alleged crime, said he received a text from his mother asking for a ride from the Rochelle home where she was staying with Bailey, who was her boyfriend. Warczak said his mom wanted to return to Polo because Bailey had threatened her.
He said his mom could not drive herself from the residence because she had a DUI conviction, had been drinking and had a breath analyzer connected to her car. Warczak said he could not drive his own car from Polo to Rochelle because he didn't have insurance on it.
He testified he was a close friend of Neuschwanger's and texted him for a ride to Rochelle to retrieve his mother. During the trip from Polo to Rochelle, he testified that his mom texted him more times saying she was afraid Bailey might try and kill her.
He said Neuschwanger drove him and his friend Thomas "Tommy" Davis, who was also 17, to the home in Rochelle with Neuschwanger's girlfriend riding along.
Warczak said when they reached the home, his mom was waiting outside with her belongings in a clothes basket. He left the residence with his mom and Davis in his mom's car with Neuschwanger following in his car. But, he said, he returned to the home after his mom told him about more abuses by Bailey and wanted to tell Bailey to leave his mom alone.
Warczak, Davis and Neuschwanger entered the home and Warczak testified there was a lot of "cursing and yelling" and more fighting before the three ran out of the house. Bailey was residing at the home while he worked on remodeling it, witnesses said.
"Devin came behind me and I thought he had a knife, so I yelled that he had a knife. Devin was swinging this weapon and Cody drew his weapon and said 'Do not get closer to me.' Cody kept warning Devin, 'I have a gun,' but Devin kept coming at him," Warczak testified.
Warczak said Bailey kept advancing and Neuschwanger shot him.
"Everything happened in a matter of seconds," said Roe. "Based on the evidence, the use of force was necessary, but there were other avenues to take."