OREGON – A white oak now stands on the Ogle County Courthouse Square in memory of an Oregon man who dedicated his life to trees and his community.
Family and friends of Dave Stenger gathered Sept. 15 to dedicate the tree in honor of the former manager of the Sinnissippi Forest Tree Farm.
Stenger, 73, passed away in April. He was the manager of the tree farm for 37 years after earning a degree in Forestry from the University of Illinois in 1972. He retired in 2009.
He was also an active member of the St. Mary's Catholic Church, the Oregon-Nashua Township Board, and the Oregon Lion's Club for 34 years where he served in several offices including a recent tenure as the club's president.
The tree and plaque were purchased by a donation from the Autumn on Parade Committee.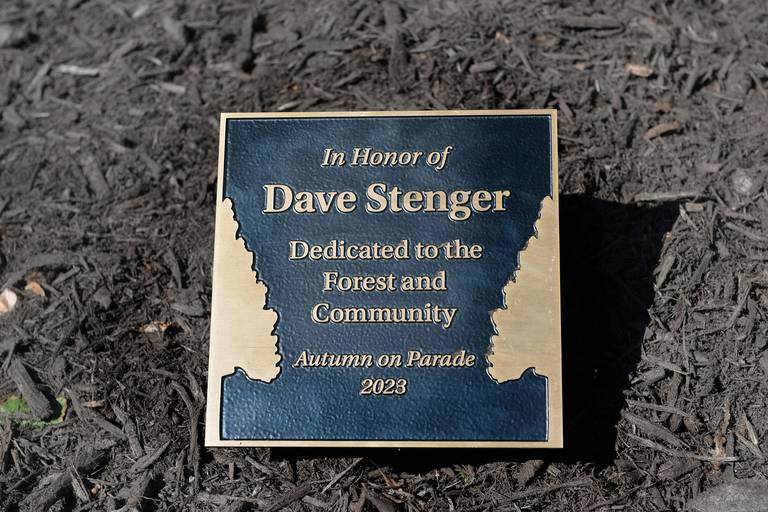 "Our donation was for a memorial tree on behalf of Autumn on Parade for the county in partnership and recognition of Dave's years of support for the community and the festival," said Debbie Dickson, president of the Autumn on Parade Committee.
The plaque reads: In Honor of Dave Stenger. Dedicated to the Forest and the Community. Autumn on Parade 2023.
Illinois had dedicated the oak as its state tree, but in 1973, schoolchildren voted specifically to make the white oak the official state tree for Illinois citing its long life and ability to grow on a wide range of soils.
Autumn on Parade is held the first full weekend in October on the courthouse square and surrounding city streets. This year's festival is Oct. 7-8. More information can be found www.autumnonparade.org.