BYRON – Family and friends of Marlana McFarland stood outside her home on Tuesday night to remember the 34-year-old mother of five who was electrocuted March 25 while trying to help her next door neighbors after a power line fell on their home.
"You could not ask for a sweeter soul," said Sally Palen a friend and neighbor of McFarland's. "She leaves behind a lot of people who will remember her including her family and friends."
McFarland died Saturday morning after a 7,200-volt power line fell on her neighbor's home at 115 W. Third Street in Byron, charging the home with electricity. Firefighters found McFarland, who had not been identified at the time, on the ground outside the home when responding to the call at 8:47 a.m.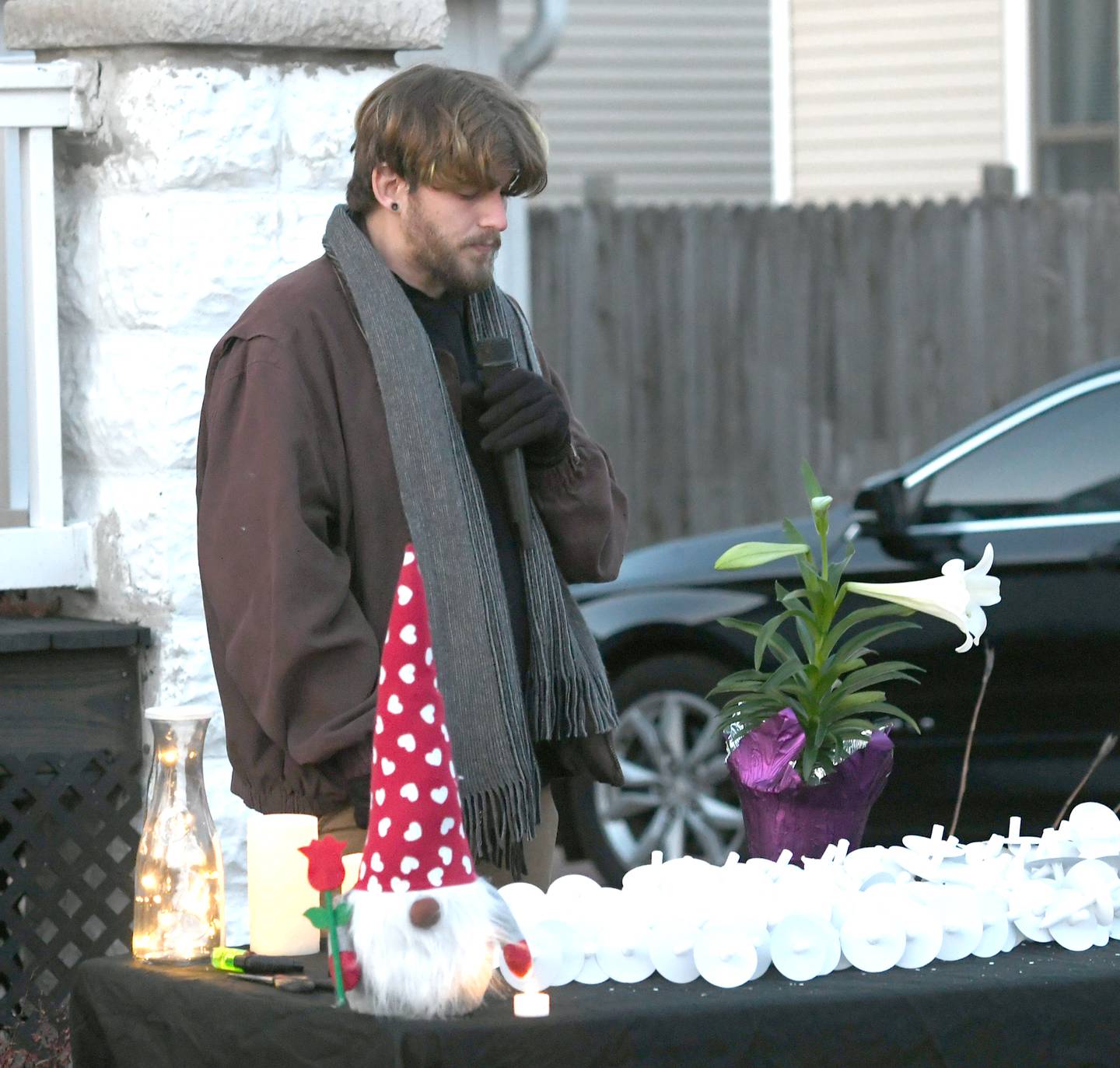 The Ogle County Coroner's office ruled her death an accidental electrocution on Tuesday.
Firefighters were unable to reach McFarland or fight the ensuing blaze until ComEd crews arrived to cut power to the home, Byron Deputy Fire Chief Tony Dinges said.
I want each and everyone one of you to know our family is in love with you for acknowledging our daughter. She was just great."

—  Tracy Tollett of Louisiana, mother of deceased Byron woman
Once the power was shut down – which took about an hour – firefighters battled the blaze and saved other homes on the block, but the home that had been electrified was a total loss.
Heavy snow fell across the region early Saturday followed by brisk winds. Dinges said he thought the fallen line likely was because of the weather.
McFarland's mom, Tracy Tollett of Louisiana, thanked everyone for coming to pay tribute to her daughter as a large crowd stood outside her daughter's home Tuesday night.
"I want each and everyone one of you to know our family is in love with you for acknowledging our daughter," she said. "She was just great."
McFarland's younger brother, Cory Tollett, 25, also of Louisiana, said his sister was special.
"Growing up I always thought she was the coolest person ever. Everything about her I looked up to her. She was my hero, from visiting her in basic training camp to the birth of her first child and each child after that. Those memories I have are always going to be cherished," Cory said.
Deanna Fidder is a Byron native and resident of Belvidere who owns the home McFarland and her children lived at 109 W. Third Street. She said once she met McFarland while interviewing potential renters and she knew Marlana and her family would be a perfect fit for the home.
"My mom and dad lived in the house for 70 years," Fidder said. "Once I met Marley I knew she was perfect for the house. She loved her kids like you would not believe."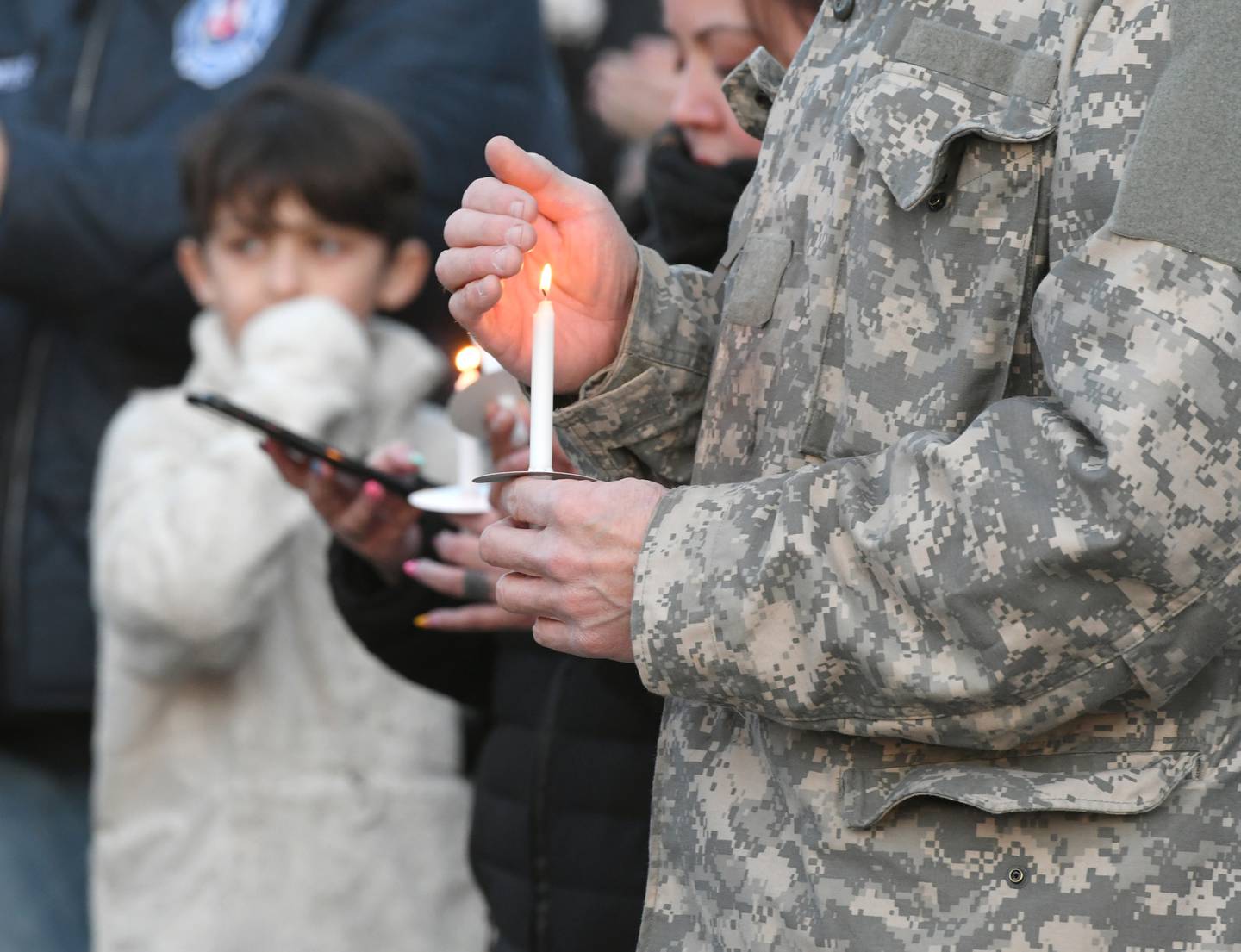 According to her obituary, McFarland had recently started working at the Byron Power Station and was a member of the Army reserves. "She was the founder of Rockford Crunchy Ladies where she helped women embrace healthy and natural lifestyle," the obituary posted online at https://www.farrellhollandgale.com/obituaries/marlana-mcfarland.
"I know she's looking down on us and smiling," said Palen who organized Tuesday's vigil.
McFarland has 5 children. A GoFundMe page for McFarland and her family has been established at: www.gofundme.com/f/family-of-marley-mcfarland
Donations also are being accepted for the family whose home was destroyed after they evacuated safely.
Micki Hoefle, the human resource manager for the Meridian School District, is collecting donations for that family.
For information on that funding effort, call Hoefle at 815-988-7361.
Bank accounts have been established at Holcomb Bank where donations for both families can be sent.